Vietnam
Get more with myNEWS
A personalised news feed of stories that matter to you
Learn more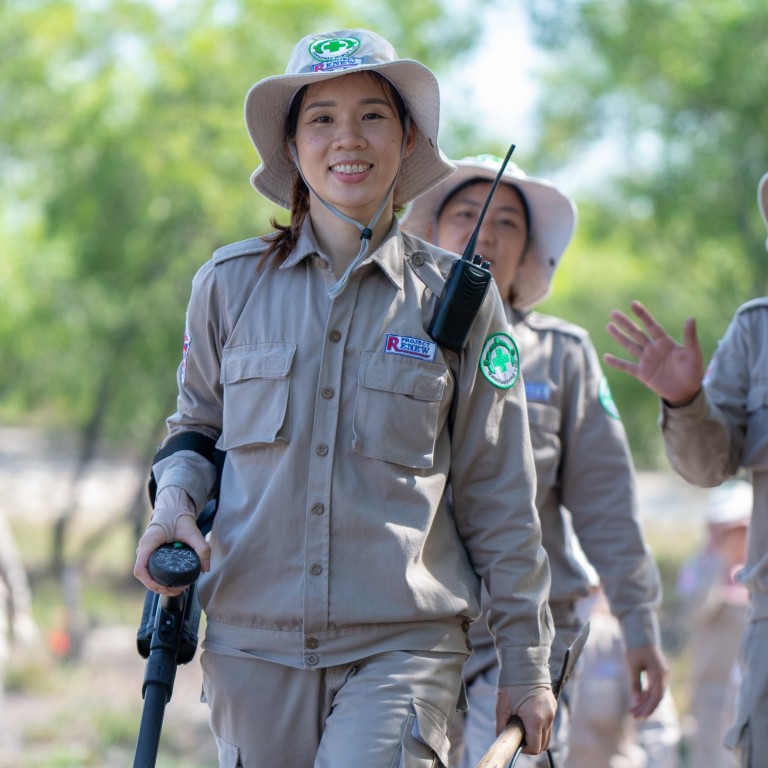 44 years after war with US, Vietnam has an all-women team searching for unexploded bombs
Nguyen Thi Thuy and Le Thi Hoa are part of Vietnam's first all-female landmine clearing team
They're among a growing number of women taking up mine-clearance work – Thuy was so dedicated that she worked through her pregnancy
Wearing a khaki uniform and desert boots, Le Thi Hoa ties her hair in a ponytail and tucks it under her jungle hat. She steps out on to a bare plot of land with a metal detector, bucket and small spade in hand.
The 37-year-old, a former rubber plantation worker, methodically sweeps the ground with the detector, inching forward only if the device remains silent. If it starts beeping, her team's work begins. Hoa, together with more than a dozen other women, is part of Vietnam's first all-female landmine clearing team, formed in October 2018 by Project Renew, an organisation that removes buried unexploded ordnance from Quang Tri Province, and with the help of the Norwegian People's Aid.
The organisation was founded in 2001 by the Quang Tri provincial government, and receives donations mainly from the US Department of State, UK's Department for International Development and Irish Aid.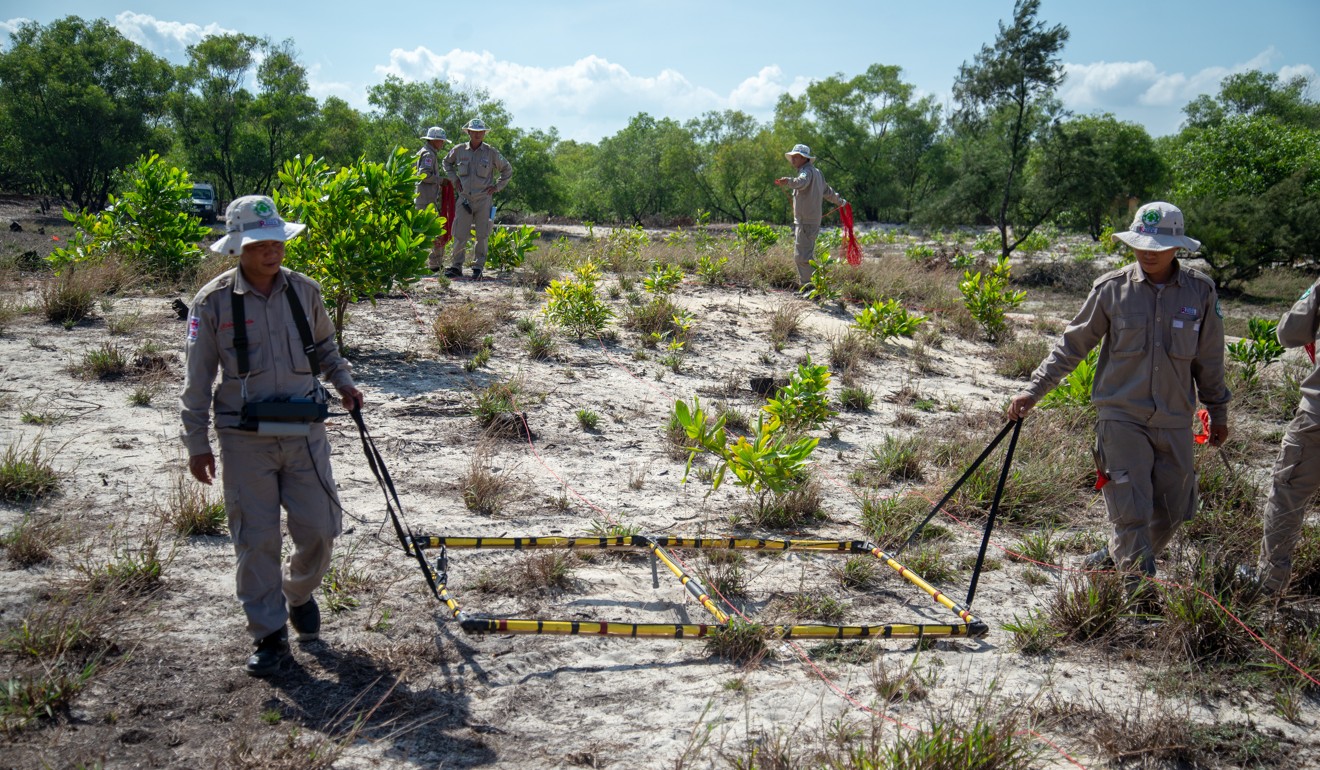 An increasing number of Vietnamese women are taking up mine-clearing jobs, which were once seen as too dangerous. Project Renew now has more than 60 women working for it, after 12 more women joined in the first three months of this year. The British-based Mines Advisory Group (MAG), which started work in Vietnam in 1999, has also seen the number of women workers double to 167 over the past two years.
The team's leader, Nguyen Thi Thuy, 30, joined Project Renew in 2013, after learning about the dangers posed by unexploded remnants of war. Gio Linh district, where she was born and raised, is so riddled with unexploded ordnance that it is too dangerous to farm. "I saw a lot of unexploded ordnance as a child. I also saw a neighbour get injured when a UXO exploded," said Thuy, who is one of two female team leaders at the organisation. "I wanted to help to keep the province safe."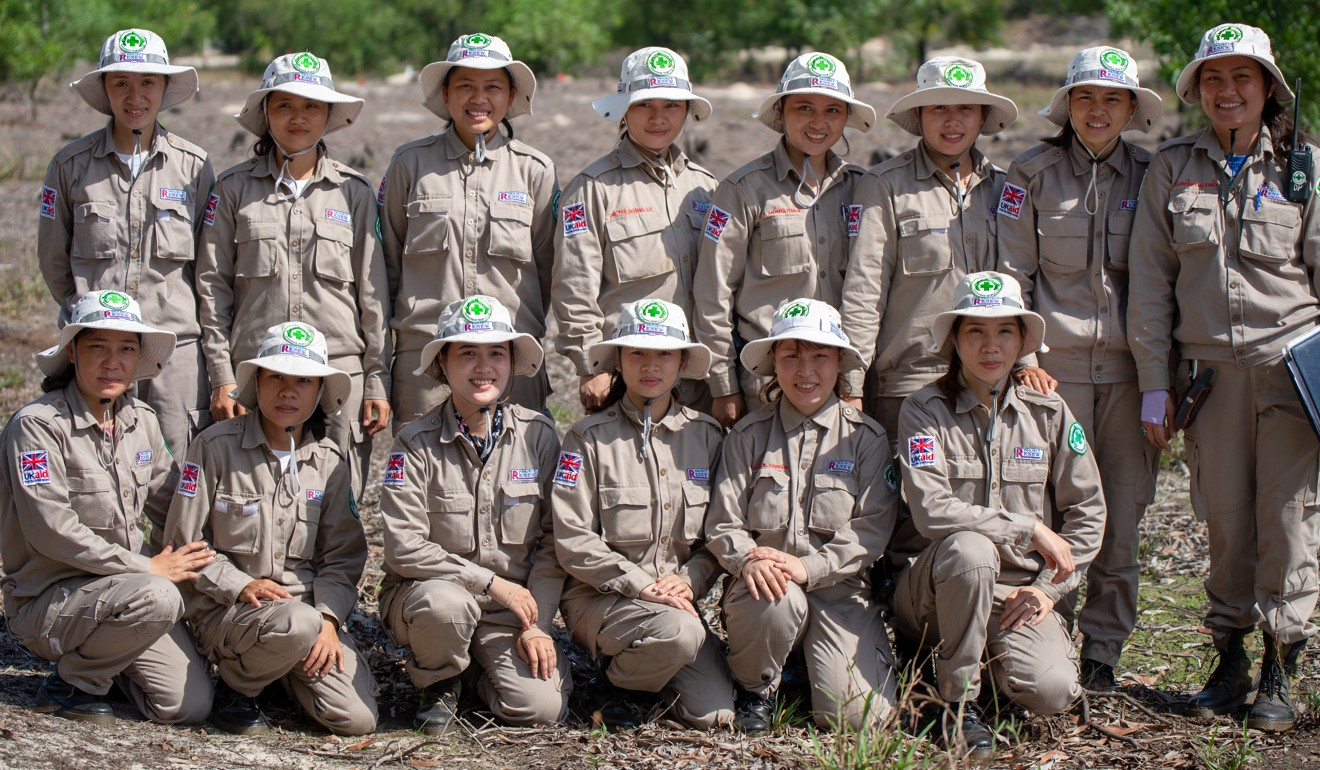 Her husband was supportive, but her parents were worried when she took the job. Thuy was promoted to team leader in 2015, the same year she became pregnant. She worked through eight months of her pregnancy and gave birth to a healthy daughter, now three.
One of two female team leaders with Project Renew, Thuy's enthusiasm has inspired other women to join, such as former rubber plantation worker Le Thi Hoa.
Hoa, said she joined Project Renew as she was inspired by Thuy's enthusiasm.
Hoa had also known from a young age what unexploded ordnance could do. "I saw a lot of neighbours who lost family members to the bombs," she said. "I thought to myself, why are people still dying and why is
the war still affecting people
?"
Hoa's family was reassured by the safety training she received with Project Renew. In her first two months of work, Hoa cleared at least seven UXOs.
Project Renew and MAG actively educate villagers about dangers, clearance procedures and what to do when they come across a landmine, particularly children who are especially vulnerable. According to the Quang Tri Mine Action Centre, which oversees mine-related NGOs in the province, 990 children aged between one and 15 have died in explosions since the war ended and 1,615 have been injured.
While Project Renew focuses on mine risk education for schoolchildren, MAG targets adults. Together they have reached nearly 400,000 adults and children, almost two thirds of Quang Tri's population.
Despite their best efforts, it may be impossible to rid Quang Tri entirely of its landmines, but Project Renew communications and development manager Hien Xuan Ngo is undeterred. "The real goal is to make it safe," he said.
"We are determined to achieve it by 2025, when Quang Tri will be declared the first province in Vietnam to be impact-free." ■
This article has been updated to correct errors in the original version.