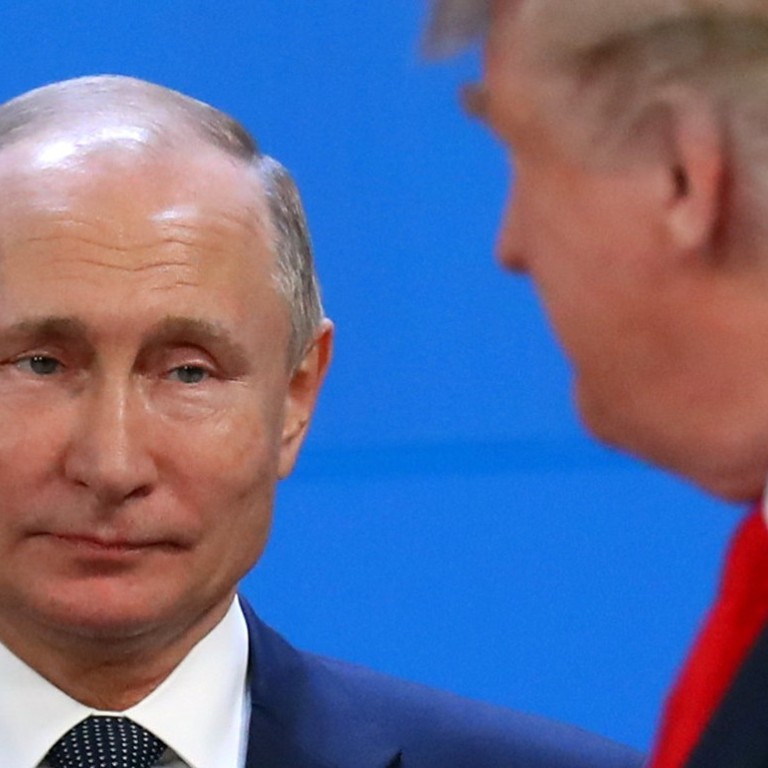 G20: all eyes on Trump and Iran, but Putin's date with Xi and Modi is one to watch
The Russian leader faces a whirlwind diplomatic task in Osaka
Iran, Syria and arms control top his agenda with the US president, while Trump's stance on trade has pushed India, China and Russia closer
Russian President
Vladimir Putin
has a busy time ahead of him at the
G20
summit in Osaka.
If
Russia
is to follow its standard playbook, it is likely to keep largely silent on global economic issues (though it may have something to say on free and fair international trade). Instead, its main aim will be to reinforce its geopolitical stature in today's world in general and Asia in particular.
First of all, Putin will meet US President
Donald Trump
. The chance to maintain dialogue between the two leaders is important as they have not talked face to face at length since last July and the conditions for a full-fledged Russia-US summit are still some way off. Ties between the countries have not benefited from Trump's spontaneous and impulsive approach to foreign policy, which appears to have no clearly articulated goals or principles and changes frequently depending on short-term developments in domestic politics. Slowly but surely, along with the
US-China rivalry
, the US-Russia rivalry is emerging as a long-term threat to global political stability.
In Osaka, among the most important issues Putin and Trump are expected to discuss are:
Iran
, Syria, the
Middle East
, arms control, the Korean peninsula, Ukraine, and bilateral relations.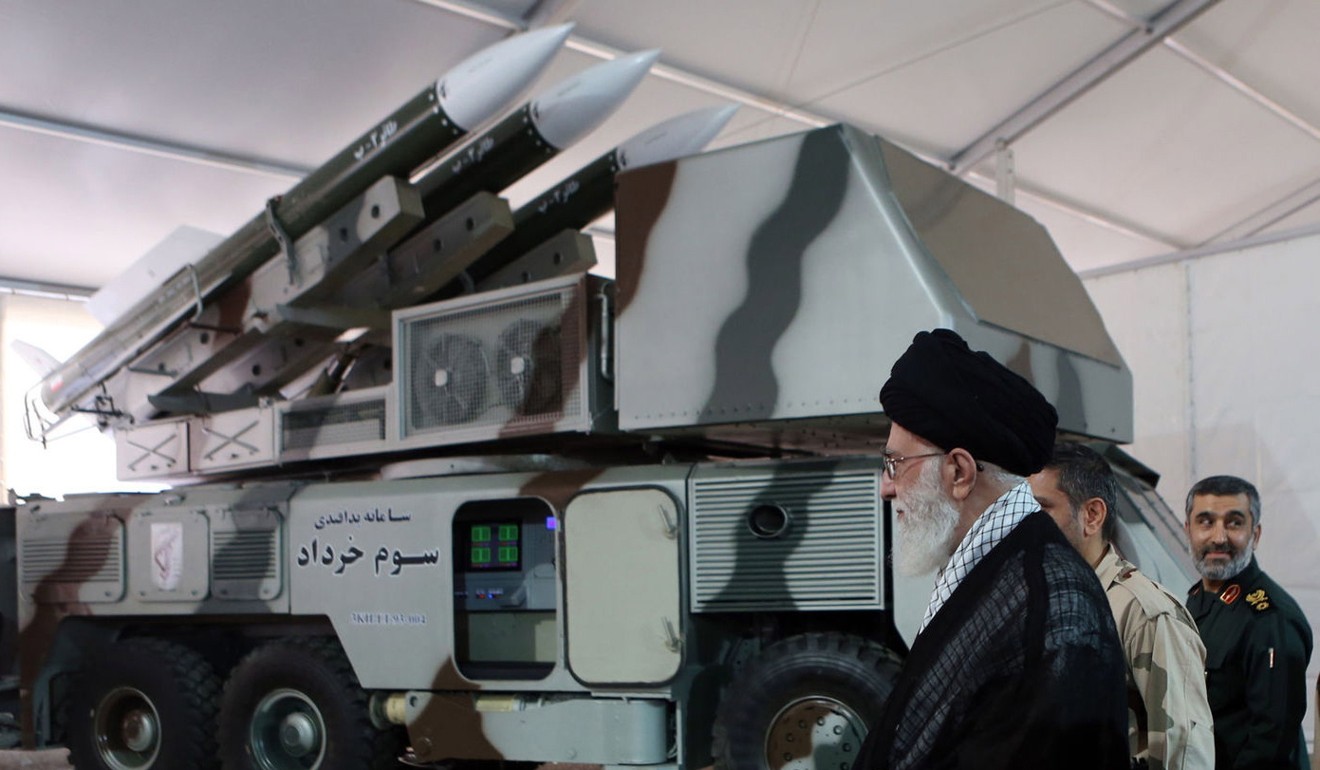 IRAN, SYRIA, ARMS
Of these issues, Iran, Syria, and arms control are the most pressing.
The situation in Iran threatens to spiral out of control if escalating tensions between Washington and Tehran are not kept in check. In
Syria
, no solutions are in sight and to make matters worse, Idlib province in the country's northwest has fallen under the control of jihadist groups linked to
al-Qaeda
. On arms control, the New START (Strategic Arms Reduction) treaty, the only bilateral agreement in force, will expire in 2021 and the two sides still have not discussed what to do next.
The Osaka meeting is not likely to produce any sensational results, but the two presidents may try to find areas where Russia and America can cooperate. Indeed, there have already been some small positive developments in bilateral relations.
In early May, Putin and Trump talked on the phone for an hour and a half. Trump later tweeted that America could have good relations with Russia. In mid-May, the US Secretary of State Mike Pompeo met Putin in the resort city of Sochi. According to Putin's aide Yuri Ushakov, the US side's approach to the issues discussed was "business-like". And just several days ago, trilateral Russo-US-Israeli consultations were held in Jerusalem – a brand new framework showing that Moscow and Washington were open to innovative formats for their contacts.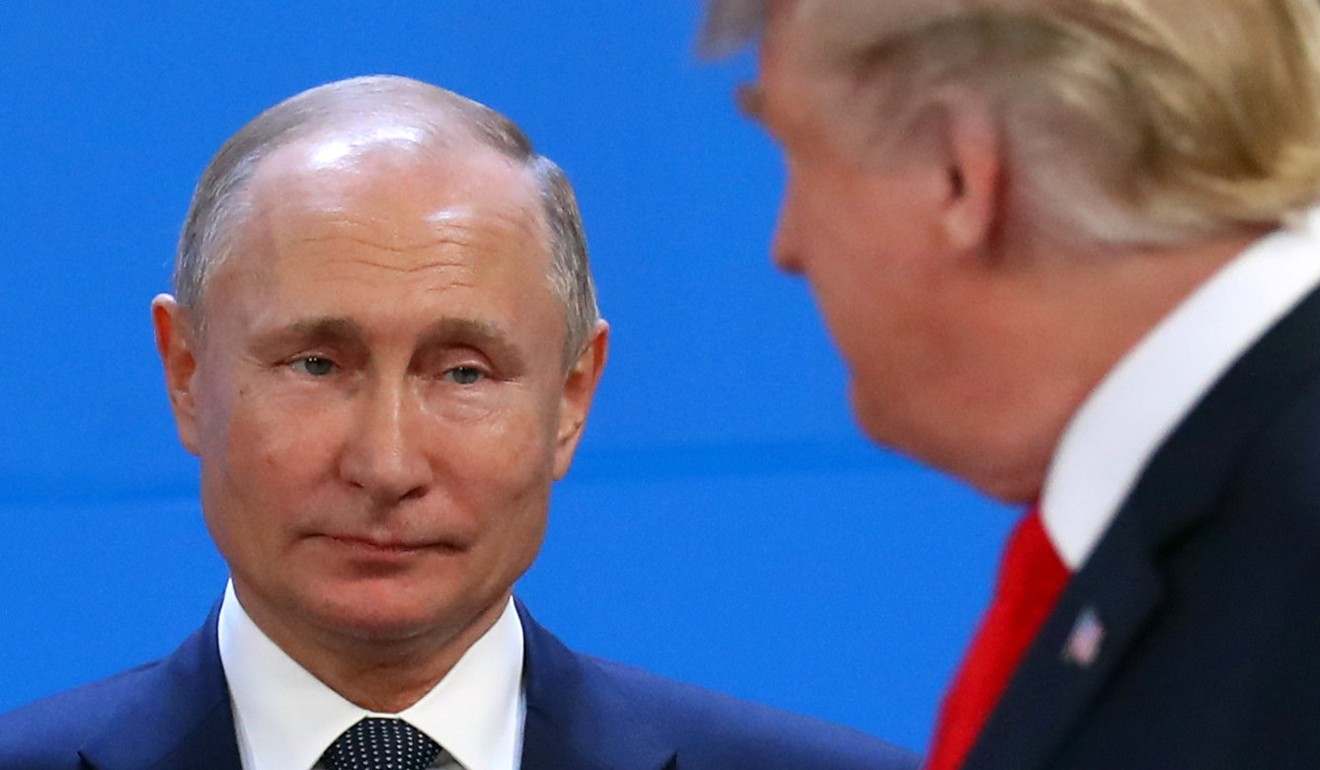 UK, JAPAN
Putin's meeting with the British Prime Minister
Theresa May
, who is soon to stand down, also has the potential to be awkward. A lot of tough talk on sensitive issues is expected as Moscow's relations with London have deteriorated even more sharply than those with Washington. The
UK
accuses Russia of being behind the poisoning of the former KGB agent Sergei Skripal last year in Salisbury – an allegation Moscow considers unfounded and provocative. The Osaka meeting is a chance to start mending the relationship.
Putin will also meet the G20 host, Japanese Prime Minister
Shinzo Abe
. In his efforts to resolve the territorial dispute over the four South Kuril Islands and to conclude the long-awaited Peace Treaty with Moscow, Abe has had more meetings with Putin than the leader of any other country. In Osaka, the two sides will try to build on this momentum. New cooperation agreements are likely to be signed. Regarding the territorial dispute, Russia is talking increasingly tough and its terms will be difficult for Tokyo to accept. However, Abe has an eye on his legacy and will be keen to go down as the prime minister who led the country towards the resolution of the dispute. To this end, he must at least pretend the dynamics to the talks are still there, to appease Putin and continue the diplomatic game.
Putin will also meet the French president Emmanuel Macron, and their discussion is expected to focus on Iran, Syria, and Ukraine.
SOUTH KOREA
Economic ties and the Korean peninsula are likely to dominate Putin's meeting with the South Korean President
Moon Jae-in
. Next year, Moscow and
Seoul
will celebrate the 30th anniversary of the establishment of diplomatic relations, and this provides a good basis for them to move forward. While the Moon administration remains Washington's strategic ally, its views on possible solutions over North Korea's nuclear programme are similar to those of both Moscow and Beijing. All three favour a step-by-step approach: easing sanctions against Pyongyang and resuming economic cooperation in exchange for concrete steps towards denuclearisation. Moscow and Beijing have a joint "road map" on how to solve the problems of the Korean Peninsula and after the Russian foreign Minister Sergey Lavrov informed his South Korean counterpart Kang Kyung-wha about its further development during their meeting in Moscow earlier this month, she, reportedly, made an immediate phone call to Pompeo.
THE BRICS
Finally, Russia will utilise the G20 platform to develop its relations with the world's major emerging nations.
There will be an informal meeting of five BRICS leaders before the G20 officially begins. This is likely to be focused on financial and economic issues.
Perhaps more significant will be a trilateral informal meeting of the leaders of Russia, China and India scheduled for June 28. From now on, such meetings are going to be held on a regular basis (the troika met on the sidelines of the previous G20 summit in Argentina and will meet again during the East Forum in September in Vladivostok).
Interestingly, the Osaka meeting was initiated by the Indian Prime Minister
Narendra Modi
during the Shanghai Cooperation Organisation summit in Kyrgyzstan this month.
Until recently India has viewed this trilateral framework with caution. However, in the wake of abrupt changes in US foreign policy, New Delhi appears to be keen to improve its relations with Beijing – even more so since Washington has unleashed a mini-trade war against
India
and eliminated the special trade status that exempted tariffs on a portion of Indian exports.
Let us not forget that the Trump administration uses trade-related measures as a whip to impose its will on other nations not only regarding trade, but on a variety of policy issues. Irrespective of their bilateral tensions, China and India have a common task in addressing this new challenge. Using the trilateral framework to develop their relations is a rational choice as Moscow has a good relationship with both.
America's shift towards unilateralism and protectionism is prompting large emerging nations to join together to weather the storm. Russia intends to play a key role in this process and Putin's Osaka meeting with Xi Jinping and Narendra Modi will be a step in this direction.
Ivan Tselichtchev is Professor at the Niigata University, Japan, and the author of China Versus the West: The Global Power Shift of the 21st Century