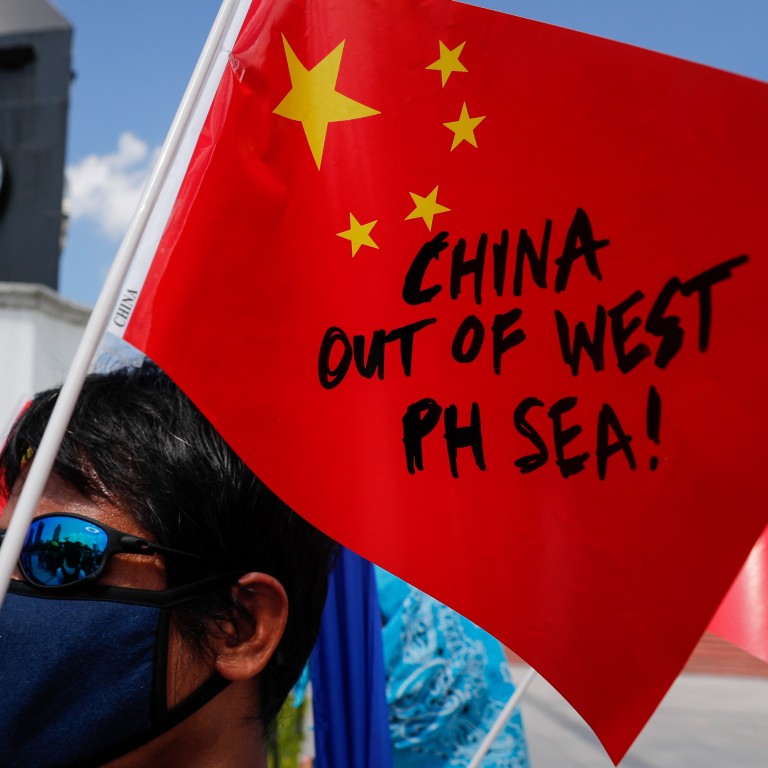 Anti-China protests in the Philippines mark third anniversary of Manila's South China Sea legal victory
Protesters staged a rally in front of the Chinese consulate, while a survey found most Filipinos want the country to take back China-controlled islands in the disputed waterway
But while President Duterte has been criticised for his soft stance on Beijing following the Hague's 2016 ruling, his net satisfaction rating has gone up
Dozens of protesters on Friday staged a rally in front of the Chinese consulate in Manila as
the Philippines
marked the third anniversary of its arbitral victory over China at The Hague, which rejected Beijing's historical claims to resources in the
South China Sea
.
They condemned
President Rodrigo Duterte
's actions since the legal win as "unconstitutional" and called for his impeachment, while urging China to "get out" of the disputed waterway,
While presidential spokesman Salvador Panelo on Friday defended Duterte's response to the ruling, most Filipinos agree with the protesters' stance, according to a survey by private pollster Social Weather Stations.
The June 22 poll, also released Friday, found that 93 per cent of respondents thought it was important that the Philippines regain control of the islands occupied by China in South China Sea, while 89 per cent said "it is not right for the government to leave China alone with its infrastructure and military presence in the claimed territories".
The landmark 2016 ruling invalidated the historical basis for China's nine-dash line claim in the South China Sea, as Beijing had agreed to be part of the
United Nations
Convention on the Law of the Sea (Unclos). It also ruled that China had violated the Philippines' sovereign rights by interfering with its fishing and petroleum exploration and constructing artificial islands in its exclusive economic zone (EEZ).
In 2011, China wrote to the UN to say it had "indisputable sovereignty over the islands in the South China Sea and the adjacent waters". The arbitral court – a mechanism for dispute settlement under Unclos – ruled that for geographic features to be considered "islands", they must be able to sustain life on its own and not be man-made.
Among the questions the Philippines asked the arbitration court to rule on was whether 11 reefs – including those China occupies – adhered to the definition of "islands" under Unclos. The court said no in all these cases but did not decide on sovereignty.
China's nine-dash line claim is also disputed by other Southeast Asian nations, including Malaysia and Indonesia. While it was thought
The Hague ruling
would have a bearing on these disputes, Duterte's lack of action to enforce it, and his subsequent soft stance on dealing with Beijing, has enraged some quarters in the Philippines.
A June 26 statement from the palace, explaining that China would "allow" Filipino fishing near Scarborough Shoal, and a 2017 deal to allow Chinese fishing vessels into the Philippines' EEZ, were two such deals.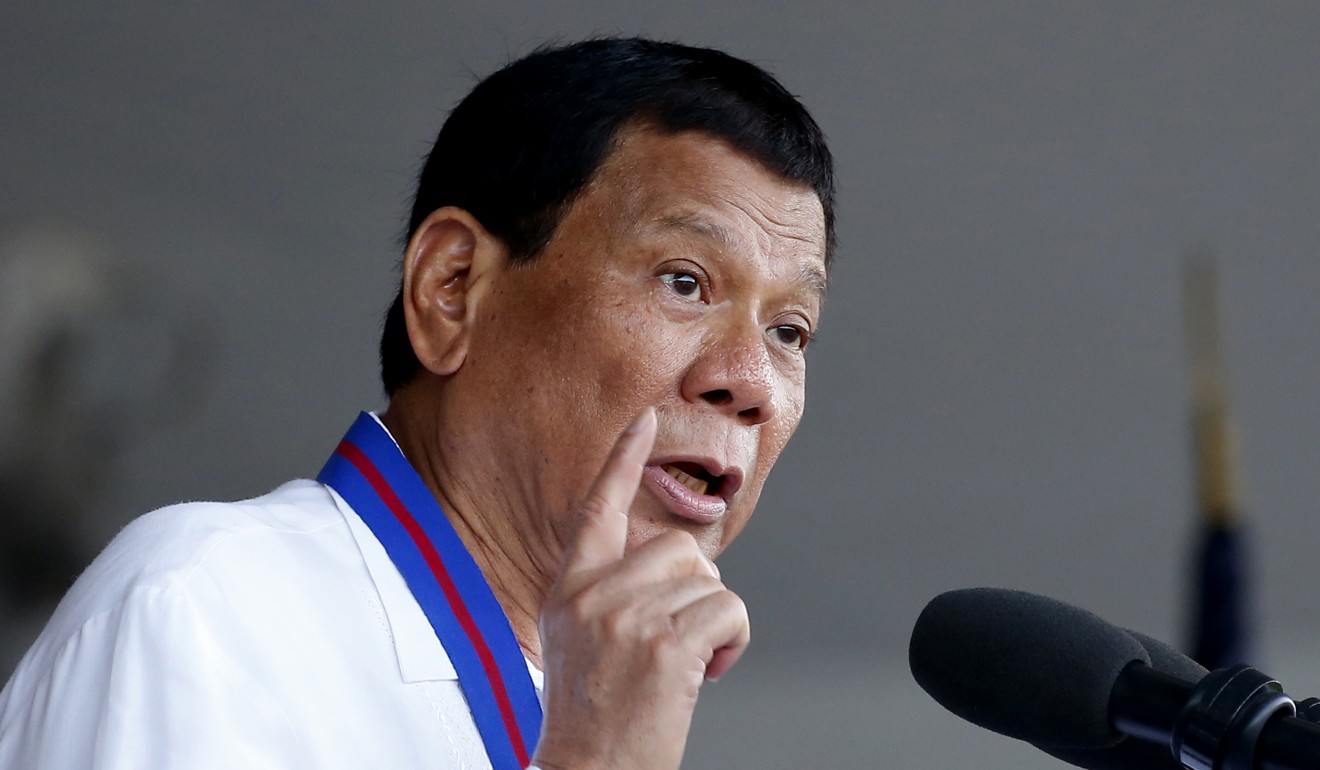 The revelation about the EEZ only came to light last month when a Chinese fishing vessel rammed a smaller Philippine ship near the Reed Bank, abandoning 22 Filipino fishermen, who were later rescued by a Vietnamese shipping vessel.
The EEZ deal was "lopsided" as the steel-hulled Chinese fishing ships were bigger and better equipped than their Philippine counterparts, which had wooden hulls, according to Jay Batongbacal, director of the University of the Philippines' Institute for Maritime Affairs and Law of the Sea. The maritime expert was speaking at a forum held by the NGO Stratbase to mark the ruling's third anniversary.
Speaking to local media on Friday, presidential spokesman Panelo said Chinese President Xi Jinping had threatened war if Manila enforced The Hague ruling.
"Now if you're the president, having heard that from the president of China, what do you do?" Panelo said. "So you turn to negotiate. You don't go to war with them because you cannot win. You will be losing lives and property. So he is not violating the constitution, he is in fact enforcing [it and] protecting the Filipino people."
So far, Duterte's submissive stance on the South China Sea has not dented his popularity rating. His net satisfaction rating rose to 68 per cent in the second quarter of this year from 66 per cent in the first quarter.
Del Rosario also noted that "with the recent clearer security guarantee definition provided by the US, it may not be necessary therefore to shrink to China's threat of war".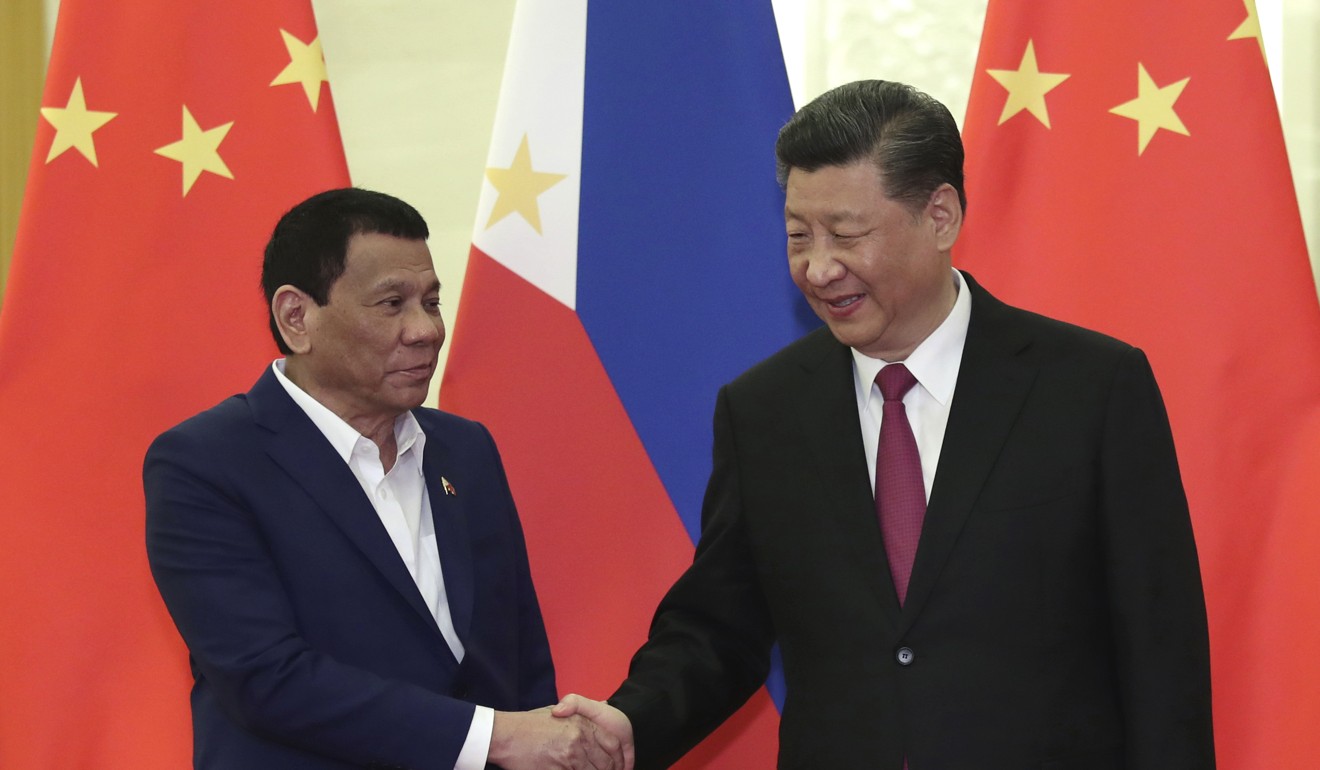 United States
State Department spokeswoman Morgan Ortagus on Thursday said in a press briefing that "China's militarisation of disputed outposts in the South China Sea betrays President Xi's 2015 commitment not to engage in such activity".
According to Japanese news agency Kyodo, she said such actions were "provocative, complicates the peaceful settlement of disputes, threatens the security of other nations, and undermines regional stability".
Ortagus said the US had urged all parties to resolve maritime claims not by force but according to international maritime law.
In his regular press conference on Friday, China foreign ministry spokesperson Geng Shuang said: "The establishment of the so-called arbitral tribunal itself is not legal. The rulings that have been made by the authorities are illegal and invalid. The Chinese side does not accept it."
In reference to the US comments about The Hague's ruling, Geng said: "The US has not ratified [Unclos] until now, yet always keeps the convention on its lips as a requirement for other countries."
US actions such as withdrawing from the UN's human rights council and the nuclear deal with Iran do not give it any place to criticise other countries, according to Geng, who accused the US of "double standards, hegemonic logic and hypocrisy".
On the possibility of the Philippines going to war with China, former Philippine solicitor general Florin Hilbay said the country was negotiating from a position of weakness.
"I've never heard of any other country saying, 'We're gonna lose in a war and we cant do anything'. You don't say that, at least not publicly," he said during a televised forum with presidential spokesman Panelo on Friday.
"You are practically giving a blank check to China and they will do anything to take advantage of that very weak position because you have already given [them] everything."
Meanwhile, an Asean forum of defence ministers on Thursday urged China and the Association of Southeast Asian Nations to agree on an "effective" code of conduct for the South China Sea. The ministers signed a declaration commending a recent maritime exercise between China and Asean, and announced that the regional bloc would hold a drill with the US next year.
Additional reporting by Meaghan Tobin
This article appeared in the South China Morning Post print edition as: Anti-China rally marks anniversary of Hague ruling