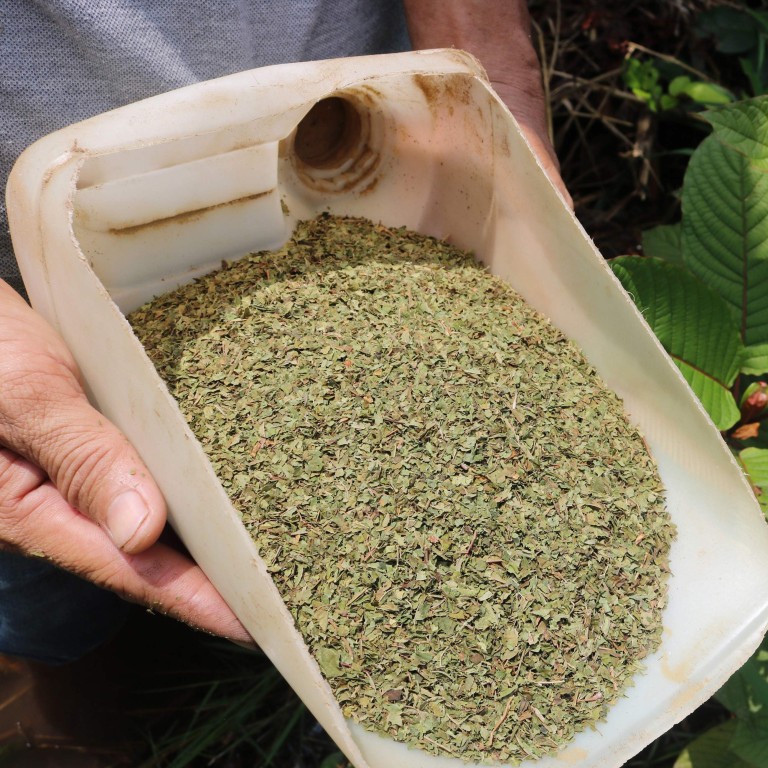 Kratom, the herbal supplement from Indonesia that has US drug agencies worried
To American and Indonesian narcotics agencies, kratom is a mind-altering drug on a par with heroin
But to fans it is a herbal panacea – and to Indonesian villagers, a magic money tree
K

ratom
, a tropical
tree leaf increasingly being used worldwide as a painkiller and substitute to opioids, may be coming under greater scrutiny in the West, but in Tuana Tuha, an inland village in eastern Borneo in
Indonesia
, it is considered a godsend and a livelihood.
Kratom, or
Mitragyna speciosa
, is native to Indonesia,
Thailand
,
Malaysia
and Papua New Guinea. Its leaves contain mind-altering compounds which affect the same brain receptors as morphine, making kratom a popular herbal medicine.
Kratom use is currently under examination in the
United States
, where more than 130 people die every day as a result of opioid overdoses. The US Food and Drug Administration has warned against its consumption, though it has stopped short of declaring it an illegal substance.
In Indonesia, the country's narcotics agency wants the health ministry to classify kratom as a first-class psychotropic, like heroin and cocaine. A drug offence in this category results in a maximum punishment of 20 years in prison.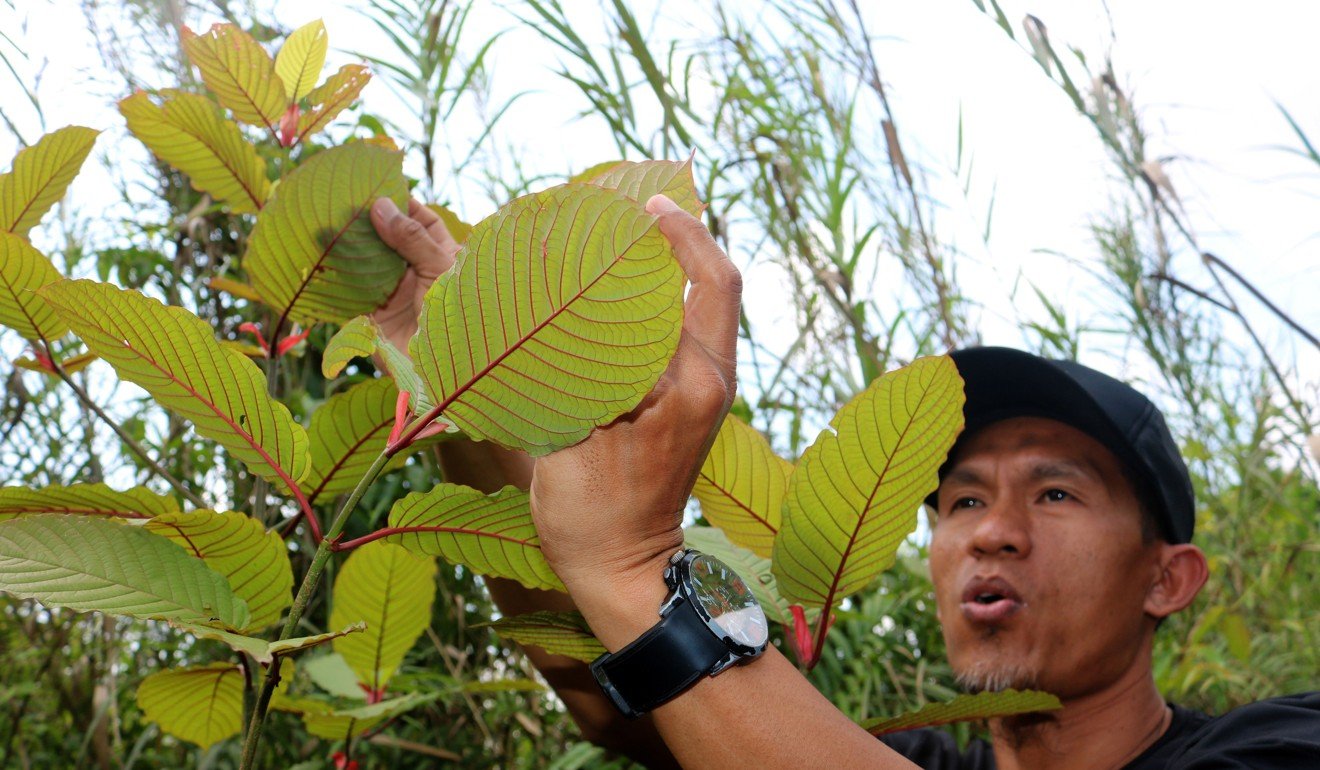 "We are asking the health ministry to classify it as a first-class [illegal substance]. The danger [of kratom] is tenfold that of cocaine or marijuana," Yunis Farida Oktoris Triana, deputy of rehabilitation at Indonesia's National Narcotics Agency [BNN], said recently. "Our discussion is still underway."
The American Kratom Association estimated that there were 15.6 million kratom users in the US as of June, and the industry is worth over a billion dollars.
In 2016, the US Drug Enforcement Administration proposed upgrading kratom to a Schedule I drug, putting it alongside heroin, LSD and MDMA. There was a major backlash and the proposal was eventually withdrawn, though concerns remain about kratom's properties, which can expose users to the risk of addiction or other side effects.
Last month, for example, a Florida resident was arrested after a disabled man he was taking care of died in the heat in his minivan. The man had fallen asleep in his house after ingesting two packets of kratom powder, US police said.
In the US, kratom is illegal in six states, including Alabama and Wisconsin, while in Europe, it is illegal in Ireland, Sweden, Latvia, Lithuania, Poland and Britain, but legal in Germany, France and Spain.
In the West, as well as in Indonesia, kratom is easy to order on the internet, where it is sold as a green powder, tea or gum.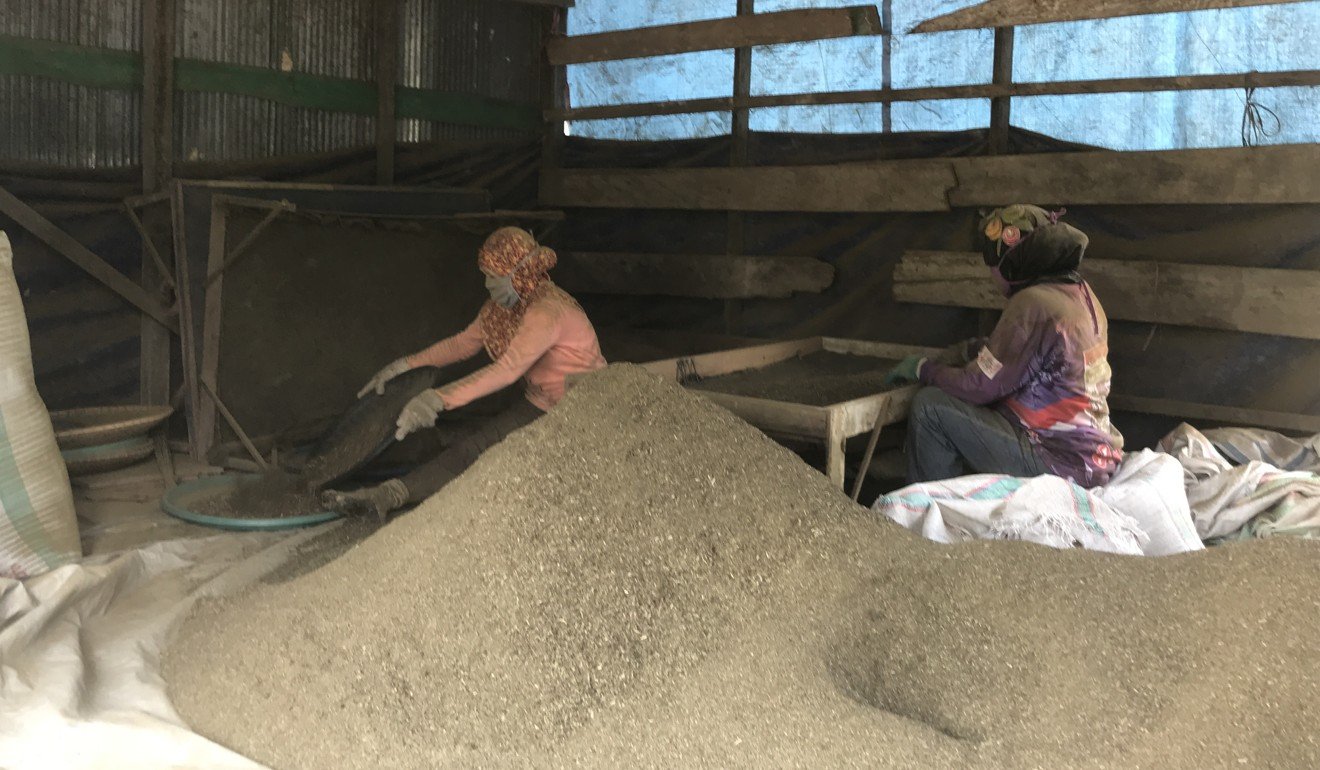 Kratom is indigenous in Tuana Tuha, a village of 3,000 people some four hours from East Kalimantan's capital city of Samarinda, and in one of the regencies that will become home to Indonesia's still-unnamed new US$33 billion capital city.
The trees, known locally as kedemba, are part of the coffee family and can grow up to seven metres high. They are quickly becoming the villagers' main source of income, replacing oil palm and fishing.
"Kratom are wild trees that grow in our backyards and across our kampong [village].
"Where there's 1,200 hectares of land that used to be an oil palm plantation, it's now filled with kratom trees," said Tommy, the 29-year-old head of Tuana Tuha village who goes by one name like many Indonesians.
Tuana Tuha villagers used to fish for income, but uncertainty and cost forced many of them to abandon this livelihood. At the end of 2017, a man from Pontianak, the capital city of neighbouring West Kalimantan province, visited the village to buy kratom leaves, telling the befuddled residents that the leaves were in high demand overseas. The leaves had been cultivated since 2004 in Pontianak, the man said.
"Villagers here have for generations been drinking the boiled water of kedemba tree skin after women gave birth to cleanse their dirty blood and speed up the healing process, but we never consumed the leaves," Tommy said. "So we believed him when he said that foreigners had been using kedemba as herbal medicine."
Villagers initially found it difficult to pick kratom leaves as nobody had taught them how to do so.
Kratom leaves are thin and very different from other crops such as rice and corn, said Iksan Maulana, one of the hundreds of kratom pickers in Tuana Tuha.
"When I first started, I got only 50kg per day because I did not know how to pick the leaves quickly so I picked them one by one," the 24-year-old said.
"I was scared climbing the trees, but I had to do it because how else could I get the leaves? I quickly learned how to do it correctly in three days. I also learned that old leaves are easier to pick than the younger ones."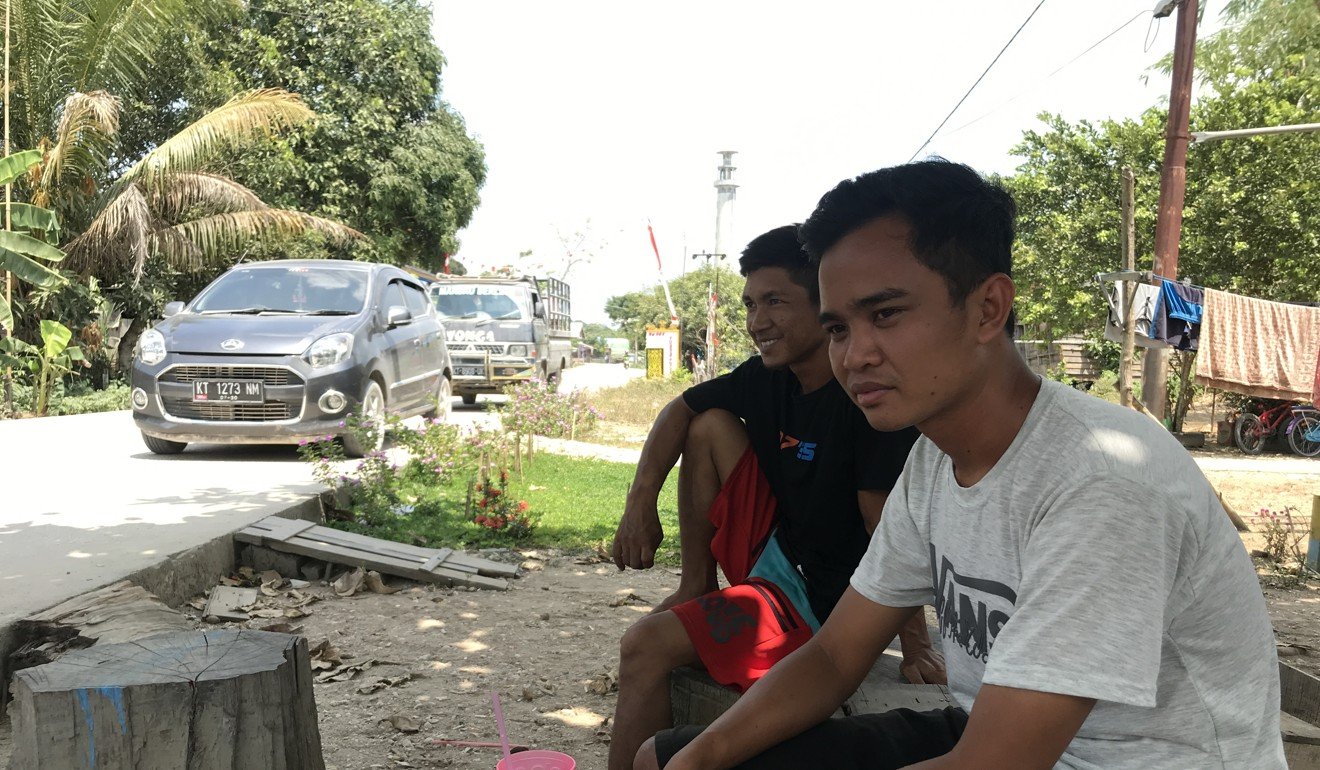 Now Iksan can pick up to 200kg per day. His new skill earns him 400,000 rupiah (US$28) per day, all from seven hours of work.
"With fishing, I was burnt under the sun all day but I didn't know how much I would get," Iksan said.
"I'm still suffering from the heat, but not as bad. Kedemba is like a money tree, all you need to do is find the tree."
The village reached its peak production between January and May this year, when up to 300 pickers could get up to 50 tonnes of kratom leaves per month, resulting in revenue of one billion rupiah (US$70,600).
Under Borneo's strong sun, the leaves dry in only six hours, and are then placed in a grinder. The final step is filtering, where villagers separate the leaves and sprigs. The leaves are then put into sacks which are sent by trucks to buyers and exporters in West Kalimantan.
While pickers in Tuana Tuha still rely on the existing kratom trees, in Sebelimbingan village, some 36km away, farmers are starting to cultivate the plants.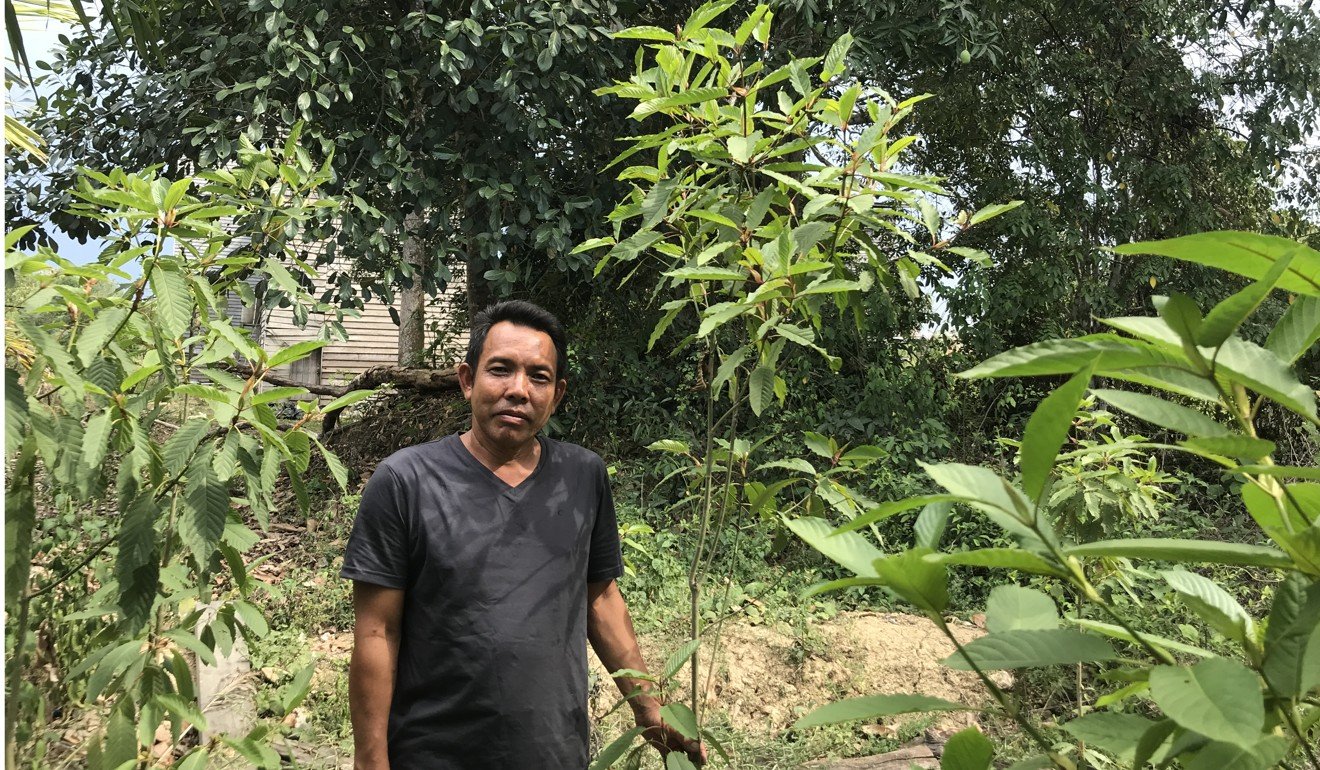 Sauqani, a 44-year-old swift-nest seller, planted 17,000 trees on a two-hectare piece of land six months ago. He expects to harvest by the end of this year, producing up to five tonnes of dry kratom leaves, which is a good result for a first harvest, he said.
"A buyer in Pontianak told me that this kratom business is very promising because it has good sales value and the production cycle is fast – we can harvest eight months after planting," Sauqani said. "It's faster than other crops, such as oil palm that takes six years to harvest."
Sauqani said he expected his village to produce up to 20 tonnes of kratom per month. He aspires to become a kratom exporter in the next few years, aiming to have over 100 hectares of land under cultivation. He is building an indoor drying facility and a new non-metal grinder to make his crop more hygienic to appease overseas users and meet the main requirement of his buyers.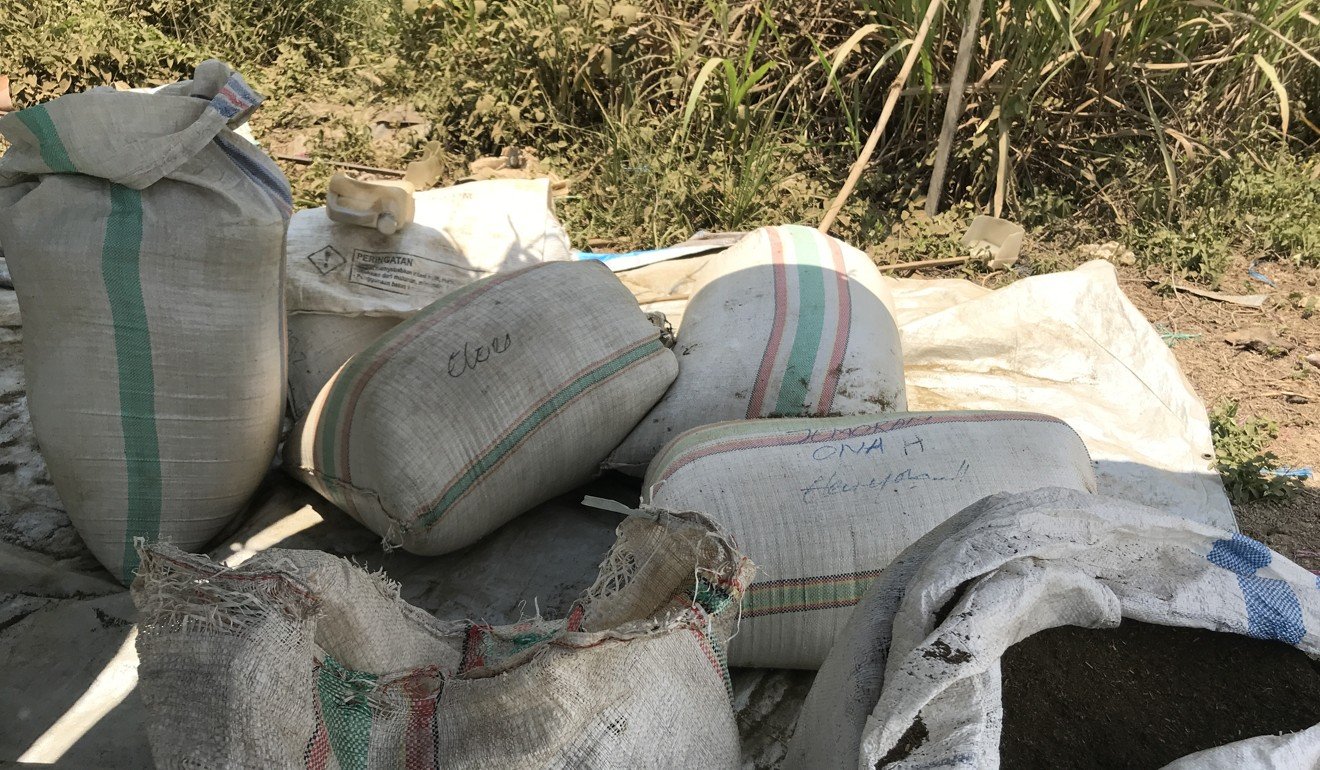 Appeasing overseas users, and regulators, will be vital for farmers like Sauqani. The US FDA has found harmful levels of heavy metals and salmonella bacteria in some contaminated kratom.
The ambiguous legality of kratom could put the future of villagers in Tuana Tuha and farmers in Sebelimbingan in limbo. Already, Tuana Tuha produces kratom leaves only when there is demand from West Kalimantan, leaving pickers and grinders unemployed for most of the month.
In Sebelimbingan, BNN's plan to criminalise kratom use has caused Sauqani to question the future of his new kratom plantation.
"We are trying to assure the government that kratom won't be abused in Indonesia. If it's being abused in the US, that is not the responsibility of kratom farmers in Indonesia," Sauqani said. "Look at cigarettes. It's clear that they cause cancer and heart attacks, but they're still being sold freely. This should also be applied to kratom." ■