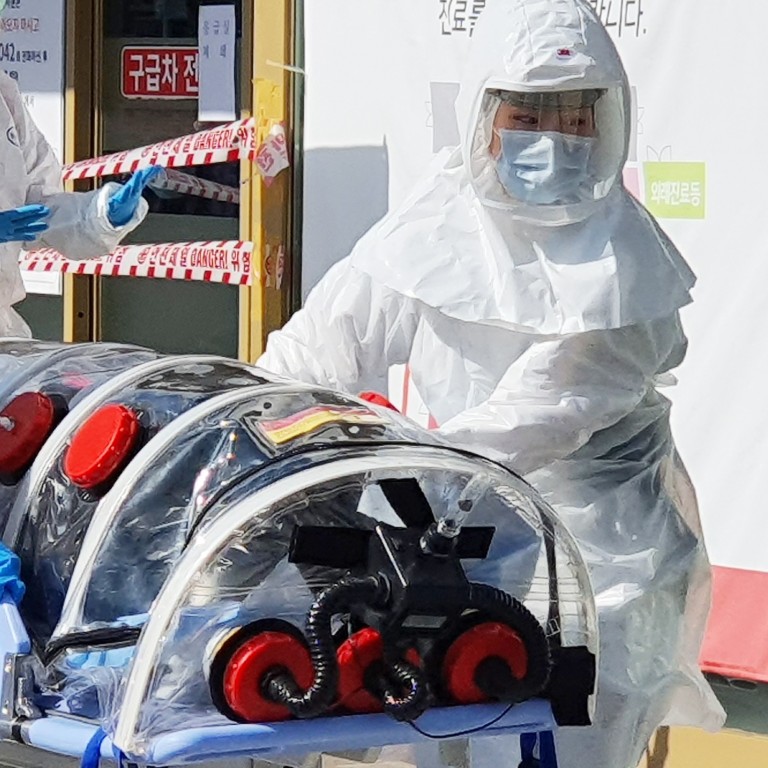 Coronavirus: as 15 cases linked to Daegu church cluster, South Korea warns over mass gatherings
South Korea has reported 20 fresh coronavirus cases, most of which are linked to the Daegu branch of the controversial Shincheonji Church of Jesus
Officials say worshippers come into close contact with others at packed church services, and people should avoid such gatherings
South Korea
confirmed five more worshippers of an evangelical church had tested positive for the new
coronavirus
on Wednesday, bringing the number of infections from the Daegu church cluster to 15 as the country's total number of cases rose to 51.
The 15 patients include a 61-year-old woman who was diagnosed as the country's
31st case on Tuesday
and 14 others who came in close contact with her at the Daegu branch of the Shincheonji Church of Jesus, a controversial religious movement known for its aggressive evangelical methods. Another person she later met in hospital also tested positive.
The woman attended four prayer sessions at the church in Daegu City, 300km southeast of Seoul.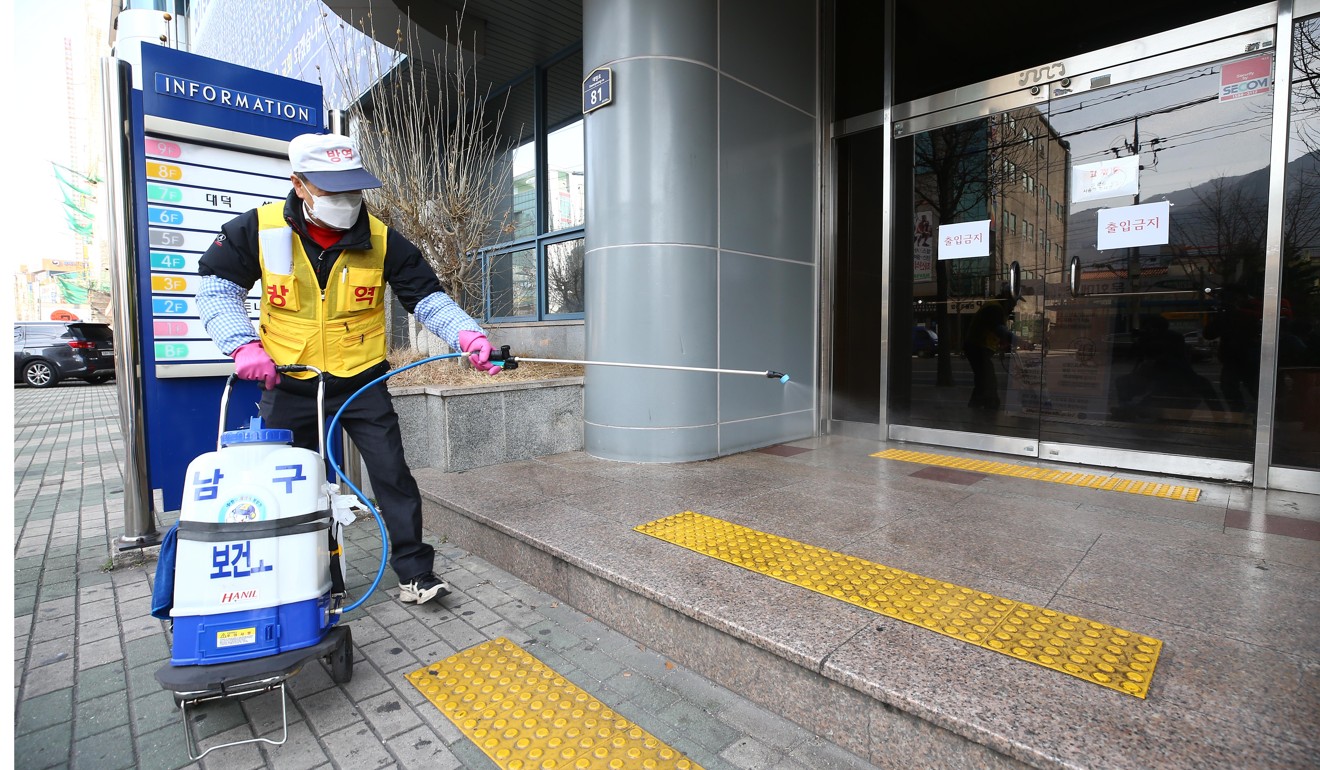 Authorities have launched painstaking efforts to trace other congregants at the church amid concerns that the church may become a major site for the spread of the highly contagious virus.
"We've dispatched a special team of experts to Daegu … We're tracing the patient's movements and contacts she made at the church," said Jung Eun-keyong, head of the Korea Centres for Disease Control and Prevention (KCDC).
"We assume she came in close contact with many others while attending prayer sessions in a crowded atmosphere," Jung said.
Health experts warn that packed religious events are more conducive to the spread of the virus through bodily contact and the spread of droplets than other social activities such as working in offices.
"You should stay away from crowded events, no matter whether it is a religious one or any other social event," said Lee Hoanjong, a professor at the Seoul National University Children's Hospital.
The patient was among some 460 followers when she attended a prayer session on Sunday and it remains unknown how many others were with her for three other prayer sessions she attended.
Pastor Shin Hyun-uk, an anti-cult campaigner, noted that religious events at the Daegu branch of Shincheonji were usually well attended, with at least 8,000 followers attending weekend prayer sessions.
"The place is so crowded and church-goers squeeze into halls," he said.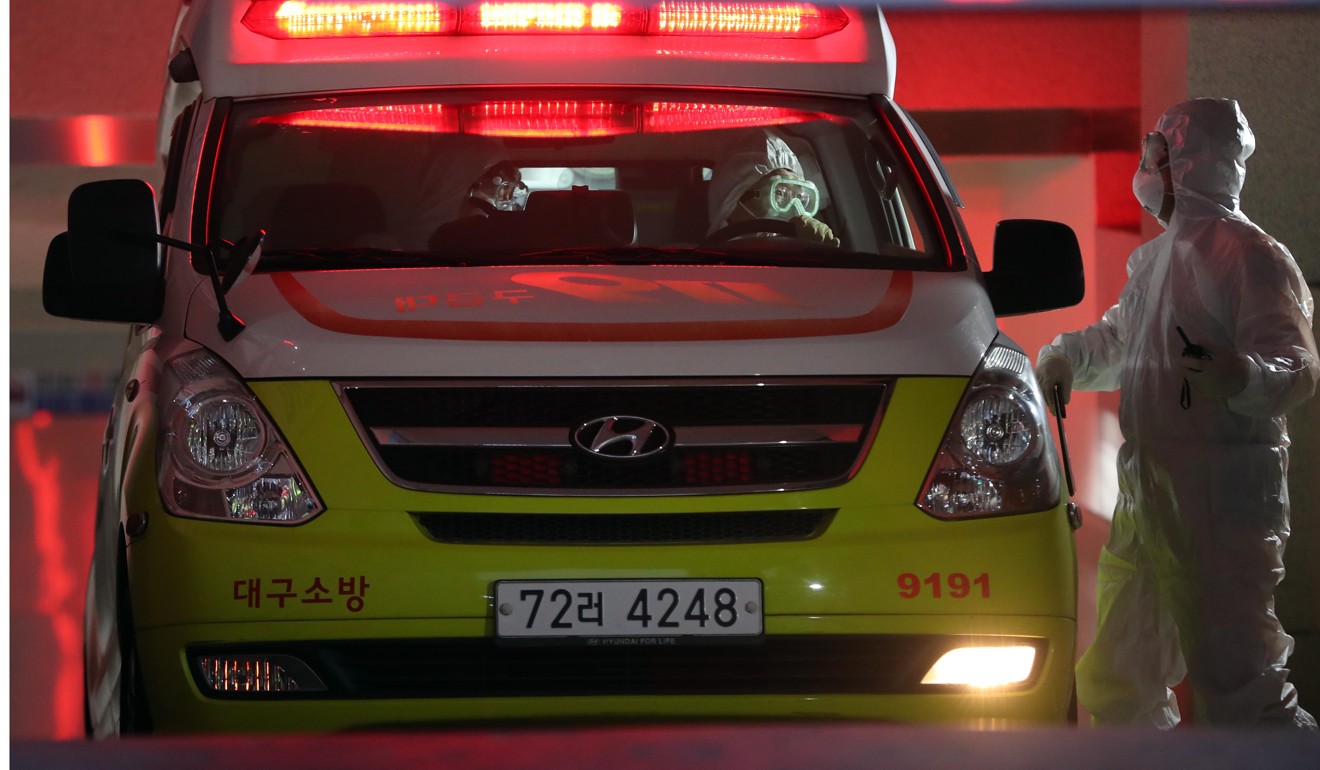 The church has closed its Daegu premises and put a notice on its homepage, urging people to stop attending gatherings and instead follow prayer sessions online.
There are 14 million Christians in South Korea, with an estimated 2 million of these being involved in fringe churches.
The Shincheonji Church of Jesus is a controversial organisation frequently accused of being a cult, with its founder Lee Man-hee worshipped as a saviour.
It boasts more than 200,000 followers across the country. Members attend traditional churches to convert new followers. Consequently, many entrances of churches in South Korea have stickers stating that Shincheonji members are not allowed inside.
"The church is shrouded in secrets and many followers conceal the fact, even from their own family members, that they go to the controversial church. In light of this fact, many people who might have come in contact with the 31st patient at the church would hesitate to come forward," the pastor said.
The 31st patient and a few others who have been found since Sunday had neither travelled abroad nor been in contact with other confirmed patients, sparking concerns of human-to-human transmission in South Korea.
"We keep the possibility open that the virus has passed through the quarantine nets to start community transmissions," said Noh Hong-in, a senior government official in charge of fighting the virus.
Daegu City mayor Kwon Young-jin urged Daegu citizens to wear face masks, wash their hands and avoid public gatherings until the disease eases off.
"And sternly refuse to be accosted by evangelists in the streets," he said in a live TV press conference.
The number of people in South Korea being assessed for the Covid-19 virus and under quarantine came to 1,030 as of early on Wednesday, up from 818 the day before, the KCDC said. Twelve people have recovered from the virus and have been discharged from hospital.
Meanwhile,
Singapore
on Tuesday confirmed four new cases of the new coronavirus, including three linked to an
existing cluster
at the Grace Assembly of God church in Tanglin district, which now connects 21 of the city state's 81 confirmed infections.
In response, the Grace Assembly of God and another church where infections were traced to, the Life Church and Missions Singapore, have stopped all gatherings. Other temples and churches in Singapore have scaled back or suspended religious services, or are taking stringent precautionary measures such as urging those who are unwell to stay at home.