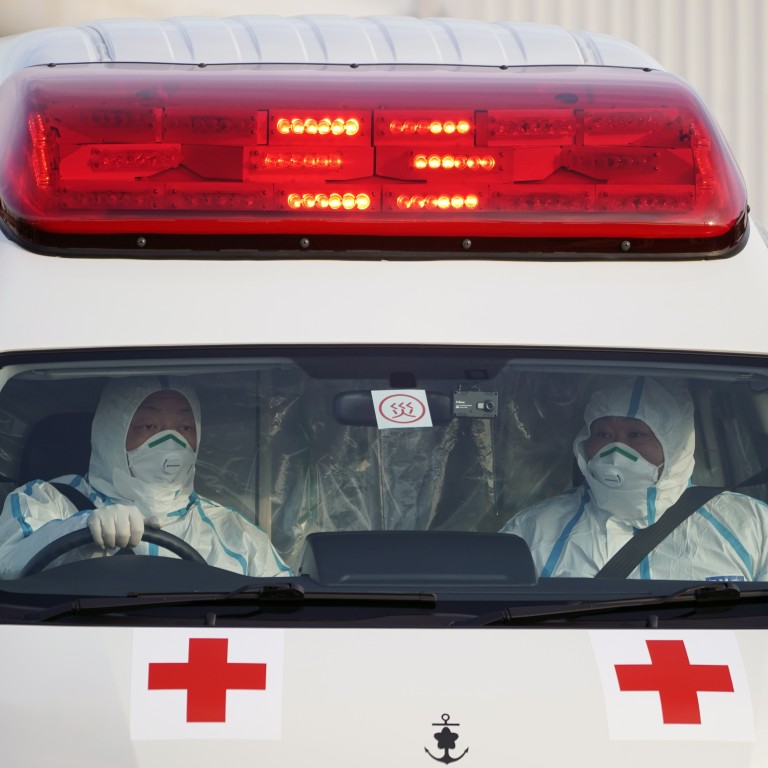 Medical staff in Japan harassed for carrying 'germs' after tending to coronavirus patients
Frontline health workers have reported being shunned by their own bosses and colleagues, and their children have been told to stay away from school
The abuse of workers who have risked their lives to save others is a breach of human rights, the Japanese Association for Disaster Medicine says
Doctors and medical workers in
Japan
who have scrambled to help
coronavirus
patients have become the target of workplace harassment from their superiors, while their children are being bullied in schools.
The Japanese Association for Disaster Medicine (JDAM) has released a strongly-worded statement calling on employers, fellow health care workers and schools to act to stop the harassment on the grounds that it is a breach of human rights.
"Some medical workers who have risked their health to save others have reported being treated unbelievably unfairly," the association said in the statement, passed on to the Post.
Some members of the 5,000-strong association, which acts as an umbrella organisation to coordinate the dispatch of qualified first responders in any given emergency situation, reported being described as "germs" by colleagues.
"This should be considered a human rights issue," the association said. "We strongly protest and demand that the situation be rectified."
JDAM has received "dozens" of reports of harassment from emergency personnel, including one being banned from the hospital where he works and another being labelled an "infection source" by colleagues.
One medical expert who worked on board the Diamond Princess cruise ship after it was quarantined in Yokohama harbour reported that his manager demanded an apology from him for being absent from work and causing a staff shortage, the statement said.
Children of emergency workers have also been told to stay home from school.
"Without their actions, more passengers and crew could have developed serious symptoms and more lives could have been lost," the statement said.
"Criticism that is based on prejudice or bias cannot be tolerated. We also ask the public to make sure that compensation is paid to medical workers if they develop health problems."
Jun Okumura, an analyst at the Meiji Institute for Global Affairs, said the discriminatory attitudes were "based on ignorance", but he added that medical professionals should know better.
"The danger to human life from the coronavirus is real, but it is greatly exaggerated and we have seen greater loss of life in Japan from flu epidemics," he said.
To date, there have been at least 850 confirmed infections in Japan – most which have been aboard the Diamond Princess cruise ship – as well as a total of four deaths.
"It is, I fear, part of the human condition," Okumura said. "Look what happened after the 1923 Kanto Earthquake; there were rumours that Koreans were poisoning wells and dozens of them were lynched. This is not too far removed from that.
"To have this sort of criticism of emergency teams is just a horrible spectacle. I'm very glad the association has taken this step because it needs to be said," Okumura said. " Personally, I think the best way of combating something like this would be for the people involved to be publicly named and shamed."
The association's comments echo a statement issued by the World Health Organisation (WHO) criticising "instances of public stigmatisation among specific populations and the rise of harmful stereotypes".
The statement is primarily aimed at halting discrimination against people who contract the virus, but also applies to medical workers who go to their aid.
"Governments, citizens, media, key influencers and communities have an important role to play in preventing and stopping stigma," the WHO said. "We all need to be intentional and thoughtful when communicating on social media and other communication platforms, showing supportive behaviours around Covid-19."
The Japanese government has faced strong criticism over the way it has handled the
coronavirus outbreak
, including for failing to screen at least 30 Japanese passengers aboard the Diamond Princess before they were permitted to return to their homes. One woman who was tested and given the all-clear
was subsequently confirmed to have the illness
.
On Tuesday, Chief Cabinet Secretary Yoshihide Suga told a press conference that there was no need for quarantine officials who worked on the cruise ship to undergo virus testing, because they were medical professionals and were therefore able to monitor their own health.
Officials are only required to be tested if they develop symptoms of the virus, the health ministry has decreed, despite at least one of the officials contracting the Covid-19 disease while on board the vessel.