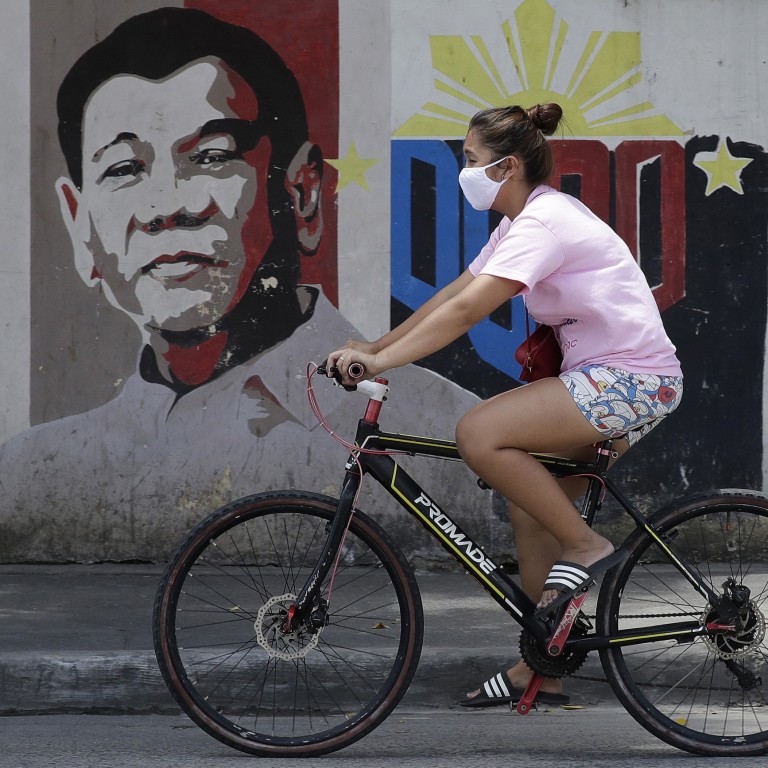 Coronavirus: Duterte to sign US$5 billion emergency bill to fund virus testing, subsidies for low-income families
Some 18 million households will receive handouts to cope with the pandemic, while the package will also go towards hospitals and equipment for health workers
The final version of the law removes a controversial section that would have granted Duterte sweeping powers to take over private firms, including banks
Philippine President Rodrigo Duterte is expected to sign a new law by Tuesday that would grant him emergency powers to combat the coronavirus crisis, the country's senate president said, as the number of cases rose to 462 and deaths reached 33 on Monday.
Senate President Vicente "Tito" Sotto III said: "I expect him to sign it tonight or tomorrow."
The law will free up 275 billion pesos (US$5.3 billion) of this year's national budget, of which 200 billion pesos will be used to fund subsidies of between 5,000 and 8,000 pesos for 18 million low-income households.
The remaining 75 billion pesos would be for coronavirus testing and processing, personal protective equipment for those on the front lines, and to construct or lease temporary hospitals and housing for front-line health workers.
The law will not include a section that would have given Duterte sweeping powers to take over private firms such as public utilities and private banks – a controversial proposal that sparked public outrage and described by critics "very dangerous".
The law was able to be fast-tracked after Duterte certified the emergency bill as urgent, enabling both chambers of congress to pass the first, second and third reading in one day. Normally, the constitution requires three separate readings in three days.
Sotto said on Monday night: "Now as we speak, we will approve on third reading. Then, I am told the House of Representatives will adopt [the Senate's] version. I incorporated with Senator Pia Cayetano all proposed amendments including those from the opposition. This is going to be a safe but effective law. God help us!"
Sotto has called the Senate's version of the bill the "We Heal as One Act".
He said the controversial sections found in the Malacanang Palace-certified bill had been amended by the senators.
Senator Cayetano, a lawyer, is the older sister of House Speaker Alan Peter Cayetano, also a lawyer who used to be a senator.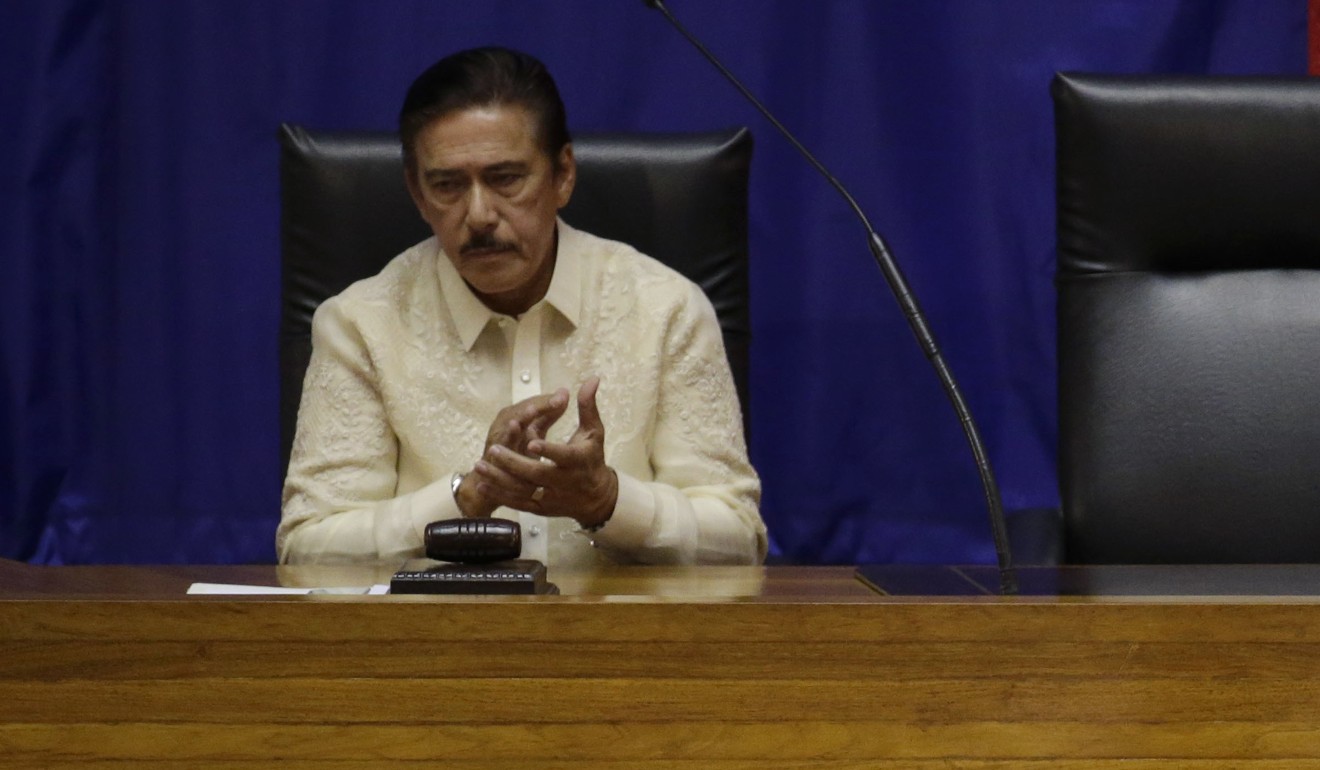 The two chambers of the Philippine congress met separately in a special session requested by Duterte, who wanted lawmakers to enact a measure that would also allow him to juggle public funds, relax government purchase rules for supplies and equipment, force building owners to lease to the government, and build temporary quarantine and medical facilities.
Duterte's secretary to the cabinet, Salvador Medialdea, earlier on Monday justified a clause that would have allowed Duterte to "temporarily take over or direct the operation of any privately-owned public utility or business affected with public interest to be used in addressing the needs of the public during the Covid-19 emergency as determined by the President".
He said the clause was a "standby power … when our Constitution is nearing a total shutdown and the government is left with no choice but to take over these establishments".
"We have no intention to abuse the powers," Medialdea said.
When pressed to itemise the spending, Luis Raymund Villafuerte, Jnr, the House deputy speaker insisted that "no abuse or corruption will occur".
Hours into the session, however, the presidential palace told legislators it was withdrawing the controversial section.
Mel Santa Maria, dean of the Institute of Law of Far Eastern University, called the proposal a "very dangerous" move and credited the outrage by the public for the palace's withdrawal of the takeover clause.
The latest version of the bill merely authorises Duterte to "direct the operation" of a narrower sector: privately-owned hospitals, medical and health facilities, other establishments to house health workers, serve as quarantine areas, quarantine centres, medical relief and aid distribution locations, as well as all public transport.
Still, the revised bill has continued to attract criticism by detractors.
Jay Batongbacal, a law professor at the University of the Philippines, said in a Facebook post: "No to emergency powers [because] Duterte is already abusing his existing powers, what more emergency powers?"
Another bone of contention was the ease with which Duterte wanted to juggle state funds.
Congressman Carlos Zarate, of the left-wing Bayan Muna (Country First) party list group, pointed out that the Constitution clearly stated: "No law shall be passed authorising any transfer of appropriations."
He also pointed out that the lack of a supplemental budget and government plan to combat the coronavirus was, after all, Duterte's fault. "It's now late. They dilly-dallied last month on the matter," Zarate said.
Duterte had earlier declined to certify as urgent the passage of a supplemental budget to battle the virus before Congress had adjourned for a recess on March 14.
He had also early on minimised the effect of the virus and joked about slapping it, then adamantly refused to wear a mask or practise social distancing.
Sotto said that the Senate version, prepared by himself and Senator Pia Cayetano and amended by other senators, would not violate the constitutional prohibition on fund-juggling.
"We made sure that most of the funds will not come from the General Appropriates Act of 2020 but from GOCCs (government-owned and controlled corporations) with funds parked in them," Sotto said.
"It's safe [from any constitutional infirmity]. I will not affix my signature on something that will not be beneficial to our country," he said.
Purchase the China AI Report 2020 brought to you by SCMP Research and enjoy a 20% discount (original price US$400). This 60-page all new intelligence report gives you first-hand insights and analysis into the latest industry developments and intelligence about China AI. Get exclusive access to our webinars for continuous learning, and interact with China AI executives in live Q&A. Offer valid until 31 March 2020.
This article appeared in the South China Morning Post print edition as: Duterte seeks emergency powers