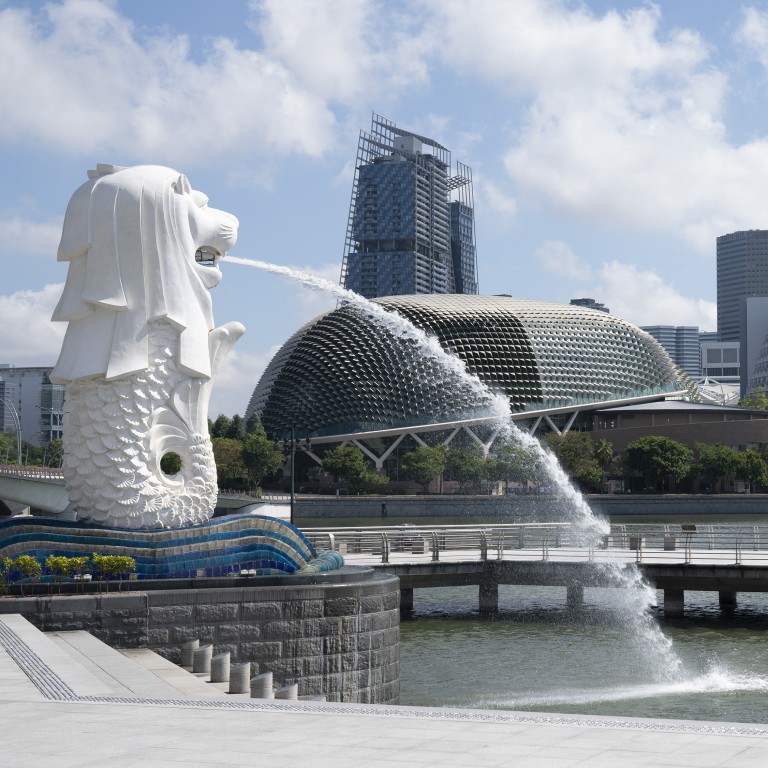 Coronavirus: Singapore bans gatherings of more than 10 people, closes bars and cinemas
Entertainment venues will be shut from Friday until the end of April, with tuition centres also closed and religious services suspended
In sternest warning yet, authorities say those admitted to public hospitals with Covid-19 after travelling overseas will be charged full rates
Singapore
will ban gatherings of more than 10 people outside work and school – and shut bars, cinemas and other entertainment venues – from Friday until the end of April, as it ramps up social distancing measures to stem
the spread of the coronavirus
.
Tuition and enrichment centres will also be closed to prevent "the intermingling of students from different schools", authorities said on Tuesday, while religious services will also be suspended. Those flouting the measures will face action ranging from warnings to having their licences revoked, while they could also face prosecution and a fine of up to S$10,000 (US$7,000) and/or six months in jail.
The 10-person limit on public gatherings includes birthday parties and weddings, and can be enforced by venues hosting the gatherings. Authorities said they hoped Singaporeans would also heed the restriction even for gatherings in private homes.
The new social distancing measure has also raised questions on how political activities can be conducted, given talk of an upcoming election, with national development minister Lawrence Wong saying political parties will have to adjust their activities accordingly.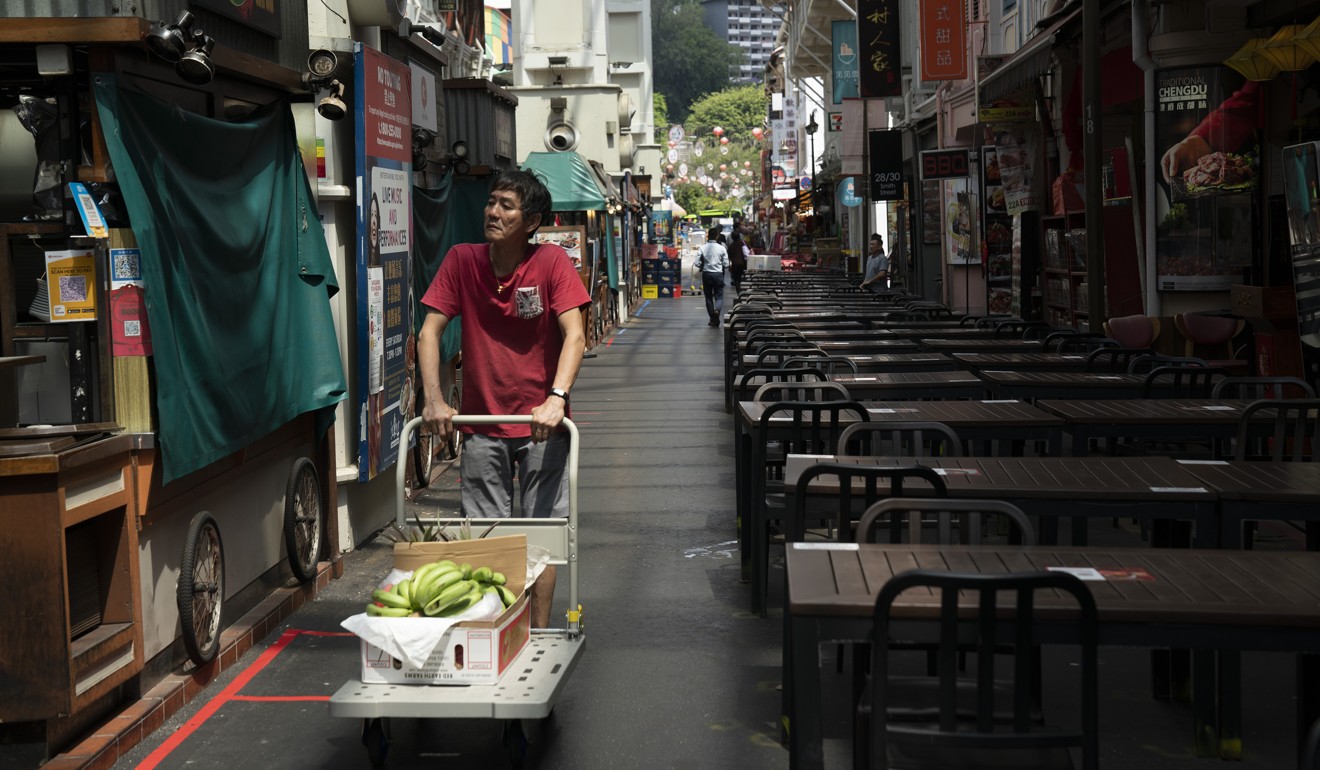 The island nation's health authorities on Tuesday sent out their sternest warning yet against overseas travel, after previously issuing several advisories. They said citizens and residents of Singapore would have to pay full treatment costs at public hospitals instead of enjoying the usual subsidised rates if they left the country, returned and were admitted for Covid-19.
A check on the Ministry of Health's website shows that for lung, nose and throat infections with very severe complications, treatment would cost a patient S$5,900-S$8,300, while with government subsidies the amount would be S$1,800-S$2,400.
"Our key message to all Singaporeans is stay at home as much as you can, go out if you need to work, go to school, go out for essential tasks. Otherwise, stay at home, reduce your social gatherings and all other activities for the next one month."
Singapore has seen some success in its containment of the novel coronavirus, but from mid-March saw a spike in cases as some citizens and residents returned to the city state carrying the disease.
There are 558 confirmed cases in the country, including 49 new cases as of noon on Tuesday. Of the latter figure, 14 people had returned from Britain and five from the United States. The country closed its borders to all foreigners on Monday following a surge in imported cases, particularly from those two countries.
Wong said authorities were expecting more imported cases from Britain and the US as there were about 1,200 residents returning from those countries every day. "That's a large figure," he said.
To prevent these returnees from spreading the infection locally, the government will house them in hotels for 14 days. It will also provide transport from the airport directly to the hotels.
While schools remain open and people can go to work, authorities stressed that tweaks had already been made to schools and workplaces – such as suspending after-school activities, getting companies to stagger work hours and spacing desks a metre (3.3 feet) apart.
Authorities also announced that from Thursday, students living in the same household as a person who returned to Singapore from any country would also have to stay home for 14 days.
Eugene Tan, a law professor at Singapore Management University and former Nominated Member of Parliament, said the new measures set the tone for Singapore's upcoming election. While the country has until April 2021 to go to the polls, voting is widely expected to happen within months given the March 13 release of a report governing election boundaries.
"It will be a very unusual election – counter-intuitive and very different from what Singaporeans are used to," Tan said. "Parties will have to be creative in engaging voters and voters will flock online to get their election fix in an almost non-exuberant environment. But because it will be the first of its kind, there will be surprises and controversies, and much ingenuity will be on display."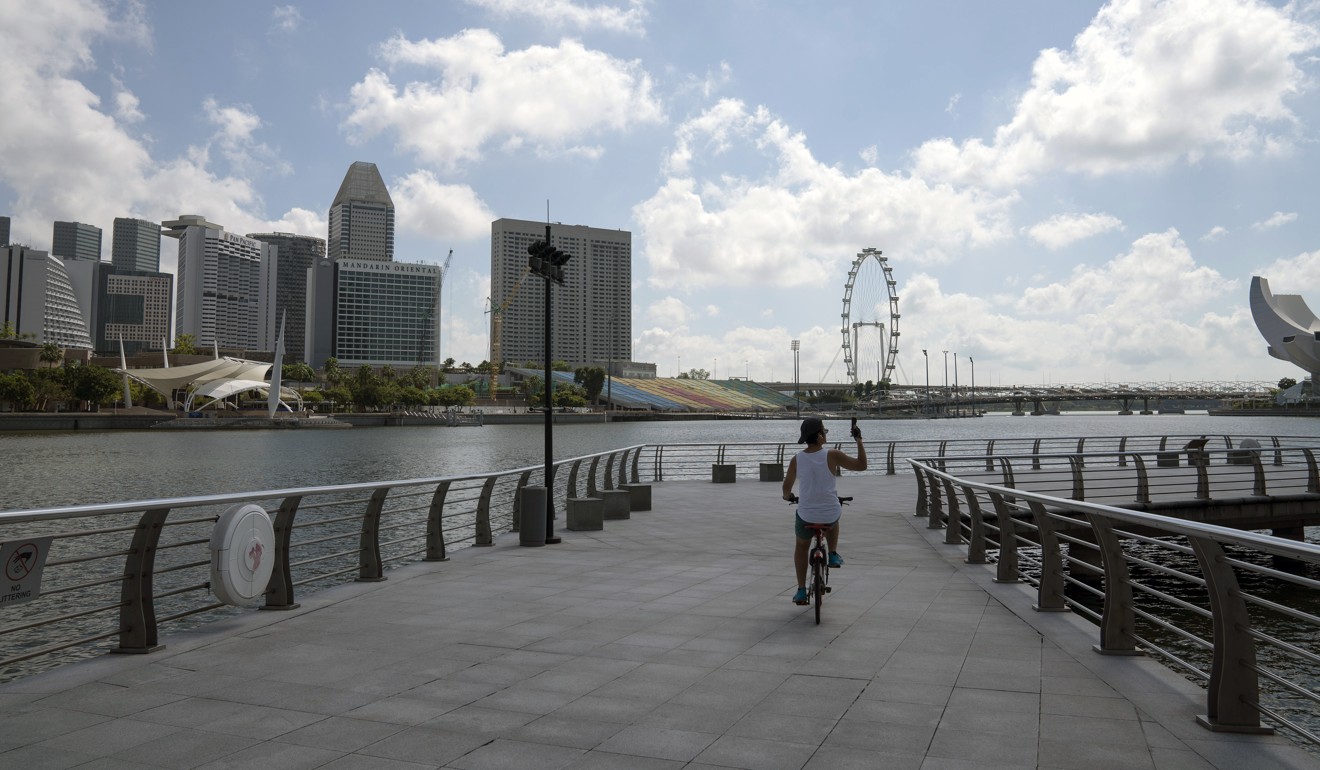 The new measures have already caused frustration for couples about to tie the knot.
Justin, who works in sales, had already moved his wedding dinner from this Saturday to October after Singapore had earlier announced a 250-person limit on gatherings.
He had kept his appointment to register his marriage on Saturday, with an official presiding over a small ceremony with 60 friends and family at the JW Marriott hotel – but the new announcements mean his wedding plans may have to be adjusted again.
"It's confusing," said Justin, who asked to be known only by his first name. "It looks like a bit of a grey area now because they said gatherings should be limited to 10 people, but our ballroom is big enough to have more than one person per 16 square metres [172 square feet] of usable space."
He said he was waiting for the hotel to advise him on whether the wedding could proceed as planned, or if it would be limited to just the couple and their parents.
Singaporean authorities also said officials would step up the enforcement of 14-day stay-home notices using a combination of mobile applications, phone surveillance and house visits, while the number of officers conducting the checks would be increased.
Food and beverage venues in the city state can continue running but will have to follow the new measures by ensuring tables are set a metre apart, and limiting groups of diners to 10 people.
Minister Wong said gyms, restaurants and attractions such as the zoo could remain open because "you rarely get into close contact with other people", unlike in nightclubs or bars, while shopping centres could stay open as long as they did not hold sales where large crowds gathered.
Hong Kong on Monday proposed a ban on alcohol sales in bars and restaurants to tackle the spread of the coronavirus, only to face anger from industry representatives who said doing so would affect thousands of restaurants and bars and could trigger a wave of business closures and lay-offs.
Purchase the China AI Report 2020 brought to you by SCMP Research and enjoy a 20% discount (original price US$400). This 60-page all new intelligence report gives you first-hand insights and analysis into the latest industry developments and intelligence about China AI. Get exclusive access to our webinars for continuous learning, and interact with China AI executives in live Q&A. Offer valid until 31 March 2020.