Singapore unveils eye-catching US$33.7 billion stimulus to fight coronavirus and save jobs as recession looms
After a first package of stimulus measures announced in February's budget, the island nation's fiscal boost now stands at US$38.6 billion
Under a revamped jobs support scheme, the government will now offset up to 25 per cent of wages, capped at US$3,225 per worker, for nine months
Singapore
on Thursday unveiled an unprecedented stimulus plan worth around S$48 billion (US$33.7 billion) to deal with the economic fallout of the
Covid-19 pandemic
, with the government tapping its vast reserves for only the second time in history to deal with what is likely to be a deep recession.
The move is the most aggressive response yet by an Asian government to the pandemic, which has brought economic activity to a near standstill as nearly a third of humanity is currently in some form of lockdown as authorities scramble to minimise fatalities.
"Today, I will introduce measures worth over S$48 billion in this 'Resilience Budget', to deal decisively with the situation at hand," Deputy Prime Minister and finance minister Heng Swee Keat said in an address to lawmakers in parliament. "This is a landmark package, and a necessary response to a unique situation."
The unprecedented drawdown of S$17 billion from the national reserves has been granted "in-principle" approval by President Halimah Yacob, said Heng, who is slated to succeed Prime Minister Lee Hsien Loong some time after the general election that is expected to be called in the coming months.
Heng acknowledged that the scale of the crisis meant a sizeable number of Singaporeans would lose their jobs or have their incomes significantly reduced. "In economic terms alone, this will likely be the worst economic contraction since independence," he said.
Signalling the gravity of the situation, Heng said all cabinet ministers as well as political office holders – such as Halimah, the speaker of parliament and the deputy speakers – would take a three-month pay cut, up from the one-month wage reduction they pledged to undertake earlier in the year.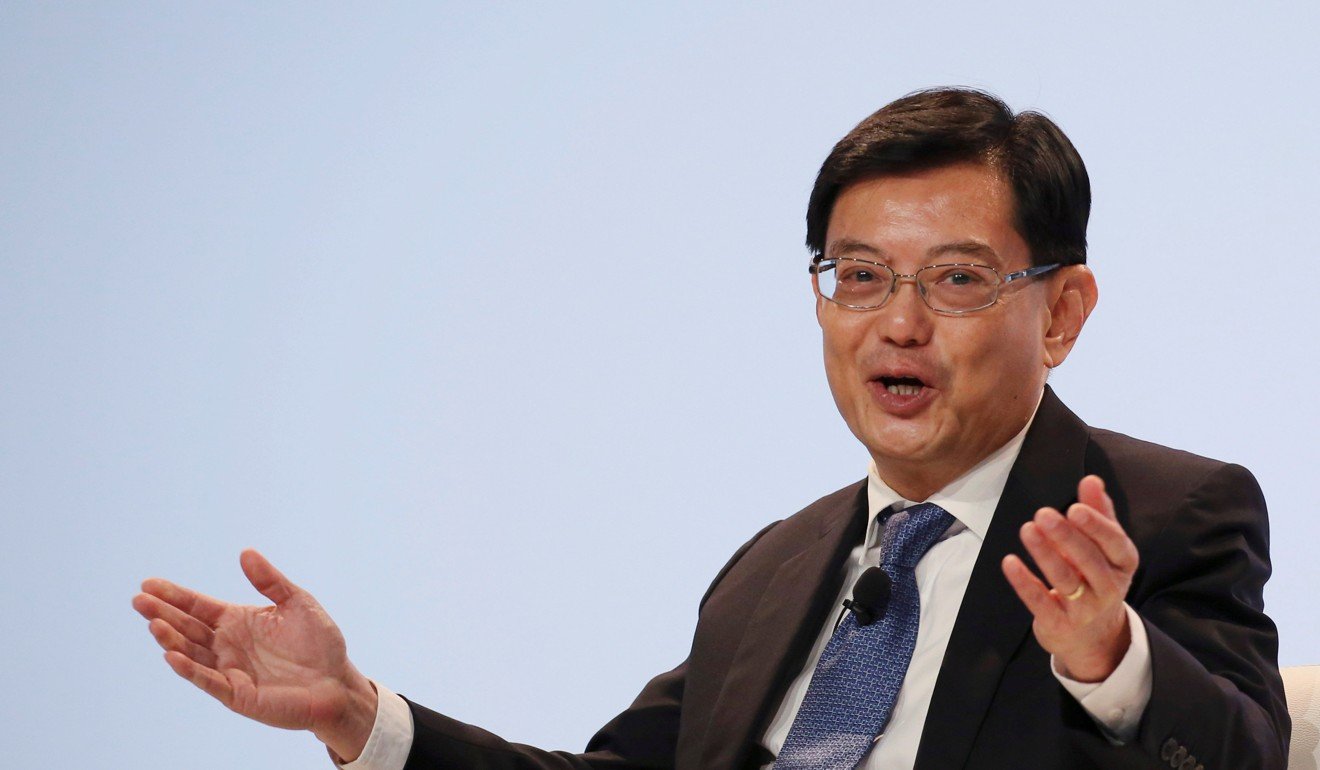 A key part of the stimulus package involves ramping up a jobs support scheme first announced in February. The government will now offset up to 25 per cent of the first S$4,600 of workers' monthly wages for a nine-month period. That is higher than the 8 per cent quantum and S$3,600 cap announced in February.
Some hard-hit sectors will receive additional support. Heng said the government would offset up to 50 per cent of wages in the food services sector, while the aviation and tourism sectors would receive up to 75 per cent of such co-funding.
Self-employed workers, meanwhile, will be eligible to receive monthly payments of S$1,000 for nine months, with a total of S$1.2 billion set aside for this measure.
To help households, Heng said a previously announced cash payout to all adult Singaporeans would be tripled – from S$100 to S$300, and S$300 to S$900 – depending on income levels. Low-income families will also receive grocery vouchers.
Individual industries will also receive different forms of help. For the aviation industry, for example, a S$350 million enhanced support package will be launched to provide rebates on landing and parking charges, as well as rental relief for airlines, ground handlers and cargo agents. Hotels, restaurants, shops and tourist attractions reeling from weak demand will pay no property tax this year.
Other sectors, such as arts and culture, will receive support in the form of up-skilling.
Before Heng's speech, Speaker of Parliament Tan Chuan-Jin read prepared remarks by Halimah. The president said she gave the green light to the proposal "considering the grave circumstances, and highly uncertain outlook".
However, she urged lawmakers to vigorously debate the government's plan. "Let me be clear upfront. My message is not meant to influence the parliamentary discussions that follow," she said. "I urge honourable members of this house to debate the package rigorously and help sharpen the proposed measures."
Along with the S$6.4 billion set aside for specific measures to deal with Covid-19 announced by Heng in February's annual budget statement, the city state's fiscal boost now stands at S$55 billion – about 11 per cent of GDP. In comparison, Japan is reportedly mulling a US$503 billion stimulus package worth about 10 per cent of its GDP. South Korea earlier in March unveiled measures worth some US$9.8 billion, about 0.6 per cent of its GDP.
Singapore's 2020 budget was in itself extraordinary, with the virus package and other measures including cash handouts to citizens paving the way for the country's biggest-ever deficit.
Singapore's long-ruling People's Action Party (PAP) last tapped on the country's reserves – estimated to be around US$1 trillion – in 2009, amid the global financial crisis.
Prime Minister Lee's administration at the time sought then President S.R. Nathan's permission to draw down S$4.9 billion to fund a wage subsidy measure that helped employers retain workers.
The government later drew only S$4 billion of that sum as the economy bounced back, and returned the amount to the reserves in 2011.
The island nation has elaborate rules on how much a sitting government can rely on past reserves. Among them are requirements that the administration is not mired in net debt, and that only up to 50 per cent of the reserves' long-term expected returns can be used to supplement annual budgets. An extraordinary drawdown must be approved by the country's president and the presidential council of advisers.
Thursday's announcement came hours after the government reported preliminary data that showed the S$507.6 billion economy shrunk by 2.2 per cent in the first quarter from the corresponding period a year ago, its biggest contraction in a decade.
The Monetary Authority of Singapore, the republic's de facto central bank, is expected to ease monetary policy next week, in line with similar moves by the US Federal Reserve and other key central banks.
Lee Ju Ye, an economist at Maybank Kim Eng, noted that the S$48 billion supplementary budget was significantly larger than Singapore's stimulus introduced during the global financial crisis. In 2009, measures worth S$20.5 billion were introduced, which translated to about 8.2 per cent of GDP at the time.
"The government is bracing for a deep downturn," Lee said, noting that the impact of the coronavirus outbreak could be as deep as the 1998 Asian financial crisis, when the city state recorded a full-year contraction of 2.2 per cent.
"Finance minister Heng had mentioned that in economic terms, this could be the worst contraction since independence [in 1965], and [the government] is acting early and aggressively to help businesses survive this crisis."
With Thursday's announcement, Lee noted that Singapore now had the biggest support package in the region.
Other Asian countries are expected to announce fresh stimulus measures in the coming weeks, with Malaysia's Prime Minister Muhyiddin Yassin slated to make an announcement on his country's latest plans on Friday. The country, currently the hardest hit by Covid-19 in Southeast Asia, in February launched a stimulus package worth US$4.7 billion.
Earlier on Thursday, the United States Senate approved a US$2.2 trillion stimulus plan that will be voted on by the House of Representatives on Friday.
This article appeared in the South China Morning Post print edition as: Singapore unleashes billions to tackle fallout