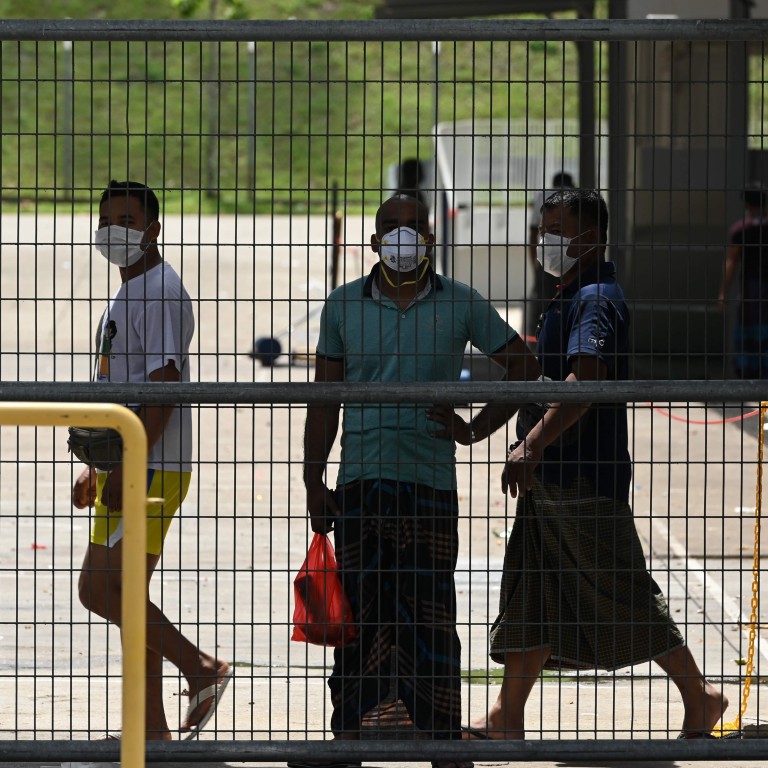 Coronavirus: Singapore sees highest daily spike in cases amid spread in migrant worker dormitories
National development minister Lawrence Wong says the workers have 'very mild symptoms', indicating the virus was present 'for some time' in dorms
Singapore is dealing with two separate areas of infection, he said, one in migrant worker dorms and another in the general population
In
Singapore
, a surge in infections among the 200,000 migrant workers living in dormitories has become a challenge in its battle
against the coronavirus
, with the island nation reporting that some 70 per cent of new cases on Thursday were from this group.
Of the 287 new Covid-19 cases – the country's highest single-day surge – more than 200 were related to migrant workers housed in dormitories.
National development minister Lawrence Wong, who co-heads a multi-ministerial task force set up to deal with the virus, said it was important to recognise Singapore was now dealing with two separate areas of infection.
"There's one happening in the foreign worker dormitories, where the numbers are rising sharply. And there is another in the general population, where the numbers are more stable for now," he said.
"That's why we need a different strategy, a dedicated strategy for our foreign worker dormitories because there is a greater spread of the virus in these dormitories, and there are also higher transmission rates, given the large numbers of workers living in close quarters."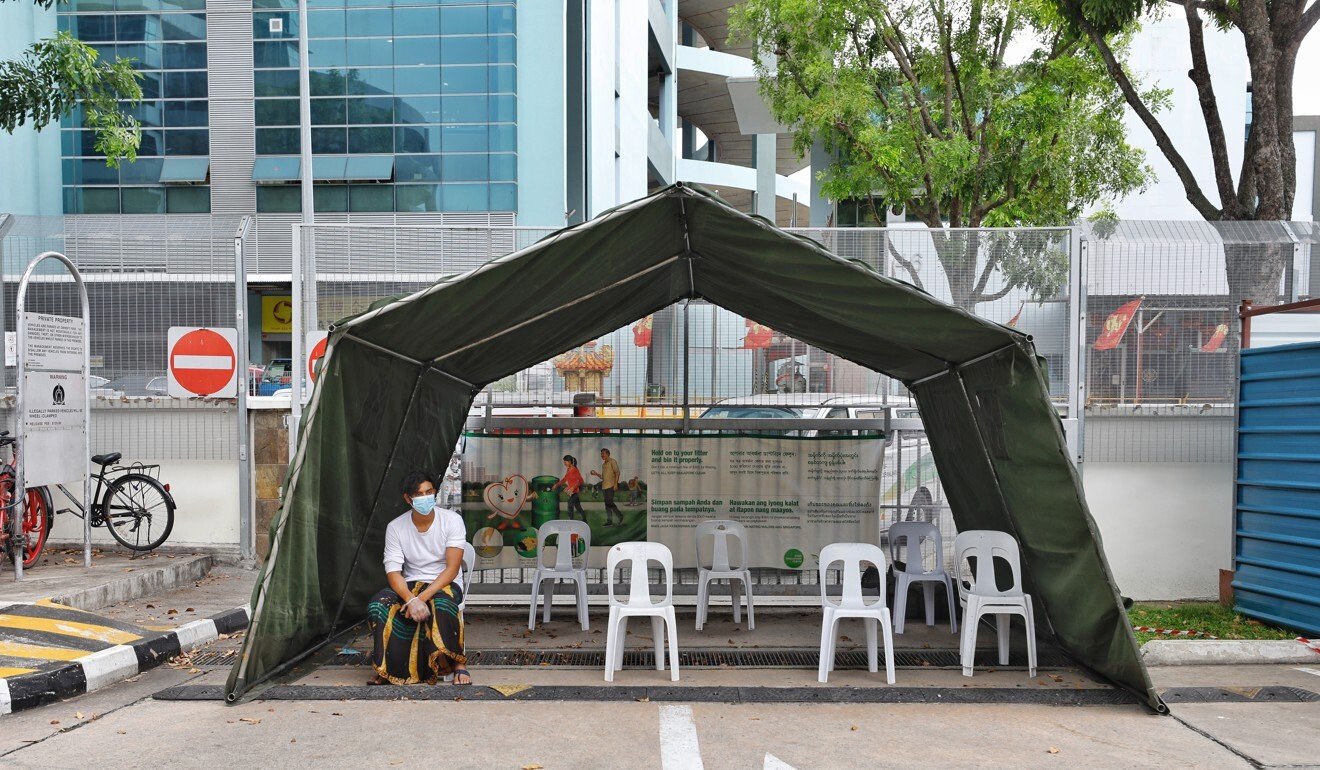 There are
1,910 confirmed cases of Covid-19 in Singapore
, which has seen a rise in locally transmitted infections over the past two weeks. Of these, 884 are still in hospital, with 29 in intensive care. So far, 314 people have been discharged while six have died.
Four dormitories – the S11 at Punggol, Westlite Toh Guan, Toh Guan Dormitory and Sungei Tengah Lodge – have been locked down after the spike in infections.
Given the worsening situation, Wong said the government could no longer solely rely on dormitory operators to ensure cleanliness and hygiene standards, so different ministers were stepping in to ensure these as well as social distancing measures were met.
Manpower minister Josephine Teo said major adjustments would be made to current operations, including barring migrant workers from preparing their own meals in dormitories.
"In order to reduce the opportunities for them to interact with one another … which then raises the risk of transmission, we have to ensure that they are provided with meals instead," she said.
Teo said a team comprising 380 to 400 personnel from the Singapore Armed Forces and the Singapore Police Force had been deployed to work with dormitory operators since Monday to ensure timely food delivery.
She said she hoped to have these processes "stabilised" so they could be replicated in other dormitories across the country.
Kenneth Mak, the health ministry's director of medical services, said it was working with the multi-ministerial task force to deal with the growing number of cases in dormitories, and had set up posts with medical personnel to look after sick workers.
Authorities are also relocating workers who are not sick – especially those in essential services – to venues including military camps, exhibition centres, floating hotels, and some housing blocks. More than 5,000 workers have since moved into these venues.
National development minister Wong said while there were foreign workers who had caught the virus in the early stages of the outbreak, the current situation was different.
"There are many more venues outside of the dorms … like the Mustafa Centre [shopping centre], like the Project Glory construction site, where workers have either gathered together or worked together and that's where the virus spread among them," he said, referring to other clusters that involved migrant workers.
He said the infected workers had very mild symptoms, which explained the delay in picking these cases up, and suggested it was very likely the virus had been going around "for some time" in the dormitories.
Mak from the health ministry said many of the cases stemmed from the Mustafa Centre cluster. "We believe that workers had visited Mustafa, and they subsequently transmitted the infection to their co-workers," he said.
Migrant worker associations say cramped dormitory conditions could endanger workers amid the
Covid-19 outbreak. Local media reports have highlighted poor living conditions in some dorms, ranging from kitchens infested with cockroaches to overflowing urinals, though Singapore's manpower ministry has over the past week offered reassurances that the living conditions have "continued to improve".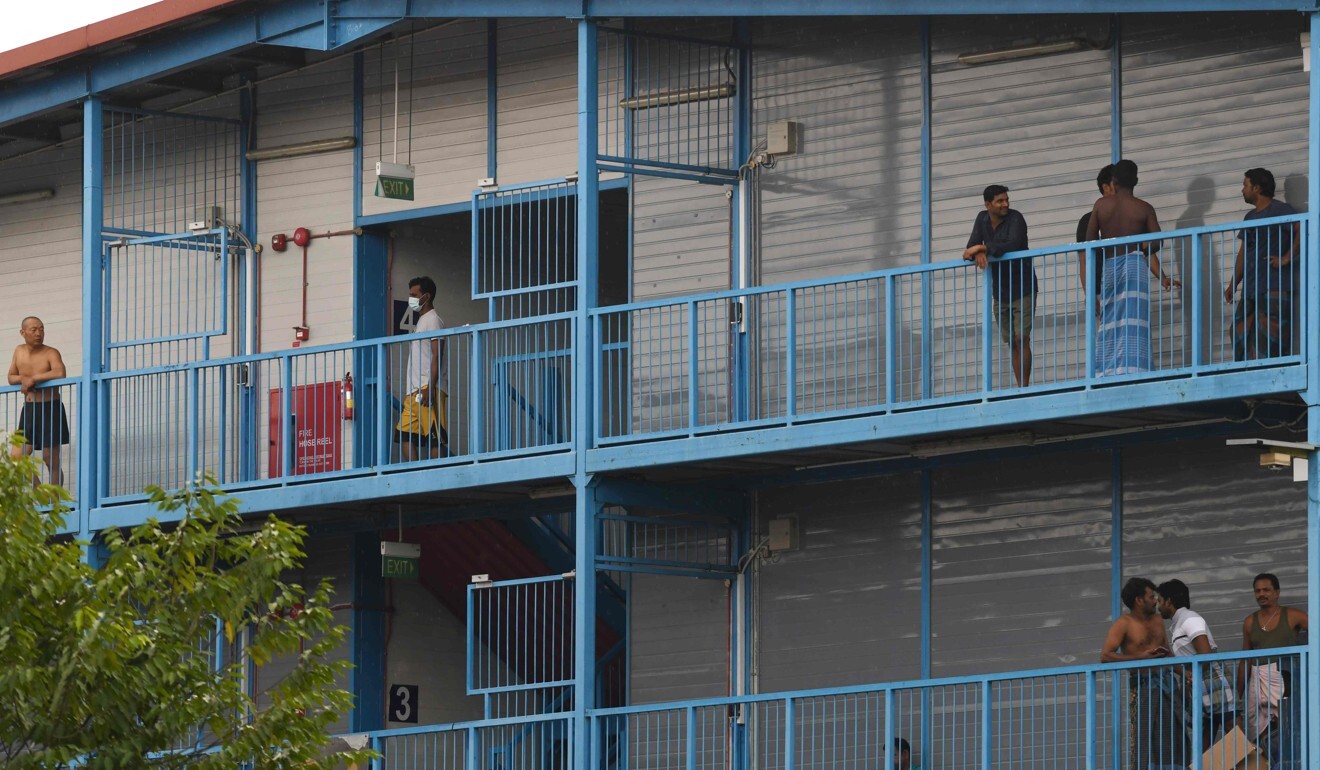 Though most of the new infections have been linked to foreign workers, national development minister Wong said it was vital Singaporeans abided by the "circuit breaker" social distancing measures, which included closing schools and most workplaces as well as sports and recreation facilities.
"This circuit breaker … requires all of us to minimise movement and stay at home as much as possible, so that we do not become the weakest link that causes another large cluster to emerge," he said.
He warned that enforcement would be stepped up, with more than 2,500 officers spread across the island, and added that stadiums across the city state would be closed after reports of people congregating in them.
The government was also considering tightening the current measures if the situation worsened, Wong said, with restrictions on people's movement being one possibility.
As Singaporeans look forward to a long weekend due to the Good Friday holiday, health minister Gan Kim Yong appealed for citizens to stay home.
"If you want to connect with your friends, your relatives, call them, or have a virtual meet up with them over the internet or video calls," he said.
"Each of us must take the circuit breaker measures seriously because this is the only effective way for us to slow the transmission of the virus, so that we can gradually stabilise the situation and reduce the number of cases daily."