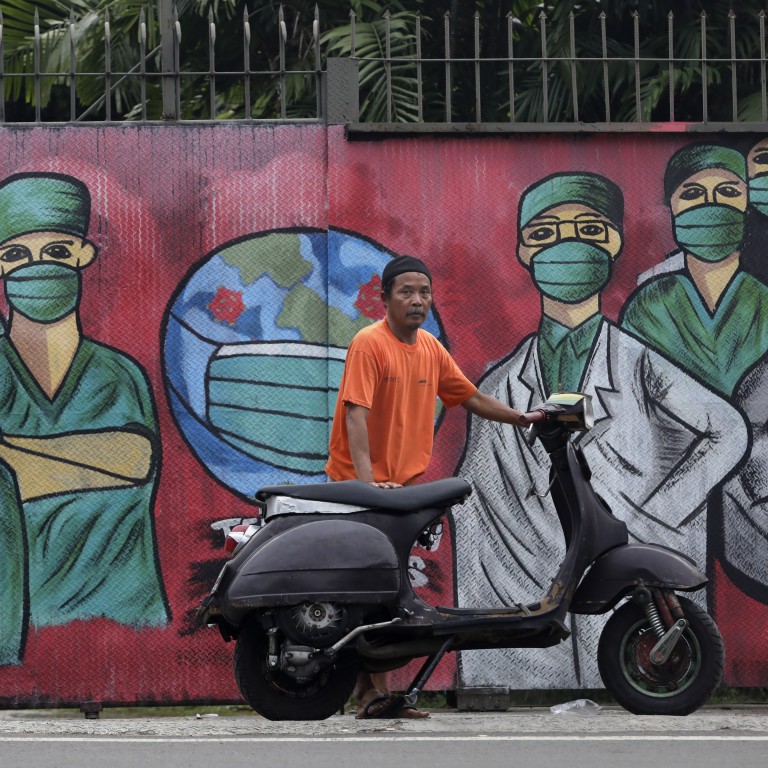 When it comes to coronavirus deaths, could Indonesia be Southeast Asia's Italy?
Analysts see the situation as a harrowing replay of what happened in Italy, which has Europe's highest fatality count
The failure to isolate affected areas and limit the population's movement could see more than 140,000 deaths by May, according to a University of Indonesia estimate
The figures coming out of
Indonesia
are grim – 469 dead from
Covid-19
, the highest fatality count in Asia outside China, and another 5,136 people infected.
But in the nation's capital Jakarta, where two-thirds of the country's cases originated, residents report young people continuing to socialise at street food stalls and cafes, despite
President Joko Widodo
introducing new social distancing measures on April 7.
Gatherings of more than five people have been banned, there are limits on the number of people who can use public transport, and public spaces have been closed – but a lack of enforcement of these measures threatens to undermine them, with dire consequences.
For analysts, it is a harrowing replay of what happened in
Italy
, where people continued to socialise at cafes and clubs in February as the coronavirus was quietly spreading in the country's wealthy northern region.
By March, infection numbers were soaring, with Italy reporting more than 165,000 cases as of Thursday. Some 21,600 people have died there, the second-highest death toll in the world after the United States' 30,985.
Experts modelling the outbreak in Indonesia are warning Southeast Asia's largest economy is heading down the same path as Italy – which failed to swiftly put in place measures to isolate affected areas and limit the population's movement – and could be even harder hit.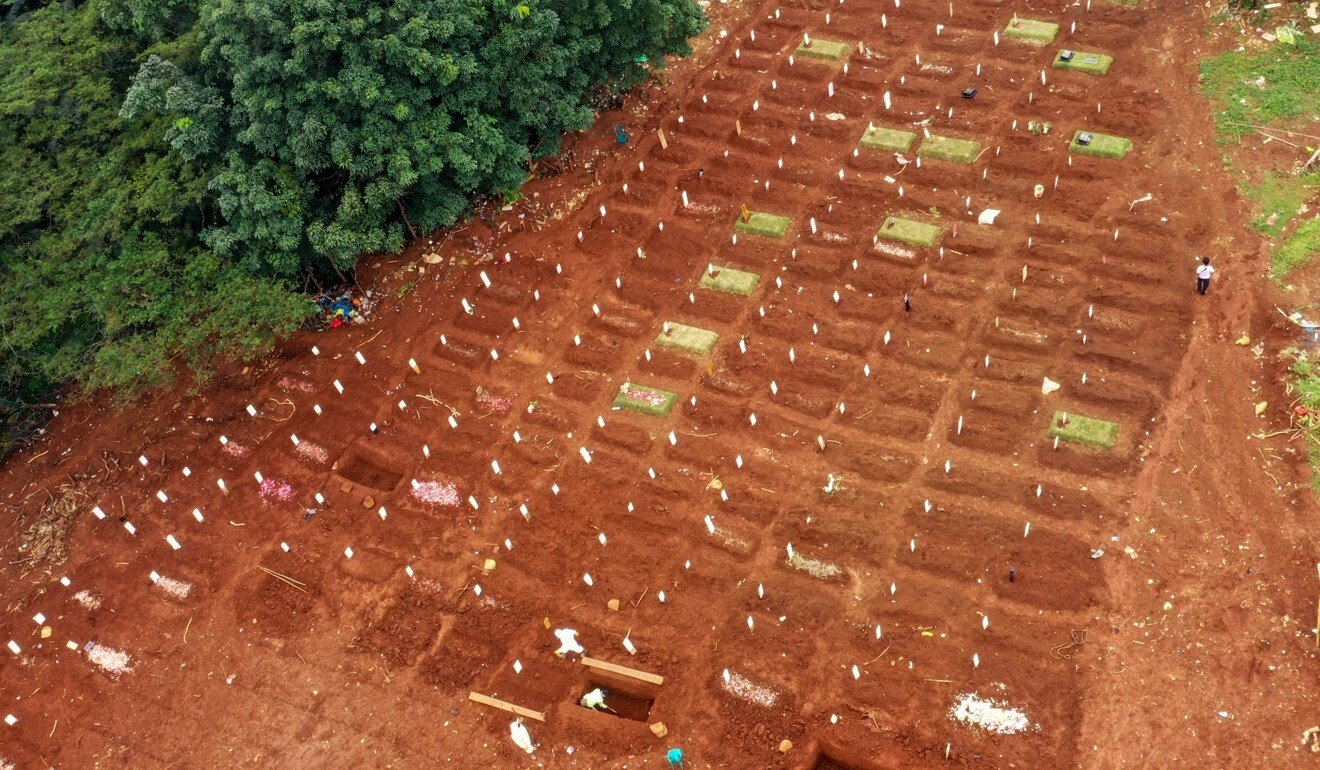 Coronavirus infections in Indonesia might peak at 95,000 between early May and the beginning of June, government Covid-19 task force adviser Wiku Adisasmito said on Thursday. Another model by the University of Indonesia's Faculty of Public Health has warned that there could be more than 140,000 deaths and 1.5 million cases across the country by May unless the government takes tougher action.
"It could be [another Italy] if the government intervention continues to be in the category of light to moderate and not high-scale intervention," said biostatistician Iwan Ariawan from the university. 
The pandemic has also claimed the lives of many medical professionals in both Indonesia and Italy. In the Southeast Asian nation, at least 22 doctors, 10 nurses and six dentists had died as of Monday, while Italy has reported the deaths of more than 100 doctors.
Iwan said his team was searching for additional data on total fatalities in Indonesia, as "inaccurate" calculations were masking the true impact of Covid-19.
Muhammad Habib Abiyan Dzakwan, a researcher from the Centre for Strategic and International Studies's (CSIS) disaster management research unit, said: "Instead of using the 'next Italy' term, I prefer to [say Indonesia] is likely to have more cases than Italy." 
He said Indonesia had a much larger population than the European nation, which would in itself contribute to a higher number of cases. 
Indonesian scientists are also warning that the actual infection figures are around 10 times higher than the official number, given the low rate of testing in the country of 270 million. To date, over 36,000 people have been tested – just 0.01 per cent of the population – as the government looks to ramp up testing to 10,000 people per day.
"For sure the number of people with Covid-19 is far higher … 85 per cent of people with Covid-19 have no symptoms and they cannot be detected with the current testing system, which is limited," said Iwan from the University of Indonesia. "Priority is given to people with symptoms or who have a history of contact with Covid-19 positive people."
Habib from the CSIS said many people were not observing social distancing primarily because there were no sanctions for those caught breaking the restrictions. On top of this, he added, people were still gathering to pray in mosques and churches.
"This will add up to more people being exposed to Covid-19 like in South Korea where many people were infected at religious gatherings," he said.
The most pressing concern is the spread of infections from Greater Jakarta – the capital and its surrounding metropolitan area, home to 30 million people – to Indonesia's provinces. Widodo has not officially banned people from travelling home to the provinces, instead saying he had "appealed to people" to stay put.
"The biggest challenge to large-scale social distancing is mudik," said Iwan, referring to the traditional migration from Jakarta to hometowns or villages at the end of the Muslim holy month of Ramadan. "There is no firm limitation from the government right now."
While some provincial governors have asked people to remain in Greater Jakarta, Indonesian Transport Society head Agus Taufik Mulyono on Tuesday told local media more than 900,000 people had returned to the provinces and expressed concern that they could be spreading the disease.
The University of Indonesia on April 12 estimated that the number of people travelling would increase the number of people needing hospital treatment on Java island, outside Greater Jakarta, by more than 1 million by July 1. Around 19.5 million people went on mudik last year, according to the government.
"The number of deaths will also rise as the distribution of hospitals with comprehensive equipment to treat seriously ill Covid-19 patients are mostly located in Greater Jakarta," said Iwan from the university.
The government is also allocating money to a social safety net as part of the effort to persuade people not to travel, under which 4 million people have already filed for unemployment allowances.
Covid-19 has already left an estimated 2.8 million Indonesians jobless, with many returning to their hometown as a result.
The worsening outlook might push an estimated 1.1 million people into poverty, and the number might rise to as high as 3.78 million with about 5.2 million people being rendered jobless under the worst-case scenario of Covid-19 pushing Indonesia into a recession, finance minister Sri Mulyani Indrawati said on Tuesday.
Habib from the CSIS also criticised the central government for turning down the request by several local governments to implement large-scale social distancing.
"The central government should think one step ahead, that these regions are not supported by advanced hospitals and abundant medical officers," he said.
By law, all local or provincial governments need to obtain approval from the Health Ministry before they can implement strict social distancing measures in their jurisdictions.
Additional reporting by Reuters and Bloomberg
This article appeared in the South China Morning Post print edition as: Indonesia 'may go the way of Italy'