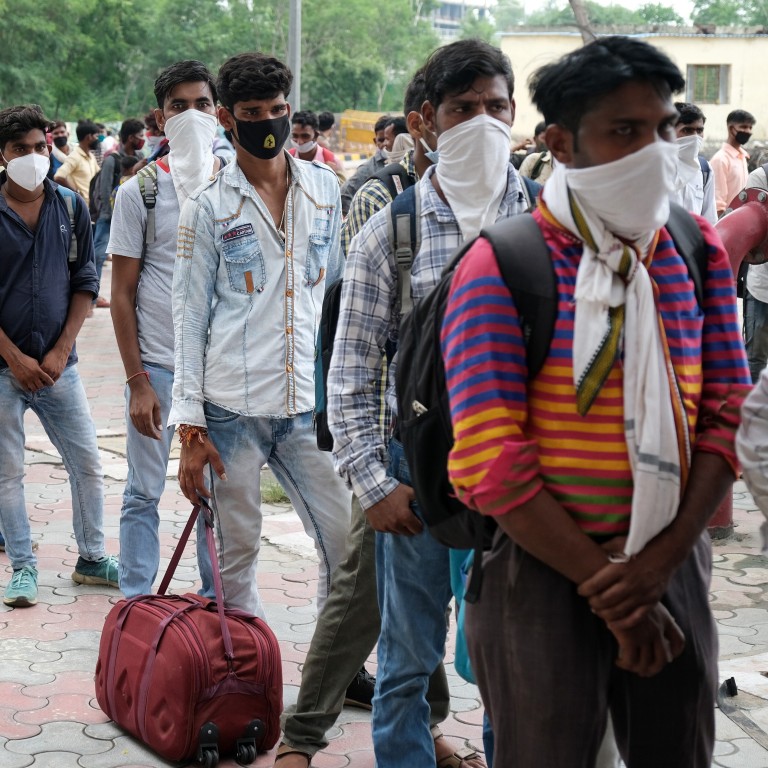 India coronavirus: migrant workers returning to cities confront grim reality of lockdown
India is approaching 3 million coronavirus infections. Accordingly, local and regional governments have been reluctant to allow normal business to resume
It means many workers face a dire choice between life in their villages and hometowns where there are few jobs and eking out an income in bigger cities
After the restrictions cut his salary in half, it became impossible for Khaled and his family to pay for rent and food. So in June he and his wife packed their bags and returned to his hometown, Kanpur in Uttar Pradesh, which is known for its leather goods manufacturing industry. Khaled hoped to make a fresh start but his plans unravelled after he arrived and found many factories that closed during the lockdown had sacked most of their workers.
Starved of opportunity, he decided last month to move back to Mumbai, where he returned to work for his former employer. He now works five days a week at the Dharavi factory – for less than half his previous salary. He also drives an Uber two days a week in 10-hour shifts.
"I can barely make ends meet," he says. "These two jobs still don't help me make as much money as I did before the pandemic."
The government imposed the lockdown with about four hours' notice. Businesses shut down, commodity chains collapsed and economic activity ground to a halt. The country's 400 million informal workers were hardest hit. Most of them earned daily wages in jobs with no security or welfare benefits. Many have not been paid since March, forcing them to depend on charity or government aid.
Desperation compelled them to return to the cities in recent weeks in search of work, only to discover an even harsher reality. Mired in poverty,
they struggle to make ends meet and to feed themselves
and their families. The World Bank estimates India's lockdown will push 12 million people into abject poverty. Many may never recover.
The Centre for Monitoring Indian Economy (CMIE), a Mumbai-based think tank, estimates more than 90 million informal jobs were lost in April. Many Indians turned to the agricultural sector to find work, particularly as migrant workers returned to their homes in rural villages and towns. There has been a partial recovery since restrictions eased in June but there have still been nearly 7 million informal jobs lost.
India's overall unemployment rate, which was 7.2 per cent at the start of the year, soared to nearly 11 per cent in June and remains high at 9.1 per cent currently.
According to a study released this week that involved testing for virus antibodies, 5.8 million of New Delhi's 20 million residents may have been infected without showing symptoms, dwarfing the official tally of about 160,000 cases.
Similar surveys in other Indian cities have also suggested more infections than the official numbers indicate. In the western city of Pune, 51.5 per cent of respondents in five badly affected pockets had antibodies in their blood, a recent survey showed. Another in late July
found 57 per cent of those tested in Mumbai's slums had been infected
.
The outbreak has also spread to new regions. Kerala, which managed to control the first wave, has reported a surge in cases, along with eastern states such as Bihar, Jharkhand, Odisha and West Bengal.
Mumbai is India's main financial hub but it has been hit hardest by the pandemic. Five months after its first case, the city is still reporting more than 1,000 new infections daily. Accordingly, local and regional governments have been reluctant to allow normal business to resume. Offices have reopened but with only 10 per cent of staff, while government offices have been operating with 15 per cent.
For workers like Naimuddin Shah, a 44-year-old carpenter, the restrictions and their knock-on effects have been disastrous.
Shah returned home to his village in the northern Indian district of Basti in March just before the lockdown was announced. He stayed there for three months until he realised "there was no option for me but to go back to Mumbai". He returned to Mumbai in late June but has struggled due to the economic toll of the lockdown.
"No one has the money to make new furniture now," he says. "When people don't have money to eat, why will they hire a carpenter like me?"
Shah must support his wife and six children but has earned just 2,000 rupees (US$27) in two months since returning to Mumbai, about one-fifth of his previous earnings. It is not enough to feed his family.
Almost every other night, Shah and his children queue outside a mosque on the outskirts of Mumbai that has been turned into a community kitchen run by NGOs.
He recalls the last-minute decision he made when leaving his village which may have saved their lives.
"I decided to carry food grains with me so that we save on spending for food," he says. "If not for these grains, we would have been starving right now."
Nandkishore Ramprasad Varun has been serving in the community kitchen for more than two months. His business selling flowers from a street stall collapsed after the lockdown was imposed.
In June, Varun and his family of seven returned to their hometown, Siddharthnagar in the north, but he could not bear it.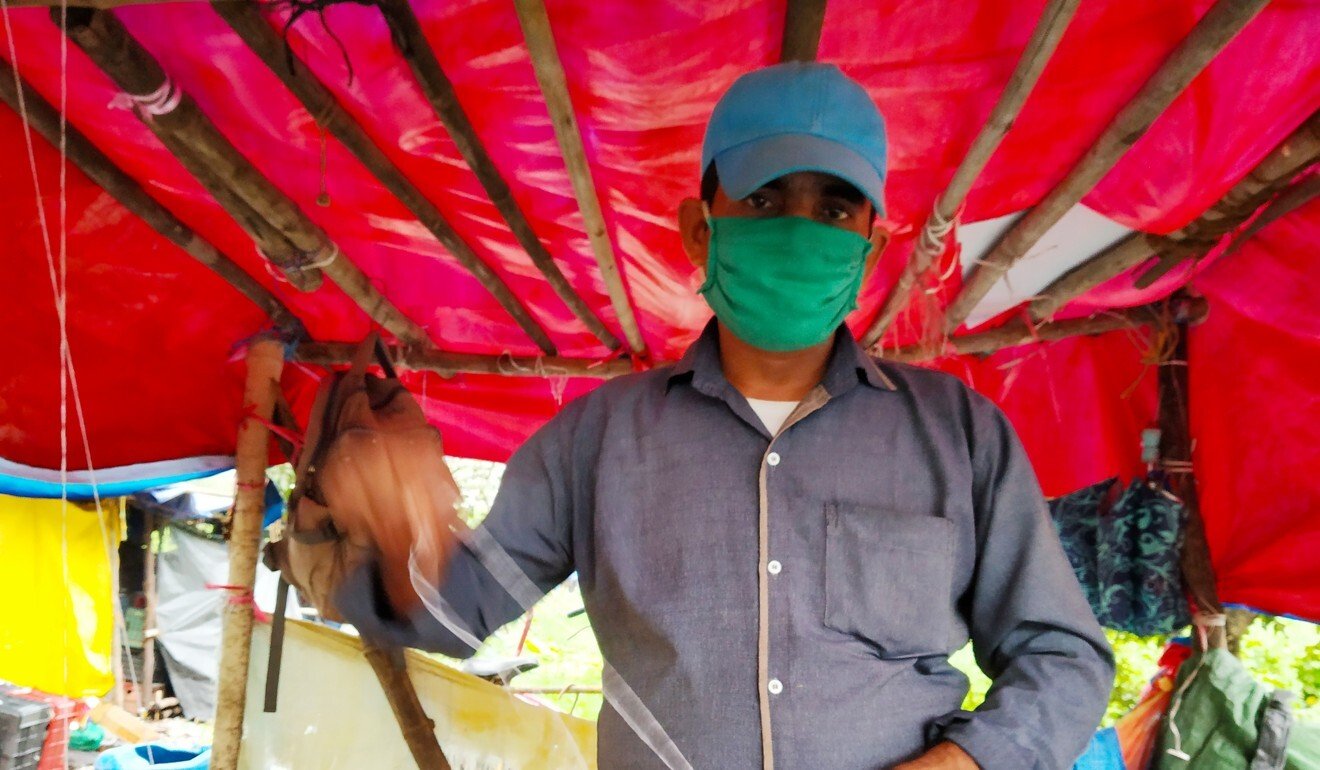 "I had no money left," he says, recalling the embarrassment. "I was forced to borrow money from my relatives even for my travel."
So the family returned to Mumbai last month, although there was little demand for flowers as the pandemic intensified.
"I started staying awake through the nights, wondering what would happen to my family if my last remaining 1,000 rupees ran out," he says.
Eventually, Varun resolved to reopen his business. Trains have not resumed in Mumbai so Varun takes five buses, taking almost six hours to journey into Mumbai to buy the flowers and then out to his stall in suburban Khargar. On the first day, though, he nearly despaired.
"I came to my stall to see that the rains had blown the roof away," he says. "Soon, it started raining heavily and I had no roof over my head."
His flowers became soaked and he lost two days' worth of product without earning a penny.
Business remains slow because "people were scared of stepping out to buy flowers", he says. But he has no choice but to persist, working each day in his stall with an improvised tarpaulin roof.
"There were nights that I thought it was better to die than to live like this – unable to make a living despite being healthy and having a business," he says. "I don't want to live such nights again."
Additional reporting by Agence France-Presse, Bloomberg
This article appeared in the South China Morning Post print edition as: Months of lockdown hit poorest hardest