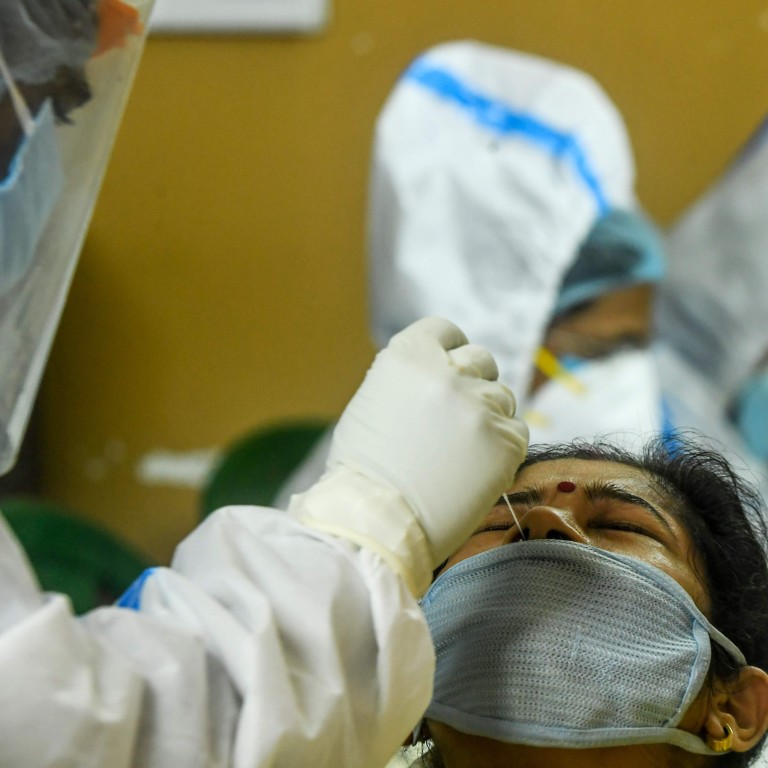 In India, coronavirus pandemic brings neglect for women with disabilities and chronic illnesses
An estimated 11.8 million women in India living with disabilities have struggled to get their health needs met amid the pandemic
Doctors have been unable to reach patients, rehabilitation clinics have remained closed and otherwise routine procedures are largely unavailable
For months now, Anubha Mahajan has been forced to use a coat hanger as a makeshift intravenous drip stand by the side of her bed, to provide some pain relief in lieu of the regular hospital treatment she used to receive to ease her suffering.
The 28-year-old resident of Gurugram, in North
India
's Haryana state, has been living with complex regional pain syndrome – a rare neurological disorder characterised by intense bouts of agony – for almost seven years now, but since March has been unable to access the treatment she could before India's
coronavirus pandemic
lockdown.
"I can't predict when the pain in my body will shoot so high that I will pass out," she said.
Mahajan, who is a dentist, used to have her medical needs met at a private hospital she would attend every week or two, but restrictions on interstate travel – which India only began to lift in June – have prevented her doctor, who lives in New Delhi, from reaching the facility. Not only that, but coronavirus restrictions also mean that many hospitals in the country are turning away patients with compromised immune systems, out of fear that they may contract the virus and add to the
more than 58,000 people who have succumbed to Covid-19 in India
so far.
So Mahajan has had to hire a live-in nurse, sending her medical bills soaring to some 150,000 rupees (US$2,020) per month – triple what she used to pay before.
She is just one of the estimated 11.8 million women in India with disabilities, plus millions more with chronic illnesses, whose health needs have been neglected amid the pandemic. Their rights in the wake of a national disaster such as the coronavirus crisis should be protected under a law that went into effect three years ago, but structural barriers in accessing health care remain – compromising their attempts at independent living and disrupting their daily lives.
Smitha Sadasivan, who lives in Chennai, used to undergo physiotherapy every other day to treat her multiple sclerosis, a chronic disease that attacks the central nervous system and she has had for 19 years.
"I had been able to manage my physical condition and work life well with a smaller dose of medication for almost a year, but the pandemic reversed that," said the 40-year-old, who recently had to double the dose of immunosuppressive medication that she takes.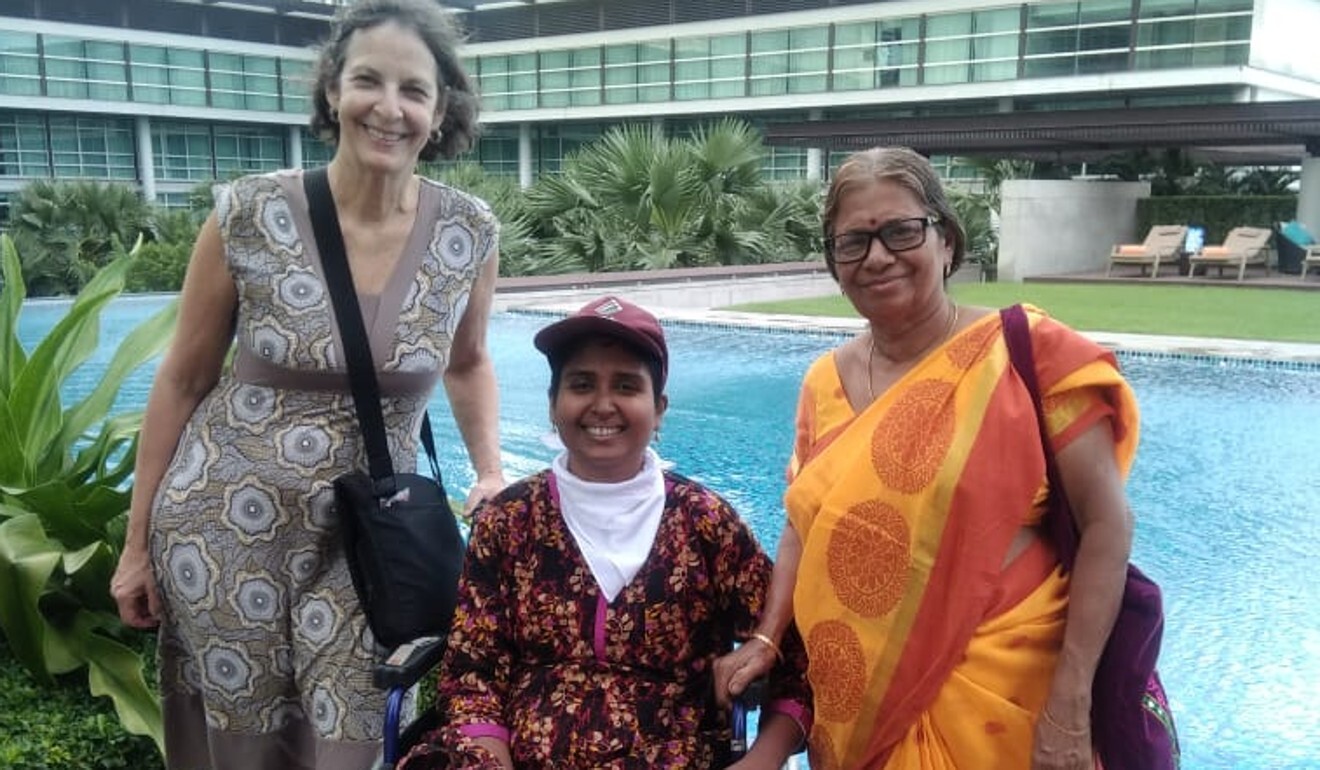 Because of her vulnerability to infection with the coronavirus, Sadasivan is unable to get a physiotherapist to visit her home, and said online sessions are no use without someone to help her adopt the positions required.
Without this, and another form of alternative medicine known as craniosacral therapy that she said helps, Sadasivan suffers from stiffness, fatigue, blurred vision, incontinence and frequent blackouts.
Her stress levels have shot up and her sleep has been disrupted. "Some nights, I just can't sleep and then the next two days I'm listless and unable to get up from my bed," she said.
While hospitals and all "related establishments" were ordered to remain open when India entered lockdown in March, rehabilitation facilities – which are critical for the management of pain and other symptoms for a large number of people living with disabilities – still have not reopened in some places.
Assistive devices, a wide-ranging category that includes everything from walking sticks to hearing aids and magnifying equipment for the visually impaired, were not being delivered or repaired during the early stages of India's lockdown as they were not considered essential – unlike groceries and medicines. Hyderabad-based Srinidhi Ragahvan, who lives with the chronic pain condition fibromyalgia, had to wait two months to receive her compression gloves that help relieve joint pain.
Pandemic restrictions also caused delays to otherwise routine procedures such as X-rays, as Meenu Mani discovered. She lives in New Delhi and has cerebral palsy – a permanent movement disorder that also affects her husband, a wheelchair user for whom she is the main carer.
"In June, my husband had three falls, and was in pain for over 15 days," Mani said, attributing the delay to the difficulties she faced finding an NGO to help her husband visit the hospital after her immediate family refused help. "There are more people who need help than volunteers to support them. I wish there was a helpline to access these volunteers or NGOs."
Nidhi Goyal, founder of the Mumbai-based non-profit organisation Rising Flame that works to promote the rights of disabled people, said there was "a sense of helplessness, isolation, neglect and abandonment" among the women she interviewed in April and May for a 93-page report titled Neglected and Forgotten: Women During the Covid Crisis in India, which was produced in collaboration with Sightsavers India.
Coronavirus infections surge in rural India as nation adds 1 million new cases in less than a month
The report called for greater involvement of people with disabilities in India's disaster management training, saying that women with disabilities in particular should be represented on national and local advisory boards to build a stronger, more inclusive disaster response.
Changes also need to be made to the way India's health care facilities are run amid the pandemic, according to Sonali Vaid, a New-Delhi based doctor and public health practitioner, who said that "multi-speciality hospitals should not be turned into Covid-19 only facilities" as this leaves other patients with nowhere to go.
Hospitals with enough space should designate specific areas for patients who test positive, those whose results come back negative and those suspected of being infected, she said, so that anyone seeking emergency treatment and awaiting a Covid-19 test result could receive immediate care instead of being turned away.
Pointing to isolated examples around the country of hospitals and doctors keeping in touch with regular patients during the pandemic, Vaid said there was no reason why this could not be done everywhere.
"Home visits can also be conducted in some cases, for the patient's well-being," she said.
Access to health care for people with disabilities in India "was always a problem", according to Goyal, the activist. "But let's not miss the opportunity to build back better," she said.
This article appeared in the South China Morning Post print edition as: Women with disabilities feel 'neglected' during crisis