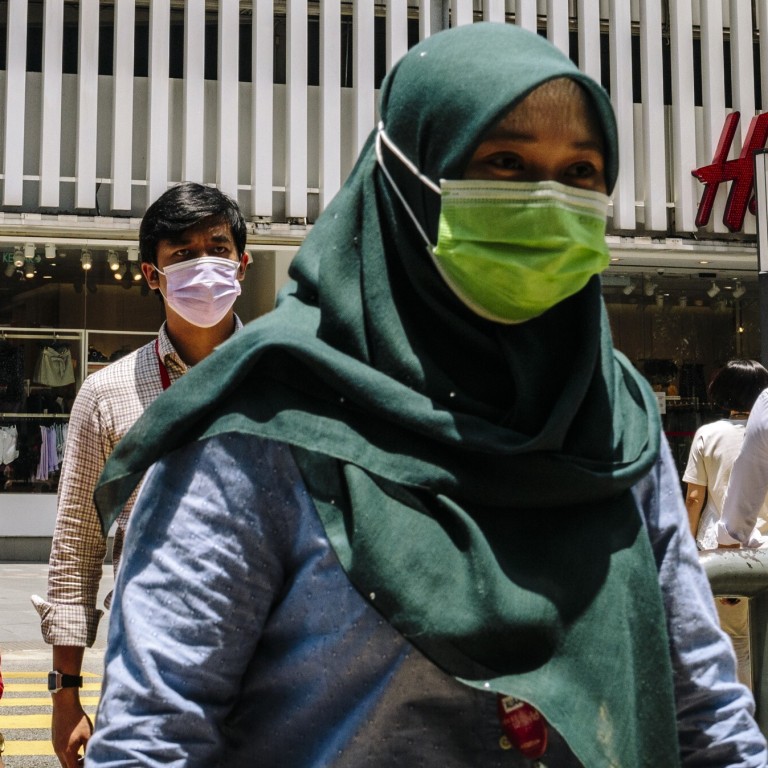 Malaysia can't afford new coronavirus lockdown, experts warn as Sabah cases surge
The spike comes as some 800,000 people in Sabah this week turned out for a state election, sparking fears of a new wave of infections in Malaysia
A second movement-control order will have a significant impact on the economy, social well-being and mental health, experts say
Days after almost 800,000 people in Malaysia's Sabah state turned out to
vote
, the country is seeing a worrying spike in
coronavirus
cases which may result in a second national lockdown – an event it can ill afford, experts say.
Malaysia
on Thursday saw its highest daily surge in new cases since June and second-highest increase since Covid-19 arrived in the country at the start of the year. Of the 260 new infections, 118 were reported in Borneo. It now has a total of 11,484 cases and 136 deaths.
In September, it recorded more than 1,000 infections, with local media reporting it took only one week for Sabah's upwards trend to be seen in other Malaysian states.
While the authorities have said it is unnecessary and unfair to impose a 14-day quarantine period for those returning from Sabah, it called for people to follow safe hygiene habits and self-quarantine at home.
Within Sabah itself, inter-district travel is being banned from this weekend.
If the spread of infections worsens, Malaysians could once again be forced to stay at home, said health policies specialist Khor Swee Kheng.
"The economic, psychological and social effects will be more disastrous in a second movement control order," Khor said. "We need all public health solutions on the table, especially supported by political will."
Politicians have been criticised for appearing to ignore the risk to public health by going ahead with the Sabah poll, particularly following remarks by Prime Minister
Muhyiddin Yassin
that the outcome would indicate if the time was right to hold a general election.
Khor, a former disaster relief doctor, said Malaysian leaders seemed to "believe that Covid-19 is already over and they are free to prioritise politics over health".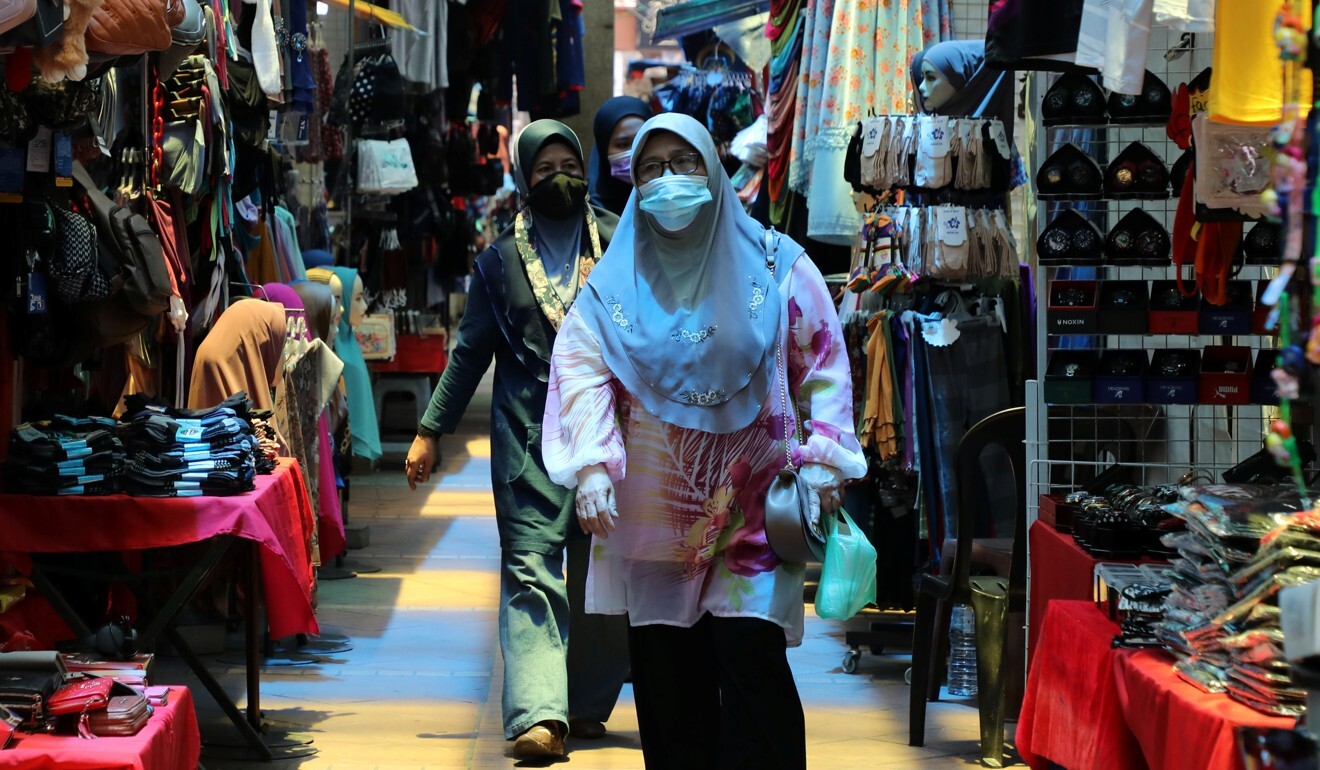 In May, the country looked to have slowed the spread of the virus after imposing a three-month
national lockdown
. It is still under a relaxed movement-control order that ends in December.
Sabah's four districts were on Monday put under a stricter lockdown, which saw non-essential business shut and residents barred from leaving, with police guarding the state's roads to ensure compliance.
While Malaysia's first lockdown managed to stem infection rates, the country would not be able to survive another restriction of that magnitude, said Calvin Cheng, an analyst with the Malaysia Institute of Strategic and International Studies.
"We need to understand that it also carried with it very significant economic and social costs," he said. "With the benefit of hindsight, we see now that the economic shocks disproportionately affected more marginalised groups like lower-income independent or informal contract workers, along with women and youth, and smaller microenterprises."
However, if infection rates worsened, the nation may not survive another massive outbreak either, Cheng said.
According to figures released by the World Bank on Tuesday, Malaysia's economy is forecast to contract by 4.9 per cent, lower than the previously estimated decline of 3.1 per cent.
"The Malaysian economy is expected to contract in 2020, with risks to the outlook firmly tilted to the downside," it said in its October 2020 Economic Update for East Asia and the Pacific.
"The possibility of a more protracted than expected global recovery could continue to hamper investment decisions and further suppress external demand. There is a risk of stricter containment measures nationwide, as illustrated by recent resumption of the [movement-control order] in some states," said the World Bank, adding that gradual recovery was expected for the second half of the year as the economy reopened.
For Malaysia to manage the pandemic, policies would have to be maintained for several years, Khor said. This would include implementing best practices from local lockdowns on other virus-affected areas, ensuring the health ministry's decisions would be free from political interference, and enforcing anti-coronavirus laws fairly, including on office holders.
As the country imposed tougher rules and penalties around physical-distancing and mask-wearing, some politicians breached quarantine orders, raising concerns of double standards in enforcement when tens of thousands of people had been hit with steep fines or jail terms.
The federal authorities came under scrutiny in August after a minister was fined just
1,000 ringgit
(US$240) for failing to self-isolate when he returned from an overseas trip.
As the coalition government hangs by a thread with a slim majority in parliament – and with recent defections causing state governments to change hands – irate Malaysians have called for leaders nationwide to focus on battling the
pandemic
instead of tussling for power.
Having a stable government would allow for a more effective management of the pandemic, one observer said.
"The priority is to halt further Covid public transmission, so the main thing is to have a stable ruling government, even if it's a temporary one," said Sharifa Ezat Wan Puteh, a professor of health economics and public health at the National University of Malaysia.
Directives must be "made clear to the masses and must not contradict themselves", she said, adding that people took their cues from the way politicians carried themselves in the pandemic.
"The Sabah state election witnessed many clusters disseminating across states and into the Malaysian peninsula," Sharifa said. "The public witnessed nonchalance in the government which in turn will lead to lax attitudes among the public."
Meanwhile, as concerns grow over the virus' spread, particularly in the most populous state of Selangor, politicians have taken to social media to reassure Malaysians they are coronavirus-free or are adhering to home quarantine rules.
Minister of Foreign Affairs Hishammuddin Hussein said on Twitter he had tested negative for the virus but was staying at home for 14 days "for the safety of others".
Others, such as youth leader Shahril Hamdan, contracted the Covid-19 disease during hustings in Sabah.
"Decided to test yesterday in KL for prudence," he wrote on Twitter three days before the state election. "Am sorry for the inconvenience this will cause people who came into contact."