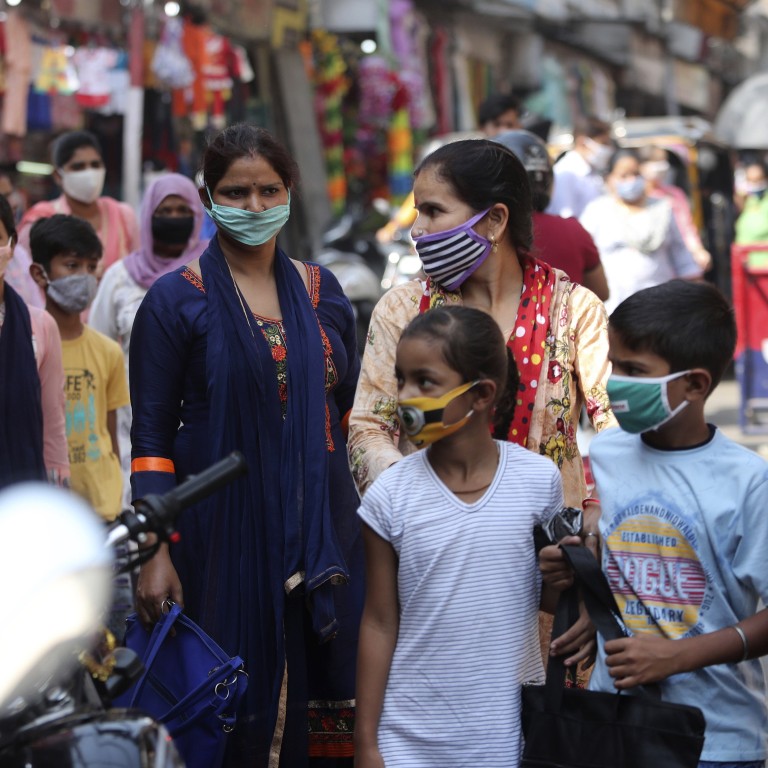 'To hell with this corona': the mask slips for India's Covid-19 sceptics
Meet India's anti-maskers, a broad church of Covid-19 deniers, conspiracy theorists and even doctors that spans the country
New study finds a little less than half of Indians wear masks in public, even as experts warn a spike in infections looms for the festival season
Amar Singh Azad, a 71-year-old doctor in north India, has not worn a face mask since March, when a surge in
coronavirus
cases led to a national lockdown.
While the
World Health Organization
(WHO) now recommends the use of masks in public as a measure to curb the spread of Covid-19, Azad is doubtful this will have any effect.
India
has recorded some 7.6 million infections – making it the world's second-worst hit nation behind the
United States
– but, also, high recovery rates.
The doctor specialised in community medicine and studies epidemics in Patiala, Punjab, treating about 70 clients daily. He now practices chiefly naturopathy and believes the pandemic will run its natural course like any other virus; that we should rely on immunity to beat it.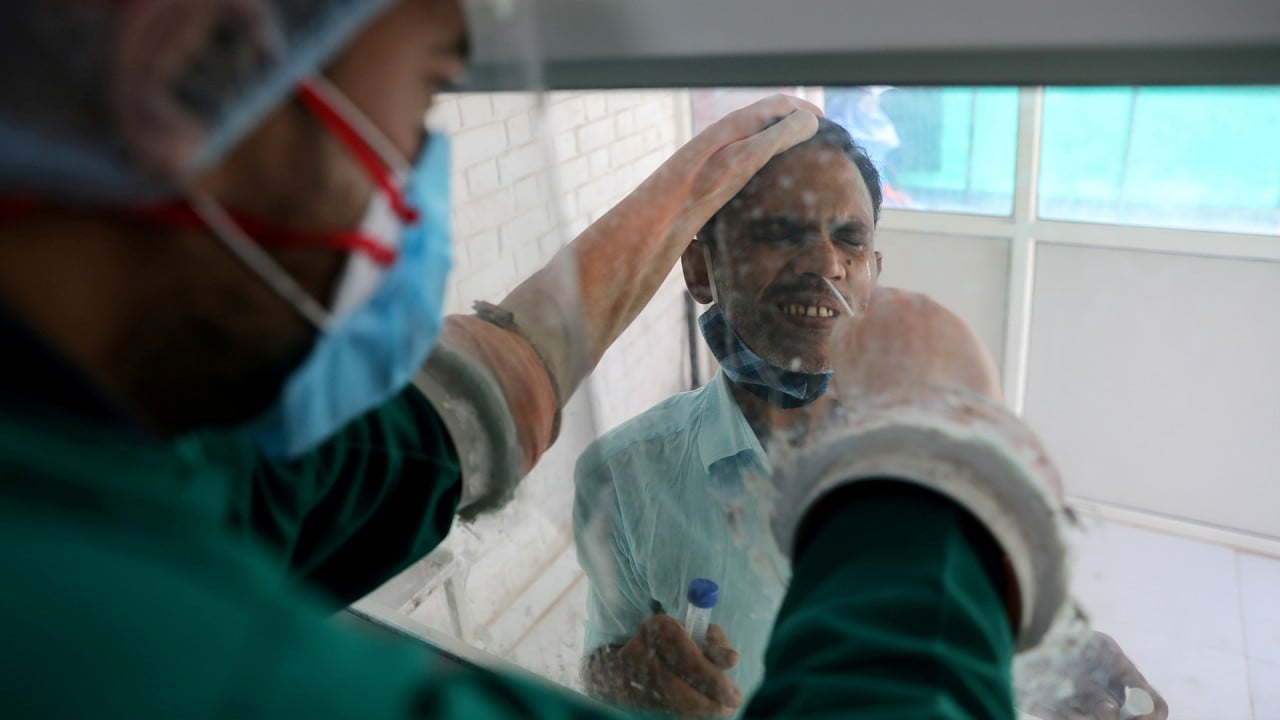 01:58
As cases top 7 million, India poised to overtake the US with world's highest coronavirus caseload
As cases top 7 million, India poised to overtake the US with world's highest coronavirus caseload
"In Punjab, people are out on the road for [a range of other] real-life issues," Azad said, highlighting ongoing farmer protests. "They're saying, 'to hell with this corona, we have other problems'." Azad believes that the fallout of this particular virus is being exaggerated, and that it too will be overcome by herd immunity.
Ashok Patel, 65, a retired businessman in Rajkot, Gujarat, was critical of the way mask-wearing perpetuated fear. His refusal to wear a mask was linked to spiritual belief.
"Fear collapses immunity," he claimed. "This is all a power game."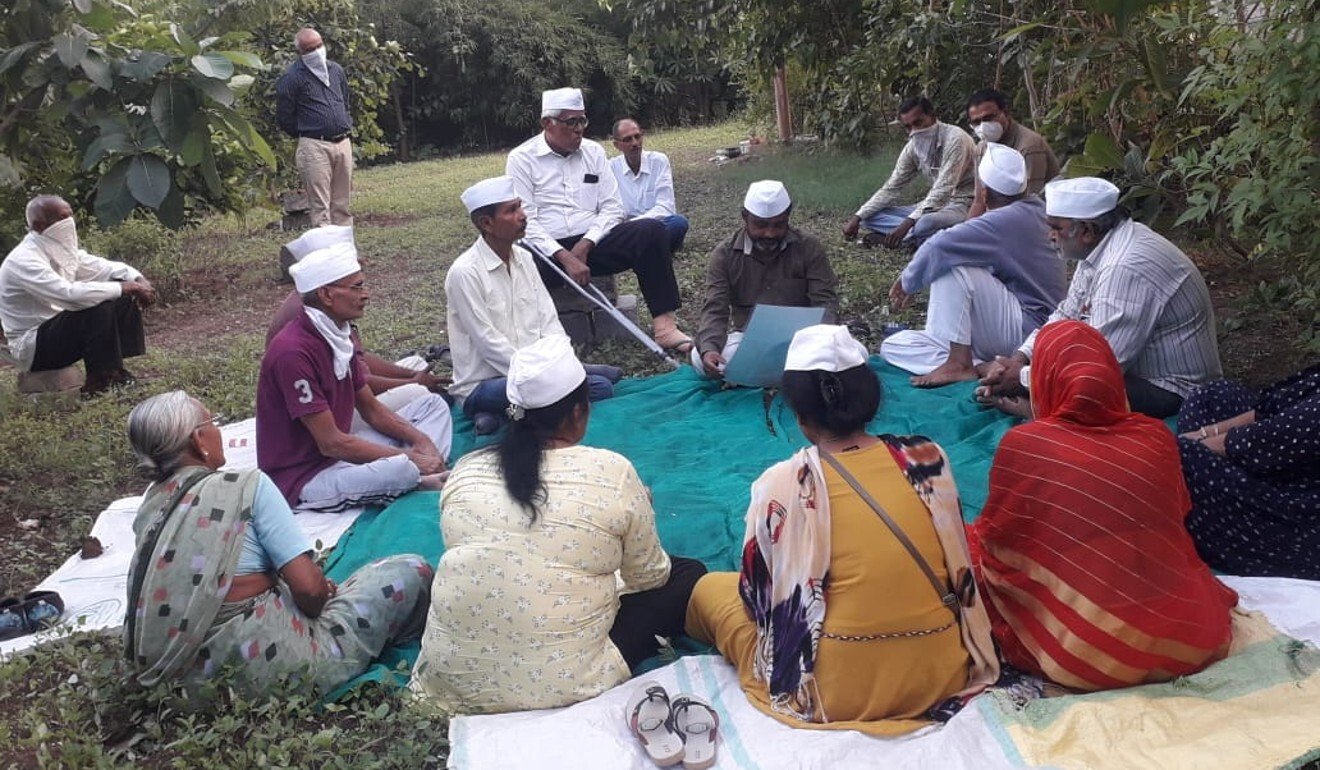 Patel, who gave up modern medicine for naturopathy, though he was dealing with diabetes and high-blood pressure, now claims good health. He said he and a group of 21 others had written to the authorities to ask for permission to mingle with Covid-19 patients without any protection "to show there is nothing like corona". They haven't heard back, he said.
Among fellow mask sceptics are Covid-19 deniers and conspiracy theorists in both rural and urban India, across age groups. Indian Independence Day this August saw anti-maskers calling for freedom from masks on
social media
, and on October 2, some 200 anti-maskers took part in a protest at Mumbai's Marine Drive. On November 1, protesters across India plan to demonstrate on what some call 'mask-free day'.
Of course, if asked to wear a mask while at a store or if they are passing a policeman, most anti-maskers may capitulate. In many states, people face fines of up to 1,000 rupees (US$13.50) for defying mask regulations. Enforcement has been stepped up especially in the hardest-hit states of Maharashtra, Karnataka, Kerala, Andhra Pradesh, and Tamil Nadu.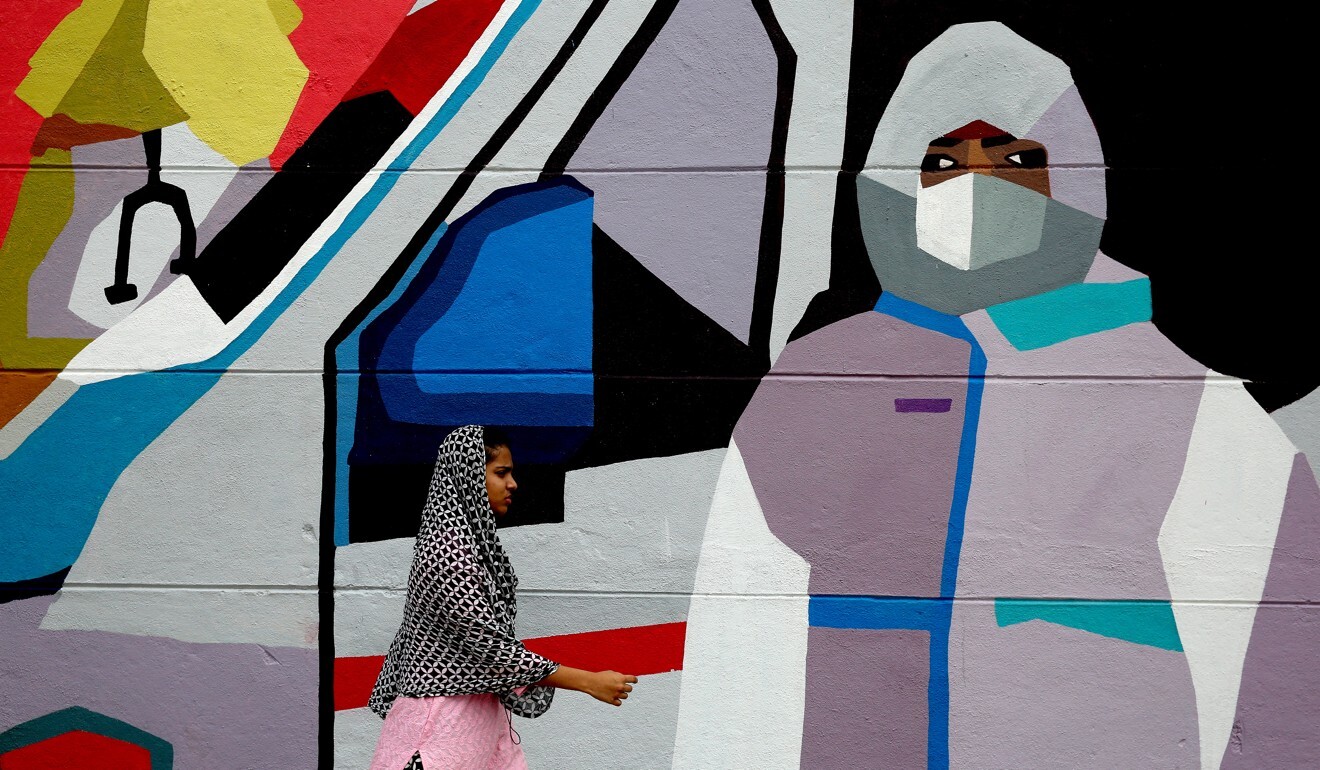 In Mumbai, the capital of Maharashtra, the municipal government has fined over 14,000 people since April, while more than 25,000 people in Delhi have been fined since June.
Yet, according to a survey conducted by Apna Mask last month, only 44 per cent of people polled across 18 cities in India said they wore masks in public. This general non-compliance persists despite state governments having made this measure compulsory in some cities and states as early as April; even while the WHO was saying it wasn't necessary and PPE was in short supply in parts of India.
Survey participants cited concerns including breathing issues and inconvenience, and expressed the belief that social distancing suffices as protection against Covid-19.
At the same time, some nine in 10 respondents in a survey of 15,000 people across India conducted last month by community social media platform LocalCircles said they approved of the mandatory use of masks in public areas.
Conflicting surveys and attitudes may be attributed to Covid fatigue, uncertainty as well as concern about personal liberties. "The mask is a symbol of blind obedience and submission," said Mugdha Pradhan, a 41-year-old nutritionist based in Pune.
"It prevents me from connecting with other humans because I cannot gauge their facial expressions," she said. "Above everything else, I own my body and I choose what I want to do with it."
Yohan Tengra, a 23-year-old research consultant and anti-masker based in Mumbai, challenges potential measures including mandatory Covid-19 testing and vaccination in the future. "Our movement isn't just about masks," Tengra said. "We had an amalgamation of issues … which mainly have to do with health and medical freedom."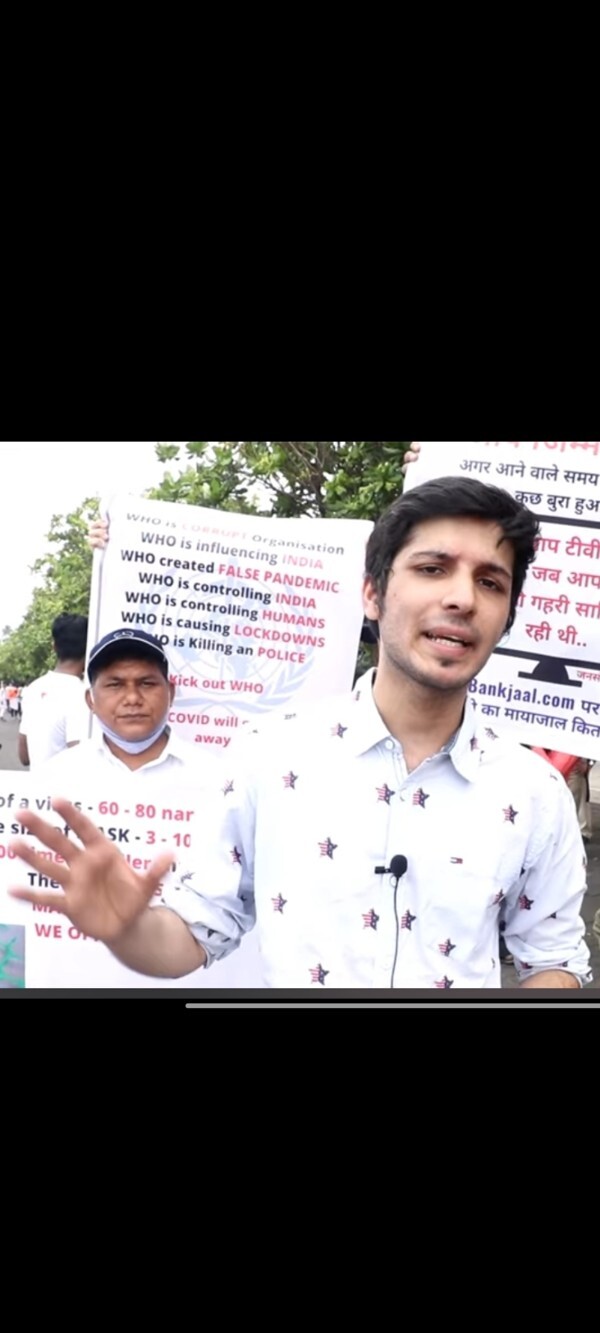 His objections are rooted in a demand for better 'policy-grade evidence' – not easy given the race against time. "The burden of proof is on you, as you are making a positive claim that they actually died from Covid, so you have to show me evidence," he contended. "We have also seen studies where risks went up because of wearing masks. The debate comes down to: is the risk worth the benefit?"
The protester runs a website to connect with like-minded people. However, it remains on the fringe, and an Indian fact-checking site identified it as peddling conspiracy theories and Covid-19 misinformation.
Not everyone is going to open their mouth – literally or metaphorically – in the face of the unknown, at this point, but many are tempted to let their guard down.
The anti-maskers' small but vocal protests come while India lingers at a crossroads. The country posted its lowest daily coronavirus caseload in nearly three months this week. But, health care experts have warned that infections could skyrocket again as India's
high-octane holiday season
nears; celebrations for the Hindu festivals of Durga Puja and Diwali are due this month and in mid-November, respectively.
Most are trying to keep their exposure to essential activities, but some have no choice. Indians have also been anxious to return to work after a strict nationwide lockdown halted business activity for two months, leaving millions jobless and destitute almost overnight, especially those in the informal economy.
"No one wants to go back to that," said Gargi Mukherjee, 42, as she shopped in the New Market area of Kolkata, which is thronging with festival-season customers – many without face masks. "For survival, people have to come out and do their jobs. If you don't earn, you cannot feed your family," she said.
Sonali Dange, 29, who caught Covid-19 earlier this year, recently returned to work at a factory in Mumbai.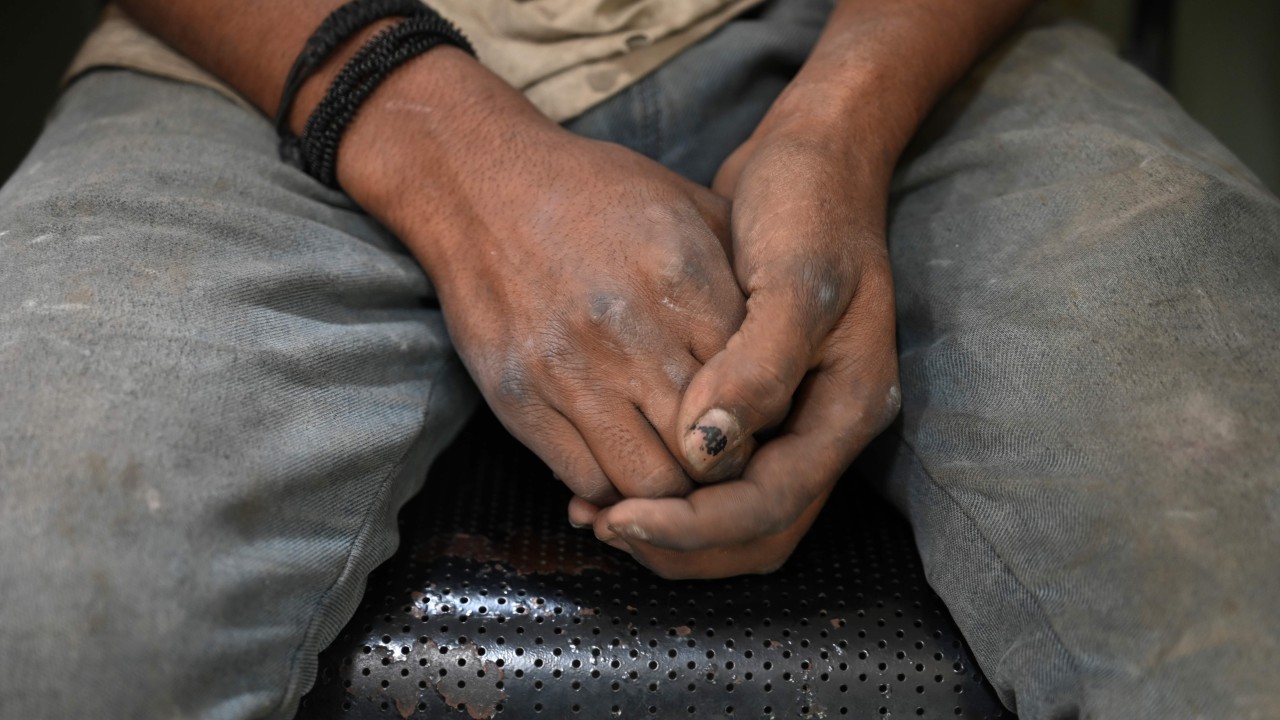 03:04
More children forced to work as coronavirus batters India's economy
More children forced to work as coronavirus batters India's economy
The mother of two daughters, she also has an elderly mother-in-law to look after. Dange said the lockdown had exhausted the family's savings; they badly need her monthly salary of 25,000 rupees (US$340) to survive.
"Now that I have recovered, I am no longer so scared of the disease," she said.
Sunil Kumar Sinha, principal economist at the Mumbai-based India Ratings and Research agency, said Indians faced a stark choice.
"People have to choose whether to die of hunger or risk getting a virus that may or may not kill you," he said.
Only the anti-maskers seem unconcerned.
Patel, the retiree, said he was unafraid of death. "I believe in a soul, not a body," he said. "How can something so small harm us?"
And Azad, the community doctor, will wear a mask if asked to, like most anti-maskers – but reserved his fears for a longer-term battle against what he perceives as the erosion of personal liberties.
"This is a pre-decided agenda, they're not going to budge," said Azad. "After vaccinations are made compulsory, they will come up with chips and other monitoring devices."
Additional reporting by AFP and Reuters