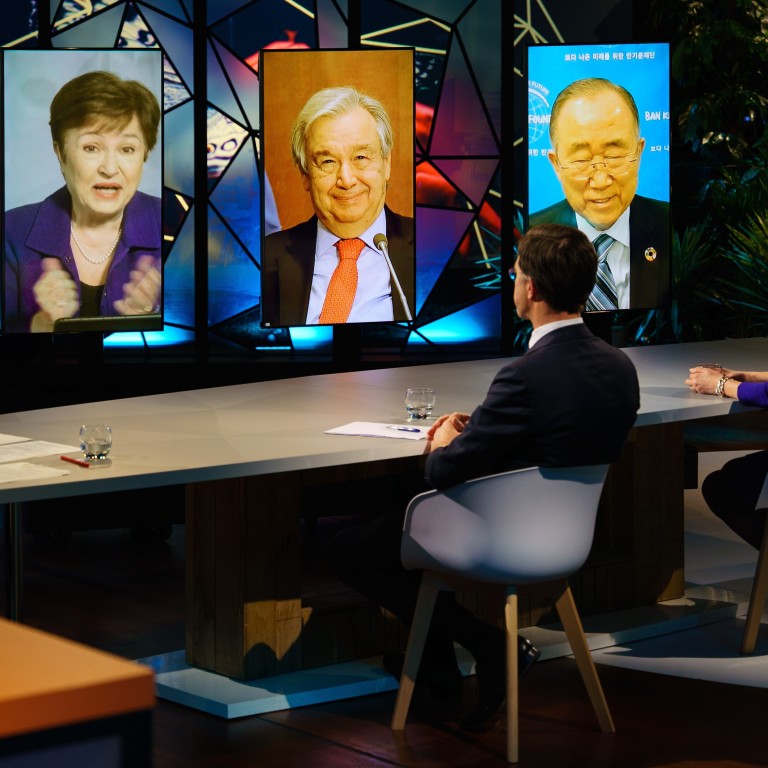 Climate change: Modi, Widodo among Asian leaders to commit to global goals at summit
Climate Adaptation Summit focuses on preserving natural resources and generating renewable energy in less-developed countries
India's Modi pledges to reverse environmental degradation as US says it will 'significantly increase the flow of finance' to international adaptation initiatives
Asian leaders from
India's Narendra Modi
to
Indonesia's Joko Widodo
and China's vice-premier, Han Zheng, have issued a unified pitch for governments to prioritise aid for vulnerable nations and communities to deal with the immediate effects of
climate change
alongside meeting long-term carbon neutrality goals.
The Asian leaders were among over 30 senior government figures who contributed by video link to an inaugural Climate Adaptation Summit convened virtually by the Netherlands.
While November's highly anticipated
United Nations
summit in Edinburgh will focus on long-term mitigation efforts, such as ways to set up a global carbon-trading framework and consolidating pledges for carbon neutrality, the two-day event that ended on Tuesday was centred on building immediate resilience.
The theme of financing adaptation measures, such as the preservation and restoration of forests and water bodies, as well the generation of renewable energy in less-developed countries, was a common thread during the event. UN chief Antonio Guterres, International Monetary Fund managing director Kristalina Georgieva and John Kerry – the newly appointed climate envoy for
US President Joe Biden
– were among the speakers who addressed the summit.
China's Han told the summit that Beijing "takes both mitigation and adaptation seriously as a consistent principle", and that it was currently drafting a new strategy to enhance adaptation and improve capabilities to deal with climate risk through 2035.
Modi, India's prime minister, said India planned not just to meet its
Paris Agreemen
t obligations "but exceed them".
"We will not just arrest environmental degradation but reverse it; and we will not just create new capacities but make them an agent for global good," Modi said.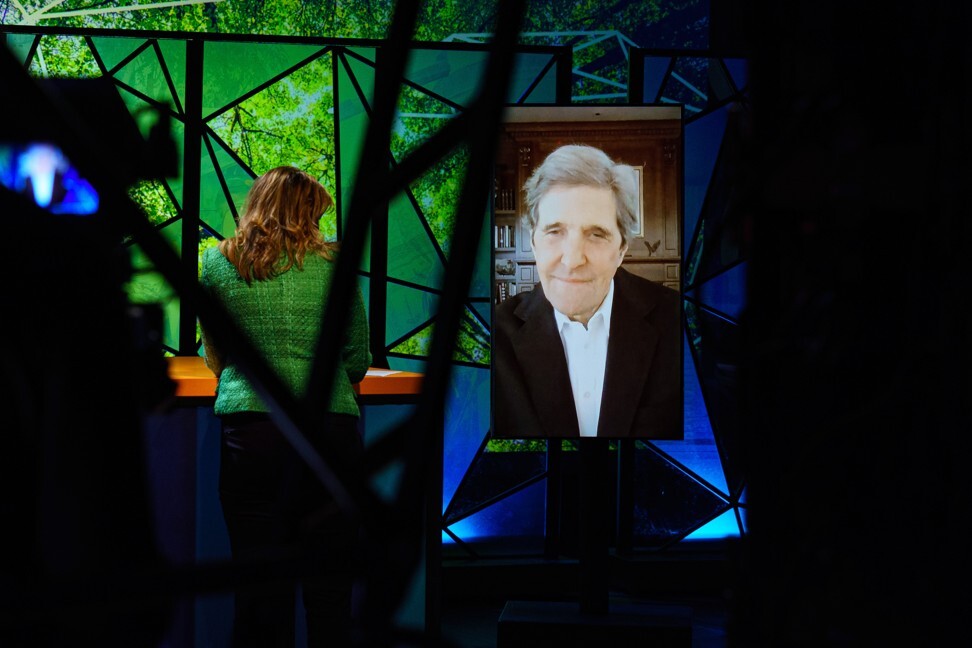 He said New Delhi hoped to restore some 26 million hectares of degraded land by 2030.
Indonesian President Widodo in his video message underscored the effect climate change was already having on his vast archipelagic nation, with farmers and fishermen contending with an increasing frequency in natural disasters and rising sea levels. The country's Climate Village Programme – which offers villages tools and funds to adapt to climate change – will cover some 20,000 villages by 2024, Widodo said.
Vietnamese Prime Minister Nguyen Xuan Phuc, meanwhile, warned that the
Covid-19 pandemic
had diverted his country's already scarce resources away from dealing with climate change. With a 3,200km coastline and a largely agrarian population, Phuc underscored how Vietnam was among the most vulnerable to climate change.
He said Hanoi required some US$35 billion in climate-related aid, with the government forecasting that it can only foot about 30 per cent of the bill for what is needed to deal with the emerging risks.
Making his debut on the international stage as the Biden administration's climate envoy, Kerry, a former US secretary of state, acknowledged that his country had been "absent" on the climate governance for the last three years.
Under former President Donald Trump, a climate-change sceptic, Washington pulled out of the Paris Agreement on slashing planet carbon emissions and failed to deliver US$2 billion of a US$3 billion pledge promised to the Green Climate Fund founded under the auspices of the UN.
Kerry said the US would "significantly increase the flow of finance" to global adaptation and resilience initiatives, and would make good on its climate finance pledges, without giving more details.
Aid groups have previously expressed scepticism about developed countries' financial pledges to the climate adaptation cause, saying leaders were engaging in platitudes with little intent on following through.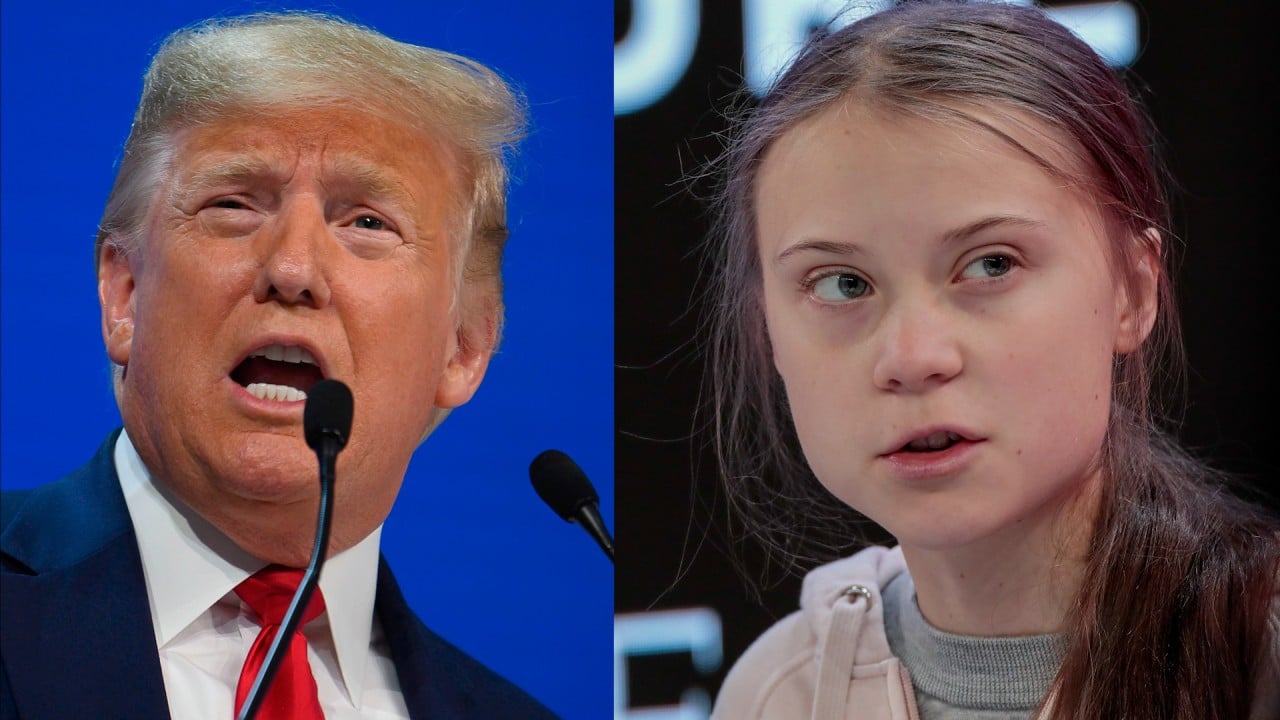 03:16
Trump and Greta Thunberg clash over climate issues at World Economic Forum in Davos
Trump and Greta Thunberg clash over climate issues at World Economic Forum in Davos
In a report published before this week's summit, the charity CARE International said an analysis of 112 projects representing 13 per cent of global adaptation finance between 2013 to 2017 showed that 25 donor countries over-reported their contributions by 42 per cent.
The report identified Japan as among the countries with the biggest over-reported amount: US$1.3 billion.
"It really shows that rich countries are not as concerned about living up to their climate commitments as they should be," John Nordbo, report co-author and senior climate advocacy adviser at Care Denmark, was quoted as saying by the climate news portal Climate Home News.
The UN Environment Programme has said global climate adaptation costs may reach US$300 billion by 2030. At the moment, about US$30 billion, or five per cent of total climate financing, is allocated to adaptation measures.
Additional reporting by Reuters
This article appeared in the South China Morning Post print edition as: leaders in aid push for vulnerable countries