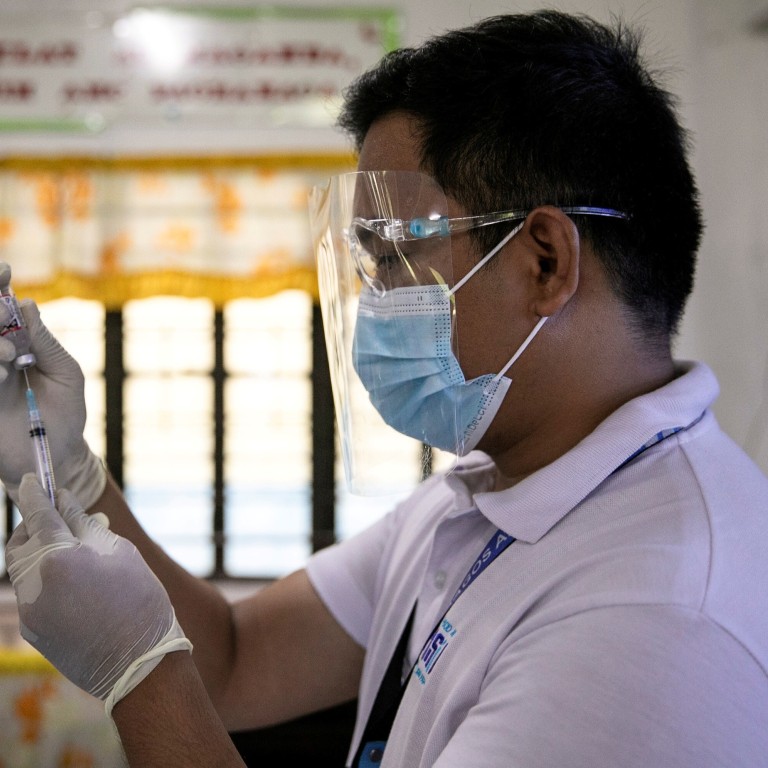 Philippines set to roll out Sinovac Covid-19 jabs, but some businesses can't wait
Although 600,000 Sinovac doses will be given starting next week, private firms throughout the country have secured their own vaccines
Hundreds of companies have bought millions of doses of the AstraZeneca vaccine and other jabs, aiming to get their employees rolling again
The Philippines
will receive its first batch of Covid-19 vaccines this weekend from China's Sinovac Biotech, allowing it to start its inoculation programme next week and lifting hopes for an economic revival after lengthy lockdowns that have fuelled job losses and substantially cut consumer spending.
Harry Roque, spokesman for
President Rodrigo Duterte
, said 600,000 doses of the Sinovac vaccine would arrive on Sunday out of the 25 million doses that have been ordered, while 10,000 doses of a vaccine developed by China's Sinopharm are also expected to arrive soon under a "compassionate use" license for Duterte's security detail. Doses from AstraZeneca will arrive in March, Roque said.
Despite having among the highest number of
coronavirus
cases and deaths in Asia, the Philippines will be the last
Southeast Asian country
to receive its initial set of vaccines. Pfizer and AstraZeneca, the two Western pharmaceutical firms whose vaccines have received approval from Manila's health authorities, had asked for an indemnity clause to be inserted into purchase agreements for their vaccines.
They were worried about suffering the same fate as the French drug maker Sanofi, which is facing lawsuits in the Philippines after an inoculation campaign involving its dengue drug, Dengvaxia, allegedly resulted in the deaths of several children dating as far back as 2016.
Earlier this week, the Philippine Congress approved a law protecting drug companies that make the Covid-19 vaccines from most lawsuits, opening the way for the AstraZeneca doses. There has been no word on when the Pfizer vaccines might come.
While Manila is expected to provide more details on how it will prioritise its citizens for vaccination, an initial plan showed that health care workers would be the first to get the shots and that those aged 18 and above and employed in non-essential industries would be last on the list.
But with the Philippine Food and Drug Authority (FDA) saying the Sinovac vaccine was not suitable for health care workers – efficacy data found it was 50.6 per cent effective in preventing Covid-19 in a trial involving health care workers in Brazil, but 91 per cent effective in a much smaller trial conducted in Turkey – Roque said the Sinovac doses may instead be given to military personnel and workers in the transport, agriculture, fishing and export-oriented industries.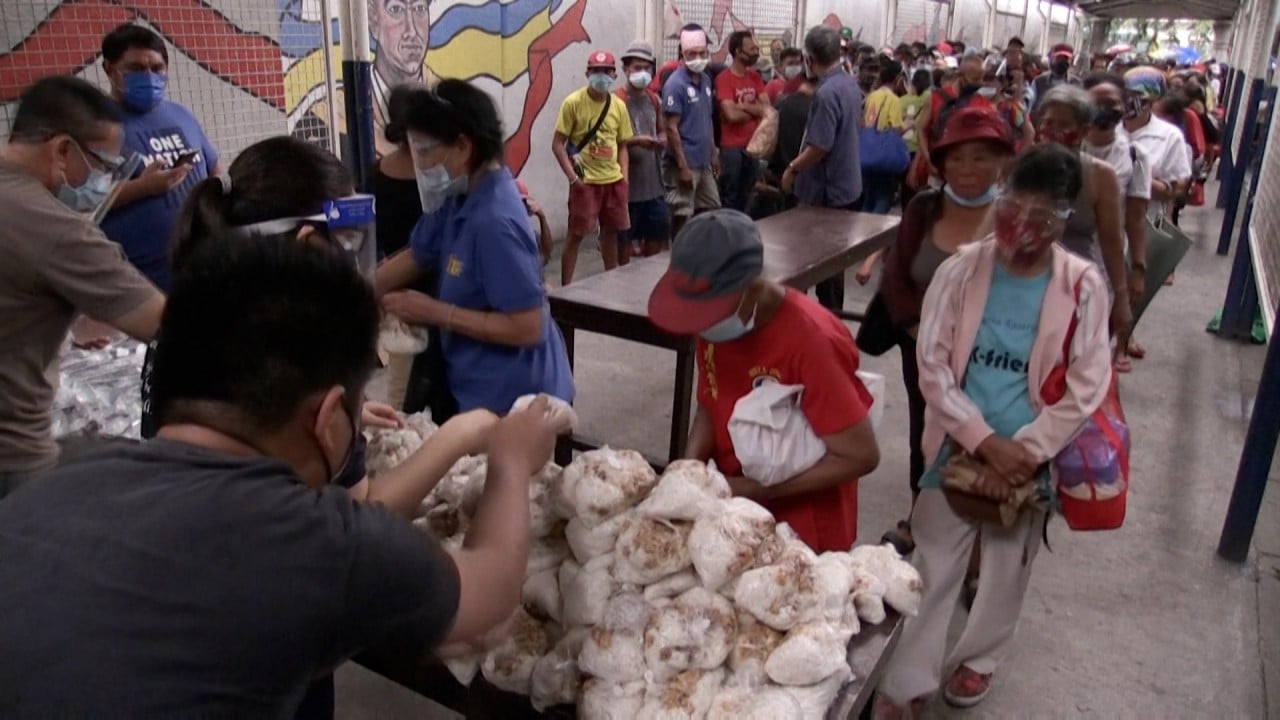 03:13
Long queues for free meals as millions in the Philippines go hungry amid coronavirus pandemic
Long queues for free meals as millions in the Philippines go hungry amid coronavirus pandemic
TAKING CHARGE
Meanwhile, anticipating a long wait for the government vaccine roll-out, a private initiative involving a group of 35 major companies in the country has already ordered 2.6 million doses of the AstraZeneca vaccine, enough for around 1.3 million people (the population of the Philippines is about 110 million). The group said the vaccines, which are expected to arrive as early as May, would be equally distributed among the 35 companies' employees and the general public.
Another group of 340 companies ordered 15 million doses of the AstraZeneca vaccine in January, while a number of other private companies have also ordered vaccines from US-based firms Moderna and Novavax – though the latter two have not yet been approved for use by the FDA. Companies ordering the vaccines will distribute them to their employees for free, and members of the general public will be able to buy them.
Joey Concepcion, the CEO of food and beverage firm RFM Corp and the leader of both the 35-company and 340-company consortiums, said the Philippines was "the only place in the world where the private sector is paying for vaccines for employees".
He told This Week in Asia that it would be a mammoth challenge to convince Filipinos of the importance of getting inoculated, but that it was essential to get the country moving again.
"Having everyone vaccinated is the only way we can safely reopen the economy," he said.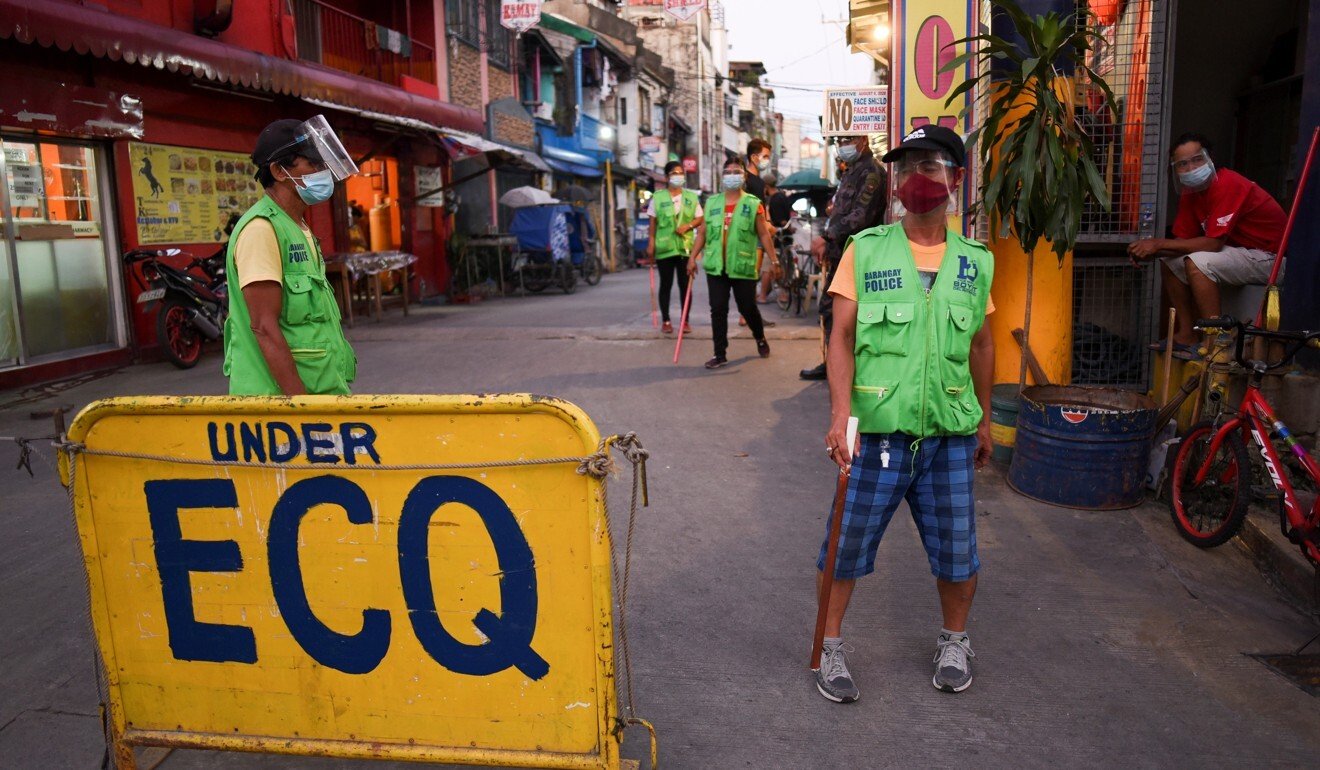 An employee of one of the companies involved in the group purchases said that he had purchased vaccines through his company for US$100 for his parents, even though he realised they may be able to get vaccinated earlier under the government's vaccination programme.
"I can't wait for the roll-out of the government's vaccine because my parents are already over 60 years old and I want to be sure that they get the vaccine as soon as possible," said the employee, who requested anonymity. "I'll only worry myself longer if I wait. The health of my family comes first."
Various business organizations in the Philippines have also initiated moves to consolidate vaccine orders so smaller companies can also access vaccines. The Management Association of the Philippines (MAP), a business group of over 700 medium-size and large firms, said it had ordered 156,00 doses of the Moderna vaccine, enough to inoculate at least 70,000 of the companies' employees. The doses are expected to arrive by the third quarter of the year.
Riza Mantaring, former CEO of insurer Sunlife Philippines and the current national affairs committee chair of the MAP, said the group acted on its own instead of waiting for the government roll-out in order to do its part in restarting the economy, which is in the midst of its worst recession in almost three decades.
"Addressing the pandemic effectively in a developing country like ours, which does not have the resources of wealthier countries, does require a whole-of-nation approach," she said.
"Vaccination would be a literal shot in the arm to give confidence a boost and get people to go out and start spending, and companies to start investing again," she added.
Since mid-January, average daily reported coronavirus cases have stayed above 1,000, with total cases above 560,000 and more than 12,000 deaths reported.
The companies involved in the group purchases, however, are also finding that they face the same problem the government has with its vaccination programme – a majority of Filipinos remain unconvinced about the need to be vaccinated. According to Pulse Asia, a private pollster, almost half of the 2,400 Filipinos involved in a survey on the matter said they would refuse the jabs, with 84 per cent of them saying they were unsure of vaccine safety.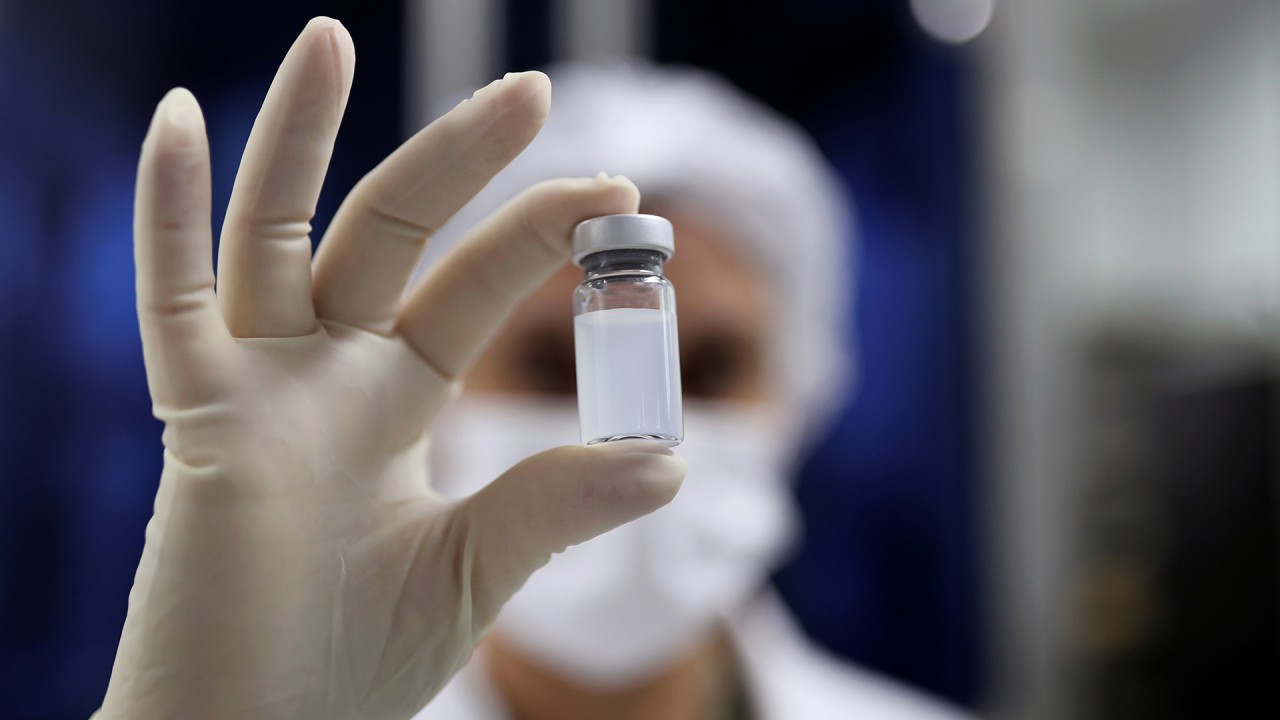 02:29
Brazil study shows China's Sinovac vaccine less effective than earlier data on the Covid-19 shots
Brazil study shows China's Sinovac vaccine less effective than earlier data on the Covid-19 shots
One business owner and MAP member said that after telling his staff members that he had purchased vaccines, most remained uninterested.
"I thought it would be good for them and for the company" because they could do their jobs safely after being vaccinated, he said.
"But most are hesitant," he said. "It's as if I'm indebted to them that they are getting vaccinated."
But Mantaring said most MAP companies have been conducting information campaigns to educate their employees, and that vaccine hesitancy among employees was diminishing.
"In one group of companies, they have been able to raise the vaccine willingness to 80 per cent now," she said.