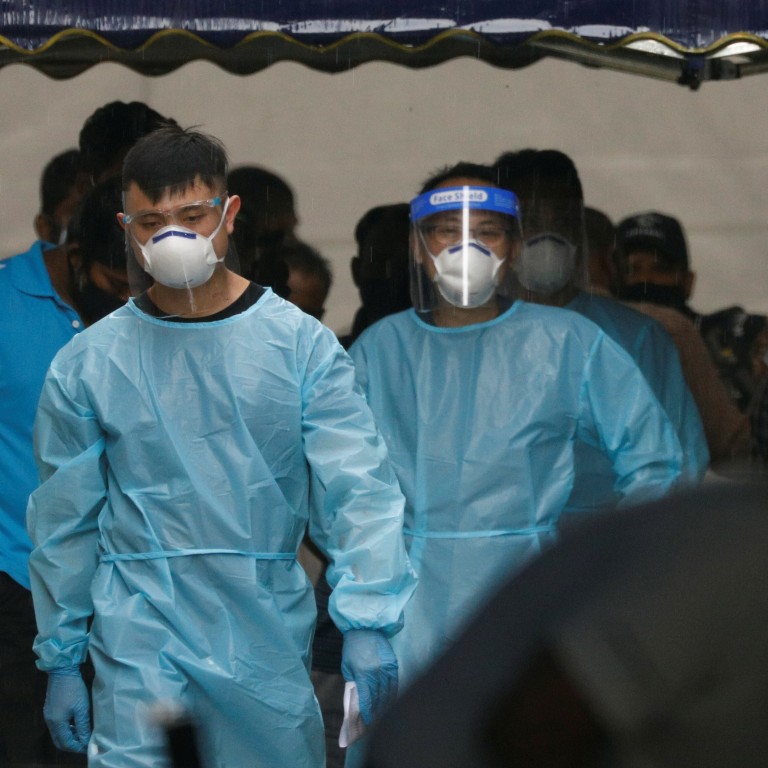 Singapore imposes 21-day quarantine on most travellers, closes gyms to manage flare-up in Covid-19 cases
The country will also return to social distancing rules of last year, with authorities saying they hope not to institute another 'circuit breaker' or partial lockdown
Singapore's moves currently have no bearing on the travel bubble plans with Hong Kong scheduled to start on May 26 but the government will assess if changes are needed
Singapore
will impose a 21-day quarantine on most inbound travellers and bring back tighter social-distancing controls including closing gyms and fitness centres, as authorities respond to a flare-up in
Covid-19 cases
.
The news has put a cloud over the city state's efforts to launch a
travel bubble
with Hong Kong later this month and host major events like the Shangri-La Dialogue in June.
From Friday 11.59pm, all inbound travellers except those from
Australia
, Brunei, mainland
China
, New Zealand,
Taiwan
,
Hong Kong
and Macau will have to do a three-week quarantine at dedicated facilities, (with those from Fiji and Vietnam allowed to finish the last seven of the 21 days at home), joining Hong Kong which has had a strict three-week isolation requirement for most inbound travellers since last December.
Currently, travellers from India, Britain, South Africa, Bangladesh, Pakistan, Nepal and Sri Lanka are subject to a 21-day quarantine.
The size of social gatherings will be reduced from eight to five people from Saturday to May 30, while employers must limit workplaces to 50 per cent of staff, down from the current 75 per cent. This is a return to rules that the country last had from June to December.
Authorities explained they were closing indoor gymnasiums and indoor fitness and health studios – for the first time since the eight-week partial lockdown in 2020 – because those are "small enclosed spaces where people are frequently unmasked while exercising, and in close proximity with many other unmasked people".
Outdoor exercise programmes and classes can continue, as long as sizes are capped at 30 and safe distancing measures are applied.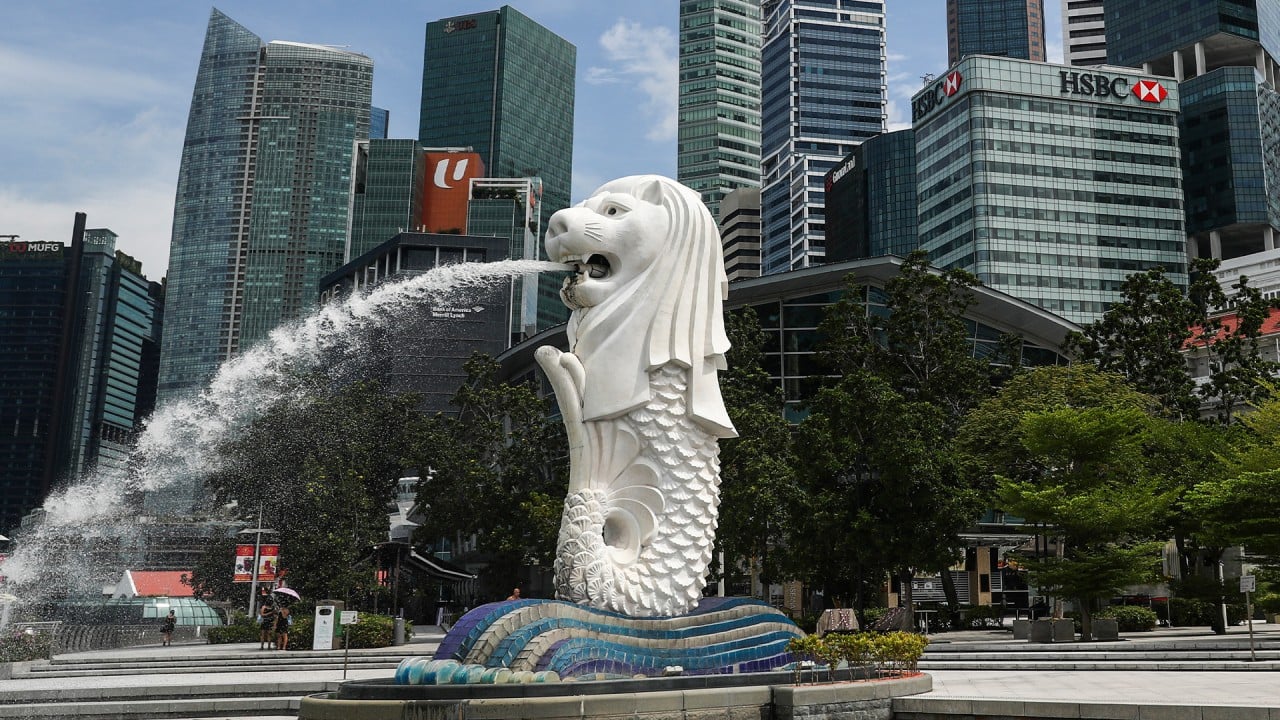 01:40
Travel bubble: Hong Kong and Singapore to launch quarantine-free entry after long delay
Travel bubble: Hong Kong and Singapore to launch quarantine-free entry after long delay
The health ministry said it would reinstate these measures to "break the chain of transmission" as infection numbers grow in the city state.
While the measures were "stringent", Lawrence Wong, who co-chairs the virus task force, stressed that it was not another "circuit breaker" – which was how Singapore referred to its partial lockdown in April and June last year.
"We certainly hope not to have to invoke another circuit breaker," he said. Wong, also the education minister, added that the latest round of "very tight" measures was a response to the latest outbreak of clusters and was meant to "snuff them out early and reduce the likelihood of having to impose more drastic measures down the road".
He noted that the current situation differed from when the country imposed its so-called circuit breaker last year as it now had better testing and contact-tracing capabilities. Even so, Health Minister Gan Kim Yong said the government had "not ruled out" another lockdown if the situation worsened.
Singapore's move currently has no bearing on the travel bubble plans with Hong Kong scheduled to start on May 26. Wong, the education minister, reiterated that any suspension of the bubble would still hinge on whether the seven-day moving average of unlinked cases in either city exceeded five but added that authorities were monitoring the situation and would assess whether any changes were needed. As of Monday, Singapore's seven-day moving average was 1.43.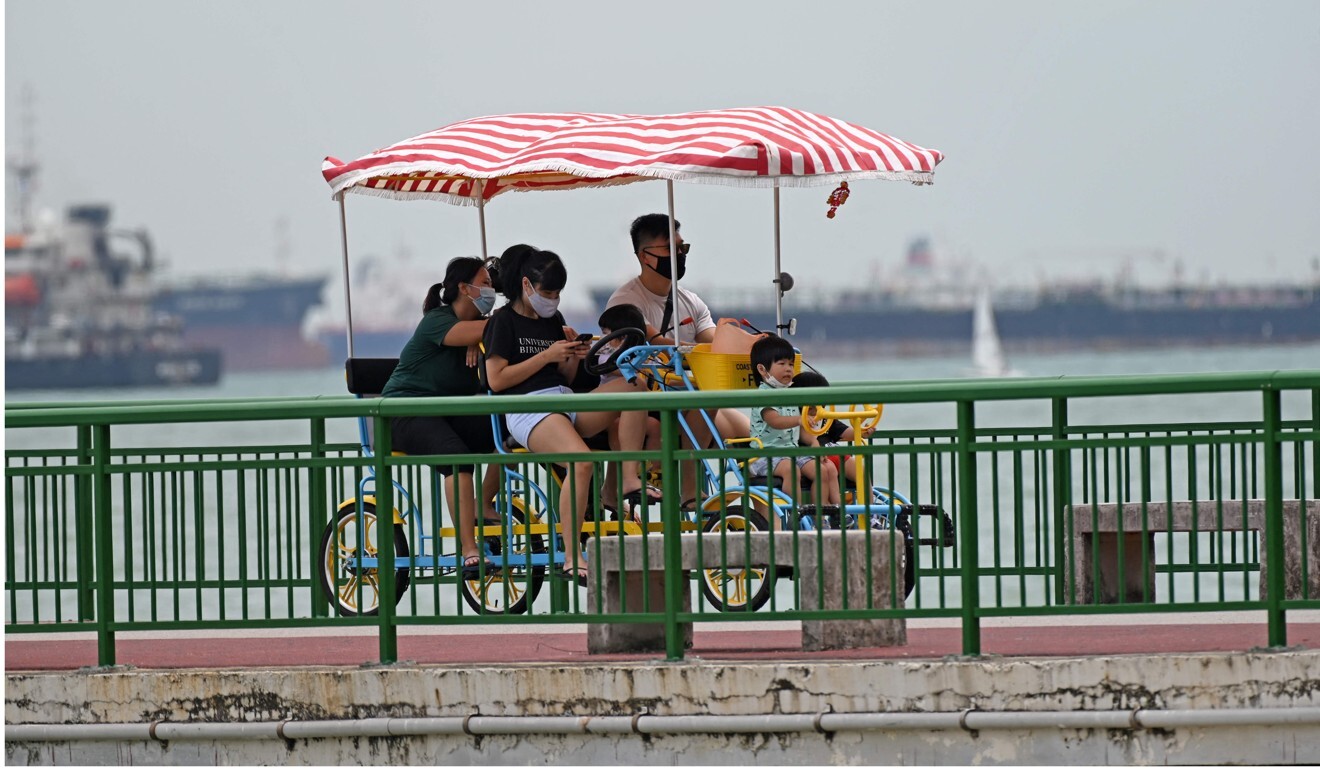 Asked on Tuesday afternoon if the travel bubble with Singapore would still go ahead given a surge in cases of mutated strains in Hong Kong, the Chinese city's Secretary for Commerce and Economic Development Edward Yau Tang-wah said there were safeguards in the agreement and the government would closely observe the situation.
"At the moment, I think Hong Kong has enjoyed a relatively stable and low-risk situation. We have seen the number of cases, particularly those unlinked local cases, come down to a very low level. We hope this will be maintained.
"At the same time, we are also seeing that despite some cases in Singapore, they are still within the range that we have agreed upon ... we will be keeping an eye on this development and see how things go."
He added that if circumstances deteriorated, the government would consider if there was a need to adjust.
"But if things keep going smoothly, stably and safely, I think it's everybody's wish to have it proceed as planned and launched by May 26," he said.
Meanwhile, Singapore's Wong, asked if the city state would go ahead with major events like the Shangri-La Dialogue scheduled for June, said the situation remained fluid but if it deteriorated, some of these events "may have to reconsider the proposition of doing it physically". Organisers of the Shangri-La Dialogue on Tuesday said US Defense Secretary Lloyd Austin would attend the annual security summit scheduled for June 4 and 5.
"It marks the Secretary's first trip to Southeast Asia, and as well as delivering his on-the-record speech, he will also conduct bilateral and multilateral meetings on the sidelines of the summit," the International Institute for Strategic Studies said in an e-mail.
As of Monday night, Singapore had 60 community cases in the past week as compared to 10 the week before. On Tuesday, it reported five new community cases. All were linked to a cluster at Tan Tock Seng Hospital that was found just last Wednesday and has now grown to 40 cases including one death.
Health officials on Tuesday said that out of the 40 cases, nine were fully vaccinated.
Singapore had administered about 2.2 million Covid-19 jabs as of April 18, with close to 15 per cent of its population fully vaccinated.
The country is also grappling with more local cases involving mutant strains of the virus. This includes eight local cases of the B.1.351 variant first discovered in South Africa, seven of the B.1.1.7 variant first found in Britain, three with the P1 variant first found in Brazil, three with the B.1.617.1 variant first found in India, and one with the B.1.525 variant also discovered in the UK.
There were also seven with the B.1.617.2 variant first found in India in three clusters, although the health ministry stressed that the viruses in each cluster were distinct and not linked to one another.
This article appeared in the South China Morning Post print edition as: Singapore to impose 21-day quarantine