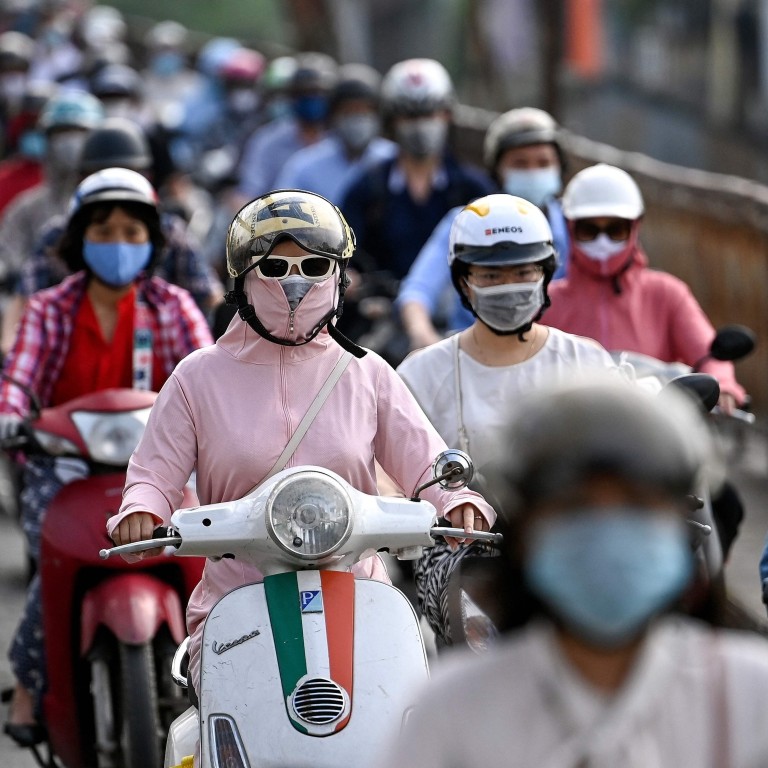 Vaccination drives stutter as new Covid-19 waves hit Vietnam, Thailand
As Vietnam tells disease prevention staff to prepare for 30,000 infections, Thailand has seen cases rocket to 88,000 from just 7,000 at the start of the year
Yet vaccination campaigns in the two countries, and elsewhere in the region, are struggling from a lack of supply and public scepticism
Newlywed Nguyen Phuong Anh had been dreaming of starting a family in a virus-free
Vietnam
until she was jolted back to reality last week.
One of her tenants, a medical student living a few floors beneath Anh, was told to isolate after visiting a public cancer hospital where a
Covid-19
cluster was discovered.
For Anh, a 26-year-old cashier in Hanoi, it was too close for comfort.
"My husband and I had not made any contact with her, so we packed our stuff and went to stay at my grandma's place instead," Anh said. "It is quite scary to live in the same house like that."
Having gained widespread praise for its measures in containing three waves of Covid-19, Vietnam – which has so far recorded one of the lowest levels of infections in the world and was one of only two Asian economies (alongside
China
) to have grown during 2020 – has been forced to head once more unto the breach in the fight against the virus.
Since the end of April, more than 600 community infections have been recorded in the fourth wave of the virus to hit the country – accounting for about one sixth of the more than 3,650 cases registered since the beginning of the pandemic. Around 70,000 people are in quarantine.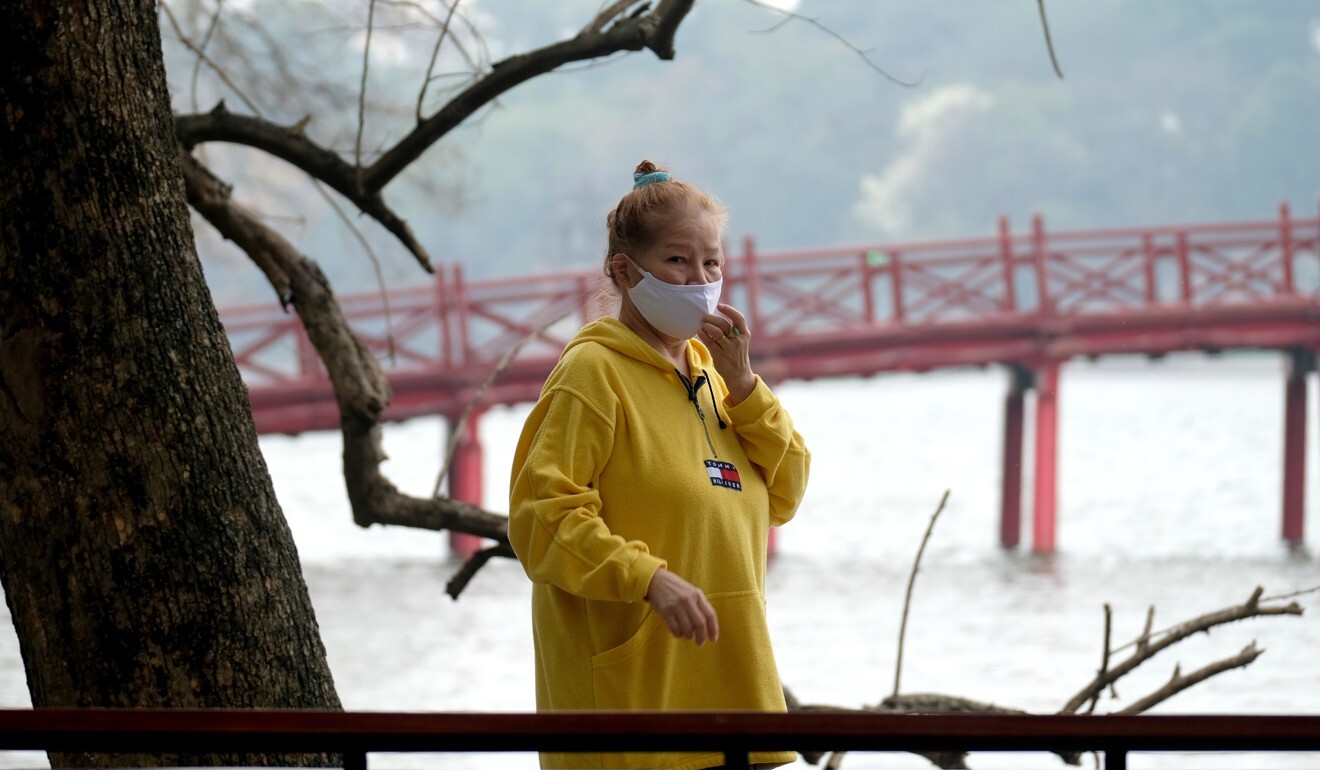 In some parts of Hanoi, wartime loudspeakers invented in the 1960s to alert citizens to American bombings have been turned on again to urge people to stay vigilant of the new outbreak. Some mobile networks have reactivated a telephone recording that reminds callers to wear masks and avoid big crowds. With elections for the National Assembly and People's Councils looming on May 23, authorities have told disease prevention personnel to be prepared to treat as many as 30,000 infections if needed.
The resurgence in Vietnam has been mirrored in its Southeast Asian neighbours. In
Thailand
, the total number of cases has spiralled from below 7,000 at the end of last year to more than 88,000, fuelled by the emergence of a third wave that began at a Bangkok nightclub in March. Since the beginning of the third wave, Thai authorities discovered more than 36,000 infections throughout April and more than 21,000 infections in the first 11 days of May alone. New clusters have been emerging almost weekly including at Klong Toei and other low-income communities in Bangkok. Deaths are in the double digits every day. Part of the resurgence has been attributed to a variant first discovered in Britain that is thought to be more transmissible.
Laos
, which recorded very few cases during the first year of the pandemic, recorded its first death – a Vietnamese national – on Sunday, while
Cambodia
has gone from having recorded 500 total cases as of late February, to more than 20,000.
02:24
Thailand turns Bangkok airport check-in into coronavirus vaccination centre
Thailand turns Bangkok airport check-in into coronavirus vaccination centre
VACCINE WOES
Adding to these countries' troubles are stuttering
vaccination programmes
. In Vietnam, just 0.8 per cent of the population has received at least one shot of a vaccine, putting it at the bottom of the league table in Southeast Asia. Thailand fares only a little better, at 1.9 per cent, while Laos is at 5.6 per cent. Even Cambodia, where 10.9 per cent of people have had at least one shot, lags far behind the regional leader and richest country
Singapore
, which has jabbed a third of its population.
In Vietnam, where a little more than 850,000 people – mostly frontline medical workers and military personnel – have been jabbed, part of the problem has been attributed to a lack of supplies of the AstraZeneca viral vector vaccine on which it currently relies. State media on Tuesday reported that Hanoi was seeking the transfer of mRNA technology from overseas so that it could manufacture vaccines domestically. Vietnam is currently developing four home-grown vaccines and it hopes one of them, Nanocovax, can be put into use next year.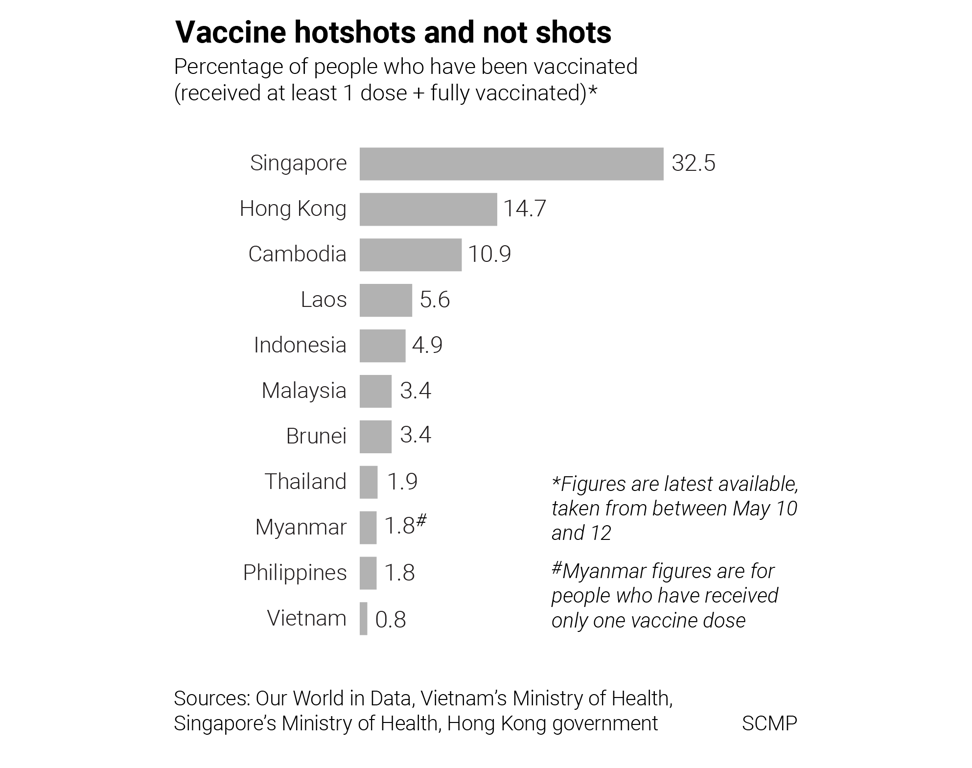 Thailand's inoculation programme has been hit by relatively high levels of vaccine scepticism among its population. The country is using China's Sinovac jab and the Anglo-Swedish AstraZeneca vaccine and has received 3.5 million and 117,600 doses of each, respectively. It is expecting to receive a further 61 million locally made AstraZeneca shots from June to December and 10-20 million doses of the Pfizer vaccine. It has set a target of vaccinating 50 million of its 66 million population by the end of the year. However, vaccine hesitancy has already brought this goal into question. Registration for the vaccine opened on May 1 for people over 60 years old and those with chronic diseases, but as of May 10 only 1.6 million people had registered, far below the 16 million targeted.
Experts say scepticism has been fuelled by misinformation and reports about side effects.
In April, six medical workers given the Sinovac shots reported stroke-like symptoms, while this month nine student nurses at Thammasat University reported episodes of fatigue, shortness of breath, dizziness, muscle pains and numbness after receiving the Sinovac shots.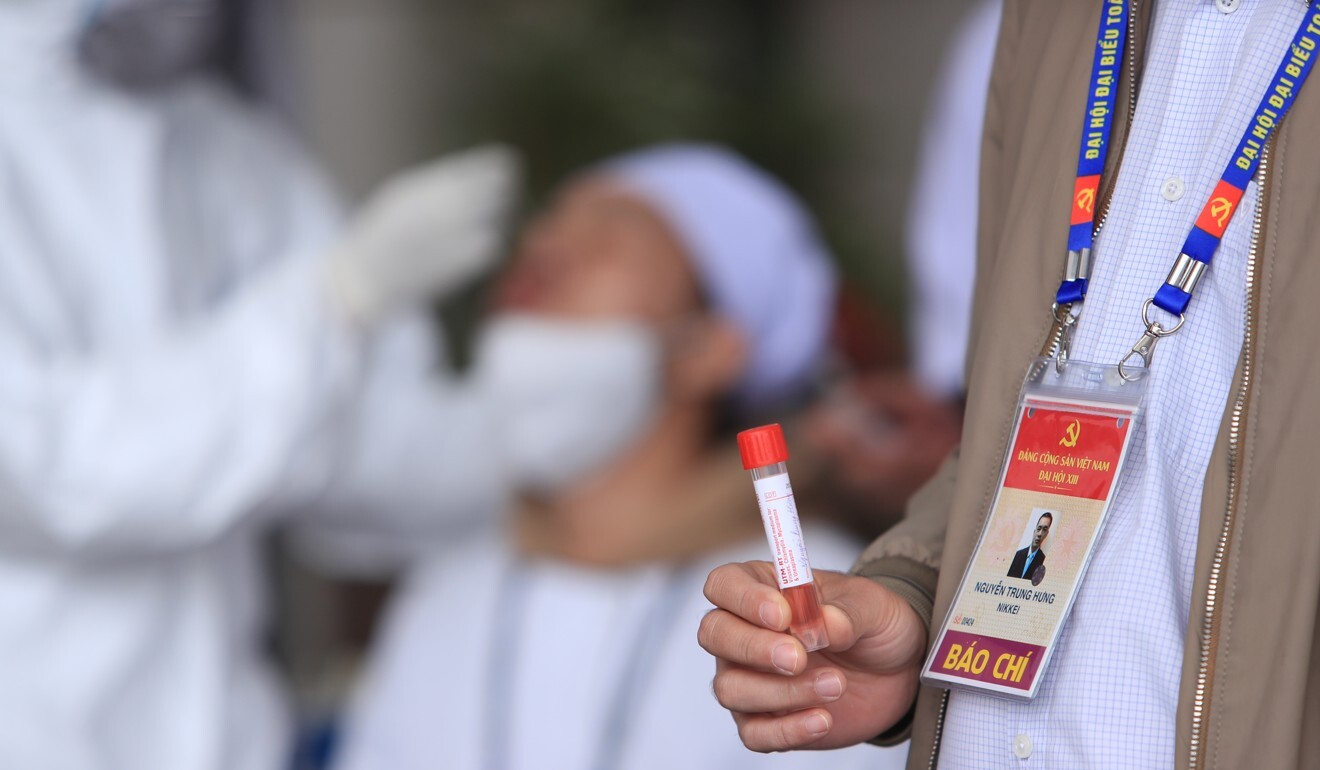 Fears have been stoked in some cases by public officials. Last month, the vice-governor of Lampang province said his fear of receiving the Sinovac shot had caused his blood pressure to rise, while the central government minister Thammanat Prompao has said he will not get jabbed as doing so might affect his plan to have children.
In April, 60 per cent of those surveyed by the opposition Move Forward party said they had no confidence in the vaccines even if they wanted to get injected. This month the figure rose to 80 per cent, said Wayo Asawarungruang, one of the party's MPs and a doctor, who added that rumours on social media were fuelling the distrust. His parents had received a message on the Line app that quoted a doctor saying elderly people would live longer if they did not get jabbed. He called on the government to "issue a ratio of those experiencing side effects so that people are informed and can compare the figures to those in other countries".
Manop Pithukpakorn, a professor of medicine at Mahidol University, said simplifying registration procedures could boost vaccination levels and urged the government to address people's "doubts and questions".
"People need to be informed that the AstraZeneca vaccine led to a significant reduction of infections in the UK and a study done by Chulalongkorn University found that confirmed cases with stroke-like episodes happen at an approximate ratio of 5:10,000 among those receiving Sinovac shots," he said.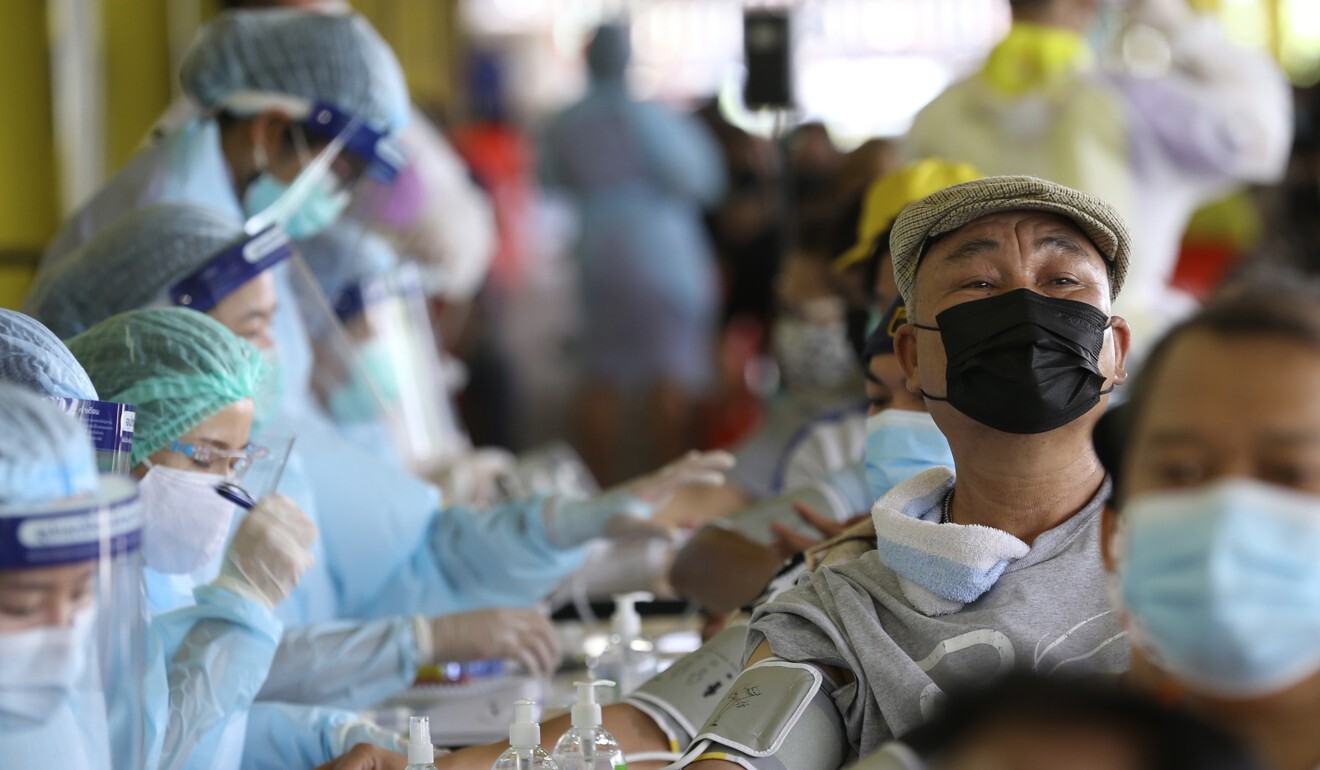 'PEOPLE FEAR THE VACCINES'
Social worker Boonma Rawdee, 47, is among the many the government needs to convince. Despite living and working in Klong Toei, a low-income community that is home to one of Bangkok's biggest Covid-19 clusters, Boonma is reluctant to get jabbed.
"I read the news about the side effects of vaccines and I am hesitant about receiving them," she said.
"I don't know what vaccines the government will give us."
Boonma's reluctance is despite a plentiful supply. As part of an effort to contain the cluster the government this month made Klong Toei residents who are over 18 eligible to receive the shot and set up three vaccination centres in the area. As of May 9, about 12,000 people had been inoculated, out of the targeted 50,000 residents.
"People are eager to take the Covid test. But they fear taking the vaccines," said Boonma, who has heard stories about the side effects of the Sinovac jab and the decision by some countries to suspend use of the AstraZeneca shot.
"Many say they worry no one will take care of their family if they die," she said.
Analysts see the sentiments of people like Boonma as a worrying sign that vaccine hesitancy could derail the country's plan to reopen its
tourism
industry. Despite Thailand's relatively low levels of infection last year, its heavily tourism-dependent economy contracted 6.1 per cent last year and it is keen not to let another year go to waste for the hospitality industry.
It is just weeks away from the beginning of a pilot scheme in the island of Phuket which will allow vaccinated visitors to bypass quarantine from July 1.
In an effort to ensure more transmissible variants of the virus – such as the one first discovered in
India
– do not upset its plans, it has banned foreign arrivals not only from India but from its neighbours Bangladesh, Pakistan and Nepal too.
Even so Aat Pisanwanich, an economics lecturer at the Thai Chamber of Commerce University, warned that with vaccination levels as low as they are many visitors might lose confidence in Thailand's model of safe tourism.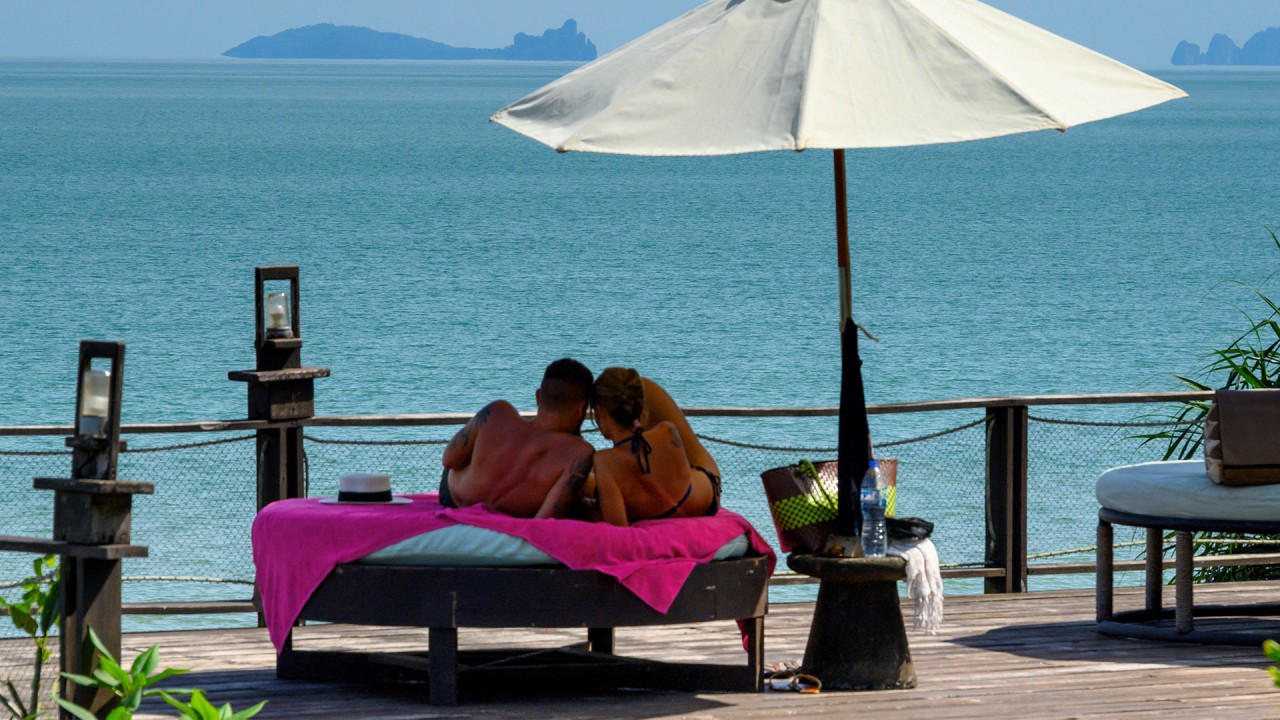 02:13
Phuket gets Thailand's first Covid jabs as resort island prepares to reopen to foreign tourists
Phuket gets Thailand's first Covid jabs as resort island prepares to reopen to foreign tourists
WHAT'S CAUSING THE RISE?
While most experts agree that supply issues and vaccine hesitancy are complicating efforts to bring the virus under control, there is less consensus about what exactly is behind the latest waves of infection.
During previous outbreaks the Vietnamese government was able to quickly target the sources of transmission but in this wave it has been stumped by untraceable cases in some virus hotspots in Hanoi and Da Nang, the country's second and fourth largest cities by population.
While many believe variants first discovered in India and Britain, which are thought to be more transmissible, are fuelling the rise in cases, others suggest a creeping complacency is also a significant factor.
Social media was awash with pictures of packed popular travel destinations such as the idyllic town Da Lat and coastal town Vung Tau, while some 1.5 million people went through the country's airports during the four-day national holiday last month, according to the Airports Corporation of Vietnam.
On top of that, several foreign workers including some from India and China and a Vietnamese national arriving from overseas were found to have transmitted the disease locally despite having gone through quarantine periods and testing.
Truong Huu Khanh, head of the infectious diseases department at the Children Hospital I in Ho Chi Minh City, suggested two explanations.
"First, it could be because they were tested before the prescribed point of time during the 14-day quarantine. Second, there could be infections inside the quarantine facilities," he said, adding that this had prompted the government to extend the quarantine period for foreign arrivals and individuals exposed to confirmed cases from 14 to 21 days and to tighten up quarantine safety measures.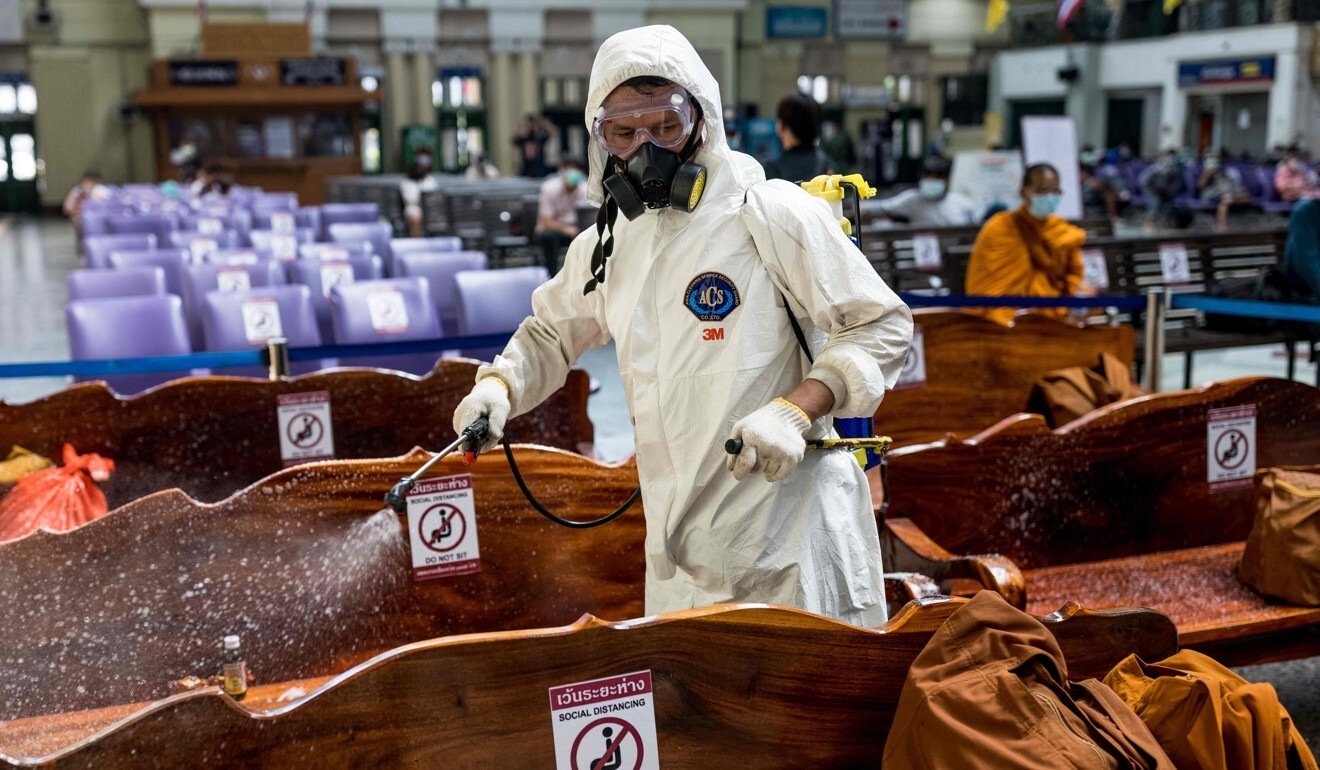 Meanwhile, another cluster in Cambodia has been blamed on a group of Chinese nationals who arrived from Dubai then allegedly bribed security guards and left their 14-day hotel quarantine early to visit a nightclub.
While the Vietnamese government has not attributed the domestic rise in infections to spillover from neighbouring countries, it has ramped up vigilance at its borders.
Everyone except repatriated citizens and foreign experts and diplomats has been barred from entering Vietnam since March last year, but in 2020 alone, border guards reportedly caught tens of thousands of illegal entrants from China, Cambodia, and Laos who had skipped Covid-19 protocols including mandatory quarantine.
Last Saturday, a Vietnamese man, who illegally returned home from Laos, later tested positive and spread the virus to at least two other people in the north. Vietnam shares borders of 1,400km with China, 1,100km with Cambodia, and 2,100km with Laos.
While such cases may have shaken the faith of some in the border controls, Hanoi hopes that by returning to its tried and tested playbook of consistent communication, aggressive contact tracing, targeted testing and monitored quarantine of those infected and exposed to the disease it can arrest the upwards trend of infections.
On Tuesday, the deputy health minister said Vietnam was bringing the current outbreak "under control".