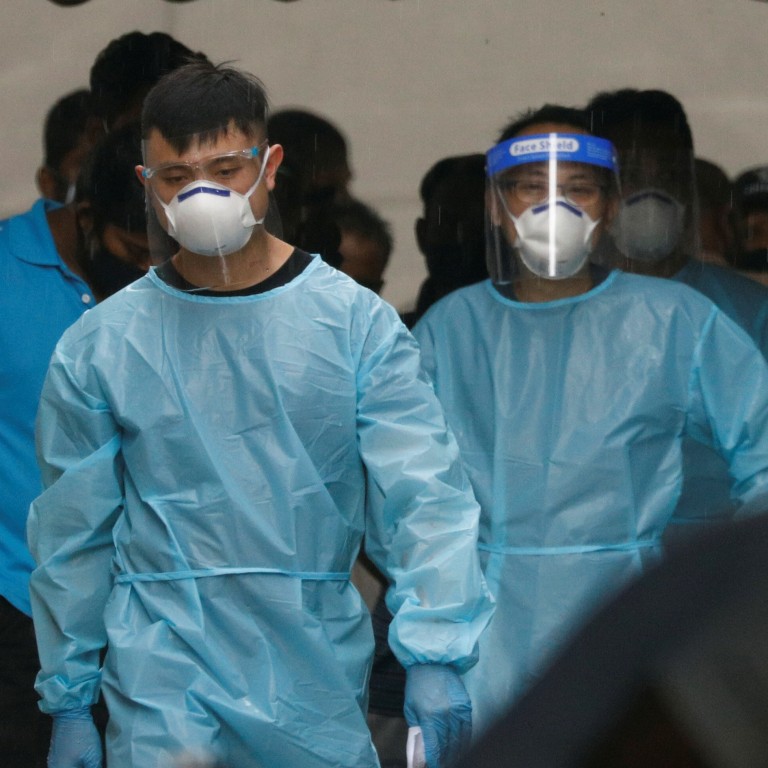 'Far from out of the woods': how a Covid-19 variant put Singapore back in defensive mode
Life had returned to somewhat normal in the city state until the B.1.617 variant arrived on its shores and began spreading in the community
With tens of thousands being tested, high-profile events and a travel bubble not going ahead this month, will it take a lockdown to stem the rise in infections?
Remain at home and leave the house only if it's essential. Wear a good mask with high filtration capability. Get vaccinated when your turn comes.
These exhortations from
Singapore
's health authorities underscore how seriously they are treating the current spike in local infections, even though the outbreak is smaller than the one last year involving dormitories housing low-wage migrant workers, and less severe compared to the daily caseload of its Southeast Asian neighbours.
At the heart of their worries is the Covid-19 variant known as B.1.617, which was
first identified in India
late last year. Unlike the mutations first found in South Africa, Brazil and Britain that were also imported into Singapore by travellers, B.1.617 and its sub-variants have spread faster within the community, causing larger infection clusters.
A statement by the Health Ministry on Friday said the number of new community cases had more than doubled in the past week, while the number of unlinked infections had risen by more than four times. There are now 30 active infection clusters.
Between May 9 and May 20, out of the 250 locally transmitted infections logged in Singapore, at least 38 of them – or about 15 per cent of cases – have tested preliminary positive for B.1.617 and its sub-variants, according to figures made public by the Health Ministry.
Of these, 25 are part of Singapore's 105-patient cluster from its airport terminals, two are associated with other smaller clusters, and 11 of them are unlinked, suggesting that there are hidden chains of transmission yet to be uncovered.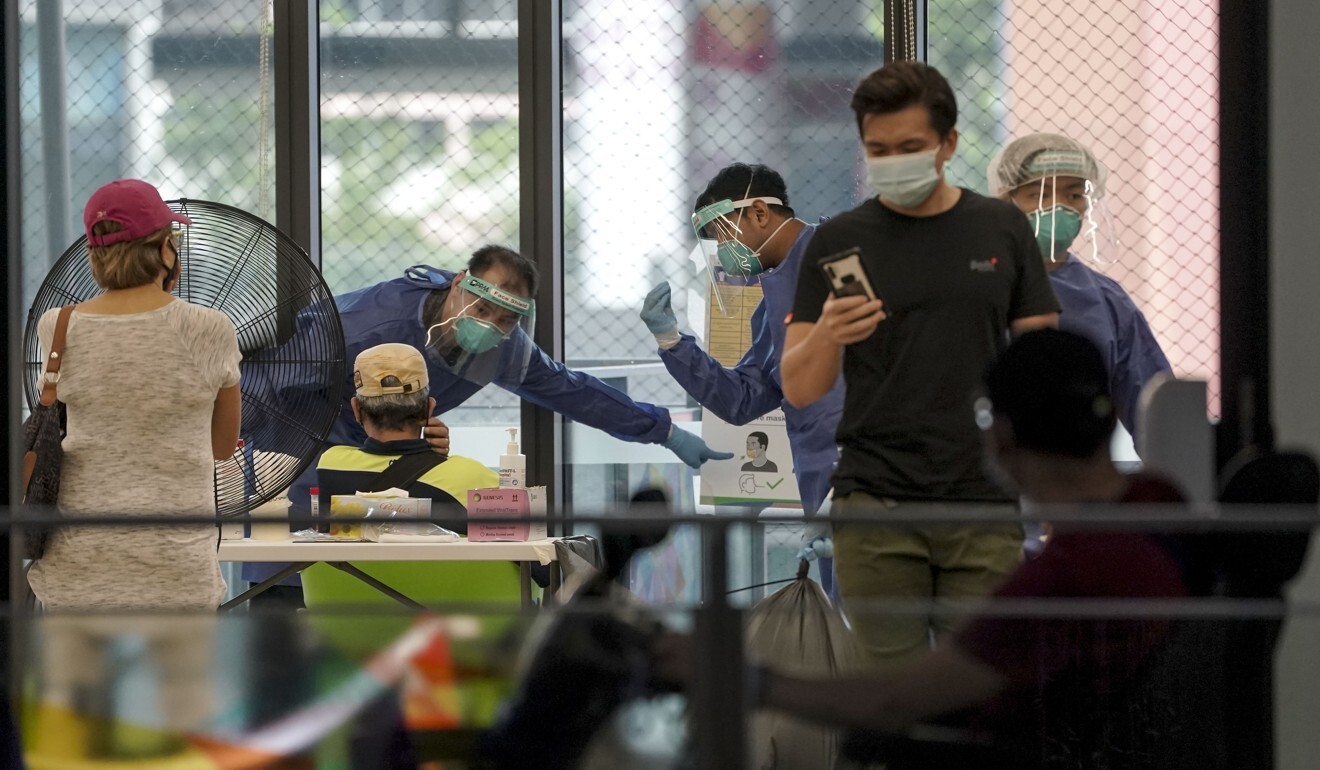 Tens of thousands of residents have been ordered to take Covid-19 tests, including all residents of two public housing blocks after several positive cases were found there.
The city state of 5.7 million, seen as one of the world's best at managing Covid-19, has gone back to lockdown-like restrictions first imposed at the height of the pandemic last year.
Social gatherings are limited to two people, there is no dining in at food places and most people are working from home with youngsters attending classes online. The
World Economic Forum
's special annual meeting and the
Shangri-La Dialogue
security summit – scheduled for the coming months – have been canned, while a long-awaited
travel bubble
with Hong Kong has been suspended for the second time.
Speaking at an event hosted by the US Chamber of Commerce on Wednesday, the country's Prime Minister
Lee Hsien Loong
said Singapore was "far from out of the woods, because right now we have a fresh super-spreading cluster".
In a rare public appeal last Sunday, an infectious diseases expert working for the government urged people to do more than authorities had dictated, including forming "your own social bubble" consisting mostly of immediate family members.
"Our current status is likely more dangerous than just before [the] circuit breaker last year," said a Facebook post by Dr David Lye, the director of the National Centre for Infectious Diseases, referring to the city state's partial lockdown from April to June last year.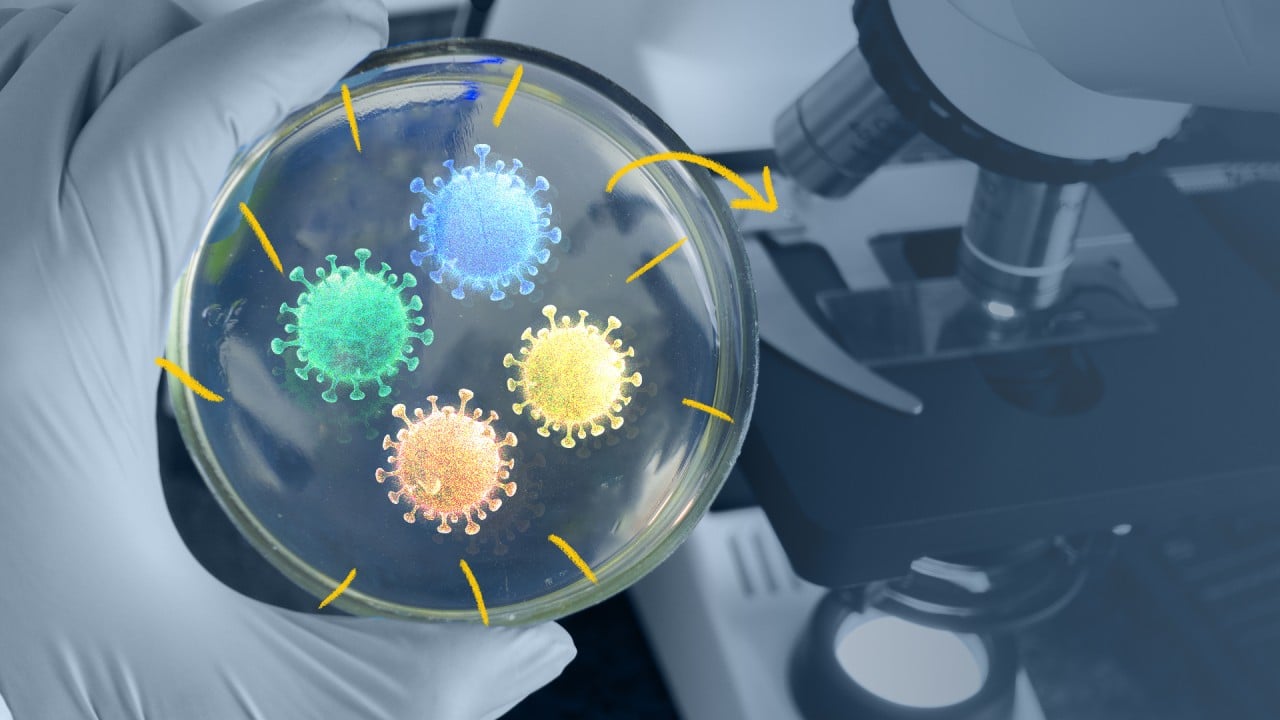 04:12
What do we know so far about the Covid-19 variants?
What do we know so far about the Covid-19 variants?
From a public hospital to the airport
About 7 per cent of Singapore's more than 61,000 cases since the pandemic began were imported but with most of them identified during the seven to 21-day quarantine period, variant strains did not leak into the community.
This changed when B.1.617 came into the picture.
Figures from the Health Ministry showed that between the start of the pandemic last year and 20 April this year, there were 342 imported cases with various strains, including 46 cases of the B. 1.617 strain, 130 of the one first identified in South Africa and 155 of the one first detected in Britain. But only eight local cases during the same period showed two variants of Covid-19 – the strains first found in South Africa and in Britain.
The first local cases of the B.1.617 variant emerged in late April, with a 46-year-old female nurse at one of the country's largest public hospitals testing positive for Covid-19 on April 27. Authorities did not elaborate on how she was infected but on May 4, as local infections grew, health officials said they had recorded three local cases of the B.1.617.1 sub-variant and seven cases with the B.1.617.2 sub-variant. These included the nurse and four more cases linked to her workplace,
Tan Tock Seng Hospital
.
Just over a week later on May 13, almost half of the 24 domestic cases reported on the day had tested preliminary positive for the B.1.617 variant.
By then, those found to have the B.1.617 variant included tens of individuals linked to
Changi Airport
. Among them were airport workers – several of whom were cleaners above the age of 60 with some who were fully vaccinated – their close contacts and members of the public who visited the airport.
Aviation authorities later said preliminary investigations showed initial transmission occurred when a worker assisted a family from South Asia who arrived in Singapore on 29 April and later tested positive for Covid-19.
Health Minister Ong Ye Kung, who was in charge of Transport until portfolio changes as part of a cabinet reshuffle took effect on May 15, said initial analysis found that about 20-odd cases from the Changi Airport cluster were of workers staffing an area that received passengers from higher-risk countries, including those in South Asia.
"Workers [went to] have their meals at the Terminal 3 basement 2 commercial areas and the food court. And we suspect from there, [the virus was] transmitted to members of the public that visited the place," he said.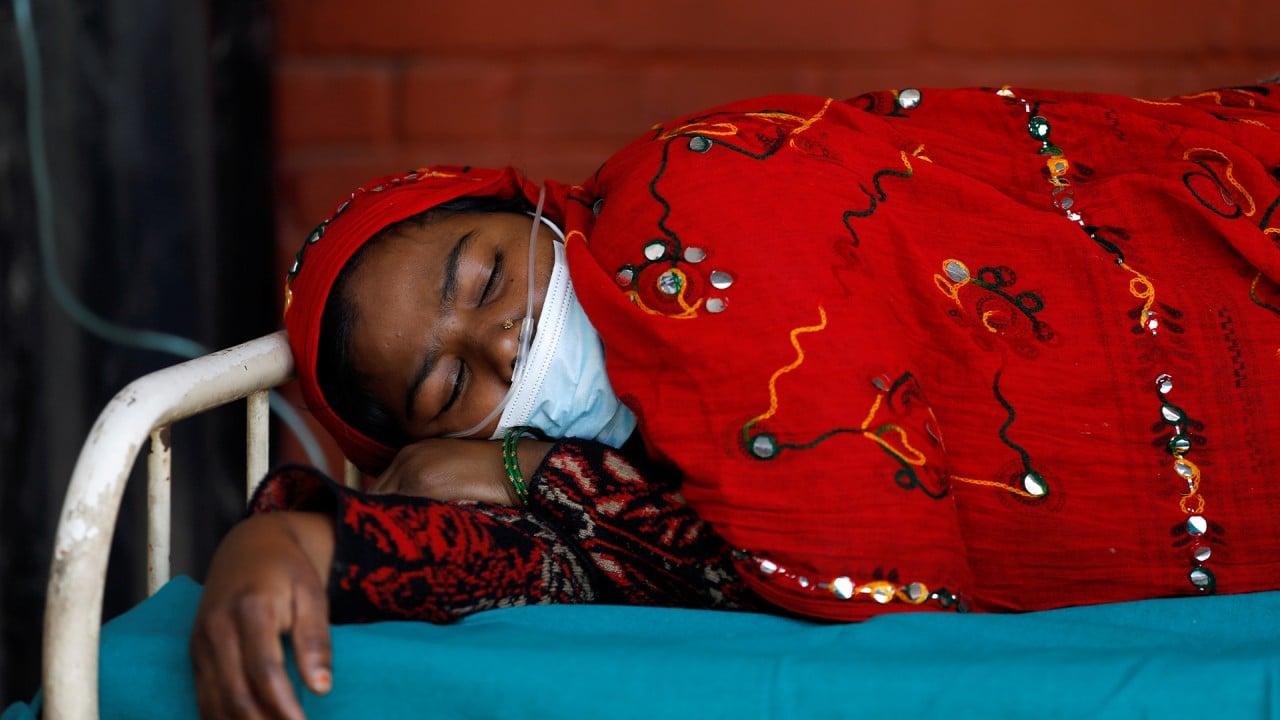 01:55
Nepal's Covid-19 crisis threatens to overtake India's coronavirus catastrophe
Nepal's Covid-19 crisis threatens to overtake India's coronavirus catastrophe
In a separate update, the Health Ministry revealed that there were 409 imported cases from April 16 to May 13, and the majority or 271 of them were from South Asia. Singapore banned all non-residents from India starting April 24 and from May 1 expanded this to include non-residents from Bangladesh, Nepal, Pakistan and Sri Lanka.
On social media, Singapore residents have questioned if safety measures at the airport were inadequate or if the government should have moved faster to limit entry into the country, as soon as they identified a clear rise in imported cases from South Asia. There has also been an uptick in
racist comments
against South Asians, according to members of the community.
Ong said airport workers had donned full-protective gear, observed safety precautions, and had been regularly tested but "this mutant virus [is] very virulent [and] broke through the layers of defence". The airport has now been segregated into different zones of different risk levels, with workers in higher-risk zones now wearing full PPE and kept apart from others when having meals.
All airport terminals including the 10-storey Jewel Changi Airport have been shut to the public till June 13.
Insights into B.1.617
India's government has blamed the B.1.617 variant for the country's devastating surge in Covid-19, where it added 5 million new cases in the past two weeks. Britain, which has reported several thousand cases with the B.1.617 variant, may delay plans to fully lift its lockdown by June 21 if infections continue to rise.
Singapore's tracking of infections and genome sequencing of the virus has offered initial insights into the variant strain.
Genome sequencing allows scientists to characterise the exact strain of the virus present in a sample, identify novel mutations, and through comparison, estimate the most likely origin of the virus, said October Sessions, an assistant professor at the National University of Singapore's Saw Swee Hock School of Public Health.
Through genome sequencing, the Health Ministry has in recent days associated cases that were initially thought to be untraceable to its growing airport cluster.
Teo Yik Ying, dean of the Saw Swee Hock School of Public Health, said sequencing allowed health authorities to document which infections were caused by variants. This information could then be used to decide whether current public health measures were sufficient or needed to be ramped up.
For instance, the Singapore government on Tuesday updated its guidance for compulsory mask-wearing outdoors, urging residents to use masks with better filtration capability as recent community infections suggested a "higher level of transmission, likely attributed to new virus variants".
International studies, including those by WHO, have also drawn similar conclusions and highlighted how a lower viral load of the B.1.617 strain can result in infections compared to the original virus (also known as the wildtype), said infectious diseases doctor Hsu Li Yang.
In numerical terms, B.1.617.2 sub-variant appears to be 50 per cent more transmissible than B.1.1.7 that was first identified in Britain, according to the Scientific Advisory Group for Emergencies – meaning that it is 225 per cent more contagious that the original strain.
"Because it is more efficient at spreading, prior measures that worked against the wildtype virus appear to be somewhat less effective at preventing infection by this variant," said Hsu.
Singapore has also recorded an increasing number of infections involving children, resulting in the authorities
shutting schools
and moving lessons online. While experts said there was no evidence to suggest children were more prone to being infected by the variant compared to the original virus strain, given that the variant was more transmissible, the risk of them being affected was higher.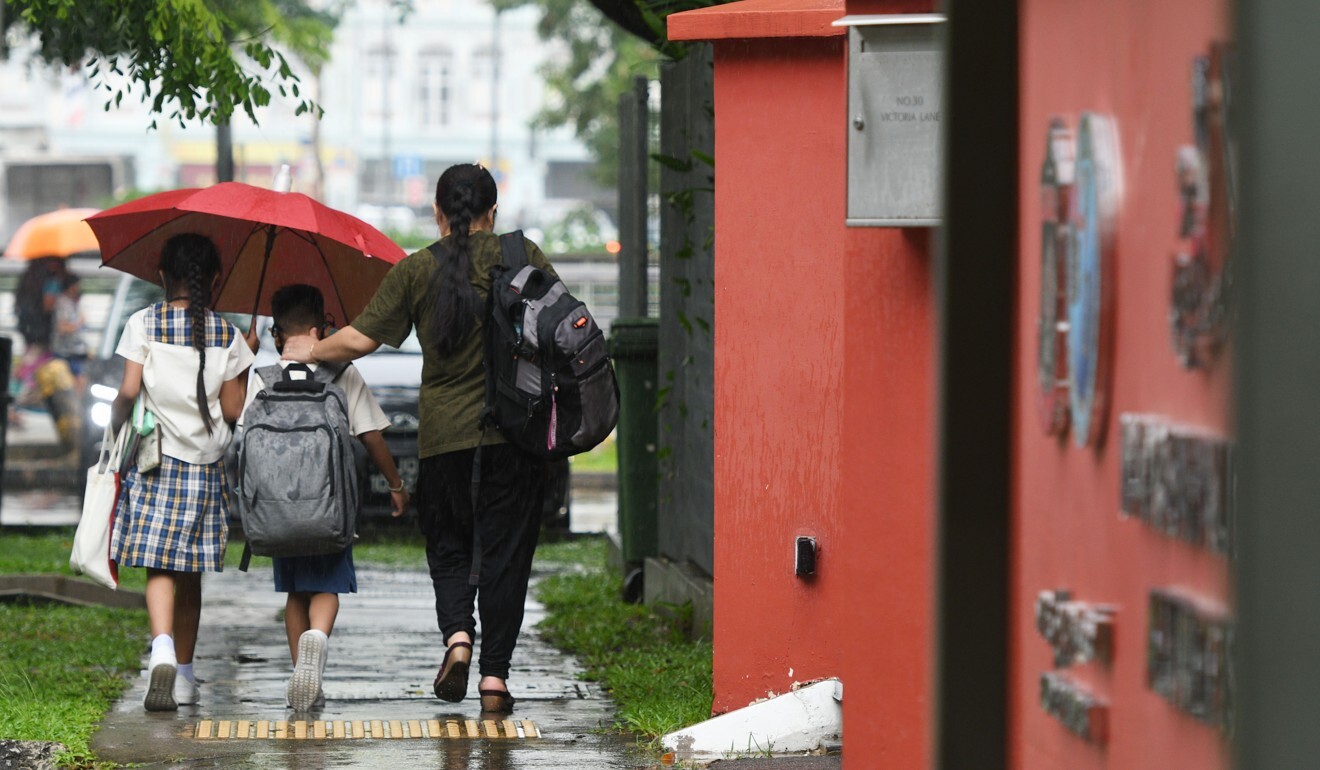 In
Malaysia
, which has seen a record daily spike in infections this week, Health Minister Adham Baba said more young people were being infected, compared to the earlier waves of infections, where seniors made up the main bulk of cases.
The infections linked to Tan Tock Seng Hospital – Singapore's first hospital cluster – have also spurred health authorities to tighten rules for frontline health care workers who now have to wear N95 masks.
This comes as more experts believe that the coronavirus, previously believed to spread largely through respiratory droplets and contaminated surfaces, is also spreading through airborne transmission.
Still, other experts say the insights gleaned from Singapore's experience with the B.1.617 variant are not exhaustive because its case numbers are too small.
Ashley St John, an associate professor at Duke-NUS Medical School, said most information about how the variants spread would come from large populations where there are multiple clusters of infection with different variants that can be compared.
She added: "Here, we only have this one ongoing community cluster, so it is unlikely we can fully understand it by considering the information from Singapore alone."
Alex Cook, the vice-dean of research at the Saw Swee Hock School of Public Health, suggested there were some limiting factors to genome sequencing too. For other diseases, sequencing done on a massive scale could provide information such as who infected whom in a cluster, by calculating a phylogenetic tree, which is the family tree of the virus.
"But for Covid-19, we often can't tell this directly because the virus does not mutate fast enough to be able to work out which case came first. But it can still be useful in linking together clusters and identifying where the cluster originated, if the primary case were imported," he added.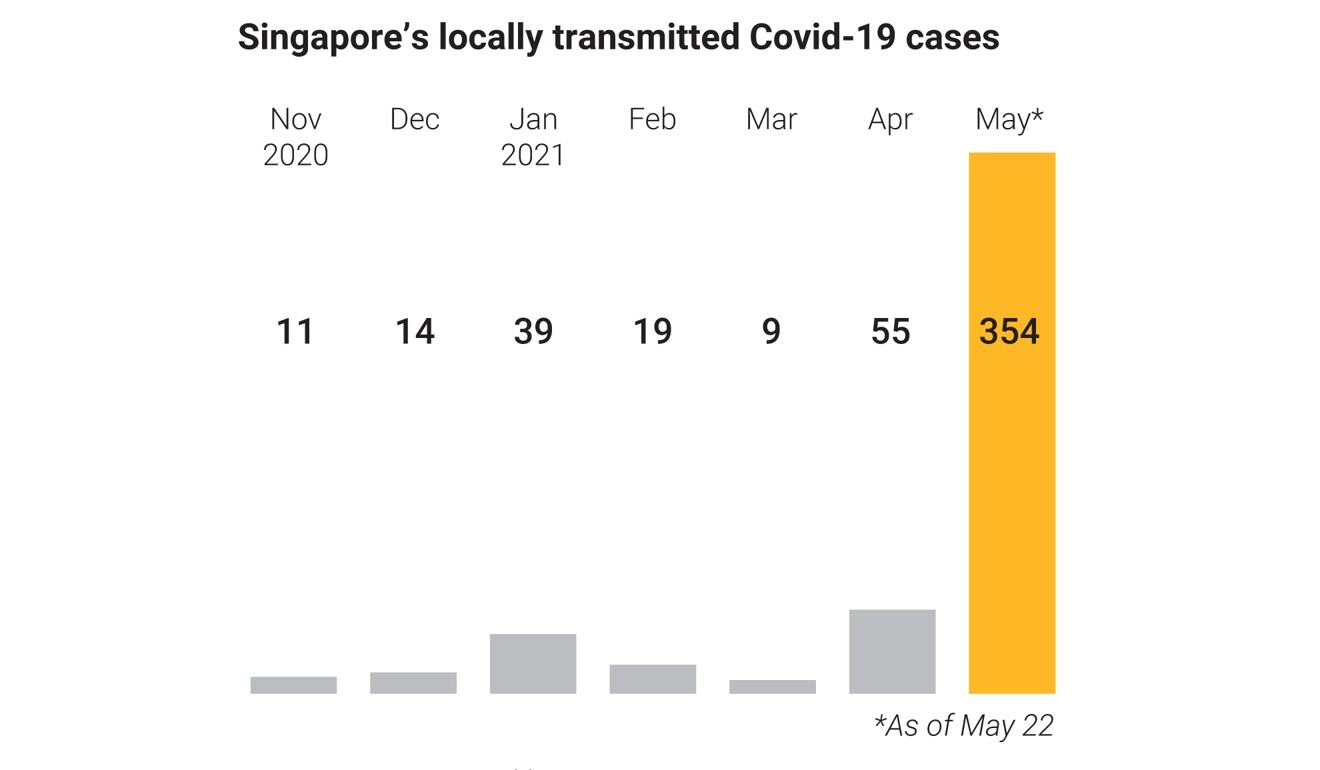 What's next
As authorities try to figure out how to update their virus management playbook with the spread of the variant, health care experts are united in calling for as many people as possible to be vaccinated.
The WHO has said that currently-available vaccines seem able to protect people against the new variants in circulation.
Hsu, the infectious disease expert, stressed that vaccination would reduce the chances of severe disease and death caused by Covid-19 and reduce transmissibility of the virus.
Authorities had earlier pointed to how those from the hospital cluster who were fully vaccinated were either asymptomatic or exhibited mild symptoms, and none had required oxygen support. A handful of those who were not inoculated had either required oxygen support or were in intensive care.
Singapore aims to inoculate all adults – an estimated 4.3 million people – by early August with at least one dose of either the Pfizer-BioNTech and Moderna vaccines.
As of May 17, more than one-third of people in Singapore had received at least one vaccine dose, while 25.3 per cent had been fully vaccinated.
Meanwhile, government leaders have warned that stricter restrictions could be imposed if needed, fuelling rumours of another lockdown.
Leong Hoe Nam, an infectious disease expert, said much would depend on whether the number of unlinked cases continued to rise. But he said he was confident Singapore was more prepared now to control the spread of Covid-19, as it had much faster contact-tracing capabilities.
For example, authorities stepped up measures when they confirmed that a few individuals who caught the virus were living in the same housing block. They conducted mandatory testing for all residents from more than 100 households as a precautionary measure and on Sunday said one individual had tested positive.
A lockdown would likely be the last straw but would be an effective move to weed out the hidden virus cases in the community.
"After infecting an individual, the virus has 14 days to transmit to someone. If it fails, the virus dies in the host. A second circuit breaker breaks the spine of the virus," he said.
"Honestly, if all Singaporeans huddle in fear in their homes and do not go out for three to four weeks, the outbreak will be over in a month."