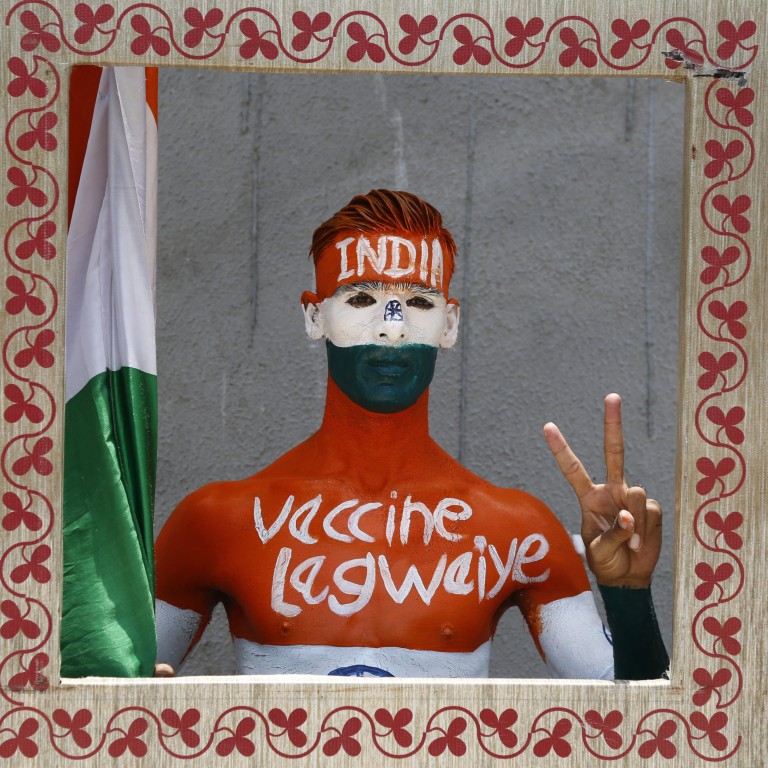 From cheap biryani to free beer, Indian stores offer Covid-19 deals for vaccinated customers
India's high rate of vaccine hesitancy is impeding the government's aim to inoculate 300 million people by August, with some in rural areas saying God will protect them
Businesses and officials are hoping that creative deals, such as free tomatoes, cheap lunches or even free jewellery, might offer some encouragement
At a time
Covid-19 vaccine
hesitancy has emerged as a major stumbling block for
India
's government, businesses hoping to give the country a boost are unveiling eclectic freebies ranging from free alcohol and food to gold nose pins and hand blenders.
Facebook's Covid-19 Symptom Survey puts the rate of India's vaccine hesitancy – defined by the World Health Organization as a "delay in acceptance or refusal of vaccines despite availability of vaccination services" – as high as 28.7 per cent, fuelled by misinformation, rumours and a lack of trust in the government.
In some
rural areas
, inoculation attempts by health volunteers are being stonewalled by irate villagers who say they have God, so they do not need a vaccine.
Vaccine shortages and slow implementation of immunisation drives are further threatening to derail the government's aim to vaccinate 300 million Indians by August, experts say.
According to health ministry data, about 22 per cent of India's 1.38 billion people have been vaccinated against Covid-19 as at June 10.
Gripped by fear that another lockdown may completely cripple their businesses already battered by the first wave, entrepreneurs are exploring every possibility to reignite consumer interest in India, where the Covid-19 caseload has reached nearly 30 million and death toll is about 400,000, though disease experts have pegged the real figures at five to 10 times more.
Some food and beverage establishments are offering discounts ranging from 15 to 30 per cent to customers who are able to show their vaccination certificates at the time of placing their order.
India's largest organised burger chain McDonald's recently started offering 20 per cent discount vouchers with the tagline, "Just another reason to get vaccinated ASAP" – a deal proving to be quite popular among foodies, company officials said.
Ditto for discounts offered by pan-India alco-bev chain – The Beer Cafe – whose message is: "You got the jab, we got your tab."
New Delhi resident Vishal Singh, 41, said he was incentivised to take the Covid-19 jab by an eatery's offer of a 30 per cent discount on biryani.
"I'm a huge biryani fan, so I could not resist this offer. As a student, I've availed of discounts at restaurants and on bus, rail and plane tickets," he said. "But vaccination certificates to avail of freebies? Quite unique really."  
Amit Bagga, the co-owner and CEO of Daryaganj, a restaurant chain with multiple outlets across Delhi and Gurugram, said a vaccine drive can play a critical role in ensuring public safety at large thereby diminishing the virus threat.
"Hopefully, the hospitality industry's offers and discounts will encourage other businesses to incentivise people to get vaccinated as well," he said. "Nobody is safe until everyone is safe. The sooner the pandemic recedes, the sooner everyone will be able to go back to business." 
Other businesses have jumped onto the incentivisation bandwagon too. The goldsmith community in Rajkot, in the western state of Gujarat, sparked a nationwide buzz last month by offering women free gold pins and men free hand blenders, used to manually chop up fresh produce, at their vaccination camps organised in synergy with local municipalities.
"Both me and my sister-in-law received nose pins after we got jabbed at the camp," housewife Mishri Dave told This Week in Asia over the phone from Rajkot. "However, we're not sure whether the ornaments are pure gold or not. I'm planning to get them tested by a local jeweller soon."
Concerned about lower employee productivity due to the pandemic, conglomerates such as Infosys, Reliance, Accenture, Volvo, Capgemini and IndiGo are absorbing costs of vaccinations for employees.
Ride-hailing company Uber announced a US$100-million initiative offering free rides – of up to US$1.50 – to and from vaccination centres across 35 Indian cities. 
State governments too, are using inventive means to encourage the public to get vaccinated.
The Delhi government has offered a tax rebate for early filing of property tax to vaccinated families. In the northeastern state of Arunachal Pradesh, free rice in return for jabs has emerged as a popular initiative. 
In the western state of Maharashtra, the vaccinated are being given free Bhakarwadis – a type of traditional Indian confectionery at inoculation centres. Chattisgarh's Bijapur district officials offered 2kg of tomatoes to the vaccinated.
In the southern state of Tamil Nadu, many villages participated in lucky draws whose prizes included washing machines and two wheelers for the vaccinated.
It seems Indian businesses are drawing inspiration from their American counterparts who have been doling out freebies since January to accelerate vaccine drives.
Doughnut chain Krispy Kreme has been offering free doughnuts to those who get the jab, reported The New York Times. By showing the vaccination card, one can get one free "Original Glazed" doughnut a day for all of 2021.
Budweiser is offering free beer to those vaccinated and above the age of 21. US grocery chain Kroegers is doling out US$100 cash prizes to employees to get the Covid-19 shot. 
In a controversial move, cannabis dispensaries in Washington have been permitted to offer one free, pre-rolled joint to anyone aged 21 or above after they get vaccinated. The promotion, called "Joints for Jabs", is part of President
Joe Biden
administration's "Month of Action", which hopes to mobilise at least 70 per cent of adults at least one shot by July 4.
Such a target looks unattainable for India right now as people from all backgrounds continue to harbour misconceptions about the vaccine's potential side effects, said Dr Gyan Prakash Sharma, an epidemiologist based in the northern city of Noida, Uttar Pradesh. 
"Though the second wave of the pandemic is waning, the threat of the virus coming back again is very real. We require large-scale and swift vaccination of the eligible population," he said.
"In a star-crazy nation, sensitisation campaigns featuring celebrities, community leaders and mass influencers should be pressed into action forthwith to save lives."