Coronavirus: surge of Delta variant in Indonesia threatens Bali tourism reopening
Country to tighten movement restrictions in designated red zones until July 5 as record number of new cases threatens to overwhelm health system
The surge comes after millions travelled to celebrate Eid and amid concerns China's Sinovac vaccine is not as effective as others against the Delta variant
Indonesia
announced on Monday it would tighten movement restrictions amid a surge of
coronavirus
infections, fuelled by the Delta variant, that has brought the health system to the brink of collapse and put a question mark over plans to reopen parts of Riau and Bali to tourists from overseas.
The country on Monday recorded 14,536 new cases, its highest daily figure yet, bringing its total number of cases to more than two million. That figure, like its death toll of nearly 55,000, is the highest in Southeast Asia. Meanwhile the percentage of tests returning a positive result in Indonesia was 41.1 per cent – far above the 5 per cent limit the
World Health Organization
sees as indicating an epidemic is under control.
Under the new restrictions, in high-risk areas or "red zones", non-essential businesses will have to close at 8pm, three quarters of the workforce must work from home and religious and social gatherings will be banned.
Coordinating minister for economic affairs Airlangga Hartarto said the new restrictions would be in place until July 5 and the police and army would be deployed to ensure compliance.
In the capital Jakarta, a coronavirus hotspot, curfews will be implemented from 9pm to 4am in 10 of the most crowded areas, including on Gunawarman and Senopati roads in Jakarta's central business district.
Health Minister Budi Gunadi Sadikin said that nearly 90 per cent of the 17,752 hospital beds reserved for Covid-19 patients in Jakarta were now occupied.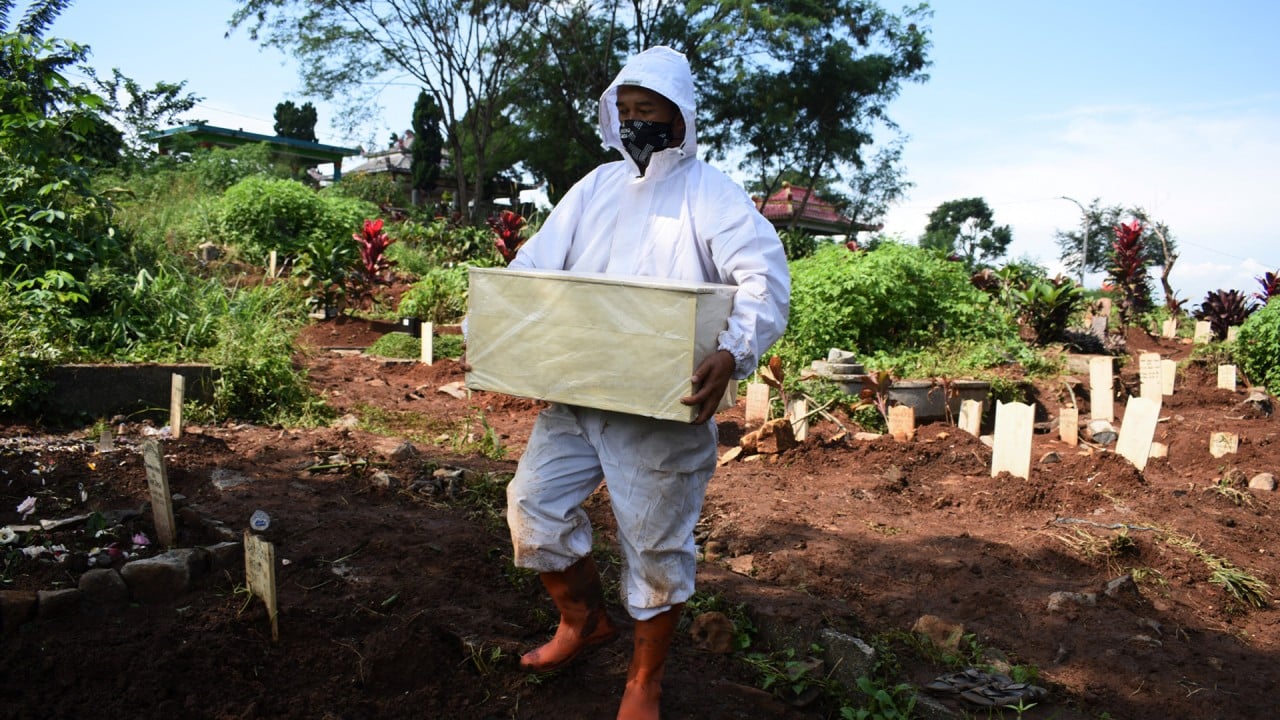 02:41
Indonesia hits record daily Covid-19 caseload as total infections pass 2 million
Indonesia hits record daily Covid-19 caseload as total infections pass 2 million
The resurgence of the virus, which experts say is due to new variants and a slow vaccination campaign, is a setback for the country's plan to reopen Bali to international visitors next month.
On Sunday, Tourism Minister Sandiaga Uno said the government now hoped to reopen the border in the third quarter instead.
The surge in infections has also brought into question the fate of the travel corridor between
Singapore
and Nongsa in Batam and Lagoi in Bintan, two areas of Riau Islands province. The corridor had initially been scheduled to open in April, but was pushed back to July and now appears in danger of being further delayed.
As of Monday Bali and Riau had, respectively, recorded 48,436 and 22,527 total cases. While Bali hopes to have fully vaccinated 3 million of its 4.36 million population by the end of June, so far only 1.9 million residents have received their first dose. Meanwhile in Riau, population 6.83 million, a little more than 490,000 have received their first jab.
Sandiaga has previously said reopening these islands would depend on the pandemic situation throughout the country.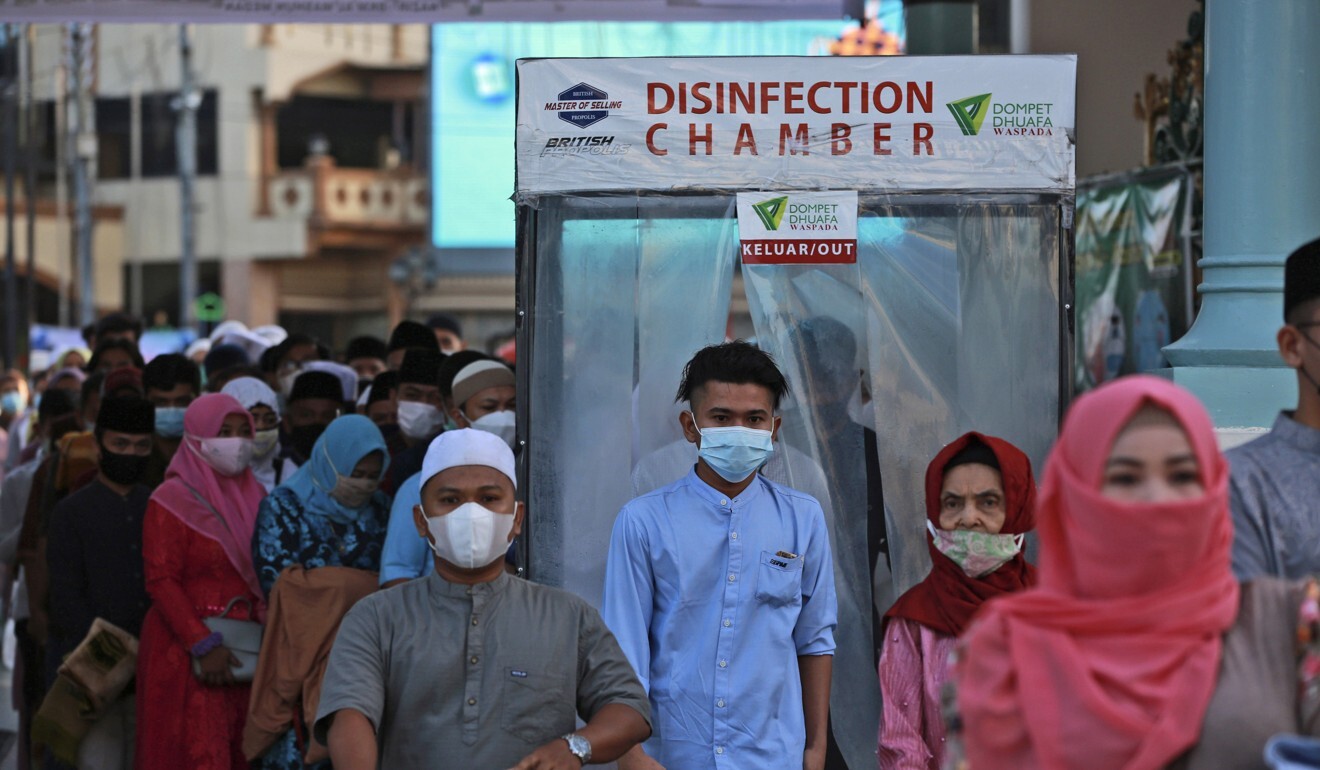 Post-Ramadan surge
This situation has taken a turn for the worse in the past five weeks. The beginning of the surge coincided with holidays marking the end of the Muslim holy month of Ramadan, when 18 million Indonesians are estimated to have travelled to their hometowns in Central and East Java provinces, despite a 12-day domestic travel ban.
In the past 16 days alone, more than 41,000 cases were recorded. Eight provinces – Jakarta, Central Java, East Java, Yogyakarta, Aceh, Riau Islands, Central Kalimantan, and Banten – reported the greatest rises.
In Jakarta, West Java and Central Java hospitalisation rates have exceeded 80 per cent, a level experts say jeopardises the health system.
"I think the government needs to impose more restrictions. If the number of patients continues to grow, and we don't take the necessary precautions we need to brace for a collapse in our health system," said Laura Navika Yamani, an epidemiologist from Airlangga University in Surabaya, East Java.
Other red zones include the towns of Kudus in Central Java and Bangkalan in East Java, where outbreaks are thought to have been caused by the highly contagious Delta variant, which was first detected in
India
but has wreaked havoc in other countries since.
Bed occupancy rates in both towns last week reached 90 per cent, before declining to 80 per cent and 82 per cent, respectively, as of Sunday.
"This Delta variant nearly meets the criteria to be a super-variant as it is very conteconomagious, it can clinically worsen the patient's condition, and it can reduce the efficacy of antibodies, which means that vaccinated people can be infected, as well as Covid-19 survivors," said Dicky Budiman, an epidemiologist from Australia's Griffith University.
The economic damage from the latest virus spike could be severe as Indonesia's central bank "has limited space to bolster domestic demand," said Katrina Ell and Sonia Zhu, economists at Moody's Analytics Inc. "Lowering benchmark interest rates risks destabilising the already vulnerable rupiah via aggressive capital outflows," they added, noting that fiscal policy is likely to have to do the heavy lifting going forward.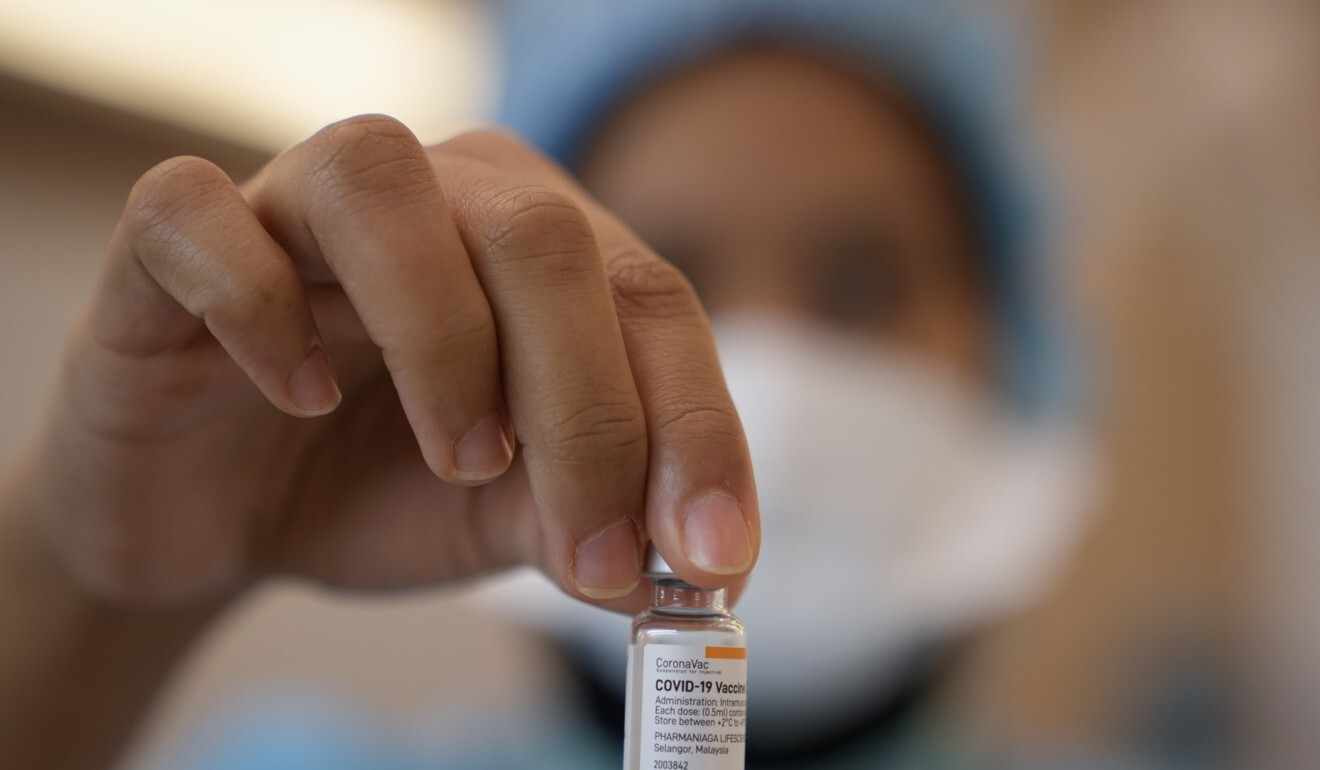 Spotlight on Sinovac
Indonesia has so far put its hopes in
vaccinations
to rein in a pandemic that last year tipped the economy into recession for the first time in more than twenty years.
As of Sunday, Indonesia had received more than 104 million
Covid-19 vaccines
, 94.5 million of which were supplied by China's
Sinovac
, and the rest by AstraZeneca and Sinopharm.
The government aims to be inoculating a million people a day by July to bring the surge under control. It calculates it needs to inoculate 181 million people, or two-thirds of its population of 270 million, to reach herd immunity. As of Monday, only 12.3 million had been fully vaccinated.
However, doubts have emerged over the efficacy of Sinovac's CoronaVac vaccine against new variants, particularly Delta, after more than 350 Indonesian doctors contracted the virus despite being fully inoculated with the China-made vaccine. Reuters reported that dozens of the doctors had been hospitalised "with high fevers and falling oxygen saturation levels".
Health care workers were among the first people in Indonesia to receive the Sinovac jab when the inoculation drive began in January.
Among them was Wiku Adisasmito, the face of the government's Covid-19 task force, who on Saturday announced he had tested positive for the virus.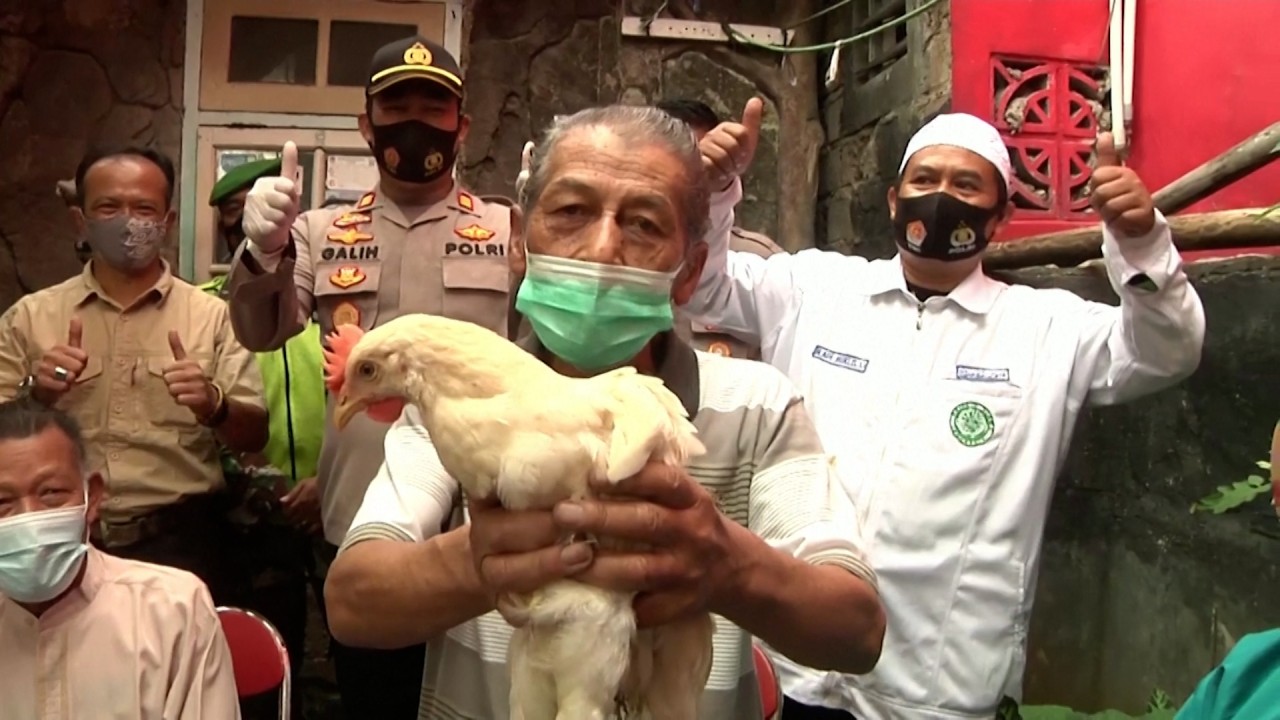 02:45
Indonesian town offers free live chickens to boost vaccination rates
Indonesian town offers free live chickens to boost vaccination rates
"So far, only the mRNA and AstraZeneca vaccines have been proven effective against the Delta variant," Dicky said. "In the context of Indonesia, someone who has the Sinovac vaccine has a higher probability of being infected" than someone who received one of the other vaccines, he said.
In May, the health ministry released a report suggesting the Sinovac vaccine was 94 per cent effective in preventing Covid-19 symptoms in 120,000 Indonesian health workers who had been fully vaccinated.
"I question the validity of the government's data," Dicky said. "We need to be realistic. The fact is not all vaccines are effective in preventing the infection, though it doesn't necessarily mean that [Sinovac] offers no protection at all."
In addition to Indonesia,
Thailand
, the Philippines and
Malaysia
have also used Sinovac in their national inoculation programmes. The Philippine Health Department said last week it was awaiting the findings of an expert panel set up to analyse the vaccine.
Kenneth Mak, Singapore's director of medical services, said on Friday that the reports of vaccinated doctors falling sick "does give the impression that the efficacy of different vaccines will vary quite significantly". Singapore started offering Sinovac to the public last week.
Dicky of Griffith University said the plight of Indonesian health workers was a lesson for Southeast Asian countries to "revamp their handling of the pandemic" by ensuring adequate supply of personal protection equipment for health workers, increasing testing, tracing, and tracking, and reducing malnutrition, which can affect antibody responses.
"I also recommend adding a booster jab for recipients of the Sinovac or AstraZeneca vaccines, with one of the mRNA vaccines which has been scientifically proven effective" against the Delta variant, he said.
Budget deficit
Finance Minister Sri Mulyani Indrawati said in a briefing on Monday that Indonesia's cabinet is ready to take "more detailed and firm steps" to deal with the virus outbreak. She added that demand for Indonesian debt papers seemed to be holding up, allowing the government to keep its borrowing costs steady and gradually reduce its dependence on the central bank as a standby buyer during auctions.
"We'll continue to maintain our fiscal management that is trusted by investors," Indrawati said.
However, state spending could be hamstrung by a pledge to bring the budget deficit back under 3 per cent of GDP in two years, from a projected 5.7 per cent this year. The government would have to make adjustments within the budget, rather than raise spending, if more stimulus is needed, Deputy Finance Minister Suahasil Nazara said on Thursday. The pandemic-era spending spree "should be temporary" and tax reform is needed to protect fiscal health, Nazara added.
One bright spot is the country's ample foreign reserves, which could help it weather any foreign outflows connected to Fed tapering, according to Wellian Wiranto, an economist at Oversea-Chinese Banking Corp.
"Still, to anchor market confidence further, it might have to signal a more conservative stance on both fiscal and monetary fronts – at a tricky time when its economy may be getting hit once again by a pandemic resurgence and requires more help," he said.
Additional reporting by Bloomberg