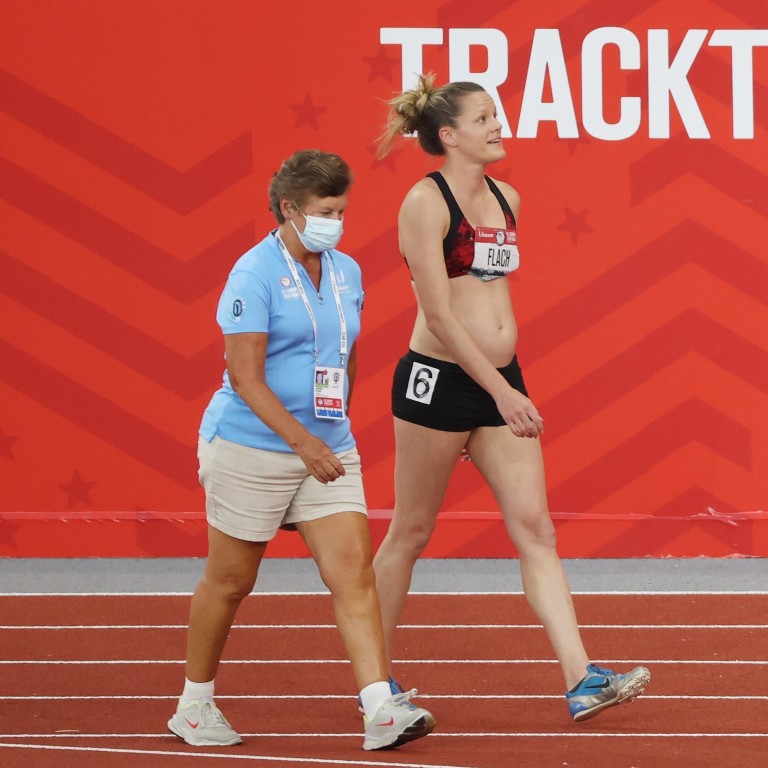 Tokyo Olympics: pregnant Lindsay Flach joined US track and field trials to 'prove what women are capable of'
Flach drew flak for competing, which doctors say is due to the fear of risks from sports – though exercising while pregnant is beneficial for most women, they add
Athletes such as Malaysia's Nur Suryani Mohamed Taibi and the Netherlands' Anky van Grunsven have taken part in previous Olympics while sporting a baby bump
Our Tokyo Trail series looks at key issues surrounding the 2020 Olympics, which are scheduled for late July.
When track and field athlete Lindsay Flach from the
United States
took part in trials for the heptathlon last week, the 31-year-old didn't think she could qualify for the
Tokyo Olympics
. But she was determined to prove she could compete in the seven events that make up one of the Games' most gruelling competitions – while she was 18 weeks pregnant.
Flach – who had days earlier revealed on Instagram that she was expecting – had the step patterns for the 100-metre hurdles on her mind, as well as the back arching needed for the high jump. The heptathlon includes five other events over two days: the shot put, a 200-metre run, broad jump, javelin throw and an 800-metre run.
With the trials in Eugene, Oregon, taking place amid a torrid heatwave, Flach ended up leaving the track after 100 metres of the 800-metre race on the second day, feeling that it was the best move to keep her and her baby healthy as the temperature hit 43 degrees Celsius.
"It was hard mentally because I knew I wasn't going to be able to compete at the level I was capable of 18 weeks ago, but I just wanted to prove what women are capable of," Flach told Yahoo Sports when asked why she had decided to go ahead with the trials after revealing her pregnancy. "To end one chapter and begin another on my terms was amazing."
When asked by This Week in Asia to recall her experience, Nur Suryani said it was somewhat challenging due to the baby's movement.
"I needed to make sure to deliver a shot while my baby stayed still in the stomach," she said, adding that she felt "a little short of breath" and that she could not aim at the target for long.
While doctors generally agree that it is good for pregnant women to get a moderate amount of activity, they warn that active participation in sports could increase the expecting mother's risk of dehydration, overheating and low blood sugar. But until the International Olympic Committee released a report by medical experts on the subject in 2016, there had been little research done on recommendations during pregnancy and after childbirth for elite athletes.
It concluded that generally, athletes could continue exercising while expecting, although some adjustments to the type of and intensity of activity should be made – and that engaging in light to moderate physical activity would not increase the risk of miscarriage.
"In some sports, like archery or shooting, pregnancy might not have an effect on athletic performance. For endurance sports, [pregnant athletes] have to perform at very high intensity for a longer period and that might be too stressful for the fetus," said Jorunn Sundgot-Borgen, a sports medicine professor at the Norwegian School of Sports Sciences.
"Many elite athletes keep up their training schedule until late in their second trimester. Few elite athletes will compete at national or international level after the fifth month of pregnancy," she said, adding that martial arts and ball games were not recommended after the first trimester.
Liona Poon, obstetrics and gynaecology professor at the Chinese University of Hong Kong (CUHK), said the first trimester could be demanding because of pregnancy-related nausea and vomiting. This is something US athlete Flach experienced too, telling People magazine that she had experienced "12 weeks of bad vomiting".
In the Yahoo Sports interview, she also revealed that she had received "negative reactions" over her decision to compete in the trials, including the sentiment that she was being selfish and was "taking someone else's spot" by participating.
But, as Flach explained, she had spent a long time preparing for what was meant to be her final shot at Olympic glory, having failed to qualify for two previous Games. To prepare for Tokyo, Flach quit her job and moved more than 400km away from her partner to focus on training. But when the pandemic hit and the Games got postponed, she decided she could no longer put her life on hold.
"It was bittersweet," Flach said. "I was really excited because I've always wanted kids, but it was also a shock knowing that just like that, my track career was over."
Doctors say female athletes have to battle the stereotype that physical activity must be minimised while expecting, as the general perception is that the needs of the fetus are a priority.
The takeaway for women – according to Professor Tan Kok Hian, who heads the perinatal audit and epidemiology unit at the KK Women's and Children's Hospital in Singapore – is that physical activity has health benefits and should be encouraged during and after pregnancy.
"It is not surprising that pregnant athletes face negative feedback. The risk-averse culture, coupled with fear of the risks that competitive vigorous activities could bring, may result in [such criticism]," he said. "Physicians can also do more to encourage pregnant women to exercise or engage in even moderate physical activity."
Poon from CUHK agreed, adding: "Women who habitually engage in vigorous aerobic activity or were physically active before pregnancy can continue doing so during pregnancy and the post-partum period."