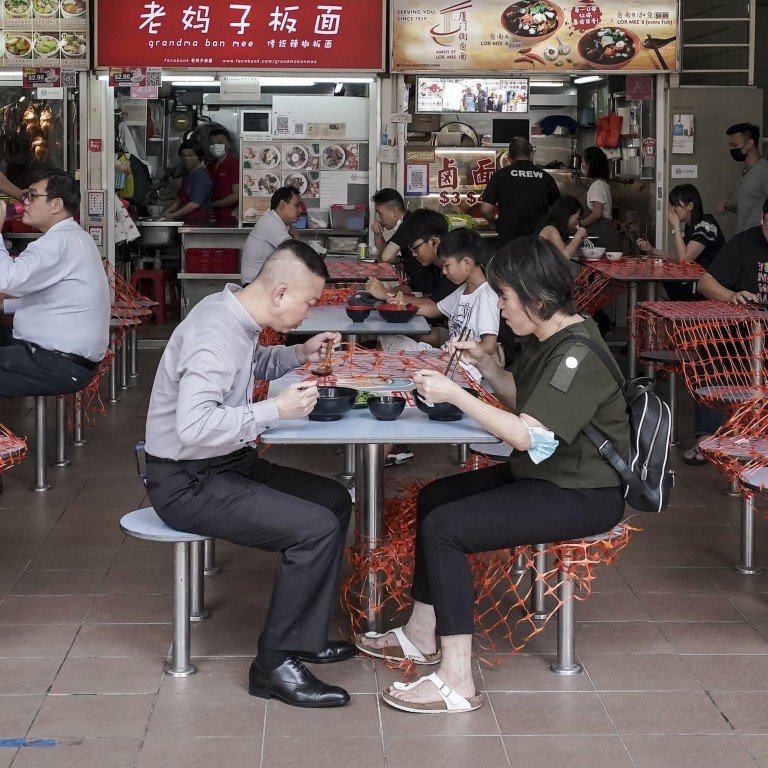 Singapore's 'living with Covid-19' road map suffers setback as restrictions return
For four weeks – starting Thursday, until August 18 – restaurant dining will be banned and social gatherings will be restricted to groups of two
Officials previously said they were preparing to treat Covid-19 as endemic, citing public 'battle weariness'
Officials on Tuesday confirmed all restaurant dining will be barred, social gatherings – including visits to households – will be restricted to two people and wearing masks will be mandatory for indoor sporting activities. The tightened restrictions will last until at least August 18, the coronavirus task force said.
The National Day Parade planned for August 9 will go ahead but its scale will be reviewed.
"Some people have also asked why we are tightening measures, if we are planning to live with Covid-19 eventually, and how this fits into our endemic Covid plan," said Gan Kim Yong, co-chair of the coronavirus task force.
"Our direction has not changed. However, when we outline our plans to live with Covid. We also emphasise that we needed to significantly raise our vaccination rate," he said, adding that infections needed to be kept under control to protect the unvaccinated, especially the elderly.
Given the surge in cases, Singapore's Minister for Transport S. Iswaran and Hong Kong's Secretary for Commerce and Economic Development Edward Yau on Tuesday agreed to conduct a review of the quarantine-free
travel bubble
in late August.
Prime Minister
Lee Hsien Loong
's government previously indicated it would pursue an "endemic policy" – that would treat Covid-19 as similar to the flu – after vaccination numbers rose and "battle weariness" took a toll on the public.
Ong Ye Kung, the health minister who also is co-chair of the task force, said the government was tightening the rules now because it was very close to its milestone of having two-thirds of the population vaccinated.
"Really just literally weeks away, it is really not the time to risk it all," he said. The restrictions would give Singapore time to plough ahead with vaccinations so "when we emerge from it we will be much more resilient", he said.
The renewed restrictions are similar to measures imposed from May 16 to June 13 in response to an earlier surge in cases linked to a cluster at Changi airport.
The first of the most recent clusters centres on karaoke bars, including at least 193 cases as of July 19. The second cluster, which originated at the Jurong Fisheries Port, includes at least 179 infections and has spread to 28 markets and cooked food centres, raising concerns that elderly patrons of these establishments may be at risk.
Gan, who is also the trade and industry minister, on Tuesday said the latest development was a "huge setback" to the country's Covid-19 fight, but added that authorities would push ahead with reopening plans when the new clusters subsided and the vaccination rate increased.
Ong said more than 100,000 residents over the age of 70 had yet to be vaccinated, as well as a similar number of people aged 60-69. He had earlier said Singapore was worried about the health care system getting overwhelmed. Singapore has 1,000 ICU beds set aside for Covid-19 patients.
He said the elderly had a high likelihood of falling critically ill once infected, "almost every one of them", adding that if anyone from these groups became infected they were likely to end up in hospital, while 10 to 15 per cent might require intensive care.
Official data showed 73 per cent of
Singapore
's 5.7 million people have received at least one dose of the Moderna or Pfizer vaccines. Ong said 50 per cent had been fully vaccinated as of Monday.
He added that based on current vaccination bookings, about 75 per cent of those aged above 70 would eventually be vaccinated, up from the current 71 to 72 per cent. He said he hoped at least 80 to 85 per cent of people from this group would eventually be inoculated.
Ong said he understood that many Singapore residents wondered why other economies were "so brave and courageous" in opening up, citing the examples of Israel, Britain and the United States.
The health minister said those economies had a high vaccination rate and underwent "waves of very traumatic transmission" that allowed large swathes of the population to develop immunity, with 90 to 95 per cent of seniors there also vaccinated.