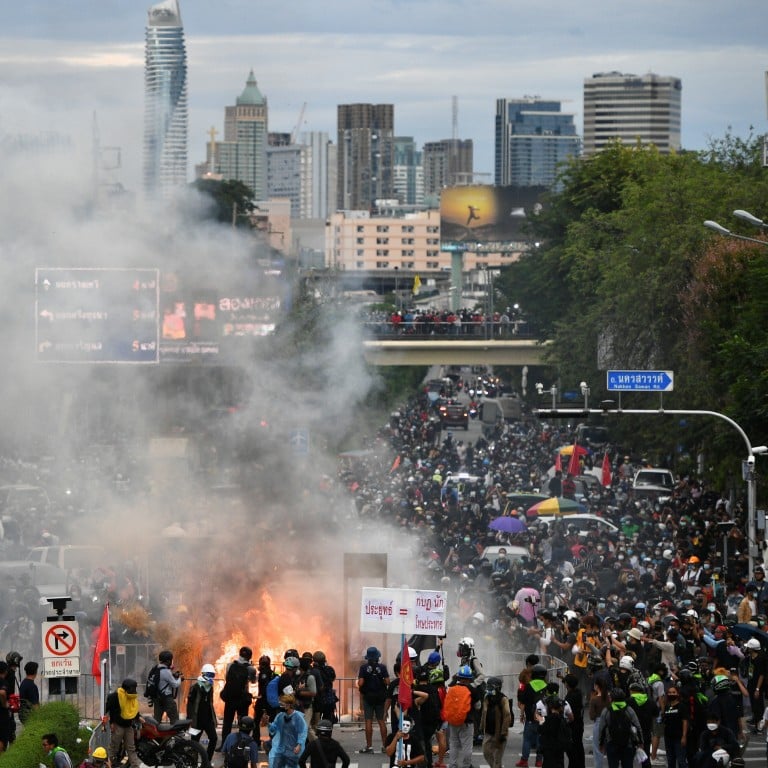 Thailand's street protests return, taking aim at Prayuth's handling of Covid-19 pandemic
Secrecy, supply delays and a reliance on China's Sinovac jab have left Thailand scrambling for shots amid an explosion in coronavirus cases
Anti-government activists are back on Bangkok's streets despite a virus lockdown – and observers warn the protests will only expand if the health crisis deepens
A year after youth-led
pro-democracy protests
first swept the country demanding Prime Minister Prayuth Chan-ocha's resignation and a new constitution, street politics has returned to
Thailand
.
This even though Covid-19 cases are surging with Bangkok under a lockdown. The capital's medical system has been overwhelmed with new infections and on Tuesday authorities began transporting some patients back to their hometowns by train.
On July 18, thousands gathered near Government House in Bangkok, renewing calls for
former junta
leader Prayuth to stand down and for the government to spend more on managing the pandemic, including importing more mRNA vaccines.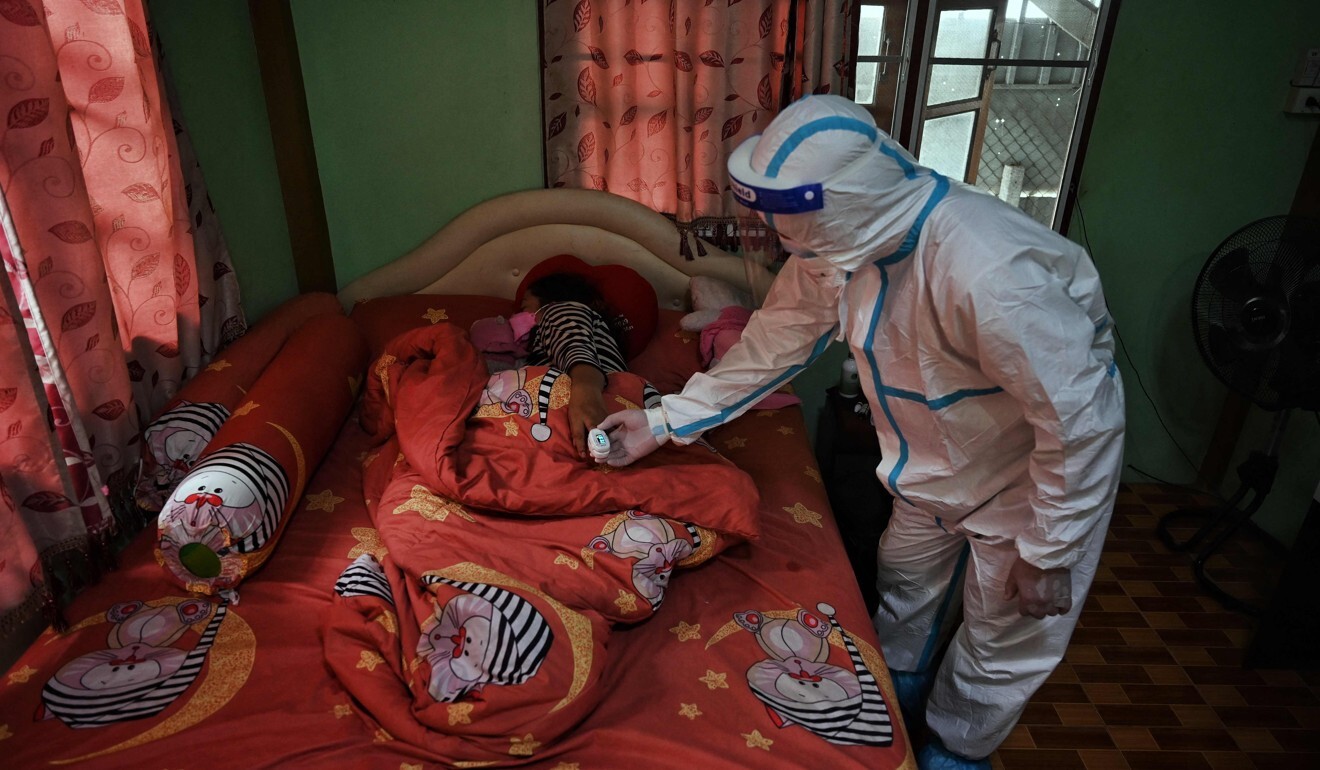 "The government has had the opportunity to properly manage Covid-19," said protest organiser Sombat Boonngamanong, whose activism gained traction after a lockdown imposed on Bangkok since July 12 failed to bring down infection rates. "But there are problems with the vaccines concerning their amount, efficacy and management, so this has provoked the people, who hold a consensus that this government should leave, [to protest]."
Another major rally is planned for August 1, Sombat said, with demonstrators being asked to socially distance themselves by driving in vehicles along Bangkok's Vibhavadi Rangsit Road.
Thailand's vaccine strategy, which initially aimed to rely mainly on
AstraZeneca doses produced locally
by King
Maha Vajiralongkorn
's Siam Bioscience, has been falling apart at the seams amid shortfalls and delays – with tens of thousands of Bangkok residents' vaccination appointments either cancelled or postponed in recent weeks because of insufficient vaccine allocation.
Only about 16 million of Thailand's 66.1 million population have received at least one vaccine dose so far – most of them
China
's Sinovac jab, with 10.5 million doses imported as of June 23, and another 10.9 million on order at a cost of 6 billion baht (US$182 million).
Public confidence in the Chinese vaccine plummeted after it emerged earlier this month that more than 600 Thai medical workers
had been infected with Covid-19 despite receiving two Sinovac jabs
– prompting Thailand's health ministry to promise 500,000 Pfizer-BioNTech doses as booster shots for frontline medical workers, from a donation of 1.5 million set to arrive from the
United States
by the end of this week.
But on Sunday, doctors' group the Public Health Association of Thailand issued a statement questioning if the ministry would be able to meet its pledge, asking "would VIPs get the share of these doses?" as rumours swirled on domestic and social media of special interest groups looking to scoop up vaccine imports.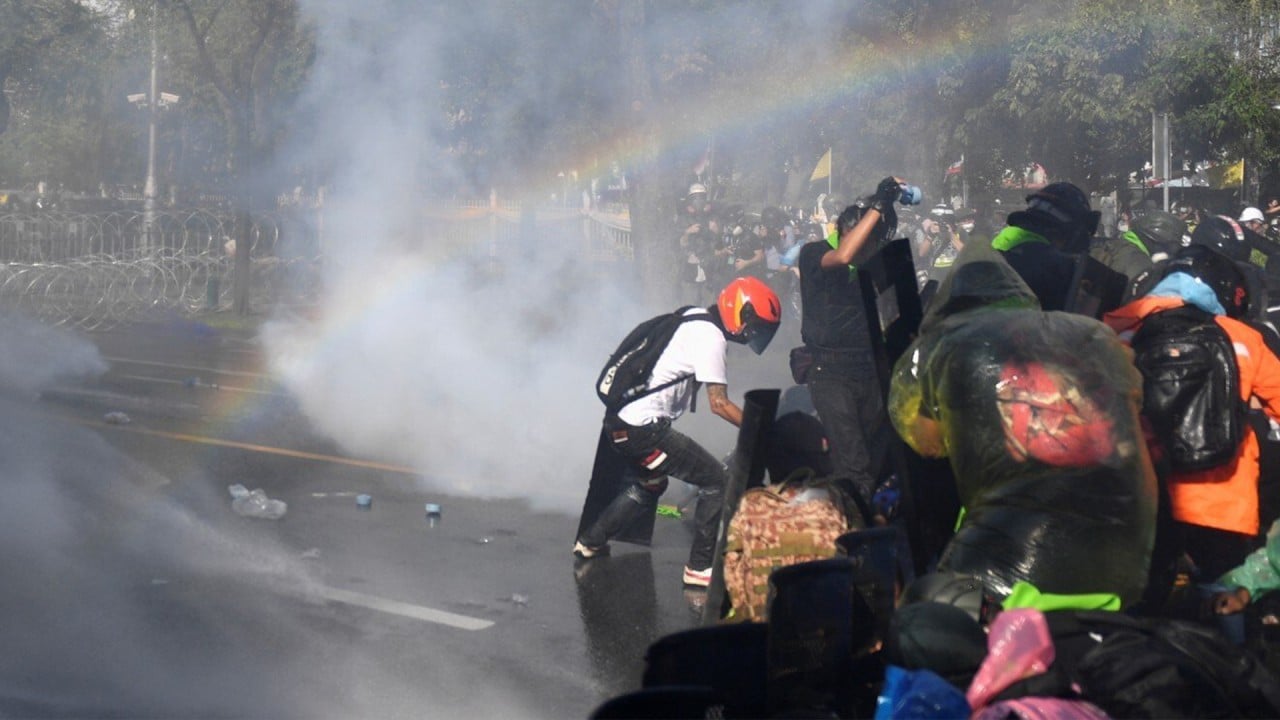 02:17
Thai anti-government protests continue amid growing anger over response to latest wave of Covid-19
Thai anti-government protests continue amid growing anger over response to latest wave of Covid-19
Santi Kijwattanapaibul, a doctor and a member of the group, said: "It's depressing when a country doesn't value the people they call heroes."
Some 20 million additional Pfizer-BioNTech doses are on order and will be delivered by year-end, according to the government, which also signed a deal with Moderna on Friday last week for 5 million doses of its mRNA vaccine to be distributed via private hospitals, which charge about 1,650 baht (US$50) per vaccine dose.
Several of these hospitals reportedly cancelled Moderna vaccination appointments in recent days citing allocation shortages – leading to claims, since denied, that the Thai Red Cross Society had "hijacked" part of the order for the 1 million Moderna doses it has pledged to import and distribute freely to the public.
Further uproar came when it was reported last week that a division of the country's armed forces – later said to be acting without approval – had sought a special allocation of Moderna doses from the Thai Red Cross Society for its personnel and their families.
This lack of transparency over vaccine supplies has led to a network of more than 300 academics calling for Prayuth's administration to make purchase contracts public. "If the government is open about the data, people can see the light at the end of the tunnel," said Pijitra Suppasawatgul, a media studies professor at Chulalongkorn University and member of the network.
Opposition MP Wiroj Lakkhanaadisorn, of the Move Forward Party, agreed. "Taxpayers have the right to know how their money is spent," he said.
A leaked letter to Thailand's health minister published earlier this month confirmed speculation that fewer AstraZeneca shots will be delivered this year than initially promised, with the drug maker reportedly offering to supply just 5-6 million doses of the locally produced shot per month – contradicting earlier assertions by Thai officials that the government is owed 10 million a month
and 61 million doses by the end of the year
.
In the letter, dated June 25, a vice-president of AstraZeneca said 5-6 million doses was "nearly twice the volume" that had been discussed at a meeting between the pharmaceutical company and Thai officials in September last year – prompting criticism of the government's lack of foresight in underestimating how many doses would be needed, and for making promises about vaccine supplies before the actual agreement was signed.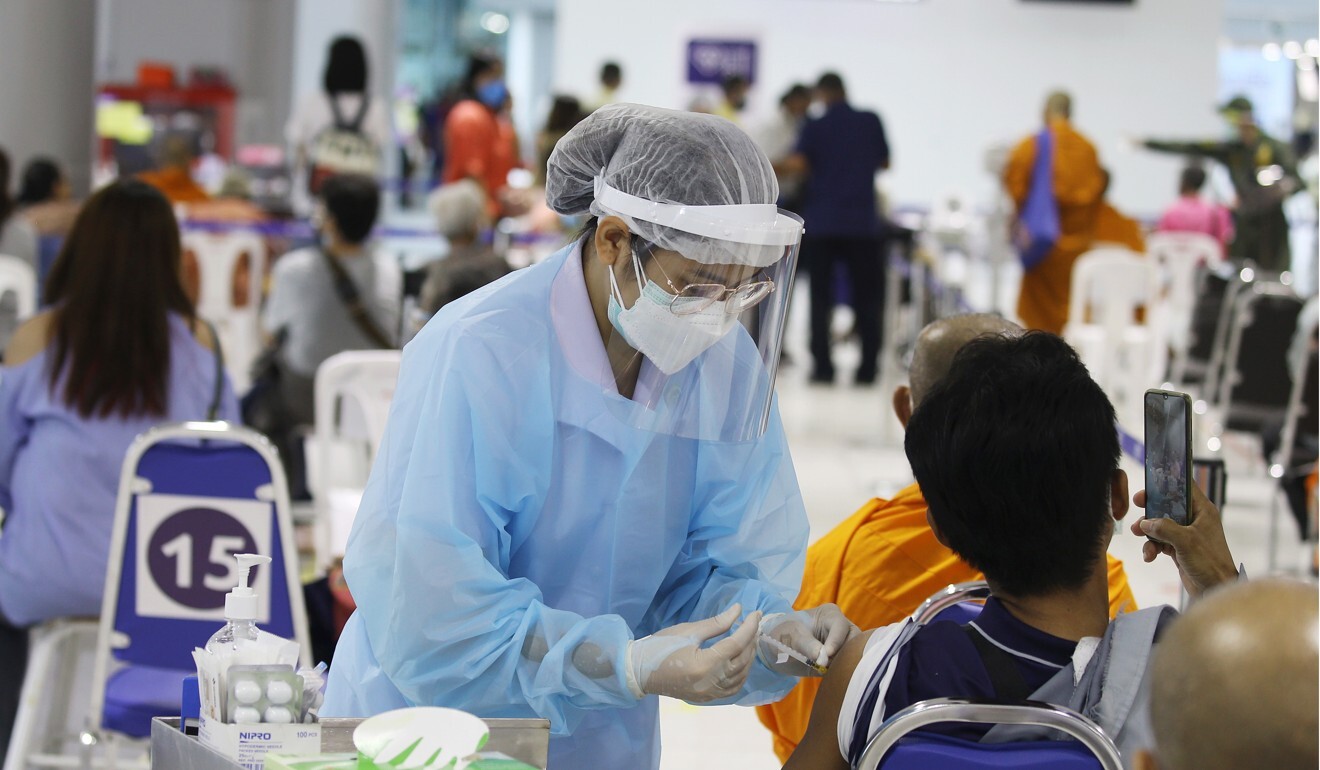 The letter further revealed Thailand's tardiness in ordering vaccines – its AstraZeneca agreements were signed this January and May, compared to November last year for the likes of Brunei and
Vietnam
, and December for
Indonesia
and
Malaysia
.
Termsak Chalermpalanupap, a visiting fellow at the ISEAS – Yusof Ishak Institute in
Singapore
, said the delays and shortages had created "a serious gap of at least two months, in July and August, when only Chinese vaccines are available – but most Thais don't want them".
Prayuth's administration was trying to secure more of the "better"
mRNA vaccines,
he said, but these supplies would not arrive until later this year.
Such a lengthy delay has meant Thailand's coronavirus lockdown "may continue indefinitely" as existing vaccine supplies dry up, according to Pichai Naripthaphan, deputy leader of the opposition Pheu Thai Party.
"Thais had understood that we would get 10 million AstraZeneca doses a month because the government said so, and we didn't see the contract," he said, adding that by using Sinovac jabs alone "cases would not be reduced within six weeks as claimed by health authorities".
As for the street protests, Yutthaporn Issarachai, a political scientist at Sukhothai Thammathirat Open University, predicted they will continue if Thailand's coronavirus crisis deepens.
"If there's a larger outbreak because of a lack of vaccines, the political demonstrations will be expanded," he said, adding that Prayuth's administration had put too much stock in reopening the country by October, instead of focusing on building trust in the vaccination programme and ensuring adequate supplies.
"There is no way the reopening could happen. I didn't believe it in the beginning and now nobody believes it," Yutthaporn said. "It was just the prime minister trying to create confidence when there was none to be found."
Additional reporting by Reuters