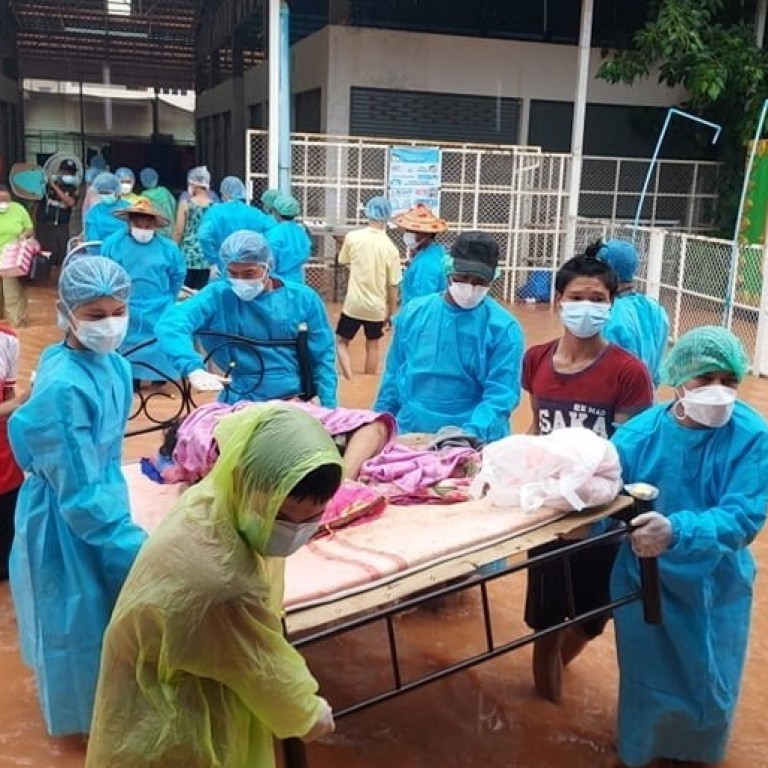 In Myanmar, pleas for junta to leave coronavirus Good Samaritans alone as families fly flags for help
Residents in Yangon have put up yellow and white flags outside their homes to indicate they need help amid shortages of oxygen and food
As the health crisis worsens, volunteers say the junta's high-handed approach is proving to be a hurdle in reaching out to the needy
In
Myanmar
's commercial capital Yangon, Yee Mon has spent weeks rendering whatever help she can to residents in her township as the economy, already ravaged by February's coup, takes a further beating from a spiralling Covid-19 disaster.
Yet, the 25-year-old former proof editor feels guilty.
While she fanned out with food and medical aid for neighbours, her own uncle and aunt succumbed to the
coronavirus
.
She could do little to prevent their deaths as they needed oxygen, which was in scarce supply.
But despite the personal loss, Yee Mon is continuing her groundwork, noting that numerous households this month began putting up flags outside their homes in the Tamwe township to indicate they needed help.
Yellow cloths are used to signal that the household requires medical or oxygen supplies, while a white flag points to a need for foodstuffs.
The practice mirrors Malaysia's grass roots
bendera putih
(white flag) campaign
, in which celebrities, supermarkets, political parties and civil society at large chipped in to assist those in urgent need of help.
Malaysia's government has acknowledged that the initiative suggested that people were "slipping through the cracks" in the midst of the crisis and has pledged to do better.
In junta-ruled Myanmar, residents such as Yee Mon say community organising is proving to be the final backstop for those in despair.
Yee Mon and others stated that the military – already accused of severely underplaying the scale of Covid-19 deaths – is more likely to target those seeking help than provide any form of assistance.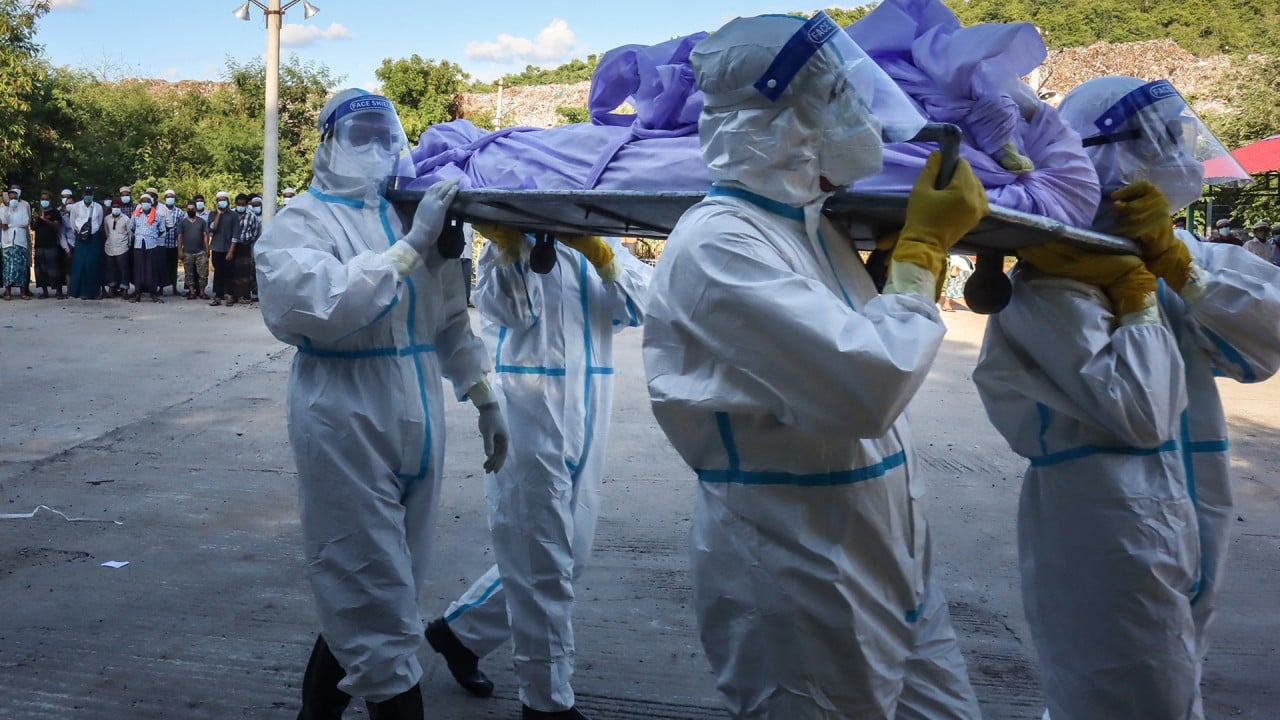 03:46
Myanmar's volunteers help during Covid-19 surge as country grapples with post-coup fallout
Myanmar's volunteers help during Covid-19 surge as country grapples with post-coup fallout
The benefactors also stressed that they were unable to meet surging calls for oxygen tanks.
Local independent media recently reported that the military had on at least one occasion seized oxygen shipments imported by Yangon charities from neighbouring
Thailand
.
When those infected with the coronavirus develop pneumonia, they urgently require additional oxygen as their oxygen saturation drops to around 50 per cent. Normal oxygen saturation for people at sea level is around 94 to 100 per cent.
Aung Myo Min
, the human rights minister in the National Unity Government (NUG) set up by anti-junta forces, said the flag campaign was indicative of how "people in this country are really in trouble".
"It is proof that health and human rights support is urgently needed. This should be the duty of the government, but the military overthrew the civilian administration and now is preventing others from helping," he said.
Yee Mon said of the households she was reaching out to, most consisted of elderly residents who did not live with their adult children.
"I am doing my best to help. Some places are in a very bad shape … they need everything from food to medicine."
This Week in Asia's interviews with several Yangon residents illustrated just how prevalent the flags have become in the city of 7 million people as the health crisis worsens.
Social media images showed yellow and white flags put in many of the city's 33 townships.
Thiha, a resident in Yangon's Sanchaung township, said people had been posting information on families that required help on Facebook – so that those with the means can reach out directly.
The 28-year-old said she did her part by distributing eggs, fruits and medicine to a few houses.
Another do-gooder, Arkar, 22, said he also came across many elderly citizens seeking help.
One man he encountered had visible signs of low oxygen levels and Arkar arranged for a doctor to tend to him through an aid group.
Those on the receiving end of aid say it is not just a lack of resources to buy food or medicine that is plaguing them.
Htet Nge flew a yellow flag outside the family home in Kyimyindaing township after she and four others in the household tested positive for Covid-19.
"I have a fever and a runny nose, my mother is coughing up blood because she has asthma.
"My brother is suffering from weak lungs, and my grandmother is losing her appetite," the exasperated 24-year-old said.
Htet Nge said she had been trying to find a paid nurse to tend to the family "but it's difficult, with even doctors not visiting patients in their homes during this period".
Within hours of raising a yellow flag, Htet Nge said she had received medical supplies and oxygen. The latter was given to a 45-year-old uncle who had been recording about 50 per cent oxygen saturation.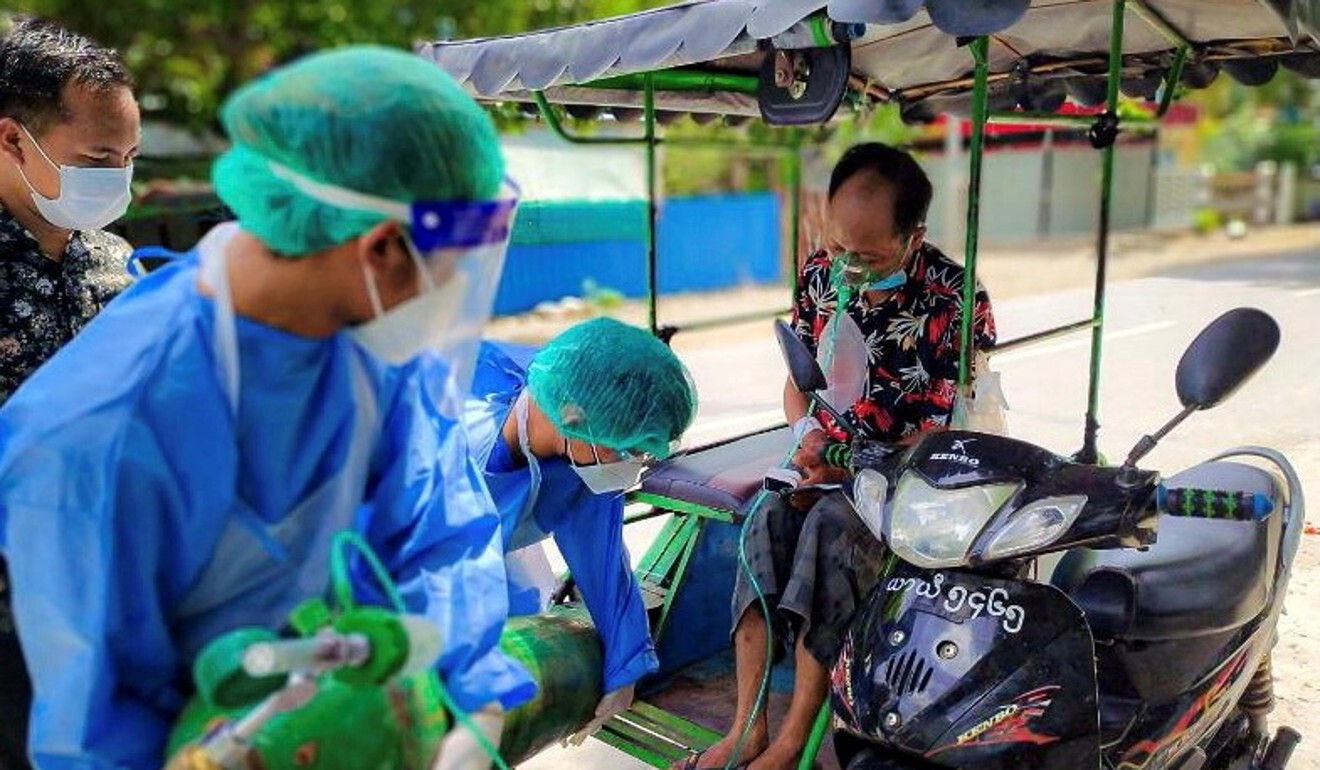 While there have not been reports thus far of the military taking punitive action against those extending help or seeking assistance, the NUG's Aung Myo Min warned that any such action should be severely condemned.
"The military does not have the interest of the people at heart, does nothing and overrules those who are trying to help," he said. "It should not be dangerous for people to seek help and give help. It's not right."
Junta chief Min Aung Hlaing on Tuesday for the first time suggested his administration might require external aid to deal with the pandemic.
The state-run Global New Light of Myanmar daily reported the coup architect as saying the cooperation of the Association of Southeast Asian Nations (Asean) and other "friendly countries" was required to prevent, control and treat Covid-19.
Min Aung Hlaing also urged military units to donate "eggs, bananas and other supplementary food" to nearby clinics and hospitals.
"It is crucial for providing necessary care to the patients without selfishness but serving the interests of the state and the people," the newspaper quoted him as saying.
Health authorities said Wednesday's daily caseload stood at 4,980, with 365 deaths.
Independent observers, including the NUG – comprising democrats who are in hiding or in exile overseas – say the junta is under-reporting the number of confirmed infections.
This article appeared in the South China Morning Post print edition as: Flags signal need for food and medicine