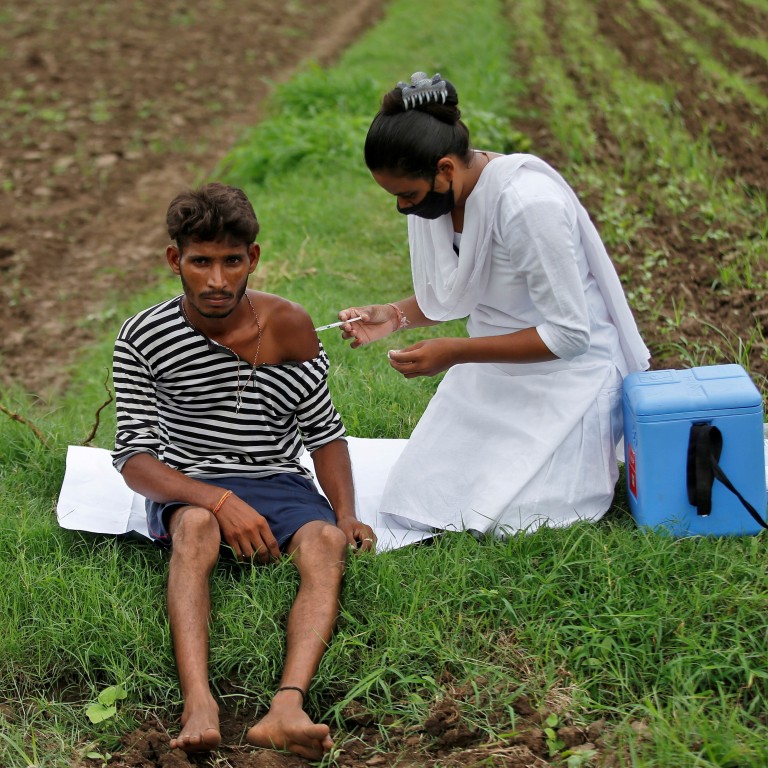 India's asylum seekers vulnerable to Covid-19 infection with no access to vaccines
Since the start of the pandemic last year, India has reported more than 31 million cases and more than 424,000 deaths
However, activists are concerned that advocating for vaccination for refugees could backfire if the issue becomes politicised
Zabi Astanikzai has tried several times in the past month to register himself and his family of five to receive
Covid-19 vaccine
jabs, but every hospital in New Delhi he visited turned him away.
"Our Afghan passports have expired," the 44-year-old said. "We have UNHRC [United Nations Human Rights Council] asylum seeker cards, but they are not accepted at the hospital for vaccination.
"You either need an Adhar card or a driving licence or any other Indian government-issued identity card. We don't have any of those documents," he said. Adhar cards are a national biometric identification system used in India for its 1.3 billion citizens.
Zabi and his family went to
India
eight years ago after fleeing the US-led war in
Afghanistan
. They have since stayed in the New Delhi suburb of Bhogal – a small neighbourhood with clusters of buildings where Afghan asylum seekers have lived since the 1980s, when the Soviets invaded their country.
According to the United Nations High Commission For Refugees (UNHCR), there are currently more than 15,000 Afghan asylum seekers living in India.
In April, when India experienced a surge in Covid-19 infections, Zabi and his wife contracted Covid-19.
"When my wife and I tested positive, we tried to get admission in a hospital, but they were already full," Zabi said.
"Eventually, we were both treated at home. Our kids had to take care of us and I was worried my mother would also get the virus. It was a very tough situation to be in," he said. "I had never felt so helpless."
While his wife only had minor symptoms, Zabi had difficulty breathing and needed constant oxygen support for almost 20 days.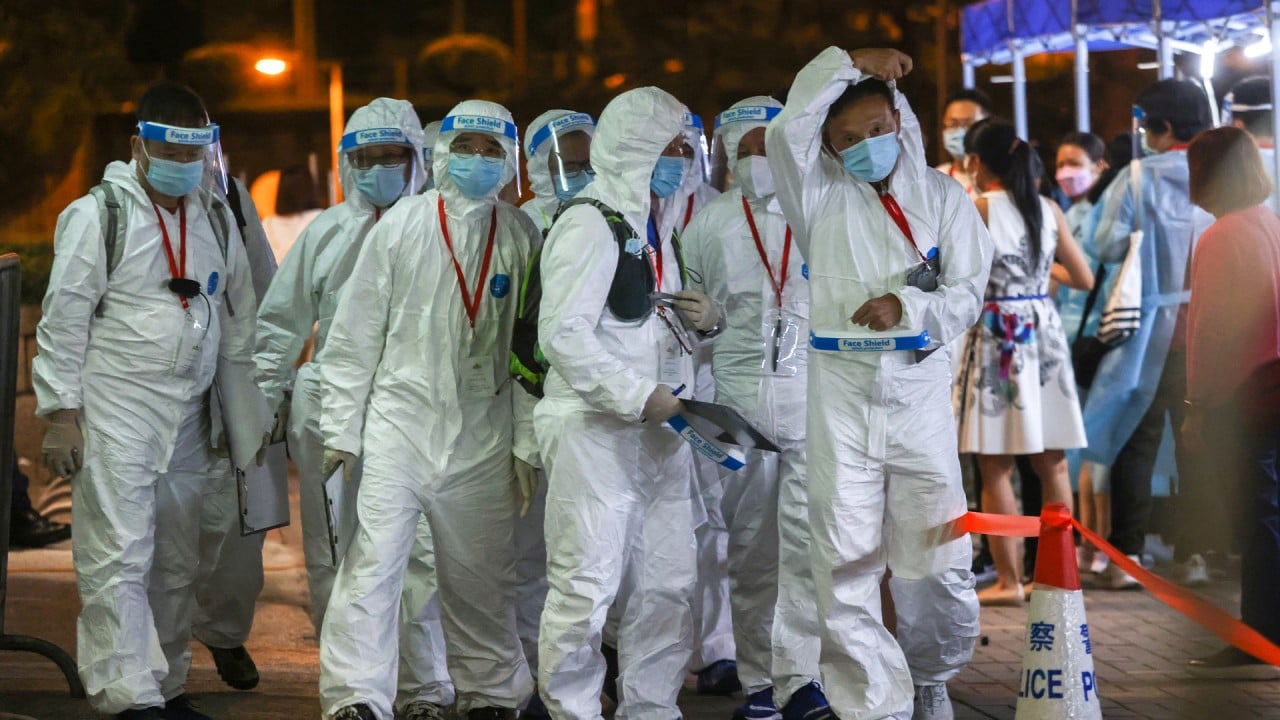 07:07
The global spread of the highly contagious Delta variant of Covid-19
The global spread of the highly contagious Delta variant of Covid-19
Shortly after India began its vaccination drive earlier this year, the country was ravaged by a second wave of coronavirus, overwhelming its health care system. India has reported more than 31 million cases and more than 424,000 deaths since the start of the pandemic last year.
To register for the vaccination in India, citizens are required to produce one of the 11 government-issued identification documents, which asylum seekers in the country don't have. India is not a signatory to the United Nations Refugee Convention of 1951 and does not officially recognise the 240,000 refugees living in its borders, leaving them unable to access health care facilities, educational and job opportunities.
India is not the only country where refugees and undocumented workers are at risk – the situation is also dire in many parts of the Middle East, Africa and Southeast Asia. However, India's vast population and the deadly effects of its second wave mean the stakes are particularly high.
Germany in December became the first country to make refugees and asylum seekers eligible for vaccination, and other countries have since followed suit. The UNHCR in May announced that 91 countries have offered vaccination for refugees, but it also urged countries to do more to remove barriers to vaccination for the world's 82.4 million displaced people.
Dr Anant Bhan, a New Delhi-based researcher in health and bioethics, said India's vaccine supply shortage could be a reason refugees have been denied shots.
"There is pressure on the government to vaccinate its own people. But at the same time, it is very important that we don't leave anyone behind," he said. "If we don't get everyone vaccinated, there are chances the virus will continue to endanger the health and lives of Indian citizens."
The Indian government has asked states to make vaccines available to Hindu Sadhus, undocumented migrants workers, and other marginalised groups. However, it has yet to make any specific immunisation plans for asylum seekers.
Kiri Atri, the UNHCR's assistant external relations officer, said although the Indian government has not yet directly addressed the question of refugees, the new policy has opened doors for their vaccination.
"We have managed to vaccinate refugees in some parts of the country through special drives," he said. "It is however going to take some time to reach everyone, keeping in view the logistical challenges and availability of the vaccine."
Mohammad Salim, a 45-year-old Rohingya asylum seeker, has been living in a shanty town on the outskirts of Delhi for the past 10 years.
Salim and about 50 other Rohingya families in the settlement were left without shelter after a fire destroyed their homes and government authorities denied them permission to rebuild.
The father of two, currently living under a tarpaulin tent provided by a local help group, does not expect to get vaccinated.
"The Indian government doesn't want us in the country. They will soon deport us or put us in a detention camp" he said. "So how can we expect them to do anything for us?"
In March this year, Indian police detained more than 180 Rohingya refugees living in the northern state of Jammu and Kashmir.
When the second coronavirus wave ravaged India earlier this year, several Rohingya refugees living in the settlement had Covid-19 symptoms but were not tested.
"Two people died after complaining of breathlessness and fever for days during those months," Salim said. "Everyone was scared but there was nothing we could do."
India hosts more than 40,000 Afghan, Chin and Rohingya asylum seekers from Myanmar, Somalia, Ghana and other countries.
Sabir Kyaw Min, the founder and director of Rohingya Human Rights Initiative in New Delhi, said the Indian government should acknowledge UNHCR cards as a valid form of identification for vaccination.
"Most of the Rohingya refugees in India live in marginalised conditions and most don't have access to the internet," he said. "It could mean most of them wouldn't have access to these special drives which have started in a few places."
Sabir has been advocating for vaccination for all refugees in India but he fears pushing too hard could backfire. Anti-Rohingya sentiment runs high in India, and members of Prime Minister Narendra Modi's ruling party have described Rohingya as "infiltrators" and "vermin".
"We don't want the vaccinations to be politicised," he said. "It will not help anyone."