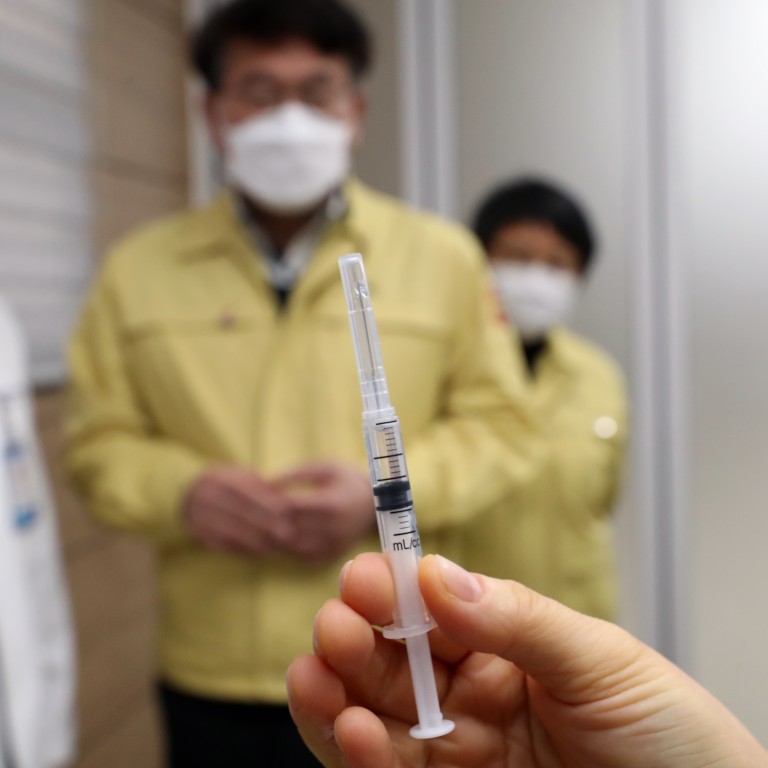 South Korea launches US$2 billion plan to make Covid-19 vaccine production as important as semiconductors
Seoul wants Covid-19 vaccine production to be a new growth engine alongside semiconductors and batteries
Experts say the push will help to enhance the country's status as a global supplier of strategic products amid deepening US-China rivalry
South Korea's plan to boost
vaccine
production, making it one of the new drivers of its economy along with semiconductors and batteries, will enhance its importance as a global supplier amid deepening
US-China rivalry
, said analysts.
Seoul last week announced it would inject 2.2 trillion won (US$1.9 billion) into the sector, with a view to catching up with major vaccine producers including China, India, the EU and the US over the next five years.
President
Moon Jae-in
said South Korea planned to help close the gap in the
Covid-19 vaccine
shortfall that has left poorer nations grappling for access.
"Without a sufficient supply of vaccines for all countries, we will not be able to prevent the spread of the coronavirus amid continuous emergence of new variants. Korea will take the lead in solving this problem by becoming a global vaccine production hub," he said.
About 200 new medical scientists, 10,000 clinical trial professionals, and 2,000 bio-production workers will be nurtured every year as part of the policy.
The government hopes to debut a South Korean-made
coronavirus vaccine
by the first half of 2022.
"Having our own vaccine is also crucial for us to secure vaccine sovereignty," Moon said. "The government will make both financial and regulatory support to speed up the launch of the first Korean vaccine."
Yoon Sung-suk, a professor of political science at the Chonnam National University, said it was important for South Korea to arm itself with capabilities to develop and produce vaccines to keep afloat at this time of pandemic.
"We don't know what kind of pandemic may hit the world next time and it's becoming all the more important for South Korea to nurture its vaccine industry to survive economically in the future," Yoon said.
"A success in such efforts will also boost the country's importance as a global supplier for another strategic product on top of semiconductors and batteries as the intensity of rivalry between the US and China is ever growing," he added.
Both the US and China have embarked on vaccine diplomacy by exporting supplies to their allies and the developing world.
02:43
Young South Koreans hunt for scarce Covid-19 vaccines amid surge in new infections
Young South Koreans hunt for scarce Covid-19 vaccines amid surge in new infections
Health Minister Kwon Deok-cheol said the funds would be used to support the development of home-grown vaccines, including securing original technology for mRNA products.
Tax breaks and other incentives will be offered to help firms localise materials, parts and equipment, the health ministry said.
Early this year, Moon announced South Korea's vaccine hub vision to scale up production for
Covid-19 vaccines
not just for domestic consumption but also for global supplies, touting the nation's production capabilities.
Seven local drug makers are set to launch the third phase of their respective clinical trials in the latter half of this year, starting with SK Bioscience's protein-based vaccine in August, Kwon said, adding local companies also formed a mRNA vaccine consortium in June with a view to developing a Korean vaccine by the end of next year.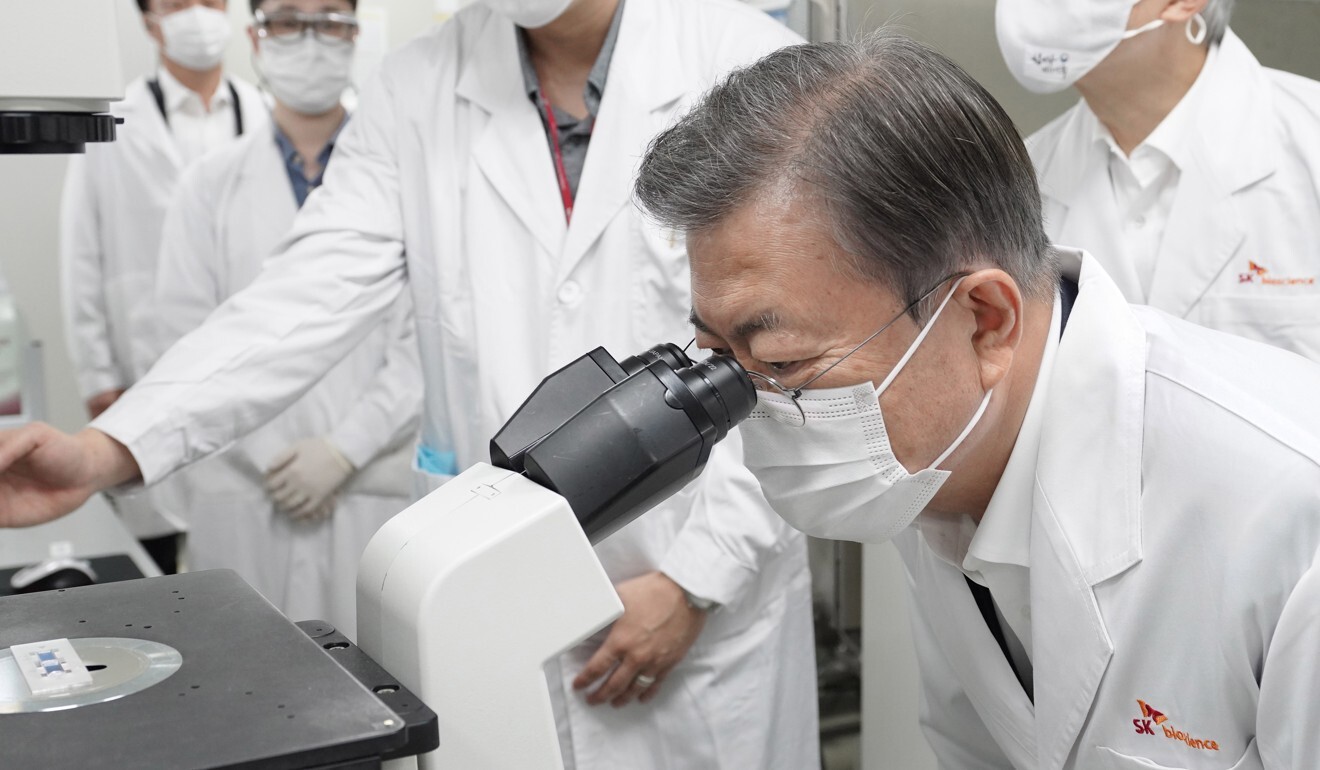 Moon added he was seeking to expand international cooperation by forging vaccine partnerships with Britain, Germany and other countries, and bringing in foreign investment and companies.
He and US President
Joe Biden
agreed to a partnership that blends US vaccine expertise and Korean production capacity at their summit in May.
Emeritus Professor Lee Hoanjong at the Seoul National University Children's Hospital welcomed the project.
"It would be a good idea to combine Korea's vaccine-manufacturing infrastructure with US and European countries' research and development capabilities," he said. "South Korea has good production facilities as well as many trained bio engineers and workers. But it falls behind developed countries in basic research and development."
Lee said it was feasible for vaccine manufacturing to be a growth engine for South Korea, considering the country was the world's second-largest manufacturer of biomedicines and home to global drug makers like Samsung Biologics and SK Bioscience.
But Kim Woo-joo, a professor at the Infectious Disease Department at Korea University Guro Hospital, said the plan to compete with major vaccine developers by 2025 appeared to be "overly ambitious".
"Korea can serve as a production base for developers but it can hardly compete with American and European companies in research and development," he said.
AstraZeneca, Moderna and Pfizer were able to produce their own Covid-19 vaccines within a short period of time because they had decades of research efforts under their belts, he said.
"It would be a miracle for Korea to come up with its home-grown vaccine in such a short period of time without relying on platform technologies already patented by developed countries," Kim said.
Moon has made vaccine production a key priority for the remainder of his term, due to end in March, as he faces domestic pressure over a fourth Covid-19 wave and a sluggish immunisation campaign.
Currently, South Korea is reliant on
coronavirus vaccines
from AstraZeneca, Johnson & Johnson, Moderna and Pfizer.
The health minister on Monday apologised for Covid-19 vaccine shortages after Moderna said it could deliver less than half its planned shipment of 8.5 million doses this month due to production issues.
About 41 per cent of the country's 52 million population had received at least one vaccine shot as of Monday, compared with more than 70 per cent in other rich nations such as Britain and Singapore.
South Korea reported a daily average of 1,580 new cases over the past week, up from 1,484 the previous week, despite imposing the toughest physical distancing curbs amid a summer holiday season and the rise of the more contagious Covid-19 Delta variant.
Around 15 per cent of Koreans have been fully vaccinated, according to the Korea Disease Control and Prevention Agency (KDCA).
South Korea aims to push up the number to 70 per cent, or about 36 million, by September.
Additional reporting by Reuters