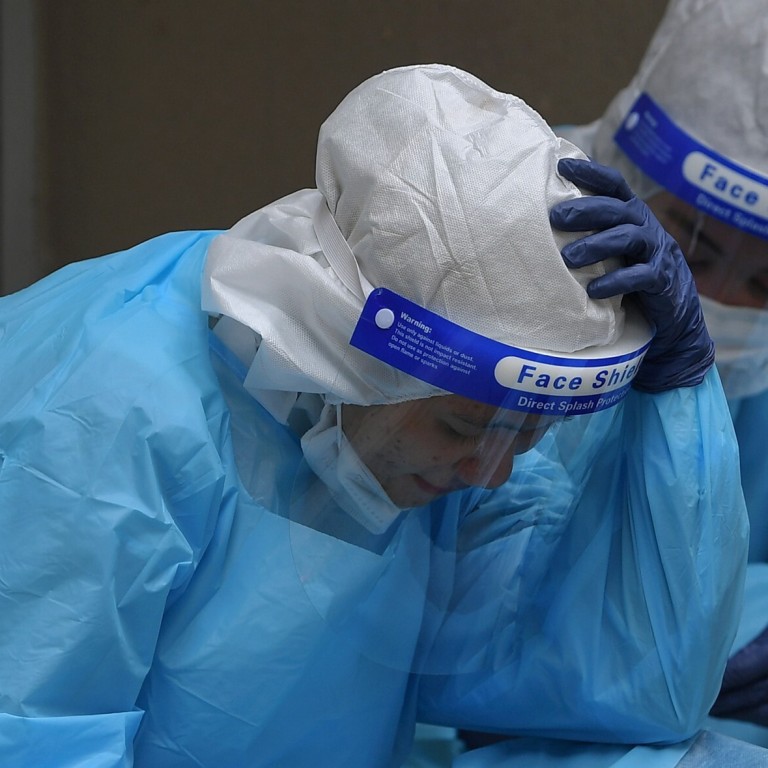 Malaysia's coronavirus vaccination drive offers hope, but burnt-out doctors are quitting
Malaysia on Wednesday saw a record number of new Covid-19 cases, with a peak expected in September, despite its ongoing vaccine roll-out
Exhausted medical workers blame Muhyiddin Yassin's government for mismanagement, and compare the situation to India's surge in May
Even though an accelerated
Covid-19
vaccine roll-out called Operation Surge Capacity has given Malaysia's strained health care system some measure of relief in recent days, frontline medical workers have described how the emotional toll of the latest outbreak has resulted in many quitting their jobs.
The last two months have been particularly bleak in
Malaysia
: a Delta variant outbreak has seen the cumulative number of
coronavirus
-related deaths more than tripling from 4,276 on June 18 to 13,302. On Wednesday it reported a record 22,242 new cases, taking the total to 1.46 million.
Last week, however, Health Ministry secretary general Noor Hisham Abdullah said hospitalisations and intensive care admissions in densely populated places such as Kuala Lumpur and Putrajaya were gradually decreasing following the vaccination drive.
The Tengku Ampuan Rahimah Hospital in Klang, which was earlier reported to be drastically over capacity, has seen admission rates drop by 50 per cent since last week, an official said on Tuesday.
But with the daily caseload remaining at record levels, doctors say they are at their wit's end and see no end in sight to the long hours and having to make daily decisions on which patients live or die.
Dr Raja, who did not want to give her real name or the hospital she works at, told This Week in Asia that the emotional toll of the situation had left many of them "beyond exhausted mentally and physically".
They also feel that the government – in the throes of a political crisis that has forced Prime Minister Muhyiddin Yassin to resign – is guilty of gross mismanagement, compounding the situation.
"There is an exodus of frontliners who have left because they don't wish to partake in this 'modern-day slaying' when the situation could have been mitigated if those responsible paid heed to what doctors on the ground have been saying," she said.
In July, up to 8,000 overworked junior doctors staged walkouts from public hospitals after their complaints over job insecurity were left unaddressed by the government. Junior contract doctors in Malaysia work under a system introduced in 2016 to address the then glut of doctors. They are required to work for five years with no assurance of a renewal.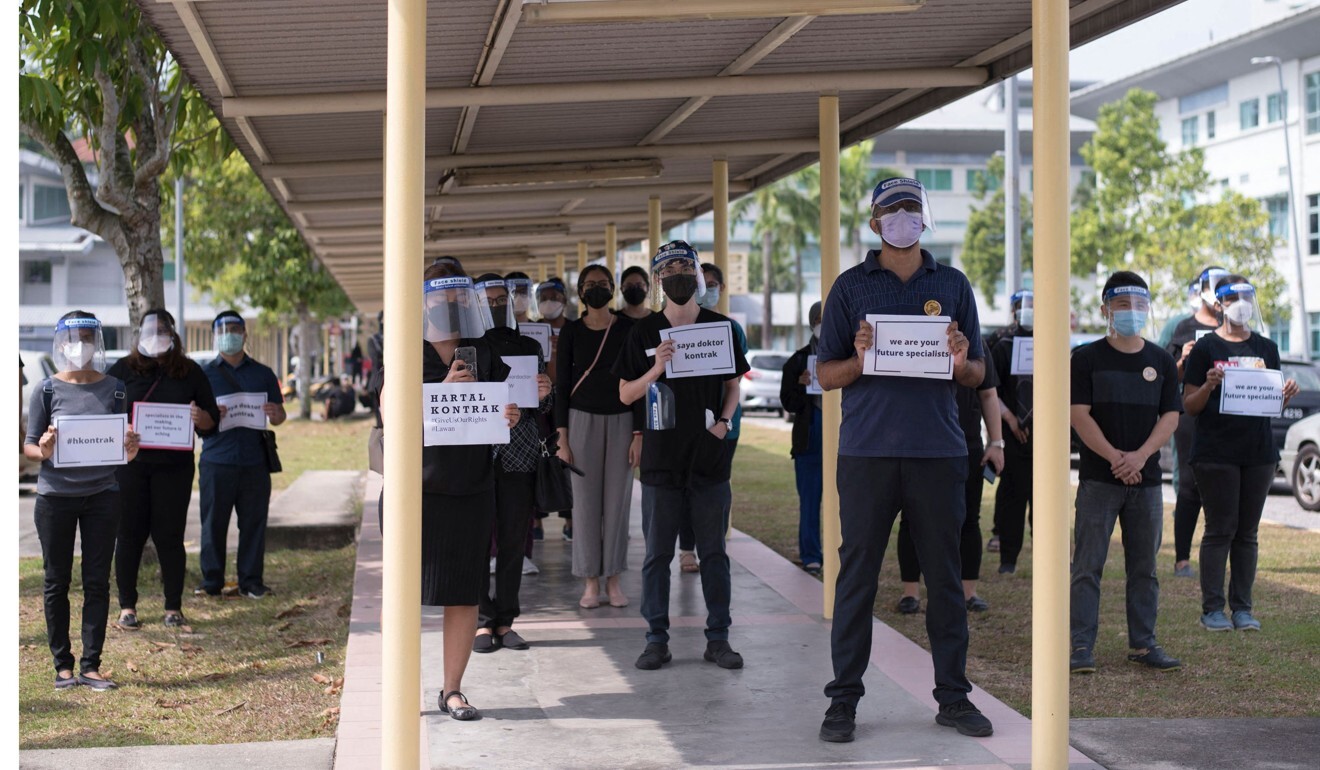 Raja said their day-to-day experience bore resemblance to accounts by doctors in India during its May outbreak. In fact, the scale of devastation is similar if compared on a relative population basis.
This week, Malaysia's daily cases per million people stood at 637.81 and its daily deaths per million was 8.45, according to Our World in Data figures. India's peak average daily caseload in May was 283.50 and 3.04 deaths.
Among the many difficult choices the doctors have to make is whether to put Covid-19 patients on a ventilator. That has also been compounded by hospital overcapacity and a shortage of equipment.
"If ventilators or appropriate medications are available, we will see that through promptly," the doctor said. But in some cases, doctors have to take into account that a patient's condition would have deteriorated too much by the time a ventilator is made available. In such a scenario, she said, "we'd have to prioritise".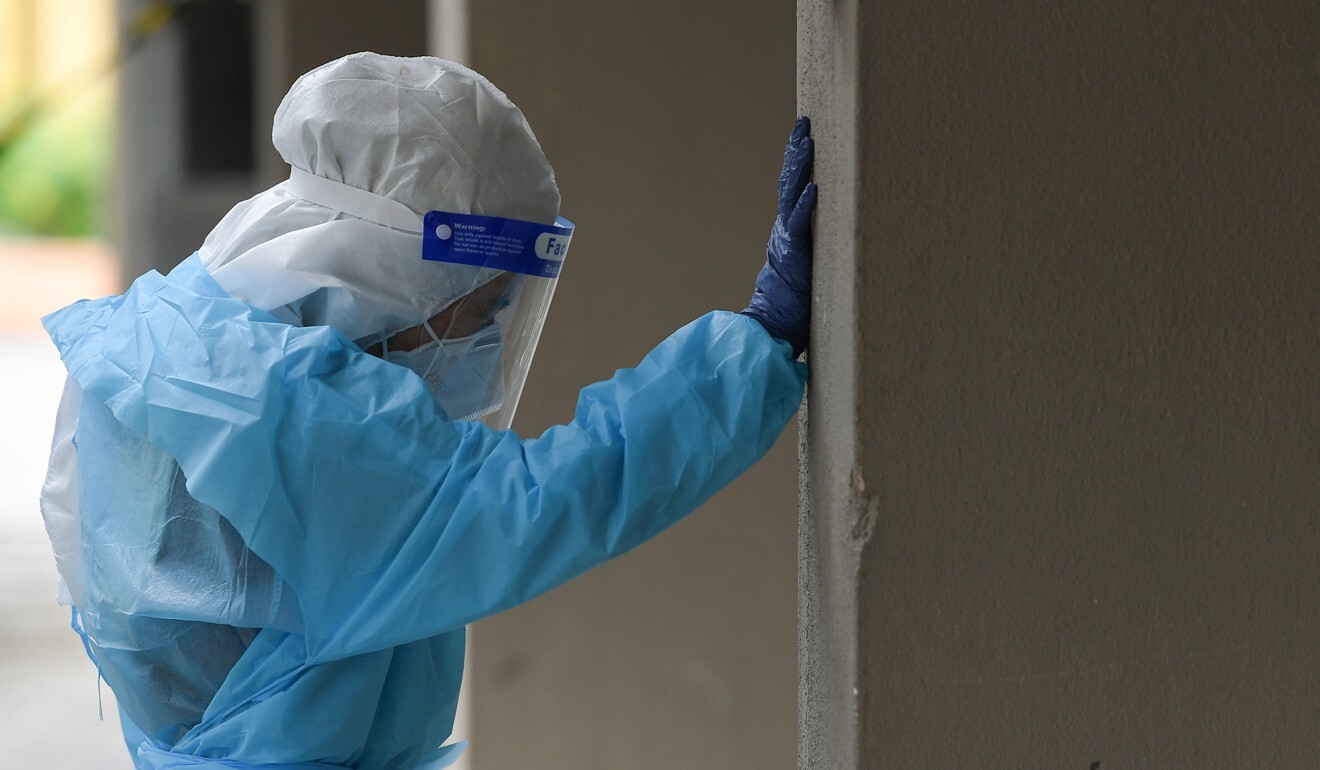 Finding a hospital bed
It's not just doctors who are bearing witness to the health crisis at close hand.
Michelle Ng Mei Sze, an assemblywoman in the wealthy state of Selangor, earlier in August recounted her team's harrowing experience in attempting to get medical treatment for a constituent after multiple hospitals turned them down.
In a Facebook post, she said she had received a call late at night from someone seeking help for a neighbour who was out of breath, vomiting and "felt like dying". Emergency phone line operators told the neighbour there was a long line of people already waiting for ambulances.
The patient only managed to get admitted to a hospital after an entire night of calling around to see if any facilities had beds available.
Ng said the government was partly to blame for the situation, after it loosened some movement and social gathering restrictions in areas where the outbreak was easing.
"The first thing that needs to be done is to ensure that you have sufficient vaccination coverage and then you will only be able to open up the economy safely if you don't want to open up and then suddenly [the situation] backfires," said Ng, from the opposition Pakatan Harapan alliance.
Several accounts have been posted on social media of people having difficulty finding hospital beds or Covid-19 patients deteriorating and dying at home after being asked by doctors to recuperate at home because they were seen as asymptomatic or having mild symptoms.
One such Instagram post in early August, in which user Maxy Chan outlined the days leading to her father's death, went viral and triggered intense discussions about the overstretched public health care system.
Health Ministry officials have predicted a peak in infections in mid-September when the daily caseload could hit 24,000.
'Too late'
Dr Khoo Yoong Khean, a health care administrator and editor of the Malaysian Medical Gazette, said the country's successful vaccination drive – 53 per cent of the country's 33 million people have received at least one dose – offered hope to the medical community that there is a way out of the crisis.
But inoculations alone will not be adequate, he warned.
"We still need to continuously expand our health care capacity but we must remember that they are not an infinite resource and while we need all hands on deck, there is also a need to carefully plan how they are distributed and utilised, because as we can see, it is taking a toll on their mental and physical health," Khoo said.
Relief may come in October, when the outbreak eases and all eligible and willing adults are fully vaccinated. "But my worry is that it will be too late," Khoo said.
For Dr Raja, who continues to work relentless 12-hour shifts, the end cannot come sooner.
While there were uplifting moments such as when patients and their relatives offer encouraging words or share food, the troughs of the job can be brutal.
The most dreaded part of the job is breaking bad news to families, she said. "They ask, 'why are you not saving his life? Aren't doctors supposed to save lives?'"
Asked how she would describe her experience during Malaysia's worst health crisis in a generation, she replied: "I can't even think any more. I have no space and time to think."