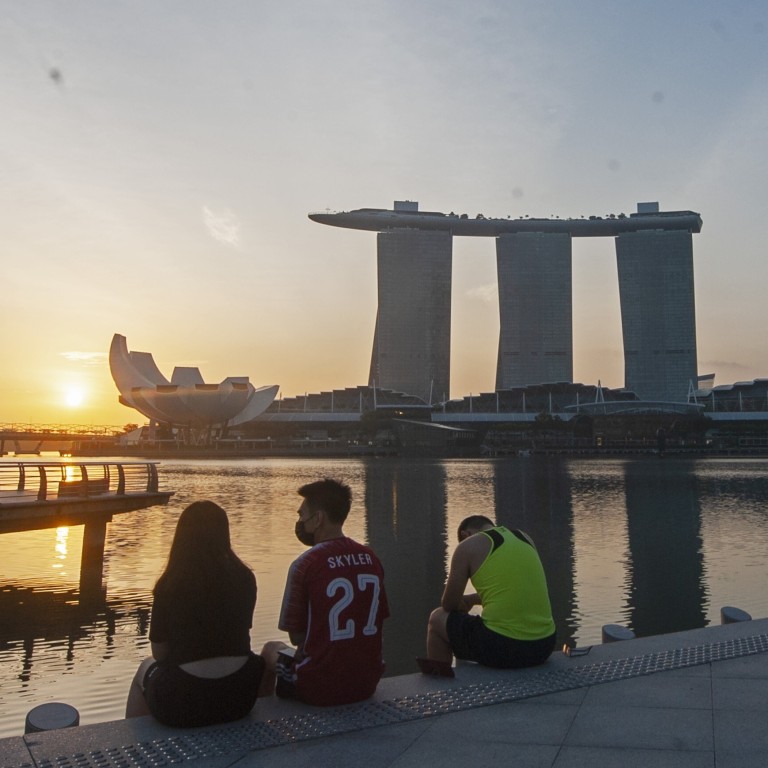 Singapore removes quarantine for Hong Kong, Macau travellers as travel bubble bursts for good
The new rule applies to short-term travellers from Hong Kong and Macau starting next Thursday with the city state essentially starting a quarantine-free travel corridor with Germany next month
Hong Kong and Singapore 'will not be able to launch or sustain the travel bubble in its present form', Singapore's transport minister says
Singapore
will begin admitting travellers from
Hong Kong
and
Macau
without quarantining them even though the measure will not be reciprocated, officials said on Thursday, as they added that discussions on a
travel bubble
would no longer take place.
The unilateral admission of visitors from Hong Kong and Macau starting on Thursday, August 26, without quarantine is part of a months-old scheme currently extended to mainland China,
Taiwan
and New Zealand.
Singapore citizens, permanent residents and long-term pass holders arriving from Hong Kong and Macau will have earlier access to the scheme starting this Saturday.
Travellers from Hong Kong and Macau will need only a negative result from a polymerase chain reaction test and do not have to be vaccinated.
They would still need to serve quarantine upon return to their respective cities.
Earlier plans for a Singapore-Hong Kong travel bubble, aborted twice, are now dead in the water as both sides have "concluded that we will not be able to launch or sustain the travel bubble in its present form", transport minister S. Iswaran said.
He added that both cities' pandemic strategies differed, "with Singapore now taking steps towards becoming a Covid-resilient nation".
Also part of Thursday's announcement was the launch of Vaccinated Travel Lanes with
Germany
and Brunei from September 8.
Vaccinated travellers arriving in Singapore from these two countries will not need to undergo mandatory quarantine. If they test negative for the coronavirus upon arrival, they will be free to go about their business in the island nation from day one.
They must also have undergone a pre-departure test and submit to further tests on the third and seventh days of their stays.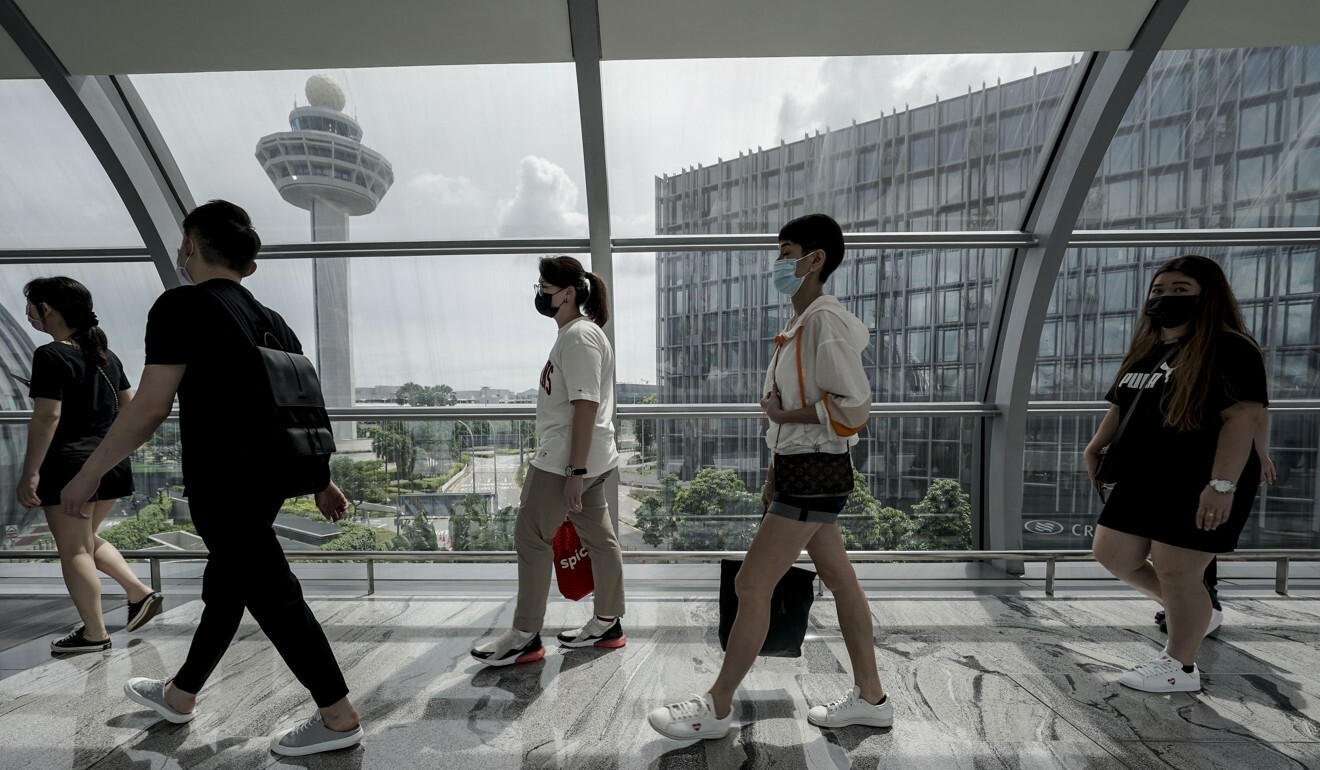 The Vaccinated Travel Lanes are also unilateral. So while those from Singapore who want to go to Germany do not have to go through quarantine in the European nation now, these are already the prevailing health protocols in Germany and not a result of an agreement with Singapore. This means the public health measures could change depending on Berlin's view of Singapore's
Covid-19
situation.
Singapore's borders have been closed since March 24 last year. "If the pilots are successful without causing a surge in the number of severe cases or mortality, we can gradually extend the scheme to other destinations," said trade minister Gan Kim Yong, also a co-chair of the virus taskforce.
As of Wednesday, 77 per cent of Singapore's 5.7 million residents were fully vaccinated and 82 per cent had received at least one dose.
Singapore had from May said it wanted to transition towards living with Covid-19 as an endemic disease and move away from a zero-Covid strategy. The plan stalled slightly as Singapore went into a mini lockdown after a burgeoning cluster in a fishery port that involved wet markets and food centres, but authorities had made clear that the intent to reopen remained.
Ministers outlined in parliament some reopening plans pegged to vaccination milestones, saying that by September when vaccination rates were expected to hit 80 per cent, Singapore hoped to allow quarantine-free travel with some countries.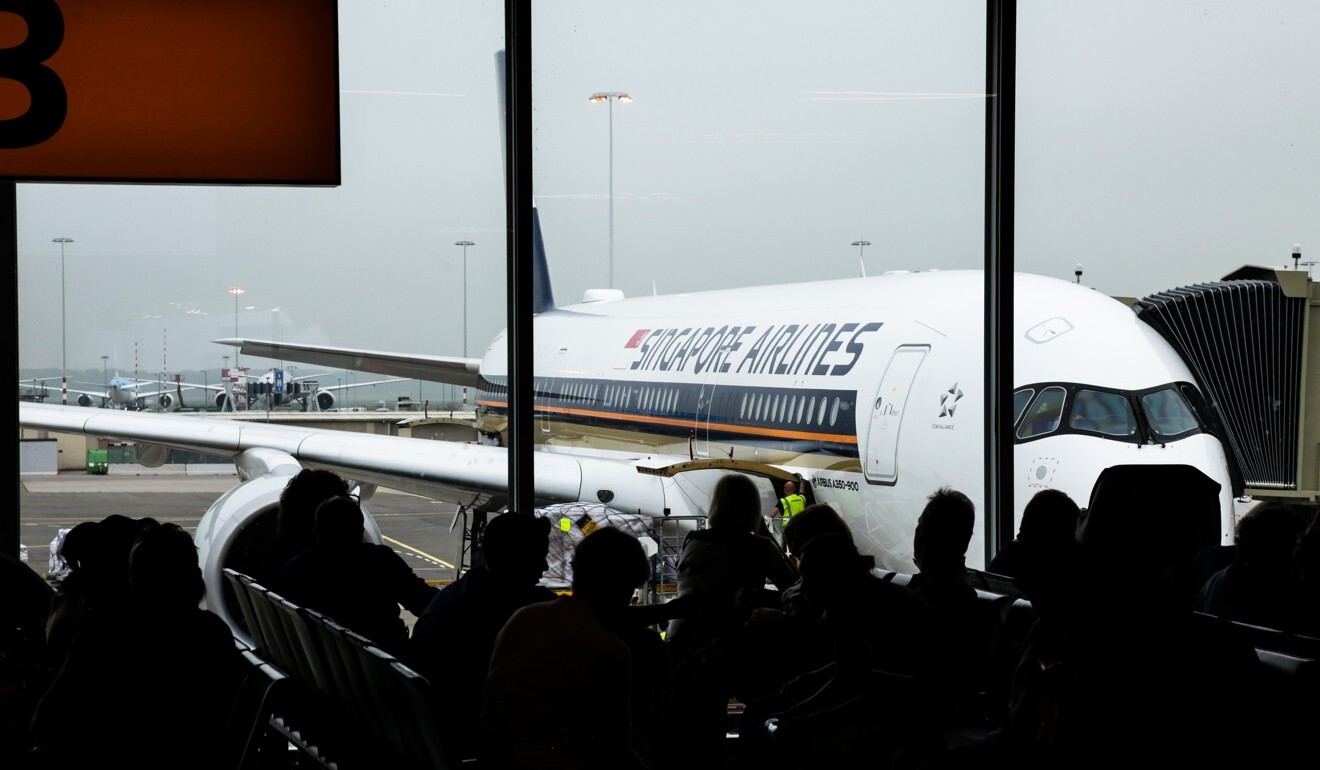 Finance minister Lawrence Wong, one of the three virus taskforce co-chairs, said some in Singapore were wondering why there wasn't a larger reopening with such a high vaccination rate.
Wong said while other countries chose to reopen in a bigger way, Singapore had a different risk tolerance: "We want to get through this pandemic with minimum damage, and minimum death toll while trying to resume life as normally as we can."
The new measures relating to Hong Kong arrivals follow two abortive attempts by both sides to launch a travel bubble, the first last November and subsequently in May.
Both times the plan was scuttled by a fresh wave of cases in one of the cities.
Those arriving in Singapore from Hong Kong and Macau under the new measures must have spent the previous 21 days in either of the Chinese special administrative regions; arrive on a direct flight; and download the local contact-tracing app TraceTogether.
Non-Singapore citizens must purchase Covid-19 insurance, while all arrivals from both cities must submit to an arrival test at Changi Airport.
Travellers going into Singapore will also have their vaccination status recognised, allowing them to benefit from the differentiated measures in the island nation for those who have been inoculated, such as dining in at restaurants. These travellers can get a tamper-proof vaccination sticker affixed on to their passports at immigration checkpoints.
Meanwhile, Singapore has been making changes to the way it manages the pandemic. It is rolling out a pilot scheme in which vaccinated people with breakthrough infections will be isolated at home instead of at community care facilities or at hospitals.
The city state said it was "very likely" to administer booster shots. Health minister Ong Ye Kung said Singapore was looking at other countries' experience of giving booster shots before issuing its own recommendation.
Key things Singapore was looking out for were the incidence of adverse reactions from booster shots, and whether the third jab had to be the same vaccine or could be a different one, he said.