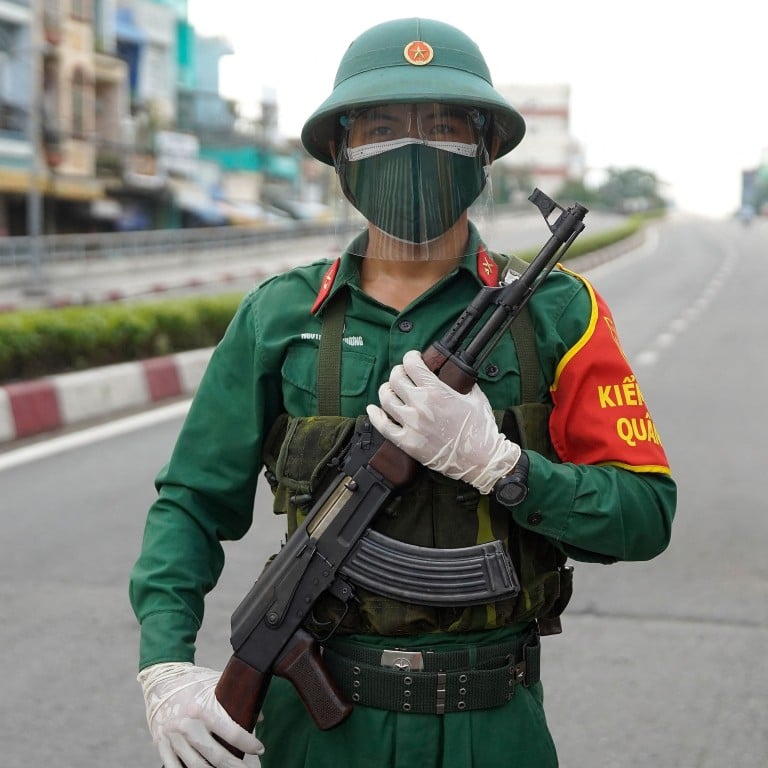 Vietnam struggles to keep open manufacturing hub Binh Duong as Covid-19 cases surge
Binh Duong province is the country's second-largest recipient of accumulated foreign direct investment after nearby Ho Chi Minh City. The government expects 50,000 new cases there in the next fortnight
The government allowed factories in industrial zones to stay open if they provided on-site accommodation or direct transport for employees, but the outbreak has complicated this approach
For almost two months, Sang Luu has been impatiently working at home earning half his previous salary, counting the days until it is safe for
Vietnam
's economy to reopen.
The 32-year-old, who lives in the southern province of Binh Duong, sells plastic injection moulding machines for a Vietnamese company that imports machinery from China and resells to local and foreign buyers.
"We can't deliver our products. We only have a few stocks left but we couldn't even sell them," Luu said, referring to the broken supply chain caused by Covid-19 lockdown restrictions imposed on at least one-third of Vietnam's 63 provinces and cities, including the entire southern region.
In response to the current outbreak, the Vietnamese government has allowed factories in industrial zones to continue operating if they can provide on-site accommodation – known as the "3 on-site" model – or provide transport to ensure employees go straight to the accommodation arranged for them after work. Those who cannot fulfil the conditions must close temporarily.
Luu's wife, a migrant from northern
Vietnam
, is a factory worker in Singaporean industrial estate VSIP. She has also been at home, receiving a minimum salary from her company because she refused to stay at her workplace like her colleagues. Her employer tried to apply the 3 on-site model but some workers tested positive for Covid-19.
"If she had gone to work, she would have been sent to quarantine," said Luu, who has a one-year-old daughter. "The 3 on-site model is not safe … Our savings are running out. [I] hope the outbreak can be over soon so we can come back to work."
Vietnam's outbreak, which surged in April, has damaged its export-dependent economy, particularly in Binh Duong province, which is the country's second-largest recipient of accumulated foreign direct investment (FDI) after nearby Ho Chi Minh City.
Ho Chi Minh City is the epicentre of the country's outbreak, accounting for about half of its more than 390,000 cases and more than 80 per cent of the 9,667 fatalities, as of Thursday.
Binh Duong, which has a population of about 2.4 million, is the next worst-affected province. It has recorded more than 86,000 Covid-19 cases, about a third of which were detected in the past week. The Vietnamese government on Thursday said 50,000 more cases were expected in Binh Duong in the next two weeks.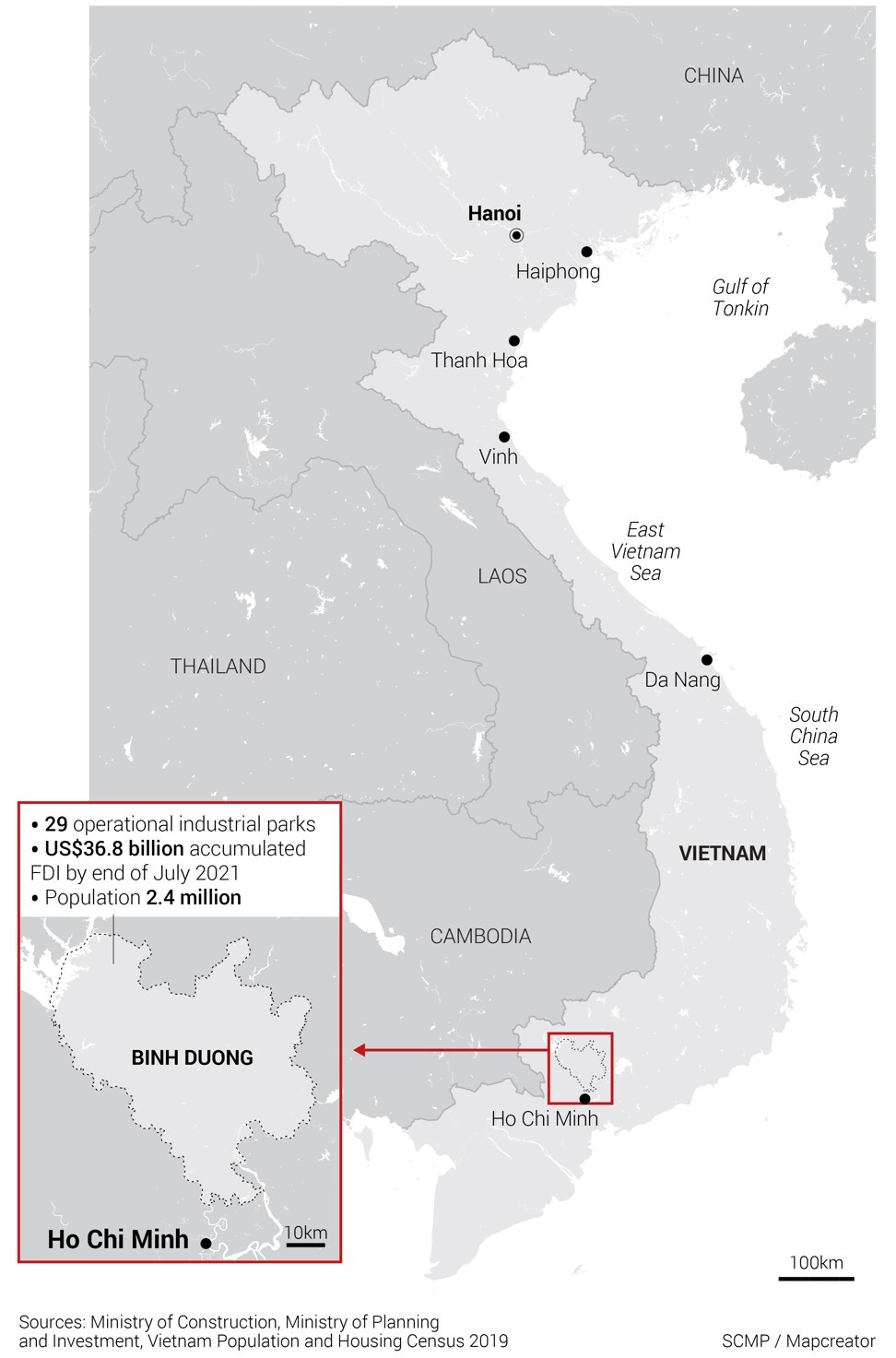 The province is one of the country's most important industrial hubs. It is home to production facilities for dozens of major firms, including South Korea's Kumho Tire and Tetra Pak, the world's largest food packaging company. The province also hosts a string of suppliers for Samsung Electronics and Pegatron, a key supplier for Apple.
As a result of the surging case numbers, many factories in the country's major manufacturing hubs have been forced to suspend operations.
Vietnam's five biggest coronavirus hotspots are all in the south, forcing authorities to redirect medical and human resources from other cities and provinces.
The Ministry of Defence on Wednesday said it will send 2,000 military personnel to Binh Duong, along with 50 mobile medical stations and 15 ambulances, according to the local government's newspaper.
The decision was announced two days after the army was deployed to Ho Chi Minh City to oversee the enforcement of stay-at-home orders that were extended until September 15, as well as to deliver food to residents.
In Binh Duong, about 40 per cent of cases have been identified in isolation areas, while more than one-third of all cases have been community transmissions as of Thursday. Six out of nine districts and towns, which all host industrial estates, have been exposed to high risks of infection, according to the local government's latest updates.
A senior director at Green Speed, a Binh Duong company which outsources manufacturing manpower to major brands such as Coca Cola, FoxConn and Unilever, said costs and inconsistent travel policies were challenges facing factories in the province.
"The costs to take care of thousands of employees are just too much," he said, sharing an example of Intel Vietnam having to spend about US$6 million to provide transportation for their employees over the last month.
He also noted that travel permits during social distancing varied in different districts and localities, making it difficult for companies to transport their employees to and from work.
For years, foreign investors have allied with local government officials and planners to industrialise rural Binh Duong.
It has 29 industrial estates concentrated in just 4 per cent of its total area of 2,694 sq km, according to the Ministry of Construction. Most of the 2,965 projects are supported by FDI, producing both finished and intermediate goods such as electronics, apparel, shoes and food.
As of the end of July, Binh Duong had received more than US$36.8 billion in accumulated FDI, according to the Ministry of Planning and Investment.
Last year, the province was the country's third-largest exporter, selling goods worth more than US$27.7 billion, trailing only Bac Ninh (US$39.1 billion) and Ho Chi Minh City (US$44.3 billion), according to the General Department of Vietnam Customs. Binh Duong also contributed 59.7 trillion dong (US$2.6 billion) to last year's state budget revenue.
Its economy is powered mostly by migrant workers like Luu's wife. About one-fifth of Binh Duong's residents older than five come from another province, making it the most popular destination for internal migrants, according to the 2019 census.
Between April and July, when Vietnam's cases surged, the value of Binh Duong's exports increased 5 per cent, a modest growth compared to 36 per cent year-on-year.
For seven months until the end of July, the US, China and the EU are Vietnam's largest export markets, with turnover of US$53.6 billion, US$28.7 billion, and US$22.5 billion respectively, according to the General Statistics Office. Asean neighbours combined imported goods worth US$16.1 billion, while South Korea alone imported goods worth US$12 billion.
Trinh Nguyen, a senior economist for Asia at Natixis, a French corporate and investment bank, wrote in an August 12 report that closures of footwear and textile factories in southern Vietnam will disrupt the global supply chain.
The US and EU are the biggest importers of final Vietnamese goods, while China mostly imports intermediate goods, meaning Vietnam's manufacturing suspension will affect the value chain rather than the consumer, the report said.
"The US importers will feel more acutely than the EU, Japan, and South Korea the closures of factories in Vietnam," Nguyen wrote.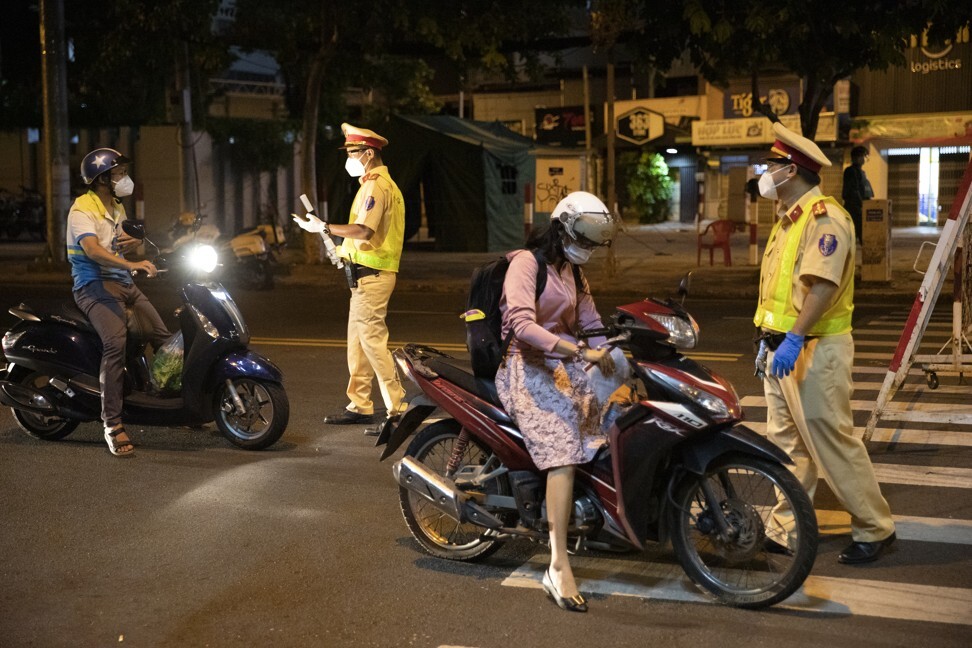 Prime Minister Pham Minh Chinh earlier this month held a meeting with business representatives from different sectors across the country who urged him to prioritise their workers for vaccination.
Binh Duong's government data shows one-quarter of 824,570 vaccine doses have been administered to factory workers and industrial estate employees, while the rest have been distributed to residents in nine districts and towns, indicating the clear prioritisation of the manufacturing hub.
A manager at an Adidas supplier in Binh Duong said all workers at her factory, most of whom still live in Binh Duong, have received their first dose of
Covid-19 vaccines
, while the company is working with the local government to secure the second dose.
"I feel sorry for both the factory and local workers. We want to open, but we can't," the manager said, who declined to be named as she was not authorised to speak to the media.
Her factory has been temporarily suspended for more than a month because its 3-onsite application was not approved. Employees have been receiving minimum monthly salaries during the suspension as per local law.
"[I] hope we can reopen very soon," the manager said. "I think vaccination is the only solution now, not [the 3-onsite model]. We talk on [staff] group chat. I think everyone is very sad."
In an August 19 notice published on its website, the Binh Duong Industrial Zones Authority said many businesses which had previously fulfilled the conditions to operate during lockdown have suspended production or cut down staff because they either faced material shortages, absence of new orders or discovered their workers were infected with Covid-19.
During the second quarter, 28,364 unemployed residents in Binh Duong applied for benefits, increased from 12,426 in the first quarter, according to a report by the Department of Labour, War Invalids and Social Affairs last month.
"The number of unemployed workers has increased because this is the time when workers change jobs but [they] face the outbreak again, businesses temporarily reduce the number of employees, and workers face more difficulties in their job search," the report said.
Bristol University finance and accounting lecturer Tuan Ho highlighted concerns that Vietnam's enterprises could drop out of the global supply chain completely due to the restrictions.
"Last year, Japanese firms diversified their supply chain away from China, aiming to move to India and Southeast Asian countries," he said.
"In the current situation, it will not be a surprise if they are considering options outside Vietnam if the production disruption does not improve. If Ho Chi Minh City and Binh Duong continue with the prolonged social distancing, FDI may suffer."
It is difficult for foreign investors to relocate immediately, but Ho said they could channel their investment to other countries. This could reduce FDI inflows which, along with remittance from overseas Vietnamese, the country needs to maintain a stable international balance of payments, as exports are likely to be hit this year, he said.
"Thailand has recently experienced the first twin deficit in nearly a decade and Thai baht was hard hit. It is a warning for Vietnam about the cost of prolonged production disruption," Ho said, adding that vaccination is the key solution for Vietnam but vaccine shortages have delayed this approach.
"The Vietnamese government hopes that the pandemic will be under control by September 15, and hopefully by then the production disruption will be resolved or at least mitigated."