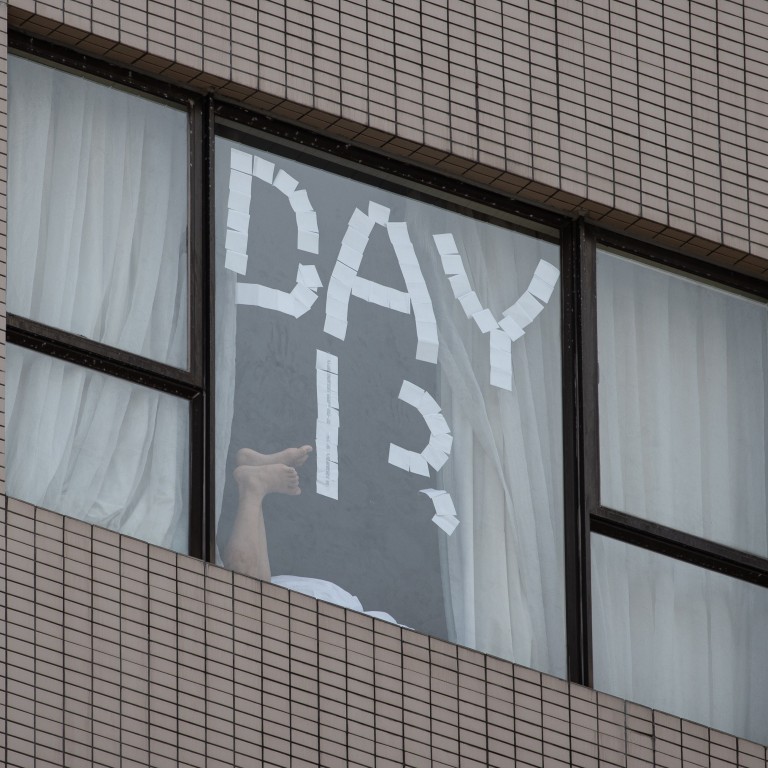 Hong Kong hotel quarantine: woman's ordeal casts spotlight on city's strict Covid-19 rules and emergency medical care
Returning resident who fell ill during quarantine had to wait nearly two full days for treatment, despite suffering from what doctors thought was a potentially fatal condition
She is hoping to draw attention to the possible life-threatening consequences of the city's infection control measures, and calling for them to be reviewed
When a 54-year-old Hong Kong resident serving hotel quarantine experienced severe abdominal pain earlier this month, she called the Department of Health's designated hotline for medical attention.
The woman's call marked the start of a 44-hour ordeal to receive treatment, she said, during which she feared she could die. She believes her experience raises serious questions about the impact of Hong Kong's strict
Covid-19
rules on residents requiring medical care.
After arriving at Queen Elizabeth Hospital late in the afternoon of Monday, August 9, the woman, who had been experiencing pain for more than 48 hours, was admitted to the isolation ward for patients under quarantine and assessed as a likely case of appendicitis, according to the woman and her husband. Hospital staff, however, told her she would need to wait until Wednesday for a CT scan to confirm the diagnosis as that was the earliest available slot, the woman said.
The woman's husband frantically called three private hospitals – Gleneagles Hospital, Matilda International Hospital and Hong Kong Adventist Hospital – to see if his wife could be admitted but all three turned him down, saying due to infection control measures, they did not accept patients serving quarantine.
The couple, European nationals who lived in mainland China for more than 15 years and moved to
Hong Kong
last year, had returned from a trip to Switzerland with three of their five children. The woman was fully-vaccinated with the Pfizer-BioNTech vaccine and had already taken two PCR tests for Covid-19 when she requested medical attention on the second day of her 14-day quarantine. Her third test at the hospital was also negative.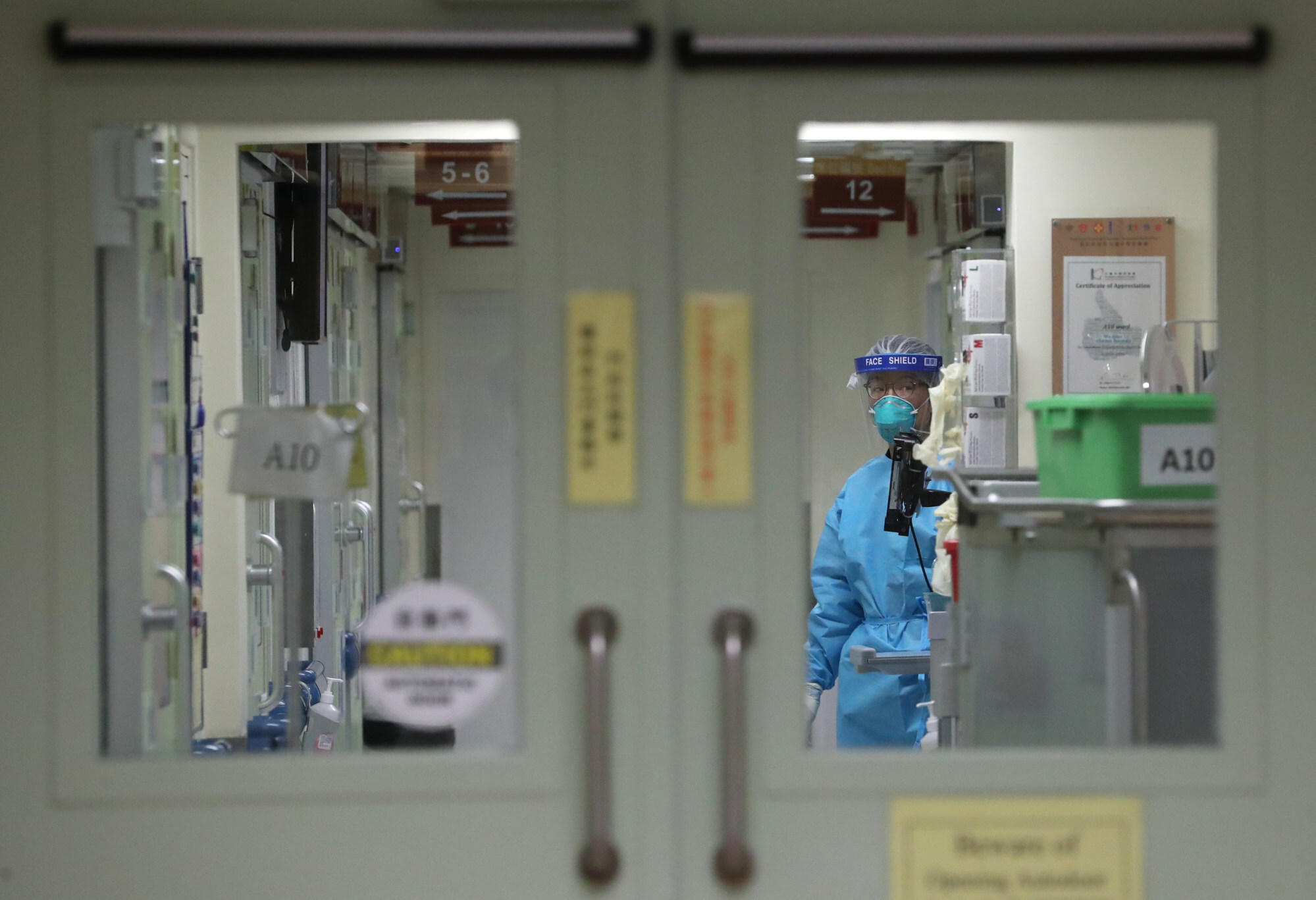 She was able to get a scan on Tuesday afternoon, more than 30 hours after her call for a doctor from quarantine, after a slot unexpectedly opened up. Doctors then diagnosed her with a burst appendix.
She then had to wait another 13 and a half hours, until Wednesday, to receive surgery. During the surgery, doctors discovered she had been misdiagnosed and was in fact suffering from a twisted Fallopian tube.
The couple contacted This Week in Asia to share their story, hoping to draw attention to the possible life-threatening consequences of the city's infection control measures, which they believe should be reviewed.
"I have been extremely lucky because the diagnosis was wrong, the medical intervention went well, so I am fine," the woman said. "But I feel an obligation that this gets addressed and that the process gets fixed."
She and her husband asked that they not be identified to protect their privacy.
"The moment you sign this waiver and then every other hour you are waiting, then of course you are thinking I hope I get out of this still alive," she said, describing how she felt as she signed the medical consent form outlining the potential complications of surgery.
Several hundred thousand people are estimated to have served anywhere between seven and 21 days of quarantine in designated hotels since it was mandated for all incoming travellers to Hong Kong, except those from mainland China and those with exemptions, from November 13 last year.
This month, Hong Kong scrapped a short-lived experiment that allowed vaccinated residents returning from medium-risk locations bearing a test showing Covid-19 antibodies to quarantine for only seven days. The minimum quarantine period for arrivals from all countries except New Zealand is now 14 days, with up to eight Covid-19 tests required before, during and after that period. The city has also ditched discussions with different countries to launch
travel bubbles
, as part of its "zero-Covid" policy.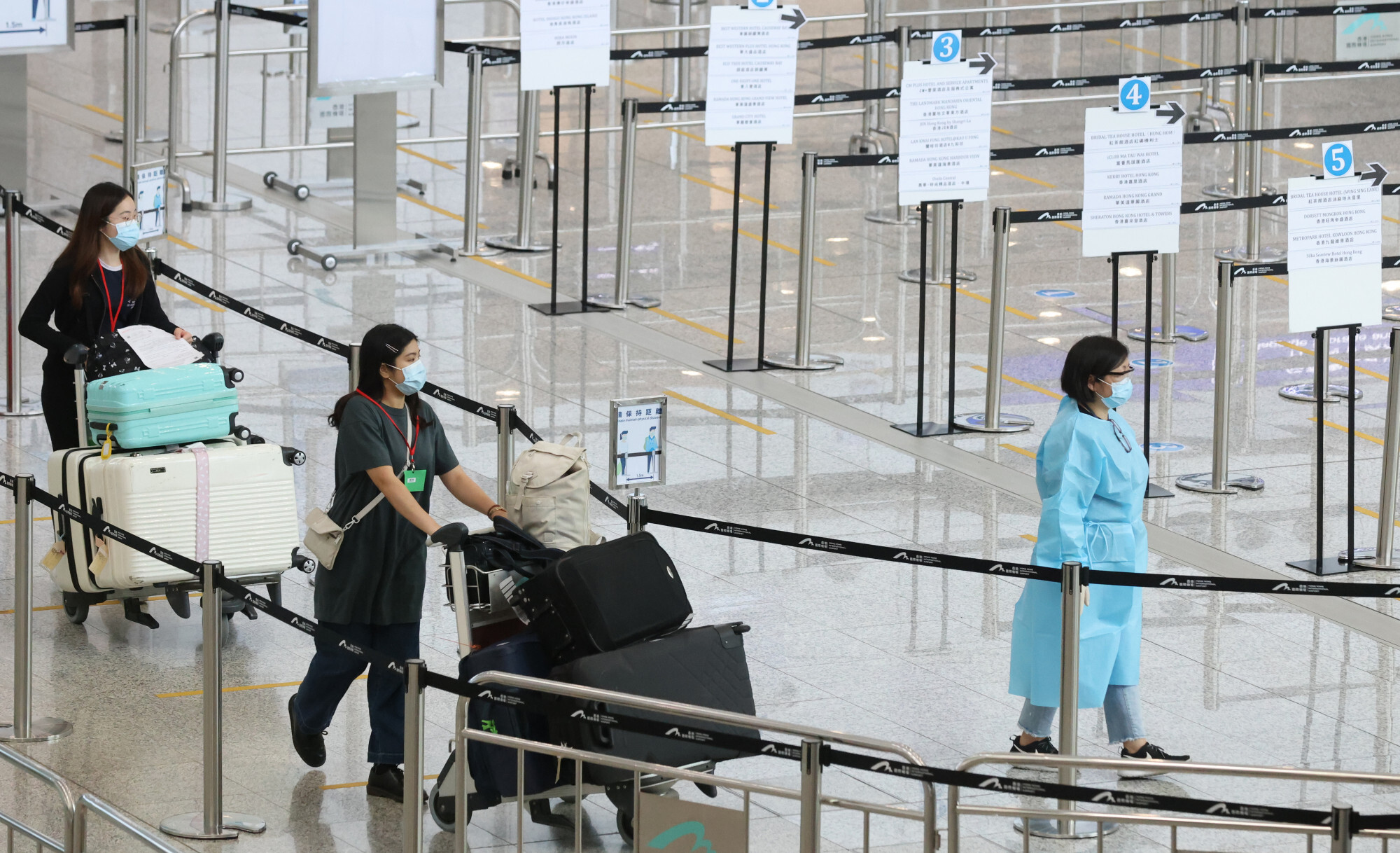 With quarantine rules tightening, the couple's experience has cast the spotlight on authorities' contingency plans for medical emergencies that occur during the isolation period.
The Department of Health told This Week in Asia 691 people undergoing hotel quarantine had requested medical attention and been transferred to hospital during the four-month period between May 1 and August 26.
The HK Quarantine Support group on Facebook, which has close to 50,000 members, includes several accounts from members who experienced medical emergencies during their hotel quarantine stints.
One recounted being asked multiple times at the hospital if they had any symptoms of Covid-19 despite the tests coming back negative, and described a bureaucratic nightmare that included receiving several phone calls from health authorities to ask why they were not at their designated hotel. The person also recounted being told that they could not do one of several required Covid-19 tests during the quarantine period at the hospital where they were receiving treatment but had to return to the designated hotel for the test specimen to be taken.
Anecdotes shared with This Week in Asia by people who asked not to be identified included one in which a person needed surgery for a collapsed lung and, after spending several days in hospital, was sent back to their designated hotel to complete the quarantine period alone. Others who experienced ailments while in quarantine and contacted private practitioners after being released have been told they need to have been in Hong Kong for 21 days and tested negative on all tests before getting an appointment.
SO WHAT ARE THE RULES?
Under Hong Kong's Covid-19 rules, patients who fall ill in quarantine must be sent to one of the city's 43 public hospitals – which are overstretched with an acute shortage of doctors – for treatment.
Patients can be transferred to private hospitals in certain circumstances, but only when they have in place strict infectious disease prevention measures, including isolation wards, that are rare and have limited capacity at the 13 private institutions in the city.
The European couple, who both work in the aged care industry, stressed they did not blame any of the hospitals involved, but the government's inflexible Covid-19 rules that ensured the "virus has the upper hand even in life-threatening situations". Given that the woman's initial diagnosis was a burst appendix – which is potentially fatal if left untreated – they said they were concerned Covid-19 rules may have delayed treatment at Queen Elizabeth Hospital, but were even more troubled by their inability to get treated elsewhere.
The couple's experience parallels cases in other countries where bureaucracy during the pandemic has been blamed for preventing people from accessing emergency care. In
Japan
, a number of deaths, including that of a newborn child, have been attributed to Covid-19 patients being refused admission at private hospitals with limited capacity to handle infectious diseases.
Lam Wing-wo, a primary care doctor in Hong Kong, said the woman's case should be investigated to determine if the city's quarantine rules could be affecting emergency medical treatment.
"We need a convenient and efficient system to take care of everyone the same," Lam said. "If there was an unnecessary delay, we need to look into this case."
Abraham Wai, a clinical assistant professor at HKU Li Ka Shing Faculty of Medicine's emergency medicine unit, said that while he could not comment on individual cases, it was important to strike a balance between infection control and timely medical care.
"As far as I understand, private hospitals in Hong Kong are not equipped with isolation facilities at the highest standard which can contain an infection of major public health concern," Wai said. "In general, patients with higher risk of Covid-19 should be treated in designated facilities in public hospitals, because serial negative Covid-19 tests do not rule out late-onset Covid-19 at our current knowledge."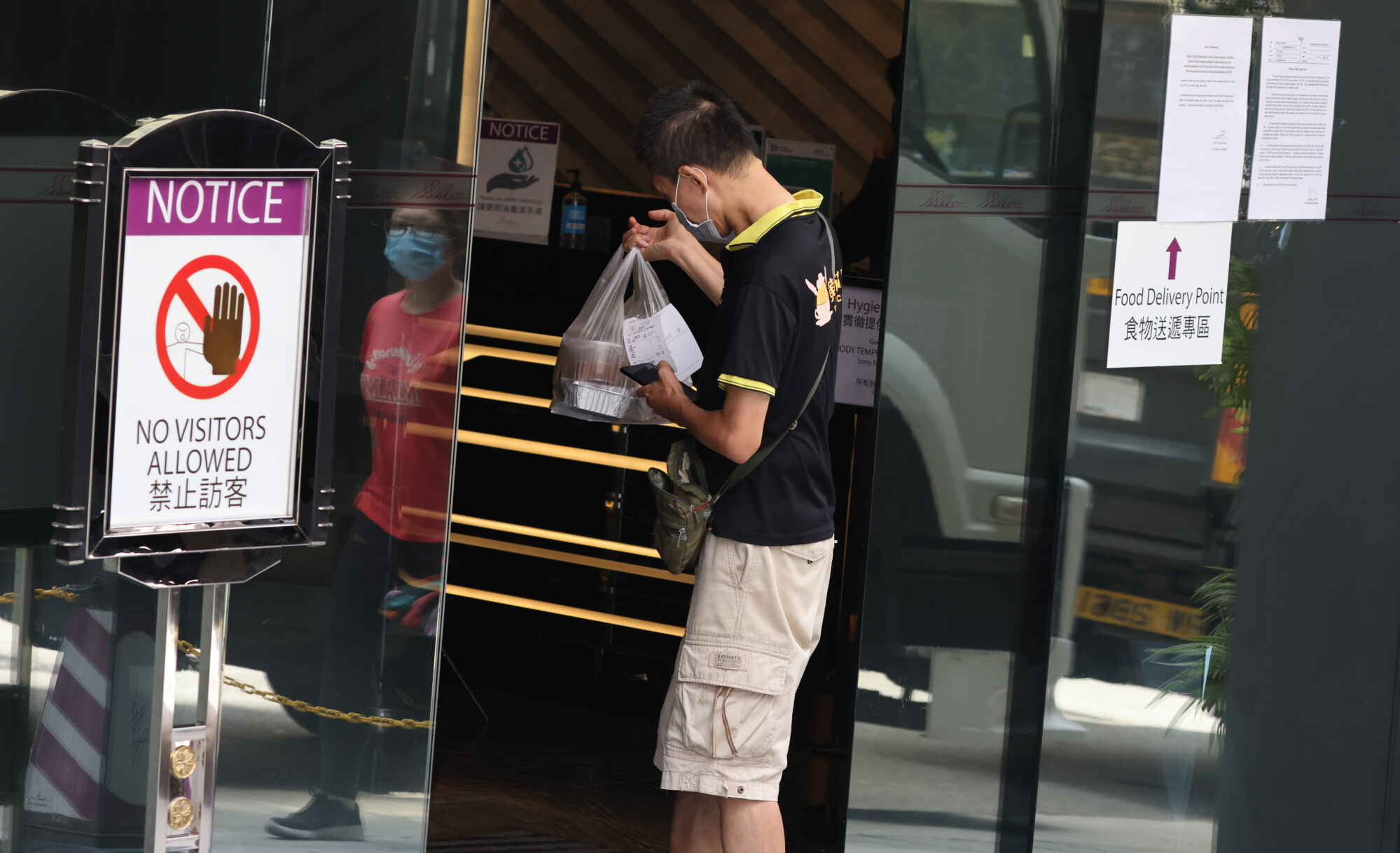 A spokesperson for Queen Elizabeth Hospital, who did not substantively dispute the couple's timeline of events, said staff had provided "necessary and appropriate treatment" and "neither the fact that the patient was under a quarantine order nor the capacity of isolation facilities had come in the way of the clinical decisions and treatment for her".
"In general, public accident and emergency departments managed by the Hospital Authority would receive patients under quarantine orders referred and arranged by the Department of Health," the spokesperson said. "Patients would then be triaged according to their clinical conditions, and the time taken for diagnosis would vary from case to case according to various factors such as patients' conditions, complexity of cases and diagnostic investigations that patients may require."
The spokesperson said the hospital could facilitate transfers to private hospitals when the "situation allows", but could not comment on their admission criteria.
Gleneagles Hospital Hong Kong did not clarify why it had refused admission, but a spokesperson said all pandemic control measures followed government guidelines.
"In a situation when a person under quarantine attends our hospital and is in an emergency condition, the person will be taken care of by our 24-hour Outpatient and Emergency Department and transferred to a hospital under the Hospital Authority for central management when his/her condition has stabilised," the spokesperson said.
Matilda International Hospital said it could not comment on the woman's case, but confirmed it did not admit people under quarantine.
"Should people become confirmed cases during quarantine the public system is the best place for them to receive the treatment as they are set up for this, private hospitals are not allowed to admit Covid-19 cases," a spokesperson said.
Hong Kong Adventist Hospital did not respond to a request for comment.
A Department of Health spokesperson said authorities could facilitate the transfer of quarantine patients to private hospitals, but facilities had to comply with the government's infectious control guidelines.
"Private hospitals have the responsibility to ensure their facilities, staffing and equipment are sufficient to provide the required care before admitting patients," the spokesperson said.
The Department of Health did not respond to questions about whether it would reassess its protocols or the responsibility of private hospitals to provide medical care.
The woman said her only hope was an experience like hers, or worse, would not happen to someone else.
"It could happen anytime again," she said. "Then at least I would say they need to make sure that there is capacity to treat these people, and that people get secured access to care when they need it."