Aid floods in for Chinese workers alleging neglect in Singapore dormitory hit by Covid-19
The Chinese diaspora and embassy in Singapore are pitching in to help workers grappling with poor living conditions after being alerted to their plight by a viral post on WeChat
At one point, riot police were called to the dorm. The Chinese embassy now says it is closely monitoring the situation and local authorities are 'working hard to resolve the workers' demands'
A viral WeChat post about Chinese foreign workers grappling with poor conditions and delayed access to medical aid in a
Singapore
dormitory affected by Covid-19 has prompted an outpouring of aid and support, including from Beijing's embassy in the city state.
Local media said disquiet in the dormitory in Singapore's largely industrial Jurong district reached a tipping point on Wednesday, with armoured riot police called in at one point as a precautionary measure.
The Singapore Police Force declined to comment.
Singapore's Ministry of Manpower meanwhile said its officers had been deployed to the site to investigate.
"Preliminary investigations found that there were indeed some delays in conveyancing workers who tested positive for Covid-19 from their rooms to a care or recovery facility," the ministry said.
The WeChat post, by an account that frequently posts Singapore-centric news, on Tuesday said about a quarter of the Westlite Jalan Tukang dormitory's 2,000 residents had tested positive for Covid-19.
Among other things, the post claimed the process of isolating infected residents was inadequate, that there was a shortage of medical supplies and that only critically ill workers were taken from the dormitory to receive medical assistance.
"People were down with fever and positive cases were everywhere. The virus lurks in every corner of the dormitory," it added.
The post included screenshots of what appeared to be conversations with workers living in the dormitory, who said that the rooms were not disinfected and that they often found worms, flies and strands of hair in their food. Other images show workers donning helmets and outfits that belonged to shipbuilding firm Sembcorp Marine.
"Chinese workers face unfair treatment and their dignity is trampled on," the post said. "They love Singapore and are willing to sacrifice to help the virus situation but they are now shoved aside."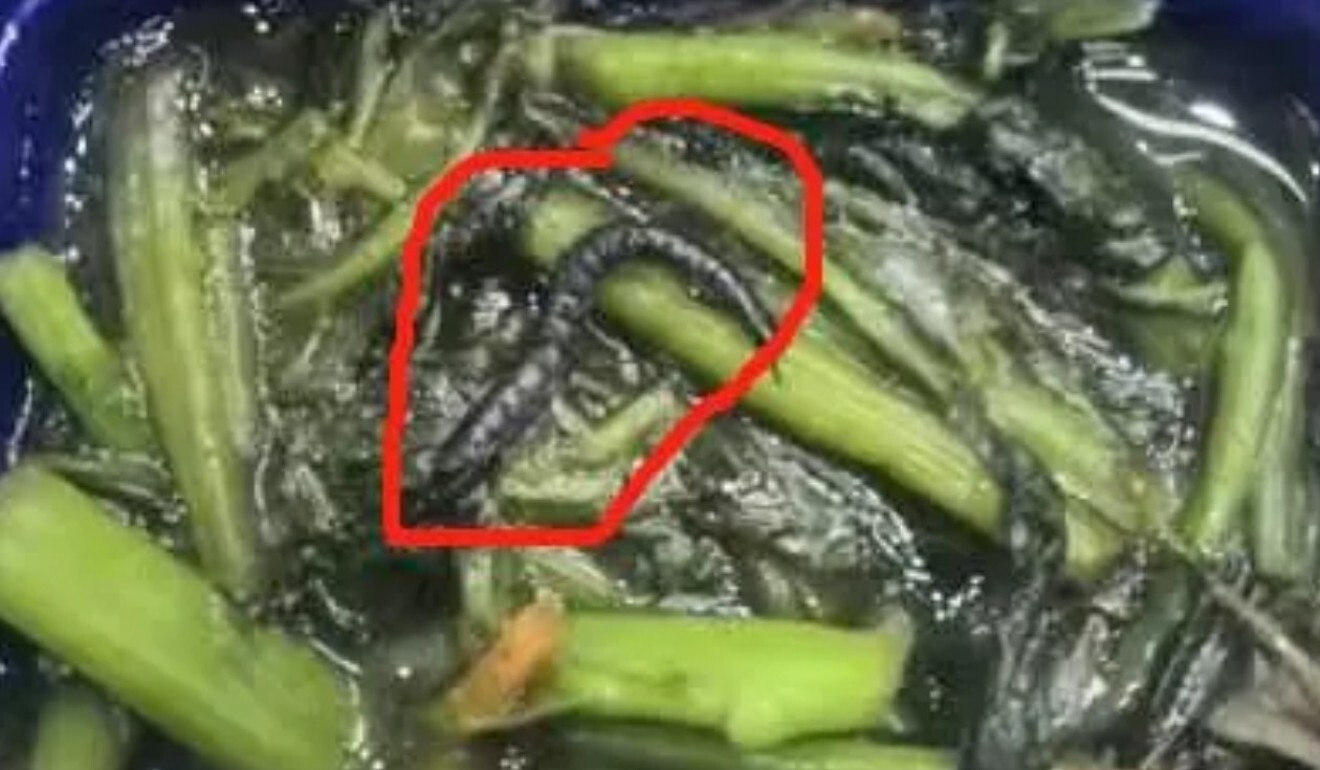 Embassy weighs in
A spokeswoman for the Chinese embassy told the South China Morning Post it viewed the episode with "great importance".
"The embassy has contacted and communicated with the relevant Singapore authorities and they are working hard to resolve the workers' demands."
The spokeswoman added that the workers' emotions were now "stable", and that it had sent medical supplies such as masks and disinfectant wipes to the dormitory.
"We will continue to track developments, maintain communication with the Singapore side, and protect the health and safety of our workers," she said.
After the post went viral, Philip Chan, president of the Hong Kong Singapore Business Association and the Kowloon Club, donated 20,000 masks to the workers, saying that he "just wanted to help" after hearing about their situation.
On social media, Chinese nationals rallied others to donate items to the low-wage workers. "Even though I am physically in China, I can buy supplies online and help reduce the suffering of my compatriots," one WeChat user wrote.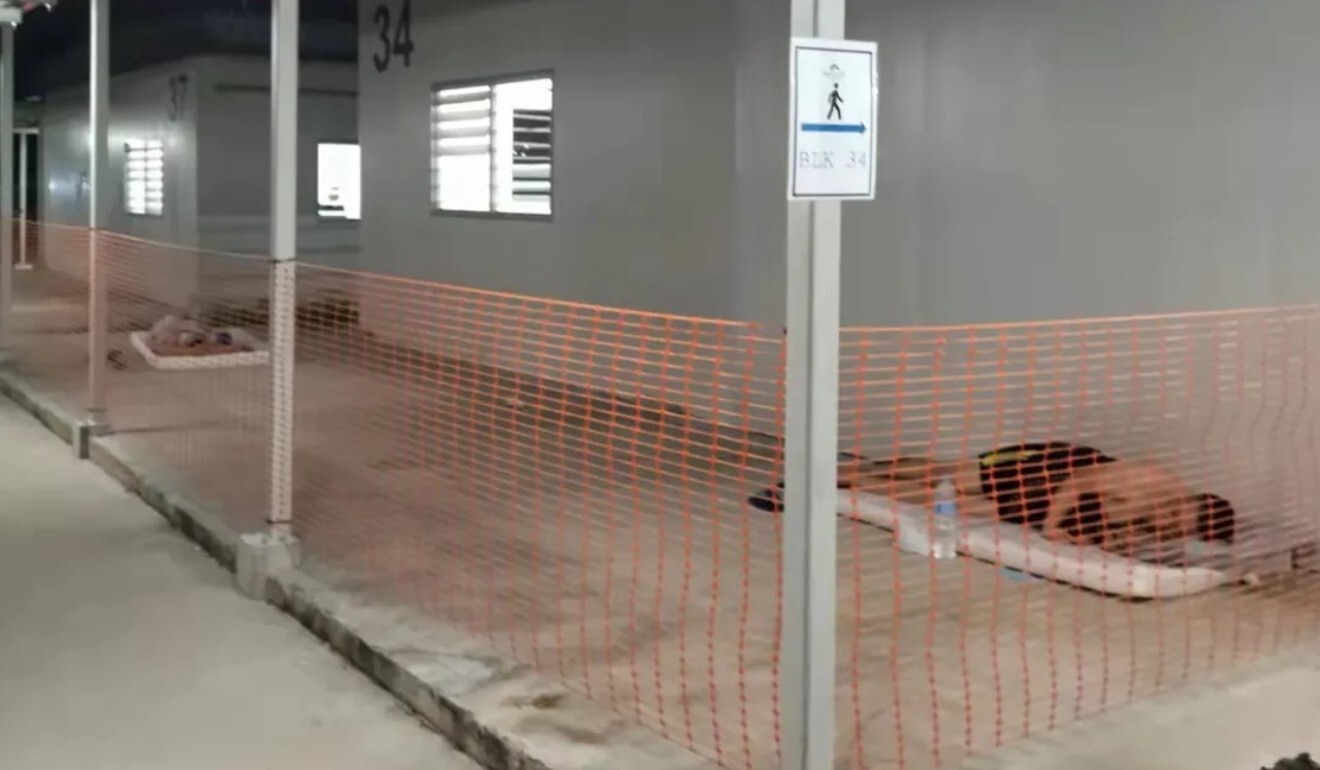 Surge of cases
Singapore is experiencing its biggest surge of cases since the pandemic began, following a Delta-fuelled outbreak that dates back to August.
The daily caseload stood at 3,190 on Wednesday, with 498 cases occurring in dormitories.
Most of the recent infections were not serious – in the past 28 days, out of about 61,000 cases, 98.5 per cent were asymptomatic or had mild symptoms. Only 1.1 per cent needed oxygen support and 0.1 per cent were in intensive care.
The government has pledged to press ahead with a "living with Covid" plan once the current situation stabilises. A four-week period of heightened social gathering restrictions – including a two-person cap for outdoor dining – expires on October 24.
Rights activists, however, have voiced concerns over the welfare of the country's dormitory-dwelling migrant workers, whose movements have been severely restricted since the start of the pandemic, unlike other residents.
Before the present surge, the government had been planning for a phased easing of restrictions on migrant workers starting September.
Earlier in October, the Minister of Manpower Tan See Leng said in a parliamentary reply that Singapore was mindful that "our migrant workers have not been able to visit the community for some time", and was committed to easing the restrictions on them.
Authorities faced fierce criticism last year over cases in cramped dormitories, and Prime Minister
Lee Hsien Loong's
administration later unveiled plans to build new more spacious residences for the workers.
Primarily from India, Bangladesh and China, migrant workers take on jobs shunned by Singaporeans in industries such as construction, estate maintenance and manufacturing.
This article appeared in the South China Morning Post print edition as: Dorm workers claim neglect