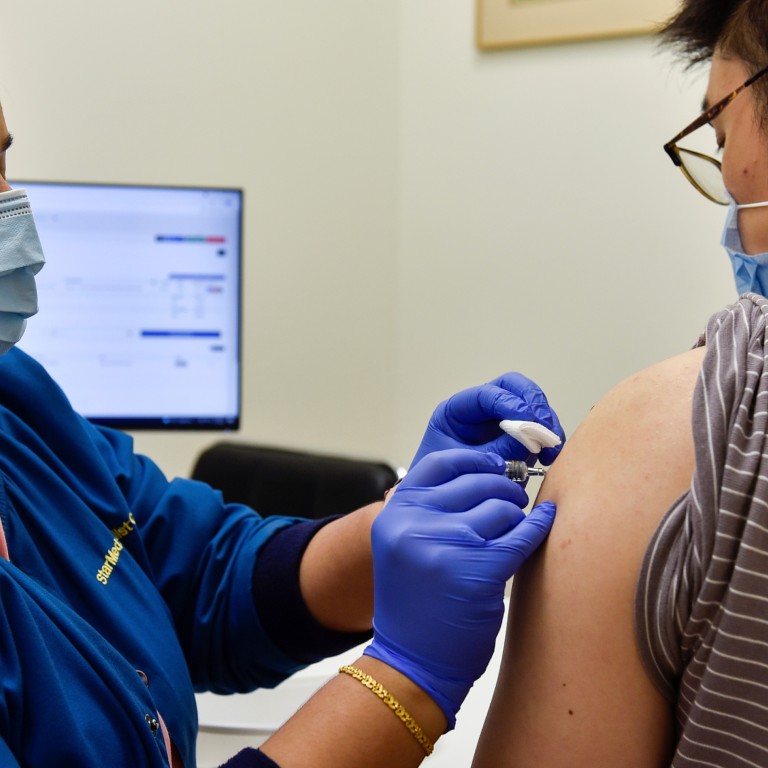 Singapore says 1 in 20 refuse Covid-19 vaccine, launches India, Indonesia, Middle East travel lanes
The city state now has quarantine-free travel arrangements with 21 countries after on Monday adding India, Indonesia, Qatar, the UAE and Saudi Arabia
Authorities also signalled the gradual easing of restrictions on gatherings, and announced greater freedom of movement for low-wage migrant workers
About 5 per cent of
Singapore
's 5.45 million people are deliberately remaining unvaccinated, officials said on Monday, as they signalled the gradual easing of social distancing restrictions in place since September 27.
New quarantine-free travel lanes for vaccinated travellers were also announced, with the city state set to open up to
India
and
Indonesia
from November 29, and to Qatar, the United Arab Emirates and
Saudi Arabia
from December 6.
Singapore now has quarantine-free travel arrangements with 21 countries, after just this month launching travel lanes with the
United States
,
Britain
,
Canada
,
France
and
Spain
, among others.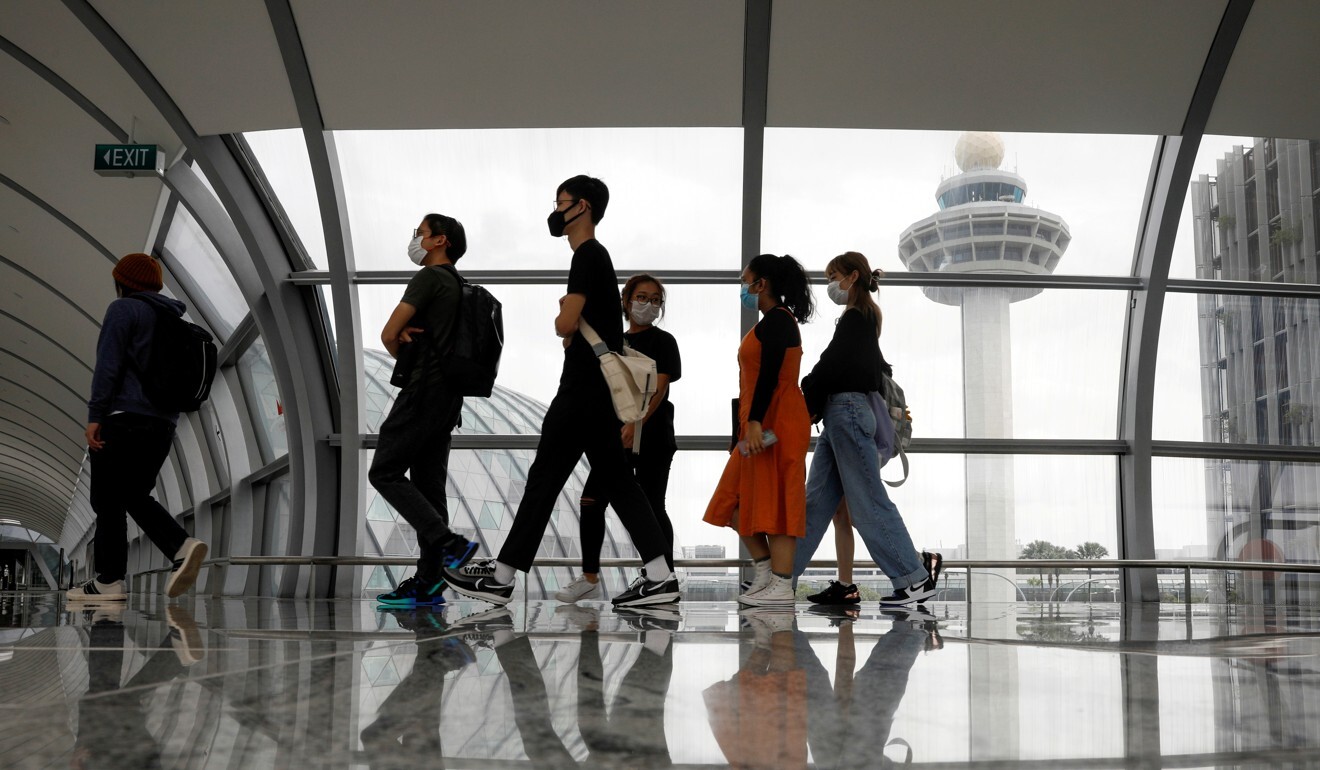 Transport minister S Iswaran said the 21 countries accounted for slightly less than half of total daily arrivals at Singapore's Changi Airport pre-pandemic – though current quotas limit numbers to one-quarter of what they would have been otherwise.
Locally, residents had hoped for news on when they would be able to dine out in groups of five again – instead of in pairs – given how daily caseloads have been falling in recent days after a surge in September.
Families and others living in the same household have since last Wednesday been allowed to eat together at restaurants in groups of five, and on Monday officials said this would be extended to hawker centres and coffee shops – but not until the end of the month, and only once the latter venues have the necessary systems in place to check whether people live in the same household.
The city state's 300,000 low-wage migrant workers, meanwhile, are set to be allowed greater freedom of movement now that the vaccination rate among them has reached 98 per cent, it was announced on Monday. From December 3, 3,000 workers per day will be allowed to leave their dormitories to visit any location in Singapore for eight hours at a time, up from the 3,000 currently allowed out once per week to visit only two locations.
All workers will still have to provide a negative Covid-19 test before leaving their dormitory, however – something other residents of Singapore only have to do before attending large events such as conferences or weddings.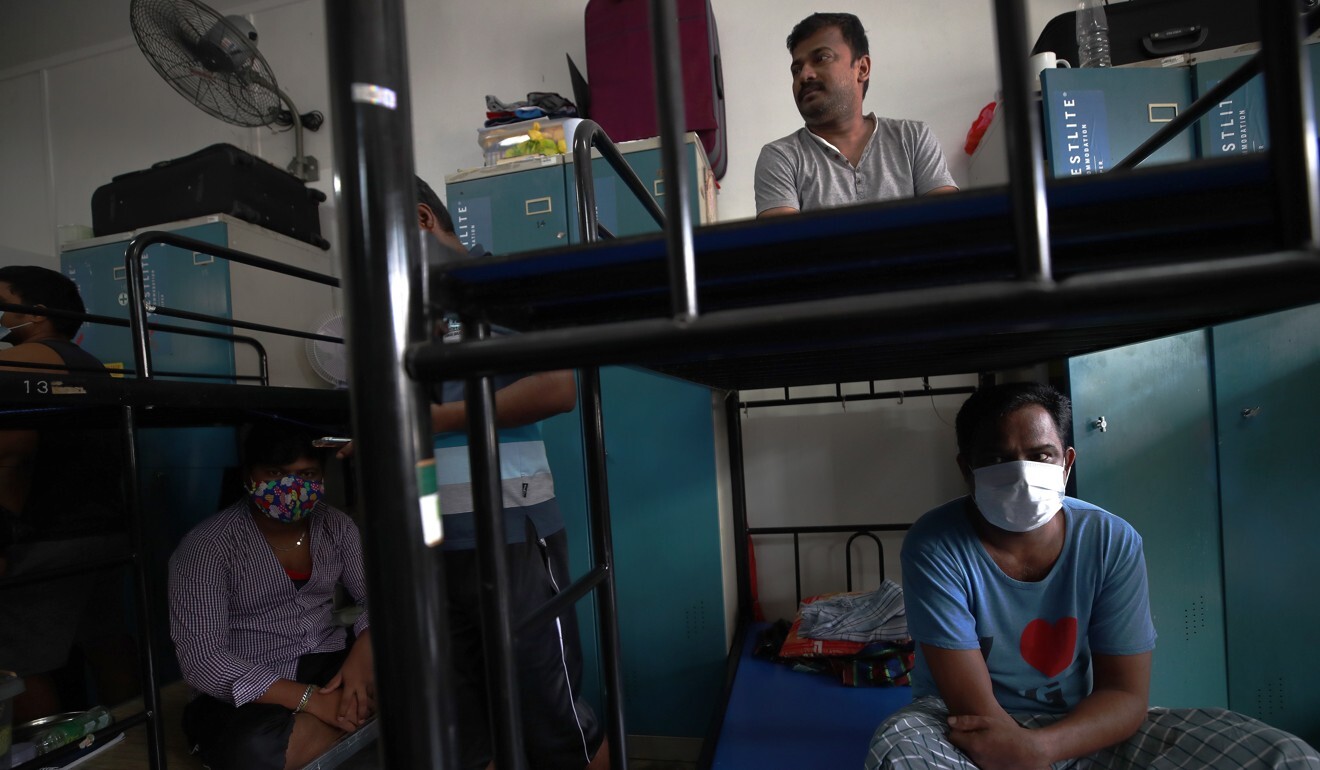 Singapore's migrant worker dormitories were the epicentre of
a huge Covid-19 outbreak
beginning in April last year and those living there have had their movements severely restricted ever since.
Over the past 28 days, 88,848 new Covid-19 cases were recorded in Singapore, 98.7 per cent of whom had no or only mild symptoms. Some 0.8 per cent required oxygen supplementation in hospital, 0.3 per cent were in intensive care and 0.2 per cent died.
Some 85 per cent of people in Singapore have been double jabbed, but if the vaccination rate was measured against those who are eligible, instead of the entire population, it would be 94 per cent – which Health Minister Ong Ye Kung said was one of the world's highest.
Ong said a vaccine trial for children, overseen by KK Women's and Children's Hospital, would start recruiting participants between the ages of five and 11 soon – and shared statistics that showed recipients of the Pfizer-BioNTech vaccine who received a Moderna booster were 72 per cent less likely to catch the coronavirus, compared to 62 per cent with a Pfizer booster.
Though the Moderna booster had a "slight edge", Ong said "the impact on the reduction of severity of illness is extremely high for both combinations".