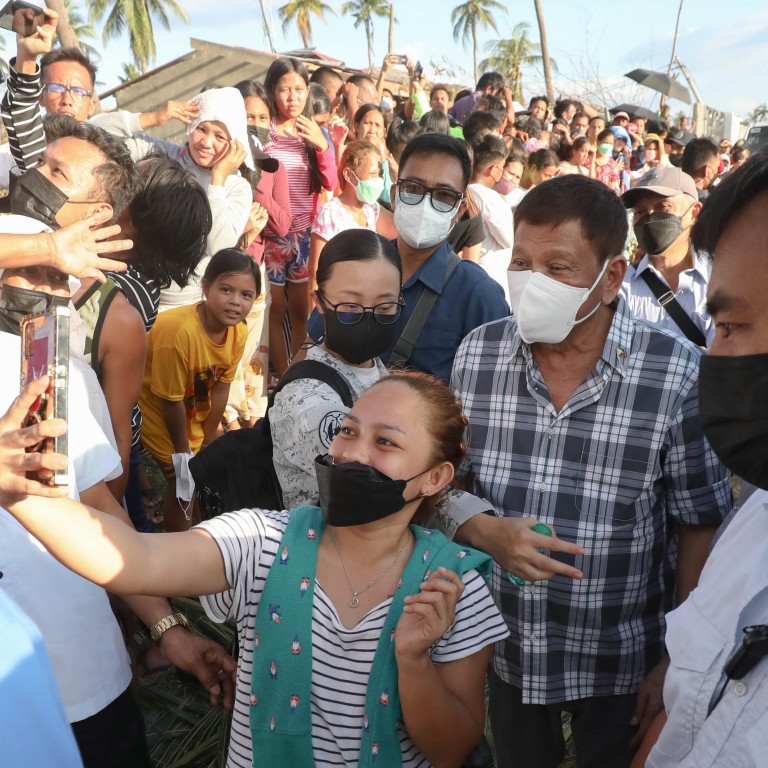 As Philippines mops up from Typhoon Rai, government response could become an election issue
President Rodrigo Duterte, who rose to prominence after Typhoon Haiyan in 2013, gave little warning beforehand and told jokes while visiting hard-hit Cebu province
Analysts say the massive damage and response of candidates could sway voters in the May 2022 presidential election
A terrifying video of a sports stadium sheltering evacuees in the plush southern
Philippine
island resort of Siargao being ripped apart by the winds was the first indication to the rest of the country that Typhoon Rai was a super typhoon that had just stolen Christmas.
As of December 21, the storm had killed at least 375 people, injured 500, displaced nearly 2.3 million in 33 of the country's 81 provinces, wreaked billions of pesos worth of property and crop damage, and possibly affected the outcome of the May 2022 presidential elections.
Viral photos and videos of the 630 million pesos (US$12.6 million) sports stadium complex, inaugurated only last month by President Rodrigo Duterte, showed it looking as if a bomb had destroyed it.
As it exited the Philippines, Rai (known locally as Odette) did not spare Pagasa, the farthest island west of Palawan and part of that province. The typhoon swept away the new prefabricated structure built by the Philippine Coast Guard only last September to house personnel stationed there, according to spokesman Commodore Armand Balilo.
Little warning
There was little warning from Duterte or the national government that a category five typhoon would hit a week before Christmas.
Duterte first publicly mentioned the typhoon on December 16, the day it made its first landfall in Siargao, but only in passing during a speech to unveil new commuter trains for Manila.
As he wrapped up his brief speech, he added: "On a more urgent note, we are closely monitoring – through various government agencies – the movement of Typhoon Odette … Still, we must remain watchful and careful of the developments."
The next day, as it battered the islands of central and southern Philippines, there appeared to be no sense of urgency or acknowledgement of the gravity of the situation inside the presidential palace.
During a televised briefing to the president on December 17, Vicente Malano, administrator of the state weather bureau, described the intensity of the tropical storm as "Signal No. 3" – which in the Philippines is midway between Signal 1 and Signal 5, making it an average typhoon. The country is hit by around 25 storms of varied intensities annually.
However, hurricane scientist Jeff Masters, who co-founded Weather Underground, called Rai "a beast" and pointed out that this was the third Category 5 storm to hit the country in the last two years.
Climatologists are now saying that Rai was a super typhoon that was not as strong as Typhoon Haiyan which hit the Philippines in November 2013, but its destructiveness was intensified by the fact that the typhoon nearly coincided with a full moon and during a high tide.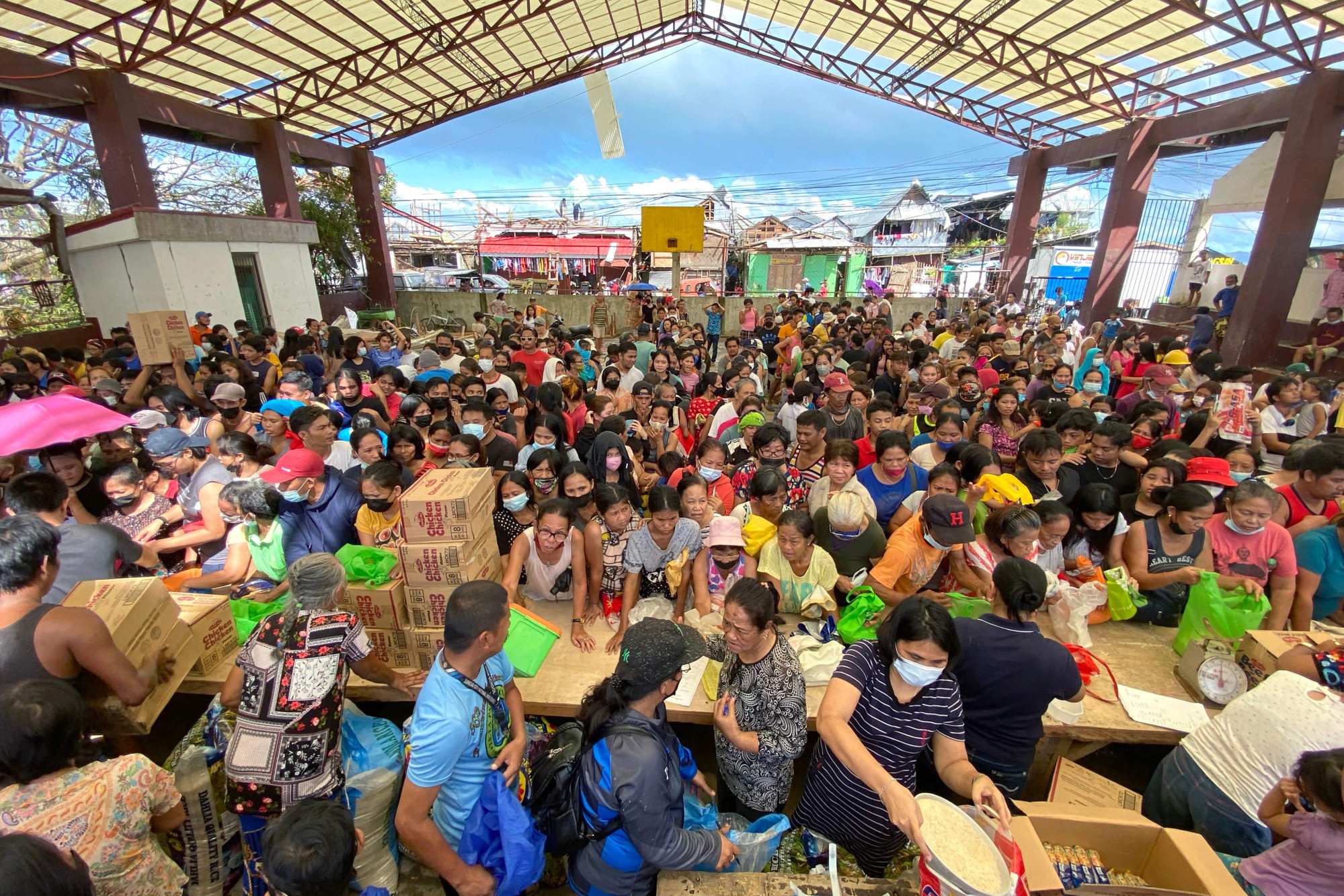 2022 elections
Just as Typhoon Haiyan catapulted then Davao city mayor Duterte to national political prominence, analysts said Typhoon Rai – a mere five months before the May 2022 elections – could have an impact on the outcome.
Political analyst Jake Maderazo wrote in the Philippine Daily Inquirer on Tuesday that "how government and presidential candidates responded" to the massive typhoon damage in Central, Western Visayas and Northern Mindanao would, according to some analysts, become a political issue for voters affected by the typhoon and seeking relief.
Duterte, who is widely viewed as "the kingmaker" who would anoint the next president, could have his stature diminished or enhanced by how he responds to this crisis, Maderazo said.
After Haiyan battered the central Philippines in 2013, a teary-eyed Duterte told reporters after visiting the devastated province of Leyte that God must have been away when the typhoon hit.
On Sunday, when Duterte visited the hard-hit province of Cebu, he promised to send aid and joked: "I'll look for your viand, maybe just table salt. The Cebuanos are used to eating that way."
He blamed the delay in government aid on some "miscommunication on our movement" among the various departments under him, but did not elaborate. "I'll make sure you have food and water and it will arrive soon," he promised, but did not say when. He then added: "Who wants to thank me?"
The president tried to lighten the mood by joking at the end of his speech: "For those who broke up with their spouse, I have nothing to do with that. But if the wife is beautiful, I might bring her with me."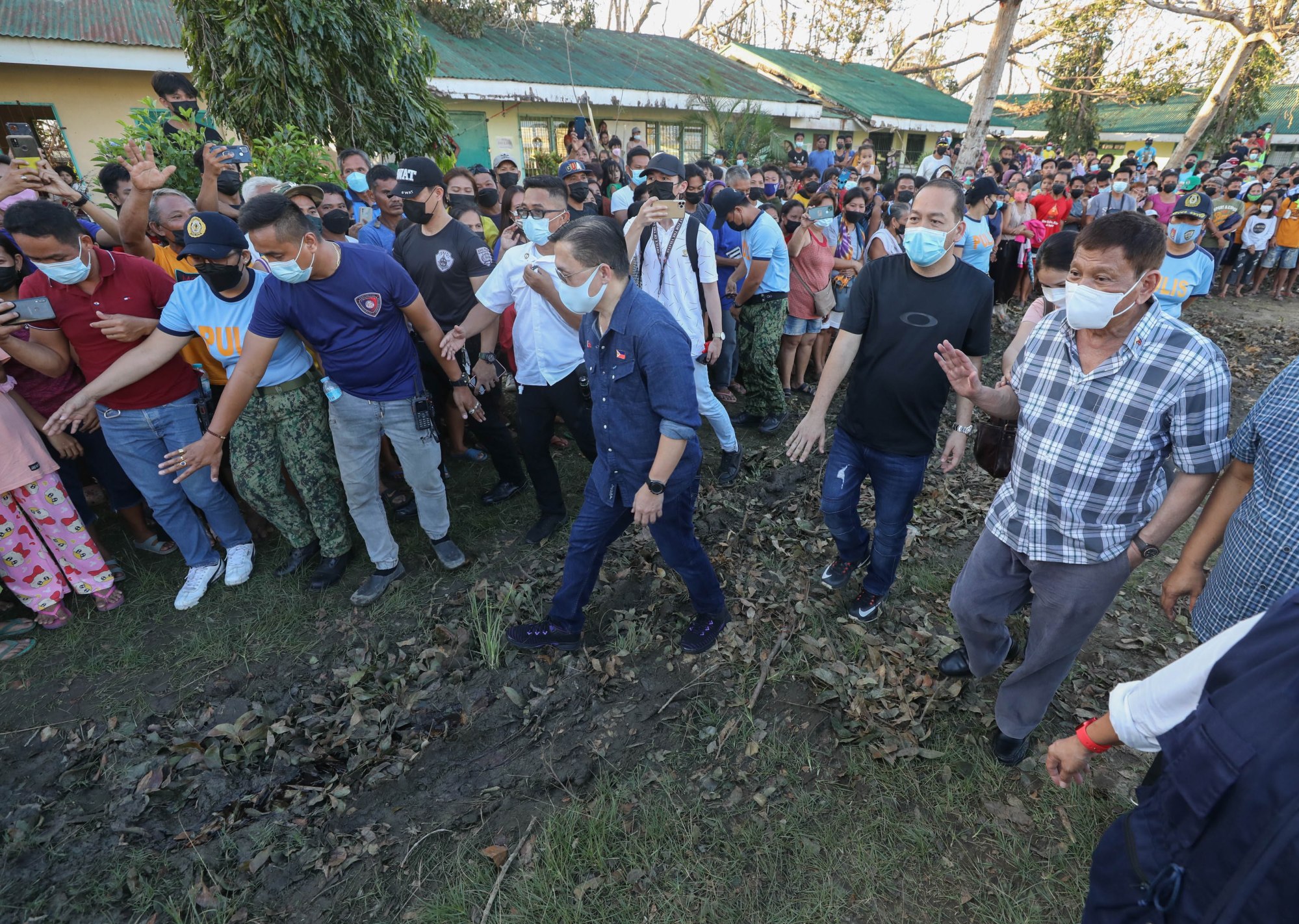 Arthur Yap, a political ally and governor of badly-affected Bohol province, thanked Duterte for the visit, according to reports, saying that the social welfare department had promised to send over 35,000 food packs which was hardly enough to feed 375,000 displaced families. But none arrived.
Speaking to radio station DZBB, Yap said: "If you [Duterte] would not send money for food, you should send soldiers and police, because if not, lootings will break out here."
A resident in Bohol told This Week in Asia that drinking water was "a very big problem" on the island province since the pumps running the water system had no power. The resident, who spoke on condition of anonymity, said the province's power grid depended on the Tongonan Geothermal Power Plant on the island province of Leyte and the storm had downed the connecting power lines.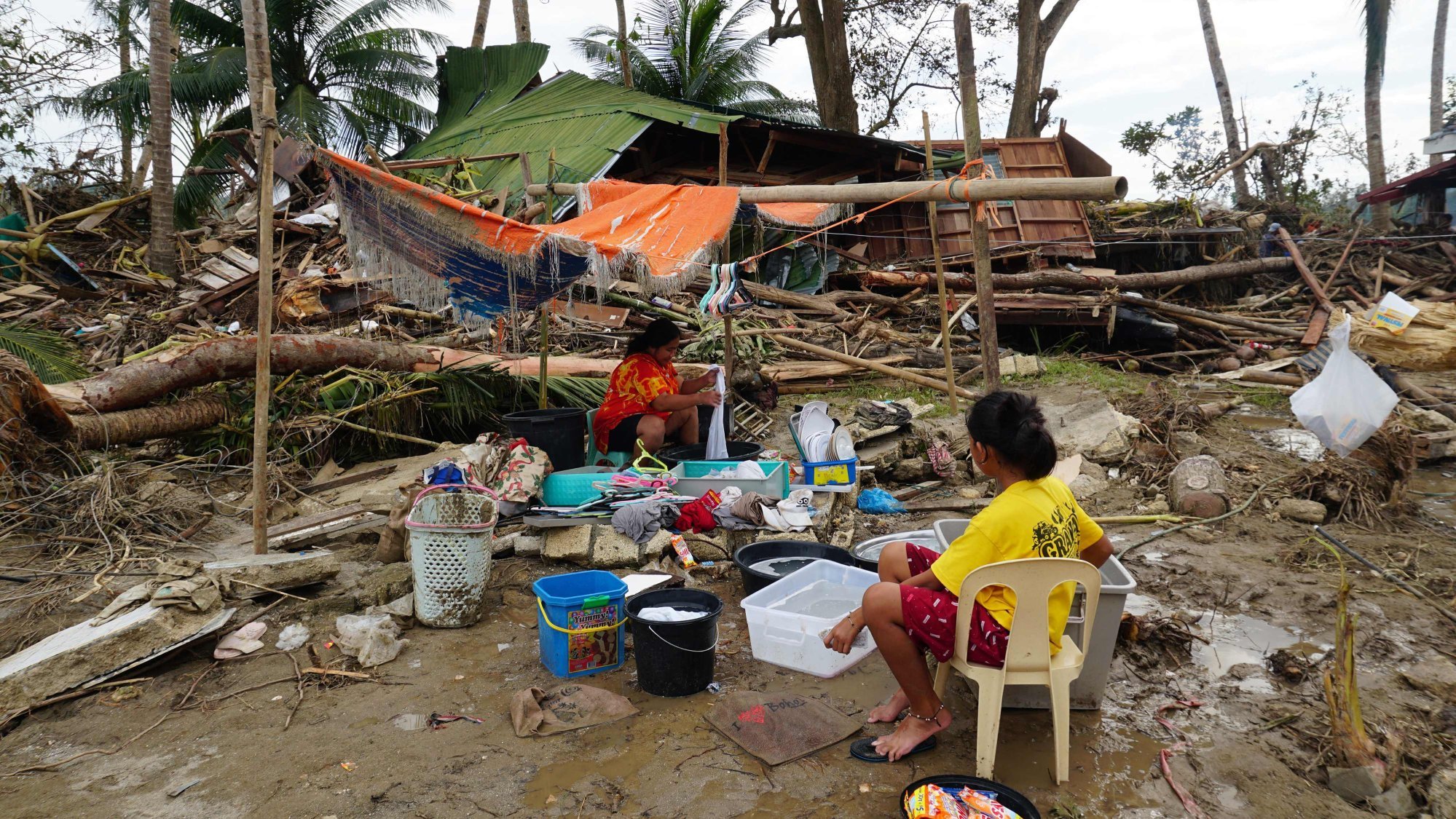 Relief effort
The lone government official who was seriously concerned about the storm's effect on residents was Vice-President Leni Robredo, who posted on social media on Friday that her office had "pre-positioned" relief goods for immediate delivery to hard-hit areas.
In contrast, front runner presidential candidate, former senator Ferdinand "Bongbong" Marcos Jnr, was pictured having a fun time at a Christmas party with some celebrities on Friday.
When Senator Manny Pacquiao called on fellow presidential aspirants to "set aside politics" and pool their aid together, only Robredo responded and together they collected enough relief goods to fill up three planes, including a Boeing 737 and an Airbus A320.
Rival presidential candidate, Senator Panfilo Lacson, slammed their efforts as "abominable". He said he would have joined in if Pacquiao had made the request privately. "Since it was done through the media – it goes against my principled belief that 'calamity politics' is the lowest form of campaigning."
Coincidentally, Lacson's stint as the post-Haiyan "reconstruction tsar" helped him in his 2016 Senate victory.
Among all the presidential candidates, only Robredo visited five typhoon-hit provinces in three days.
"Leni was very visible," said University of the Philippines political scientist Jean Franco. "The pictures of her talking to the survivors conveys her empathetic nature. It can also backfire since some may say that she is politicking. However, this can be offset by the fact that she is VP and she has been consistent with this type of response from day one.
"Her collaboration with Pacquaio is also good. Her advantage really is that she is an incumbent national official so it is easy for her to rally support."
Among the provinces ravaged by the storm were the battleground states of Cebu and Bohol.

Making up for lost time, Marcos and his running mate, Davao City mayor Sara Duterte, said that as of Monday, they had handed over 38 million pesos in cash and relief goods. These were turned over to key allies.
On Tuesday, a video of Marcos' elder sister, Senator Imee Marcos, holding a Christmas party with her aides in the northern Philippines while residents in the south of the country cried out for food and water went viral. The senator had previously bragged that her brother's victory was in the bag because of the "solid north and the solid south" coming together.
Franco said the voter response to the video was uncertain. "I am not sure whether the impact will be that huge given that some people seem to already have set their minds on who to vote for, based on ethnicity and authoritarian nostalgia. Helping in the typhoon will not be enough to change their minds. It has to be something more than that."