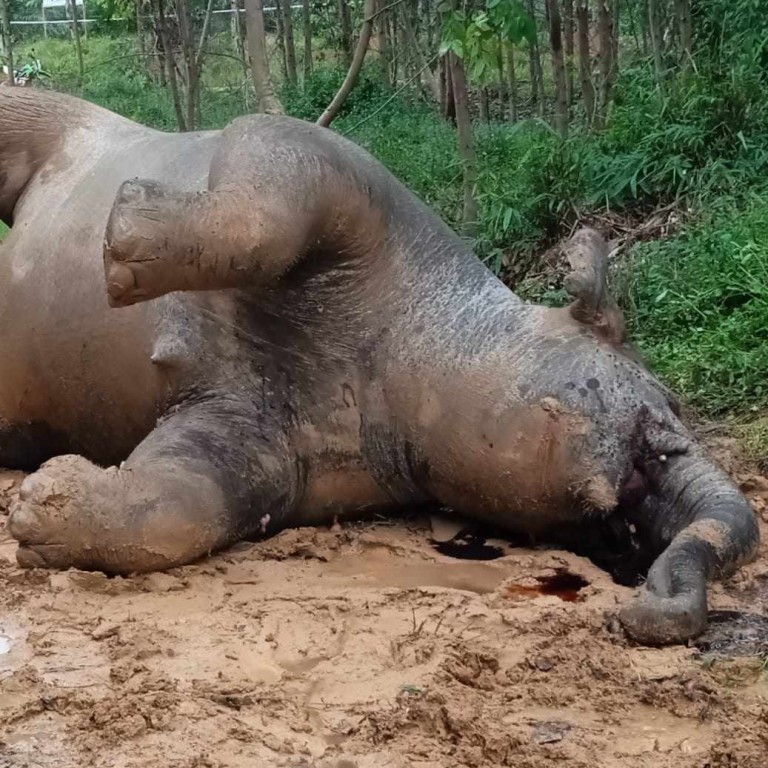 Fears for Indonesia's Sumatran elephants after pregnant animal dies of suspected poisoning
The perennial conflict between humans and wildlife is in the spotlight after the discovery of a dead, pregnant female elephant in Riau province
Killed for their tusks and straying into plantations, Sumatran elephants are in decline. In Indonesia, only about 1,400-1,600 are left in the wild
A dead female Sumatran elephant, recently found in
Indonesia
's Riau province, has again drawn attention to the conflict between animals and humans.
About 30 years ago, elephants stalked the village of palm oil farmer Yusro Fadly in Rokan Hulu regency on the island of Sumatra. Since then, their populations across the island have steadily declined; in part because of deforestation, as well as the intensifying conflict between elephants and humans over space.
"We suspect the elephant was poisoned because it was causing problems for the local community," said Zulhusni Syukri, the programme director of the Rimba Satwa Foundation (RSF), one of the groups that first found the elephant.
In fact, pieces of pineapple were found in its stomach, despite the fruit not growing in the immediate area. Zulhusni said the "friendliest" way to get rid of elephants was to scream and shout, while some farmers also set off handmade rockets that make a loud noise. "But this time, perhaps because the local residents were irritated by the elephant destroying their crops, it seems they poisoned it to try to kill it."
The area where the elephant was found is dominated by the palm oil and pulp industries, Zulhusni said, which has led to deforestation and elephants wandering onto plantations to feed on oil palm leaves and fruit.
To prevent elephants from straying into an oil palm plantation, Yusro said that plantation workers use fire.
"Elephants are scared of flames, so workers would burn leaves and coconut husks so that the elephants wouldn't trample around the plantations," he said. "I've heard stories of elephants killing people in this area."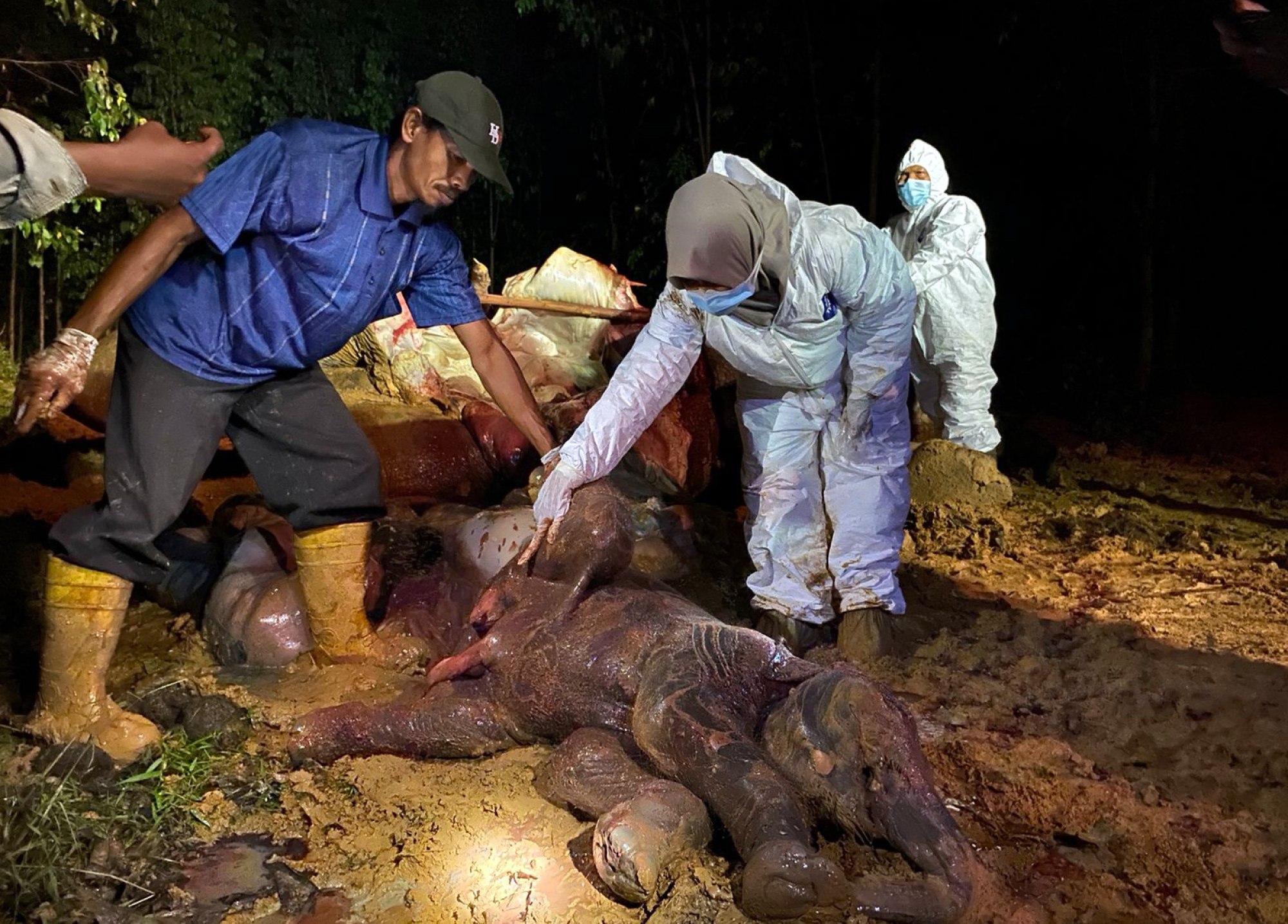 Veterinary surgeons conducting the autopsy found a baby in its womb, making the elephant's death doubly tragic, Zulhusni said. He pointed out that elephants usually only conceive every four years, have a gestation period of a long 21 months, and typically carry just one baby at a time.
They also found that the internal organs of the elephant were black, which is consistent with poisoning, although vets continue to await toxicology results to ascertain the poison used.
"When local farmers get into conflict with elephants, the aim is usually to kill the elephant, because they don't care about the elephant any more if it has been trampling their crops," said Zulhusni. "They will usually try to kill an elephant with cyanide that burns the internal organs."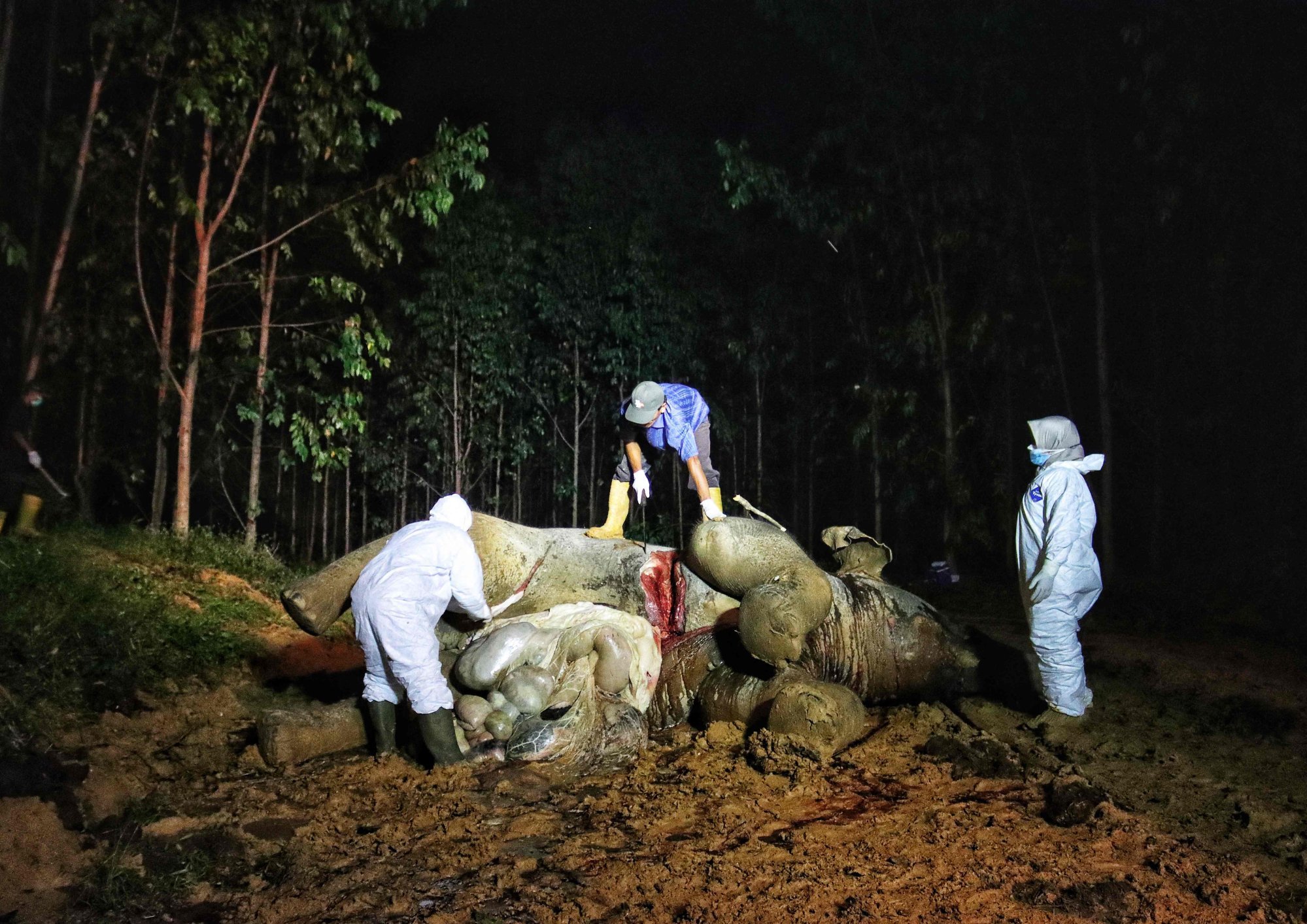 Conflicting claims
Yusro said he had heard that the elephant died of dehydration rather than poisoning, and that most oil palm farmers would never harm a protected species, particularly as there were measures in place to deal with such incidents.
"Usually, if an elephant strays from a conservation area, trained staff will bring larger and older elephants to the plantation to try and bring it back," he said.
"They will bring two elephants that will escort the smaller and younger elephant back into the conservation area, because elephants are obedient and they will follow an older member of the herd."
Under Indonesian law, killing a protected species, including elephants, is punishable by up to five years in prison and a fine of 100 million rupiah (US$6,858).
"We urge law enforcement officials to thoroughly investigate the elephant death case. Companies holding Industrial Forest Plantation and Right of Exploitation permits must be responsible for the lives of Sumatran elephants in their concession areas," said Donny Gunaryadi, the head of the Indonesian Elephant Conservation Forum.
"Conflict between elephants and humans is unavoidable because their area of ​​movement is getting smaller. Poisonings occur as acts of revenge because community plants around the concession get damaged."
Elephants are the only surviving representatives of Proboscidea, a group of mammals including pachyderms and their relatives, who first appeared in Africa around 55 million years ago.
There are two types of elephants in the world: African elephants (Loxodonta africana africana and Loxodonta africana cyclotis) and Asian elephants (Elephas maximus). There are four subspecies of Asian elephants including Elephas maximus sumatranus found in Sumatra and Elephas maximus borneensis that inhabits Indonesia's Kalimantan.
Today, only around 50,000 Asian elephants are thought to be spread across 13 countries, and Sumatran elephants were listed as critically endangered in 2011 due to declining populations. The natives of the island of Sumatra can be found in almost every province from Lampung to Aceh.
Now, Zulhusni said, RSF estimates that there are a scant 1,400 to 1,600 Sumatran elephants left in Indonesia's wild, with only 300 to 400 of them in Riau province.
"Every year, the elephant population in Indonesia declines and there are deaths. Some elephants are poisoned because they interfere with crops on plantations and some are shot for their tusks," he said.
Zulhusni said that the death of the elephant was regrettable as it likely had a long life ahead of it. "Elephants have a lifespan similar to humans, they usually live until they are about 70 years old, so this is a big loss."