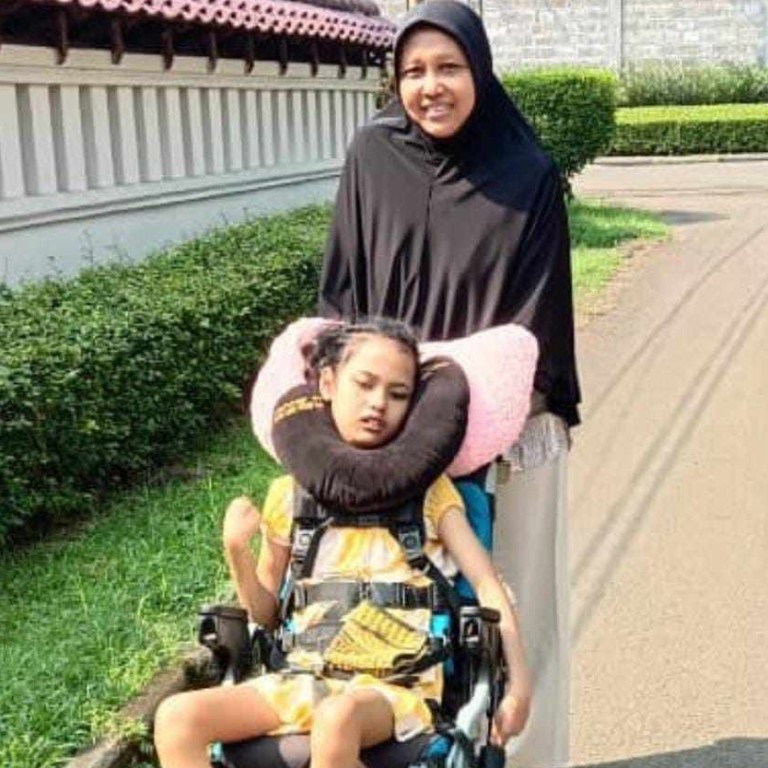 Indonesia could issue a fatwa that medical marijuana is halal – thanks to a mother's love
The campaign for the legalisation of marijuana for medical use is being driven by a group of women fighting to ease the pain of their children, who have cerebral palsy
After one of the mums' desperate pleas went viral, an official urged Indonesia's top Islamic scholar body to issue a religious ruling permitting medical cannabis for Muslims
Following
Thailand
's move to legalise growing and consuming marijuana, similar efforts are currently under way in
Indonesia
, and the campaign is being spearheaded by an unlikely group: mothers.
Santi Warastuti, 43, recently went viral on social media after calling for the legalisation of marijuana for medical uses, in a plea made on a stretch of a busy road in downtown Jakarta during the capital's car-free day.
There, Santi stood alongside her 13-year-old daughter, Pika Sasi Kirana, who has been paralysed for a number of years because of cerebral palsy, a motor disability. Unbeknown to Santi, popular singer Andien Aisyah walked past and snapped a photo of the two, which spread quickly on Twitter.
"This is beyond my expectation. I went to the car-free day because I demanded a decision from the Constitutional Court on our request to review the material of Narcotics Law," Santi told This Week in Asia.
"The court's headquarter is in Jakarta, so I thought I had to go there, to open the hearts of the judges, to show them my daughter, to show that she needs medical [marijuana]," she said. "So that was me demanding the court to announce a decision on my [case] soon."
Santi, who lives in Yogyakarta, is one of three mothers of children with cerebral palsy who in 2020 filed a request for judicial review of Indonesia's 2009 narcotics law that prohibited the use of marijuana in all forms.
In their legal quest, which is supported by a number of civil rights and legal aid organisations, the women argued the conditions of their children can be relieved by medical marijuana, which is currently still classified as a type-1 narcotics in Indonesia.
Overturning the rule could have a significant impact on Pika, who was not always immobilised. According to Santi, Pika was born healthy, "just like the other kids", but things changed when she was six.
"In preschool, she often vomited and displayed a lack of energy, so we had to take her home. This often happened until she had a seizure. We took her to a doctor, who diagnosed her with epilepsy as she had seizures without fever," Santi said.
Eventually, another doctor found that cerebral palsy was the cause of Pika's illness, she said.
Santi first found out about the use of cannabis when she was working on the resort island of Bali for a Macedonian employer in 2015.
"My boss told me how people in
Macedonia
used it to treat seizures," she recalled. "He showed me a photo of a 'cannabis' bottle, but I warned him not to bring it back to Indonesia in case there were problems with customs."
In Yogyakarta, Santi sent her daughter for therapy at a community dedicated for children with cerebral palsy, run by Dwi Pertiwi, another plaintiff in the case. Unlike Santi, however, Dwi had seen the benefits of medical marijuana first-hand, after her late son Musa underwent a month of ganja therapy in
Australia
in 2016.
Musa went a full month without a seizure, he slept better, could easily clear his throat of phlegm, and his hands were not as stiff. Results that Santi wants for her daughter Pika.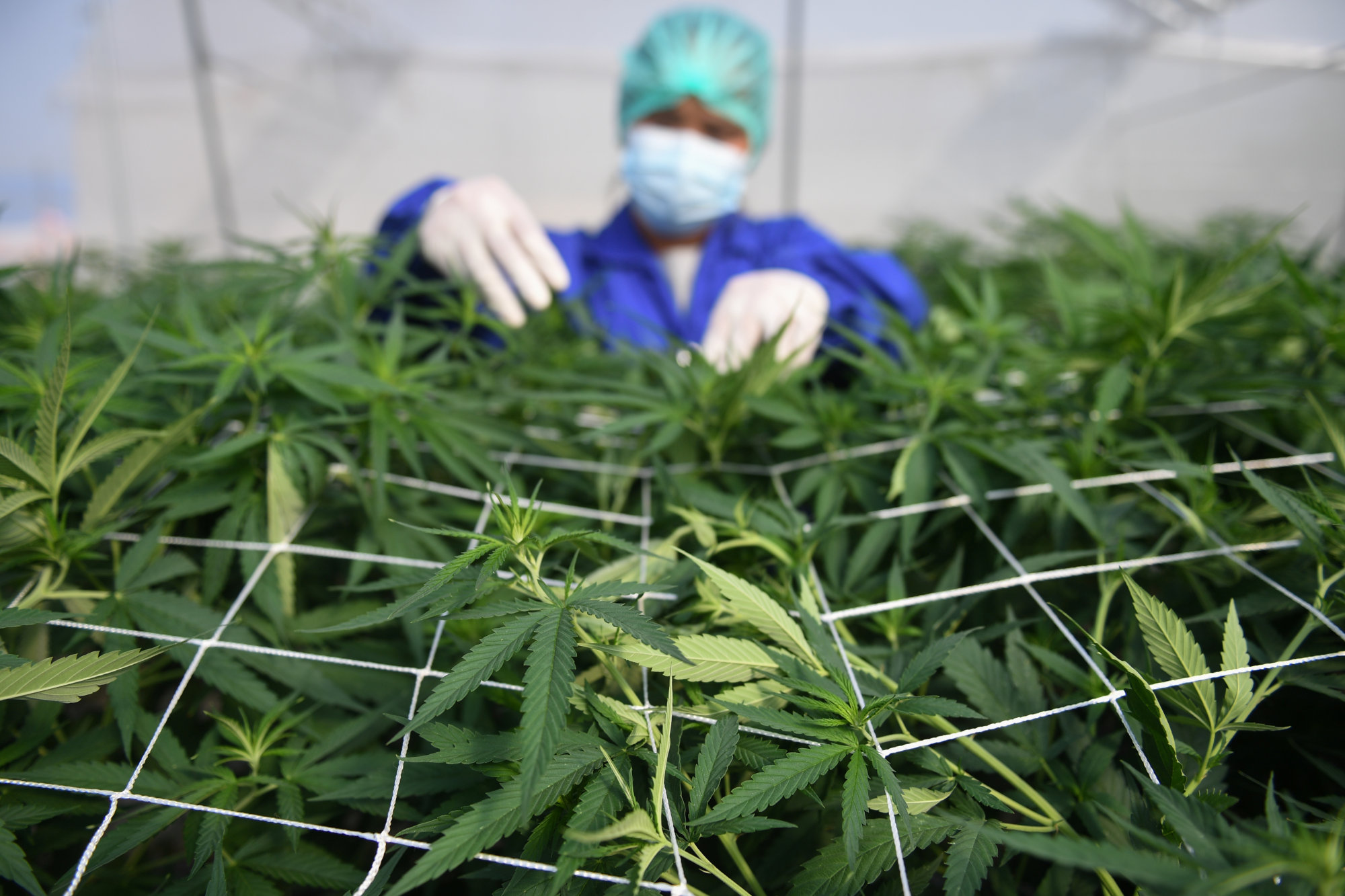 Unfortunately, Dwi could not resume the therapy after returning to Indonesia. In December 2020, Musa died, just a month after Dwi, Santi and Nafiah Muharyanti, another mother of a child with cerebral palsy, filed a request for judicial review to the Court.
Over the past seven years, Santi has had to change her daughter's medicine numerous times due to side effects, and because they were not stopping the seizures. "I want Pika to be treated with alternative medicines, but the ones that are approved through the right channel," she said.
Santi says that the fight for legalised medical marijuana is not just for her daughter, but for other children with cerebral palsy.
Sticky cannabis stigma
During the court proceedings over the past two years, Indonesia's Constitutional Court judges listened to nine experts, including one from Thailand, and was presented with numerous scientific reports and documents that highlighted the benefits of marijuana for medicinal purposes.
While the trial has been completed since March, lawyer Iftitah Sari from the Institute for Criminal Justice Reform (ICJR), a Jakarta-based legal aid and research institute that supported the plaintiff in the case, said there was no time frame for the judges to announce their decision.
"But I hope they will announce their decision soon as this is an urgent case," Iftitah said.
If the Court granted the plaintiffs' request to exclude marijuana from the type-1 narcotics list, Iftitah said it would still take some time for patients to easily access the plant as the government still needed to issue regulations to monitor its utility.
"We don't need to start research from scratch, though. There is much research about CBD (Cannabidiol) overseas. The
United States
has approved CBD as a drug, so we can just adjust our regulation on how to use [the CBD] and how to monitor its usage," she said.
The US Food and Drug Administration has approved Epidiolex, a prescription drug made from CBD, to treat two rare forms of epilepsy, as well as seizures associated with tuberous sclerosis complex.
Musri Musman, head of the advisory body with Sativa Nusantara Foundation, a non-profit group at the centre of the effort to legalise cannabis in Indonesia, said the government could adopt a set of guidelines in cannabis usage issued by other countries that had legalised it, including Thailand.
"Thailand has created regulations to minimise the misuse of marijuana, such as where to buy, a list to procure it from certified doctors," he said. "Why can't we adopt the regulations that might prove beneficial to us?"
Growing momentum
Much like other legal cases in Indonesia, it helps Santi's case that her picture went viral. Thanks to that, the campaign to legalise medical marijuana has been boosted by Vice-President Ma'ruf Amin, who last week told the Indonesian Ulema Council (MUI), Indonesia's top Islamic scholar body, to "immediately issue the fatwa" or religious ruling that medical marijuana is halal – or allowed – for Muslims.
Her fight for a legal medicinal marijuana also has earned the attention of lawmakers, who last week held a hearing with the campaign's proponents. That resulted in a vow that the Parliament would set up a focus group discussion with relevant agencies, such as the Health Ministry, Indonesian Doctors Association (IDI), and others before revising the Narcotics Law and eventually excluding marijuana from the type-1 narcotics list. IDI's chairman, Adib Khumaidi, said the organisation was currently collecting scientific references to support medical marijuana research in Indonesia.
While the Constitutional Court is an independent body, Iftitah from ICJR said the current public attention would help the campaign, as issues relating to marijuana "are no longer taboo to be discussed openly among the society".
"[Marijuana] has long been seen as a haram substance, that the people who use it live a non-productive life, that their paths in life are wrong. This stigma is still deeply rooted among our society, exacerbated by the government's war against drugs, which has been proven in many countries to be a failed war," Iftitah said.
Back in Yogyakarta, Santi hopes that the current debate about medicinal marijuana will drive more Indonesians to do their own research about the plant.
While it might be cheaper to get ganja treatment in Thailand compared to Australia, Santi says she has no plans to fly there due to cost issues and the challenge of travelling with a child with special needs.
"I am thankful that I have been receiving a lot of support, despite the pros and cons among the public about this issue. I know that this won't be an easy process, but there's nothing else I can do now than to enjoy it," Santi said.
"But I do envy the Thais as Indonesia also has a lot of potential when it comes to marijuana."