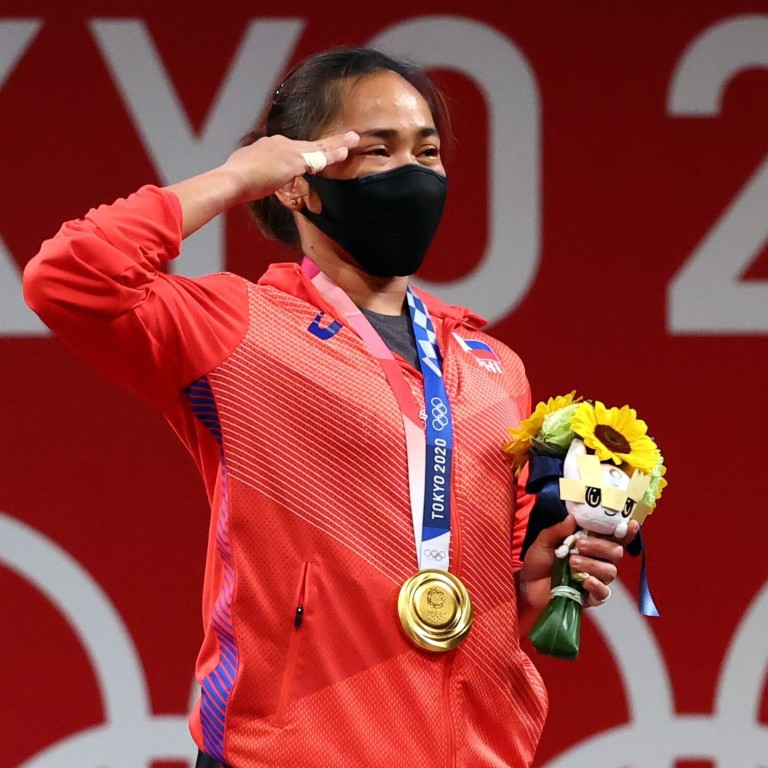 Tokyo Olympics: how the Philippines won multiple medals for the first time
The Philippines is celebrating after Hidilyn Diaz won the country's first Olympic gold medal, while boxers also won two silvers and a bronze
Athletes credit divine intervention and better training, but a coach said achieving an 'elite level' requires hard work, more money and more support
As the
Philippines
reels from a deadly surge in coronavirus cases, four athletes have stunned and lifted the spirits of their nation by winning four Olympic medals – including the country's first gold.
Since 1924, Filipino athletes have only managed two silvers and eight bronzes. But this year weightlifter Hidilyn Diaz won gold, while boxers Nesthy Petecio and Carlo Paalam won silver medals and Eumir Marcial got a bronze.
No one outside the boxing and weightlifting communities expected any medals at the Tokyo Olympic Games. Financial support for training is so meagre that Diaz and Marcial had to publicly beg for funds.
The athletes and their coaches credited their victories to divine intervention, their intense and strategic preparation, better self-confidence and mental training, a highly professional support team, and the kindness of foreigners.
The boxers were welcomed by the Thailand Boxing Federation while they trained there. Diaz was hosted by a Muslim family in Malaysia who converted part of their backyard into an open air gym for her. And gymnast Carlos Yulo was welcomed by his Japanese coach Munehiro Kugimiya to train with him in Tokyo for the last three years.
Diaz, who won her gold medal on July 26 by lifting 127kg – or 1kg more than China's Liao Qiuyun in the clean and jerk – told reporters she hardly slept after her victory "because I could still not believe I won the gold".
"Every time I tried to lift (127kg) during my training I always failed, I got frustrated and cried, I became very moody."
She said she did not expect to be able to lift it when her coaches submitted that weight for her third attempt at clean and jerk.
"Maybe it was God who did. So I'm very thankful to all those who prayed the novena [nine days of the rosary] for me," said Diaz, a devout Catholic who wore a medallion of the Miraculous Medal during the competition.
Flyweight boxer Paalam also credited "trust in self and in God who gave me this win" during his maiden Olympic bout.
Self confidence
Marcus Manalo, who was hired by the Association of Boxing Alliances in the Philippines (ABAP) eight years ago as the team's mental performance coach, told This Week in Asia that they sent four boxers to Tokyo and three of them won medals. "We used to only win one," he said.
Manalo conceded that like many Filipinos, athletes were beset by low self-confidence brought on by an inferiority complex and a "colonial mentality" – or the perception of ethnic or cultural inferiority resulting from nearly four centuries of colonisation.
Diaz's early victory was therefore a big morale booster to the boxing team, he said, especially when she urged them, "Now we have the gold, fight for the Philippines. Don't doubt, believe you have the strength, you have the power. Be proud to be Pinoy [the slang word for Filipino]".
It was the first time that Manalo, who holds a double degree in sports science and psychology from the University of the Philippines, was given a ticket to accompany the athletes to the Games.
Unlike the 2016 Rio Olympics, where the two boxers were joined only by one coach, this time ABAP sent four competing boxers, their coaches, a nutritionist, a physiotherapist and a mental performance coach.
Luckily, he said, the Filipino boxers had also been able to train hard in Thailand for five months while many parts of the Philippines were locked down.
The ABAP also hired former Australian national boxing coach Don Abnett as a consultant. Together, they reviewed video footage of potential foreign rival boxers and "came up with a fight plan" for each possible match.
Coaches were not previously as systematic in their preparation, he said.
"For boxers to be confident you have to come up with a very good fight plan so when they come to the match they are well prepared and have the competitive advantages," he said, adding that this was part of their mental preparation.
He said one thing he noted that was different from previous Games was that the boxers were all psyched up. "They just knew they had sacrificed a lot for these Olympics…it's been very challenging for them."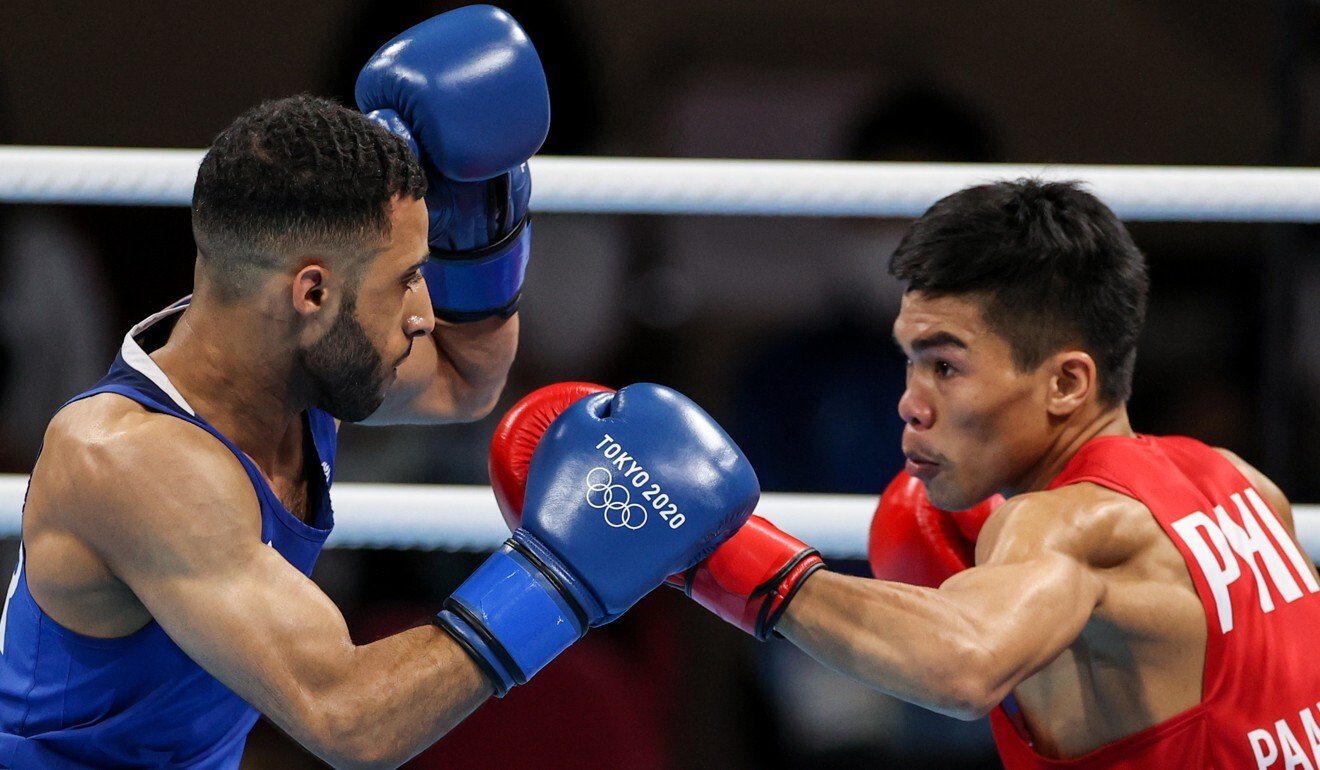 Support
Paalam's performance in his winning bout over Japan's Ryomei Tanaka "was really just how it was planned by the coaches".
The boxer, who made his Olympic debut in Tokyo, was however outmatched by Galal Yafai of Great Britain, who had competed at the previous Games.
Asked if these victories can be replicated in future Olympic Games, Manalo said that "it's going to be hard. The boxers we have now, they are not getting any younger except for Carlo [Paalam]who just turned 23 in July, he has a lot of years left". Meanwhile, Marcial has turned to professional boxing while Petecio is 29 "but she said she is looking forward to Paris".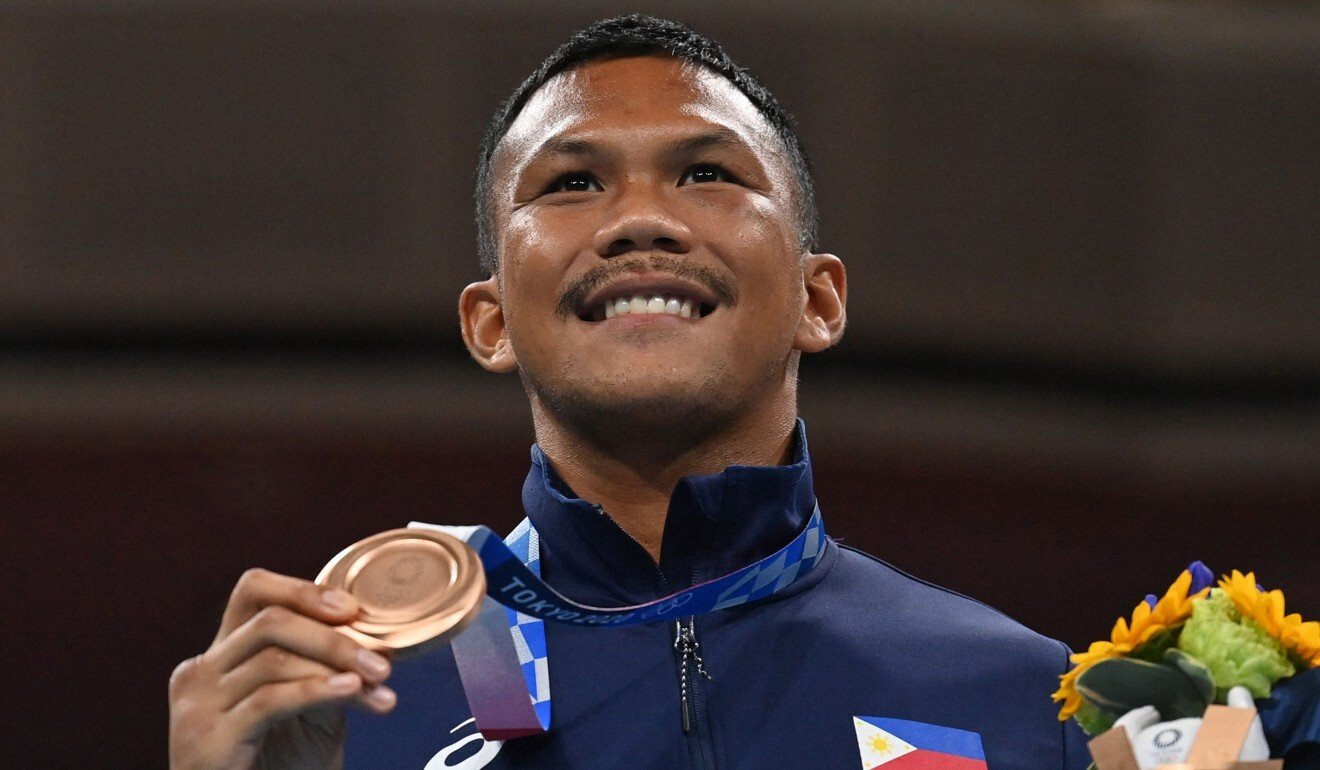 While the Philippines has a lot of sporting talent, particularly in boxing, developing them to "an elite level" requires much harder work, money and a bigger support group of professionally trained people to support the athletes", he said.
"If we are going to plan now, it's not just for the 2024 Olympics but we have to be looking at the 2028 Olympics or two Olympic cycles."
Over the weekend, tycoons Manuel Pangilinan and Ramon Ang said they would help support more Olympic-bound athletes in the future.
Presidential spokesman Harry Roque conceded last week that Olympic-bound athletes were getting an allowance equivalent to the daily minimum wage. "We will look into how we can change this," he said.
Diaz's gold medal made her an instant millionaire, with 5 million pesos (US$98,000) coming from the Philippine government, thanks to a law enacted during the administration of the late president Benigno Aquino III rewarding Olympic medallists. While she was grateful for the cash rewards, Diaz stressed that athletes needed as much help as possible on their journey to Olympic gold.