India
Get more with myNEWS
A personalised news feed of stories that matter to you
Learn more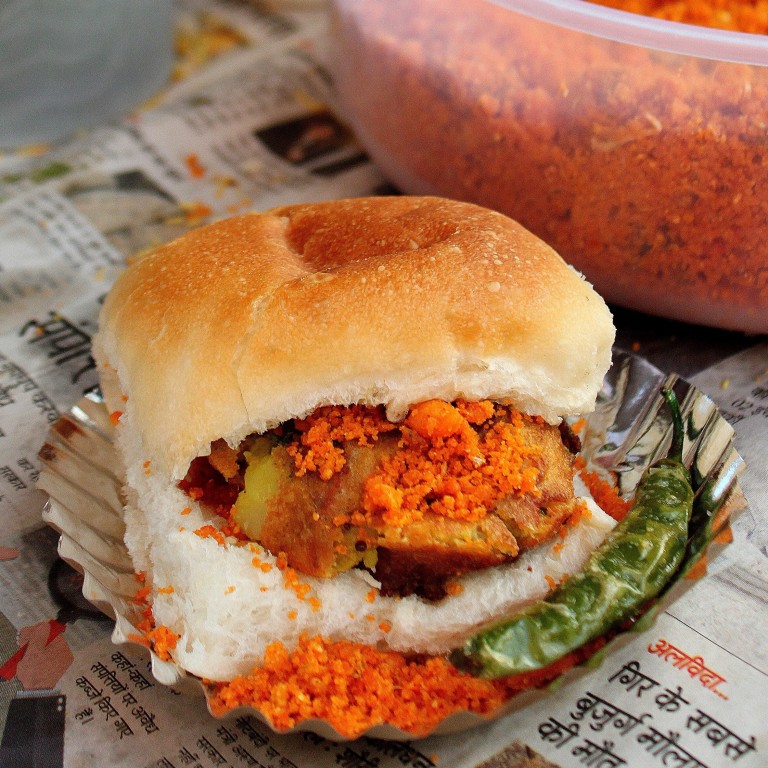 Mumbai's humble snack Vada Pav gets new attention after British High Commissioner's viral tweet
Diplomat Alex Ellis tweeted a photo of himself eating the Indian city's favourite street food – a potato patty inside soft bread topped with masala powder
The dish has its roots as an affordable, filling food for workers, but is also connected to the politics of the state of Maharashtra
A recent photo of Britain's High Commissioner to
India
Alex Ellis eating
vada pav
– a golden potato patty sandwiched inside soft bread with a zingy garlicky masala on top – has drawn attention to the origins of the famous Mumbai street snack.
Vada pav, which is topped with tempered curry leaves, mustard, green chutney and blistered green chillies, had its roots as a food of the working class as it was carb-heavy, affordable, filling and could be eaten on the go. But it also has a connection to the politics of the state of Maharashtra, home to India's largest city Mumbai.
The right-wing Shiv Sena party wanted to encourage this home-grown snack to counter the popular fare of Udupi hotels, which had migrants serving idlis (steamed rice cakes) and dosas (lentil crepes made from fermented batter) from South India.
Ellis' photo in front of the Gateway of India in Mumbai received over 21,000 likes and trended on Twitter over the weekend. Last month, a video of him eating a dosa with his hands also went viral.
The street food staple is widely believed to have been invented by Ashok Vaidya, who started a food stall outside the busy Dadar station in 1971. He is supposed to have grabbed a piece of pav bread from the omelette stand and sandwiched a potato patty inside it, serving it that way to commuters so they would not need cutlery and it would not be messy.
In his book Maximum City, writer Suketu Mehta writes that "Bombay is the vada pav eater's city. Vada pav is the lunch of the chawl dwellers, the cart pullers, the street urchins, the clerks, the cops and the gangsters."
The snack is inextricably connected to India's railways and to the Mumbai mill workers they transported. In the 1980s, as textile mills started closing down, many mill workers started selling vada pav to make a living.
Partition, politics
Another theory about the origin of vada pav is found in a research paper by Harris Solomon published by Duke University in the US.
"During partition, large numbers of Hindus from Sindh Province in Pakistan were relocated to a temporary settlement a few hours from Bombay now called Ulhasnagar. Sindhi rail commuters bound for the city often carried spiced potatoes and bread, staples back in Sindh. Vada pav was born out of the contradictory needs of these commuting refugees: the need for a mobile snack composed of a comforting, if crumbly, staple," he wrote.
The research paper also raises the political link, detailing how Shiv Sena launched an attack on Udupi restaurants in the 1960s as they were believed to be taking away jobs that should have gone to locals. The party wanted to create a special identity for the people of the state. In 2008 Shiv Sena actually launched vada pav stalls to give jobs to unemployed youth.
Kurush Dalal, a food historian based in Mumbai, pointed out that this quintessentially Mumbai street food is essentially Portuguese, from the pav (bread) to the potato and chilli which the Portuguese brought with them when they colonised India.
"Of course we have invented it, but all the ingredients be it peanuts or garlic or even chickpeas, everything came to India from somewhere. In fact only the curry leaves and mustard come from India," he said.
Mumbai resident Smitha Shetty said the ingredients in the chutney are from all over India. "The snack is a melange of cultural influences, just like the city itself which is a melting pot of migrants from across the country," the IT worker said.
Fast food
Over time, a number of variations have emerged, including a Sichuan vada pav with Chinese-Indian spices, a paneer vada pav, a cheese vada pav and even a Jain vada pav that caters to the Jain community who refrain from onion and garlic. The snack can be found at fine dining restaurants and cafes, and is even served in Indian restaurants abroad like London's famous Dishoom.
Vada pav has also caught up with the Western fast food chain trend, although US chain McDonald's battled to compete with the local obsession for the snack when it entered India in the 1990s.
In 2001, entrepreneur Dheeraj Gupta started the successful vada pav chain Jumbo King with just one shop outside Malad railway station, selling sanitised, pre-packaged versions. It has now expanded into selling burgers.
Another chain is Goli Vada Pav, which started in 2004, offering clean interiors and customisable toppings, taking Mumbai's street food to other parts of the country.
"It's a fabulous idea to try and replicate this iconic street food, but it still has not been executed properly, and hasn't found takers in the masses who are price conscious. Maybe it has to evolve organically over time," said food historian Dalal.
Tehzeeb Behbahany, a travel professional based in Mumbai, said every resident "just loves this humble dish", especially in the monsoons.
"There is always an endless debate about which is the best vada pav in town. Though the franchise fast food model has unique flavour options and innovations, I prefer the traditional vada pav sold in tiny street stalls in each neighbourhood, which is authentic, especially the soft pav bread baked in local bakeries."