India
Get more with myNEWS
A personalised news feed of stories that matter to you
Learn more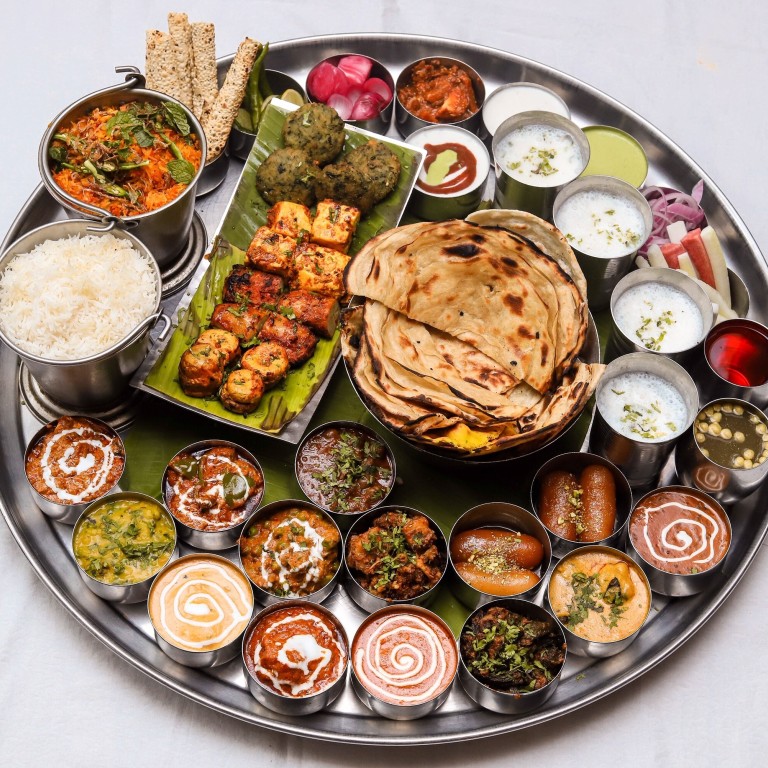 Indians love thali – and they're hungry for the '56-inch Modi' version
The nationally beloved repast is an eye-popping variety of dishes, from sides and snacks to mains and desserts
While there are regional versions across the country, a gargantuan platter referencing a quote from the prime minister is growing in popularity
When
Narendra Modi
celebrated his birthday on September 17, the thali – one of his favourite meals – was trending on Twitter as
India
celebrated all things related to the prime minister.
But the repast is nationally beloved, quite apart from its association with Modi. Such is the craze for it – an eye-popping
variety of dishes
, from sides and snacks to mains and desserts, served in tiny bowls called
katori
s on a glittering metallic plate, also called a thali – that different Indian states take pride in serving their own signature variations.
You can choose from the Punjabi, Bengali, or Bihari versions, to name just a few – or you can opt for the "56-inch Modi thali", which some restaurants have taken to serving as a tribute to the prime minister.
The 56-inch thali is a reference to Modi's close colleague and Indian Home Minister Amit Shah calling the PM a "man with a 56-inch chest" who could take on terrorists to protect the country from their attacks.
The gargantuan platter comprises more than two dozen dishes, including quintessential Indian palate pleasers such dal makhani (creamy black lentils), naan, chicken curry, lachcha paratha (layered bread), a selection of seasonal vegetables, and desserts such as gulab jamun and kheer (rice pudding). It comes in a vegetarian or non-vegetarian version.
"The 'Modi Ji 56-inch Bahubali thali' has got a phenomenal response from our diners since we launched it in 2017," said husband-and-wife duo Suveett Kalra and Megha Kalra, owners of Ardor 2.1, a multi-cuisine restaurant located in Connaught Place, in the heart of the Indian capital of New Delhi. "It is a tribute to our prime minister, who is known to take on difficult challenges. Similarly, our restaurant also takes on the challenge of preparing this thali with 32 dishes served hot at the customers' table within 30 minutes."
The restaurant's vegetarian Modi thali (priced at 2250 rupees, or US$30, plus taxes) comprises favourites such as paneer lababdar, Kashmiri dum aloo (spicy dry potatoes), malai kofta (creamy paneer balls), and dal tadka. There are also 13 types of seasonal vegetables, along with raita (yogurt with veggies) and beverages such as lassi, and a variety of breads.
The non-vegetarian version (2550 rupees, or US$35, plus taxes) comes with lamb and chicken dishes from tandoori to tikka, as well as paneer, green vegetables, rice, mixed breads, and dessert.
The restaurant also serves the "United India thali", featuring regional favourites presented in the form of a map of the country, while its "Vedic thali" involves two dozen dishes infused with healthful herbs such as turmeric, cinnamon, cloves, and bay leaves.
"However, we're most excited about the 'Crypto thali' we launched this month to offer a digital experience to our diners, as it can be paid for in cryptocurrency," Suveett said. "It is our attempt at creating a digital community of foodies."
Chefs say each regional version is unique, determined by geography and culinary history. "The most important feature of a thali is its focus on local and seasonal ingredients cooked using indigenous techniques such as steaming, fermenting, deep frying, baking, and sautéing," said Chef Anil Khurana of Hyatt Regency, New Delhi.
He said Gujarati, Rajasthani, South Indian, and Punjabi thalis were the most popular among his customers. "The Gujarati thali – which is also the prime minister's favourite – manages to achieve a fine balance between heat, spice, and sweetness, with sides like pickles, chutneys, and papads providing flavour, texture and heat to the meal."
Khurana added that his hotel was famous for its "Navratra thali", offered during the 10-day Hindu festival of Navratri in October that celebrates the goddess Durga.
"It is a very special plate of food, pure vegetarian and crafted with gluten-free grains like kuttu and samak rice and sainda namak [organic salt]," he said. "We prepare special spice blends for it; the kitchen is cleaned thoroughly and the cooks have a designated area in which they prepare these thalis sans meat, onion or garlic."
What makes the thali so popular in India, according to Vivek Rana, executive chef of the Claridges Hotel in New Delhi, is that of all the traditional feasts, it offers the perfect assortment of wholesome regional dishes on a single platter.
"Plus, there's convenience as well," he said. "You don't have to waste time scanning the menu to choose multiple dishes or make frequent forays to the buffet for refills. The buffet comes to you. You can share it with your family; there are unlimited refills and it is therefore value for money."
The biggest difference between northern and southern Indian thalis, Rana added, was the use of grains. "Wheat is largely grown in north India, hence wheat breads like parathas or rotis are staples of a north Indian thali. In the southern version, rice is the star as it grows abundantly in the region."
The other common factor among thalis is the use of clarified butter or ghee, "which is believed to have medicinal properties that help digest food and build immunity while lending a rich aroma to the dish", he said. "This could be by way of basting [like in kebabs and rotis] or as tadkas or spicy toppings in dal and khichdi."
Food historians point out that the thali has its roots in Ayurveda, a 5,000-year-old system of alternative medicine stipulating that disease results from bodily imbalances and, to correct this, one must eat a variety of seasonal foods.
"Ayurveda uses the 'six taste theory' to ensure meals are balanced to the doshas [a type of energy of the body]," said Ved Prakash, a third-generation Delhi-based Ayurvedic scholar. "A thali is a microcosmic representation of these six tastes – sweet, sour, salty, pungent, bitter, and astringent – which ensures a balanced meal, mind, and body."
Thalis have also traditionally mirrored social hierarchy. While the poor ate frugally in steel thalis, royal cooks were known to serve 101 – an auspicious number according to Hindu beliefs – dishes in gold and silver thalis to kings and queens.
"During times of war, a soldier's thali used to comprise protein and carbohydrate-rich food that boosted energy. During peace time, however, the same soldier was offered light dishes and veggies," Prakash said.
Wedding guests in Indian villages are still served thalis. They sit cross-legged in rows on the ground, and servers carrying steel buckets scurry to bring out one course after another. As one group wraps up the meal, plates are cleared, the area wiped down, and shiny new thalis laid out for the next batch of hungry guests.