India
Get more with myNEWS
A personalised news feed of stories that matter to you
Learn more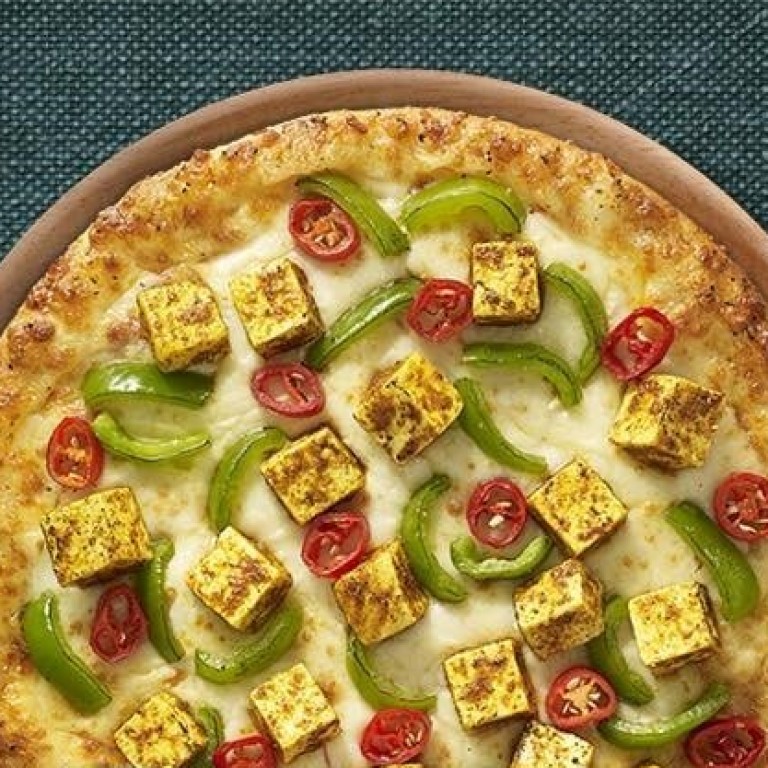 India likes Domino's, but it's street pizzas that win the hearts of everyday folk
From tandoori flavours to pizzas baked in a clay pot, India has perfected the art of combining Western and Indian tastes
While Domino's and Pizza Hut have the biggest market share, the appeal of street pizzas that go for as low as US$1.30 is undisputed
A reimagined pizza in
India
recently began trending on social media after being served at a local restaurant in Surat, Gujarat state.
Baked in a traditional clay pot, or kulhad, it was filled with corn tomatoes, cheese pizza crust, cottage cheese, three sauces, as well as a special masala and oregano – an invention that perfectly exemplifies the "Indianisation" of an Italian dish that has become a common street food item in the South Asian country.
Indians have been exposed to pizza since Domino's Pizza set up shop in the country in 1995. Pizza Hut arrived soon after in 1996. Domino's built up a following based on a "30 minutes or free" delivery strategy, in a country known for its horrendous traffic jams, while Pizza Hut focused on providing a dining experience.
Slowly pizza went mainstream, becoming a common sight at birthday parties and corporate lunches. By 2019, according to Euromonitor International, India's pizza market had grown to more than US$1.5 billion.
Today, Domino's sells almost 70 per cent of all India's home-delivery pizzas and has a 55 per cent share in the Indian pizza market, with more than 1,300 outlets spread over 280 cities. India is the company's biggest market outside the US, with some 120 million pizzas sold in the South Asian country every year.
Indian flavours
Pizza businesses know the way to win their Indian clientele's hearts and stomachs is to marry Western and Indian tastes.
There's no shortage of pizza recipes that offer a modern take with traditional Indian ingredients, such as Pizza Hut's new Momo Mia Pizza – a fusion of chewy pan pizza with spicy Szechuan sauce and street-style momos in its crust.
Other chains have come up with Indianised menu items such as Tandoori Pizza and Paneer Makhani Pizza, while many restaurants respect regional dietary preferences, tweaking the spiciness levels and offering a plethora of vegetarian options. Some pizza places even offer Jain pizzas in states like Gujarat, without onions, mushrooms or garlic, catering to the austere Jain community.
When pizzas first appeared in India's restaurant scene, the prices remained relatively high as many ingredients were imported. But over the decades, costs have come down, with the price of a small pizza starting at 99 rupees (US$1.30).
It's even cheaper still in the case of street pizzas, which can be found throughout the country, including small towns. They're cooked with ready-made pizza bases, vegetables like capsicum, tomatoes and onions, lots of local cheese and sauces, and baked on a hot griddle called a tava on a low flame until the cheese melts.
"The pizza is loved by Indians for more reasons than one," said Harish Bijoor, a brand strategy expert.
"Indians have adapted to it seamlessly, so much so that the Indianised pizza is part of local cuisine in several of our small towns," he said.
"Just as Chinese food is distinctly Indian in India, the pizza is distinctly Indian in many parts of the country. If you eat a pizza in Ahmedabad, it will differ from the one you will eat in Madurai."
Vikas Kumar, an executive chef of Kolkata cafe Flury's, said many enjoy pizza for its convenience.
"The most important factor in the popularity of pizza is it ... can be eaten right out of the box, without crockery or cutlery," he said, adding that it was vital for the pizza base and sauce to be familiar to Indian taste buds.
Like chapatti and other Indian breads, pizza also easily serves as a blank canvas that can be adapted to local tastes and preferences. Although oregano, olives and jalapenos are used, capsicum and baby corn are also popular toppings in India.
"Pizza is a hit in India as we are very much chapatti land. The pizza base in many ways is the chapatti on the tawa," said Bijoor, the branding specialist. "Add to it toppings of every kind, and we have the desi pizza to play with."
In a country fond of large gatherings, pizza is a handy choice at multi-cuisine restaurants where families and friends can enjoy food together.
"Pizza is popular as it's easy to replicate, adaptable to the Indian palate and also has carbs, proteins, fats and vitamins, making it a wholesome meal. It's something that we as a family can eat together as it's easy to share," said Arti Rao, an engineer based in Pune, and a mother of two.
Increasingly, options such as gluten-free, whole wheat pizzas, and exotic cheeses like gouda, blue cheese and ricotta are becoming popular with the upmarket crowd.
But meanwhile, street pizzas aren't going anywhere.
"I will not be surprised if one day India eats more pizzas than Italy," Bijoor said.