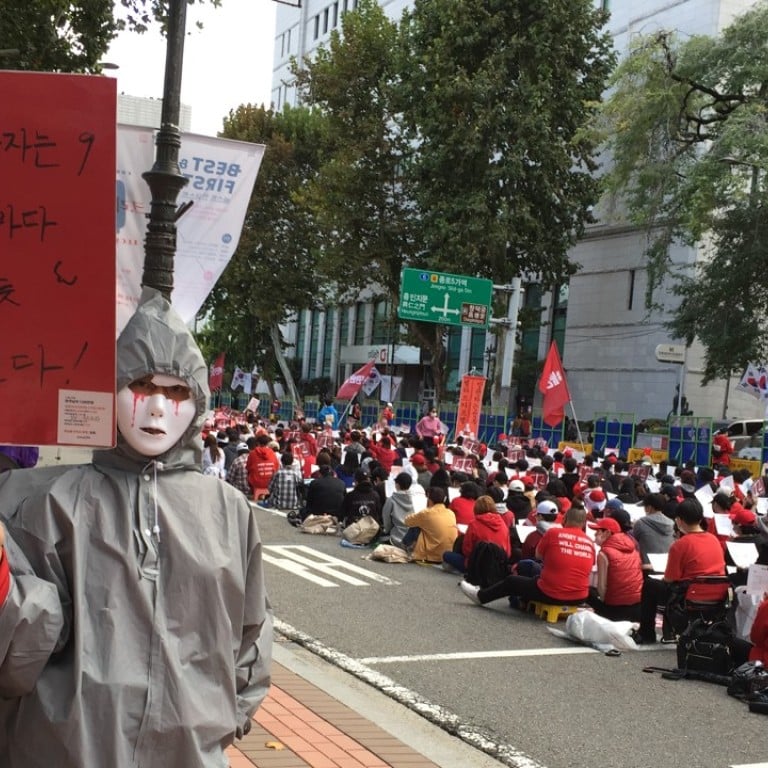 'My life is not your porn': South Korean women fight back against hidden-camera sex crimes
Fury over sexual harassment has fuelled the casting aside of entrenched gender inequality as women speak out against discrimination
The movement has spread so far that even teenagers and junior-school students have begun to find their voices. In recent months, #School_MeToo has been trending on social media, as students have begun to call out sexual harassment and assault in schools – as well as the patriarchal culture evinced by a male teacher at a girls' school in Busan, who was reported by his students for saying women were "asking to be raped" if they went drinking at night.
To the outside observer, such movements may seem like a natural reaction to oppression. But for many women in a nation that ranks 118th out of 144 countries in terms of gender equality according to the World Economic Forum, it signals an unprecedented change in social norms. The inequality South Korean women have faced – and remained mostly silent about – includes having to follow fixed gender norms at home, institutionalised discrimination and sexual harassment at work, and spycam technology that compromises their safety and privacy.
"Patriarchal culture is just so deeply rooted and pervasive that women experience gender discrimination on all levels, starting with the family," said a Seoul woman, who asked not to be named. "For example, some girls weren't allowed to study further because they had to earn money to support their younger brothers. These are the horror stories you hear from [older women]."
Gender equality divides the generations in South Korea. "My mom went to medical school where they had a quota for women," the woman said. "She was one of the top students, but when she walked up to podium to receive her scholarship, another woman in the audience yelled 'B***h, you stole a spot from my son.'"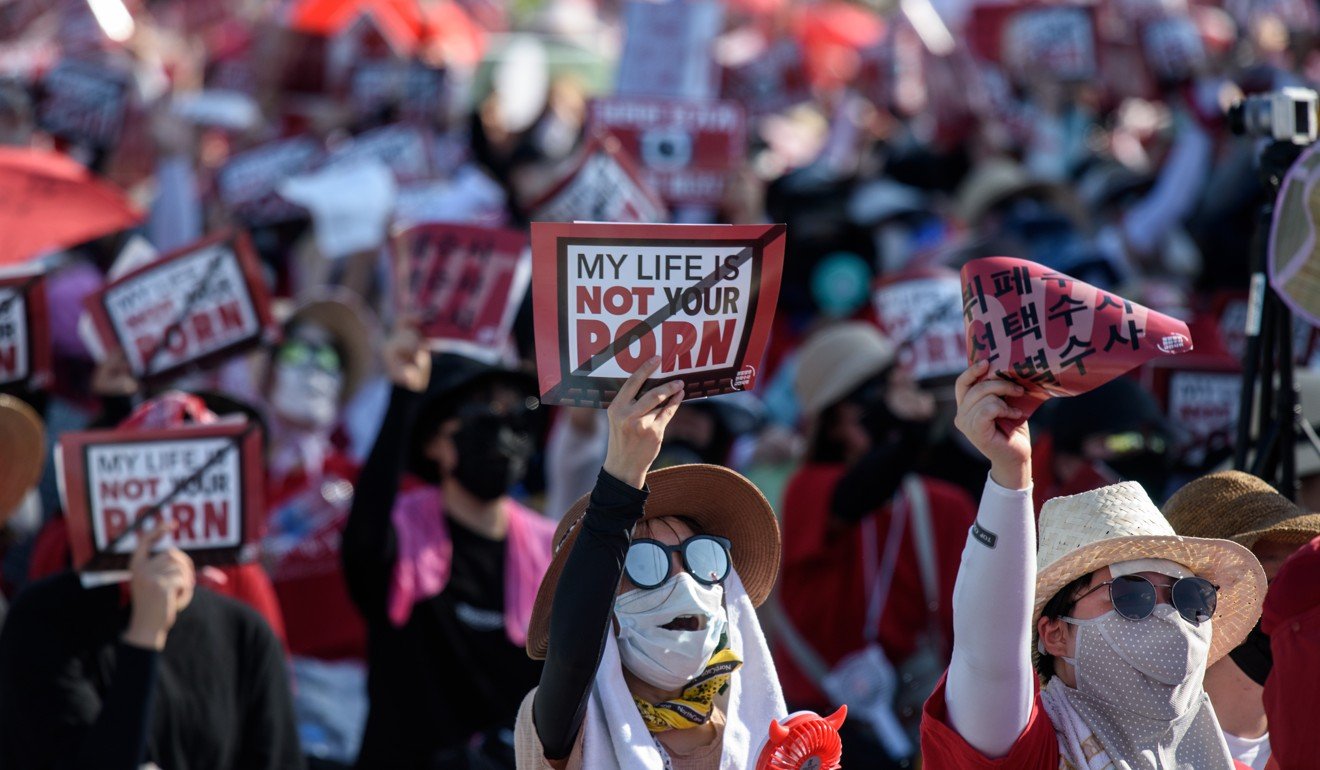 Now, in South Korea's highly wired society, feminism has taken root more extensively among younger women, perhaps even more so than in neighbouring nations such as Japan and China. And they are not afraid to speak up.
Slogans such as "girls don't need a prince"
and "girls can do anything" are being repeated and shared online.
Unfortunately, the same technological sophistication and online communities are still being used by male detractors of feminism and gender equality to continue objectifying and vilifying women.
SOMEONE'S ALWAYS WATCHING
Kim (not her real name) spent months convincing her parents to let her move out of their flat and into her own place in Seoul. In South Korea, adult children generally live with their families until marriage, and while more young women are leading independent lifestyles outside the family home these days, it's still somewhat uncommon for them to live alone. Kim, a recent graduate in her 20s, wanted a space of her own as she began working for a local company.
"I really fought my way out of my parents place because they had the mindset [of] conventional Korean parents … After a year of [talking], I finally moved out in May," she said.
Kim moved into a unit on the high floor of an apartment complex in a busy, well-lit area. It had a sweeping, panoramic view of the city, and not many other tall buildings nearby. "I made sure it was a safe and secure place. A lot of friends warned me against finding a place lower than five storeys because you could be targeted. I deliberately chose the 22nd floor," she said.
Despite her precautions, it was only a few months into this new life before Kim discovered she was secretly being filmed while in the privacy of her own home.
Late one night, a policeman showed up at her front door with a high-end camera in hand. He informed Kim a man had been caught filming her from the rooftop of a six-floor building from a distance of over 300 metres away, and wanted to check if the images were of her.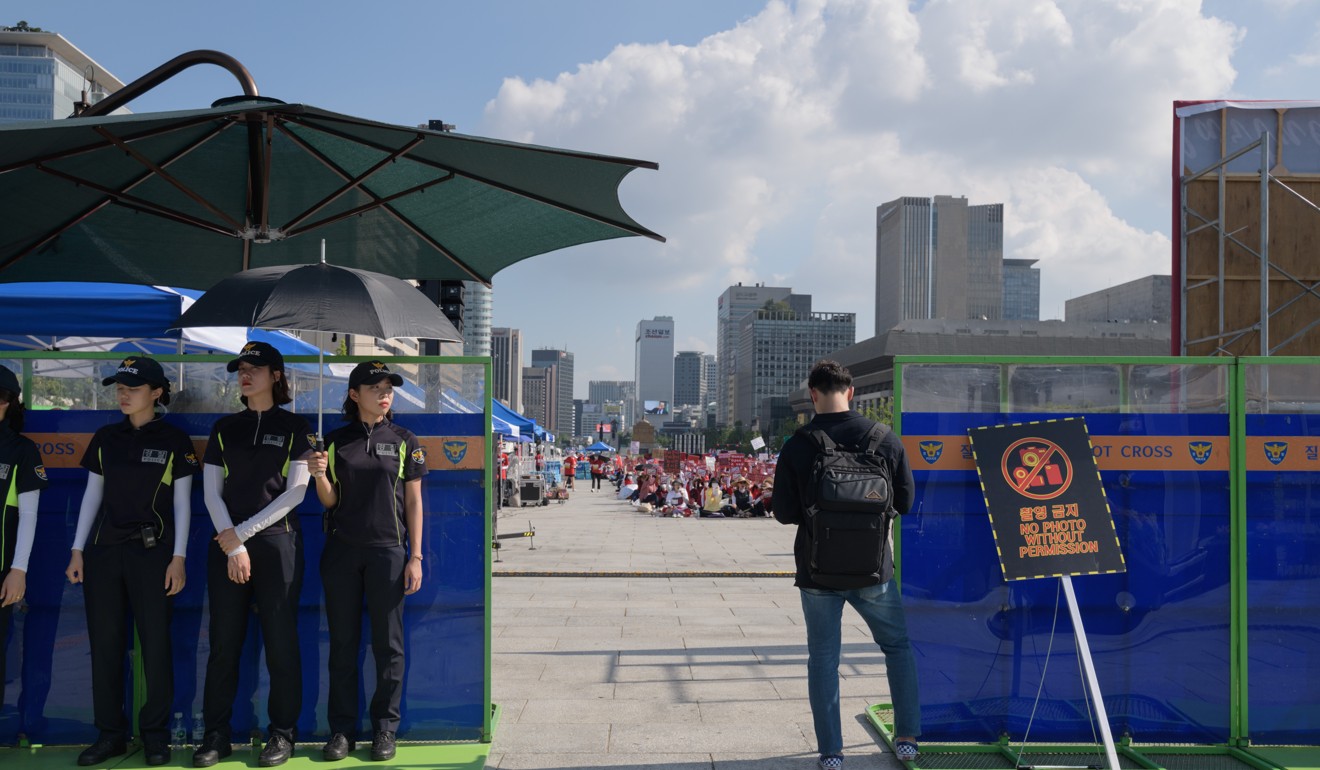 Kim was shocked as he scrolled through shot after shot of her naked, walking through her flat earlier that evening. "I was speechless to be honest, the effect hadn't registered," she said.
The next day, she visited the police station to follow up on pressing charges – only to discover the suspect had been let go. "Because he was caught red-handed, I was certain he would be behind bars by then," Kim said. The policemen told her they couldn't release any more information about the case or the individual: "'Do you know this man? Why are you so scared?' they asked me. I told them it was because he knew what I looked like."
A lot of men, including those who work in law enforcement, don't grasp the seriousness of having your privacy violated in such a way, Kim said. "'The perpetrator did it by chance, out of curiosity,' they explained to me … The way the policemen described the incident almost gaslighted me into thinking it wasn't a serious problem."
When it was clear nothing more would be done about the case until the formal investigation concluded, a frustrated Kim created the now-viral Twitter account "mylifeisntyourporn" and has since become one of the most vocal critics of the hidden-camera issue.
"Now, the investigation is coming to an end, it will be in the hands of the judge and prosecutors and I'm afraid they'll react the same way as the policemen and let him off with a fine," she said.
"Meanwhile, I've had to turn my life around, I've had to move out, I can't go back to the place. It's damaged my life in all the ways I can think of."
AN EPIDEMIC OF PRIVACY INVASIONS

There are over 8 million publicly and privately operated surveillance cameras being used throughout South Korea, according to local reports. People are recorded nearly everywhere they go – inside shops, on street corners, restaurants, or subway platforms.
While this kind of electronic panopticism gives rise to a higher level of public safety, the same technology – often provided by the same shops and manufacturers – is being used to target women such as Kim.
In Korean, the term molka is a portmanteau of the word mollae, meaning "secret", and the English word "camera". It refers to the act of being secretly recorded by mobile phones, spy cameras, closed-circuit televisions and other technology. Since 2017, more than 6,500 cases of hidden-camera crimes have been reported, according to The Telegraph.
In May, South Korea's first anti-molka movement swept the nation, as groups of women began to protest against the epidemic of hidden cameras secretly filming them in washrooms, subways, classrooms and hotel rooms.
"Perhaps you have seen the strange holes on the walls of subway station toilet stalls. Random holes where there should actually be nothing," said a Korean women's studies expert at Harvard University, who asked not to be named to protect her from the same rampant discrimination that sparked her studies. While hidden cameras can be removed from the physical world, she adds, their footage will live forever online.
PEEPING FOR PROFIT
South Korea has laws against hidden cameras under sex-crime legislation, but experts say they are loosely defined and punishment is rarely enforced.
Last year, a man was acquitted of charges of illegally filming a woman on the bus because her clothing was not "revealing" enough – images captured by hidden cameras must be deemed as causing "sexual stimulus or shame" before the perpetrator can be prosecuted.
Many women – including Sammy Lee, a human resources worker in her 30s – are frustrated so little is being done. "Women are realising there are a lot of hidden cameras around us, we don't feel safe even when we have to use the bathroom," Lee said. "It's crazy, because we are just doing our thing, and they sell [the footage] like they're sex videos."
Hidden-camera footage often makes its way online to peer-to-peer sharing networks and other websites. On these sites, where over 1,000 new hidden-camera videos can be uploaded per day, videos can be bought for 100 won each, according to a Korea Times report. It's a booming industry that earns these platforms tens of millions of US dollars per year.
One example was Sora.net, a now-defunct website whose founders fled South Korea as fugitives before being arrested in 2016. The notorious platform made over 10 billion won (US$8.5 million) over 11 years of providing pornography – which is illegal in South Korea – as well as hidden-camera footage to millions of users.
From shots inside women's showers at public bathhouses to upskirt shots and videos taken from inside toilet bowls, it's surprising and extremely distressing to see how large the industry is, the Korean gender studies expert at Harvard said.
"Hidden-camera footage does not only include toilets or subway stations, or creepy men taking photos of you, but also love hotels – cameras hidden by boyfriends and husbands, hotel owners," she said. "Also lots of sex tapes that were made by couples with or without consent."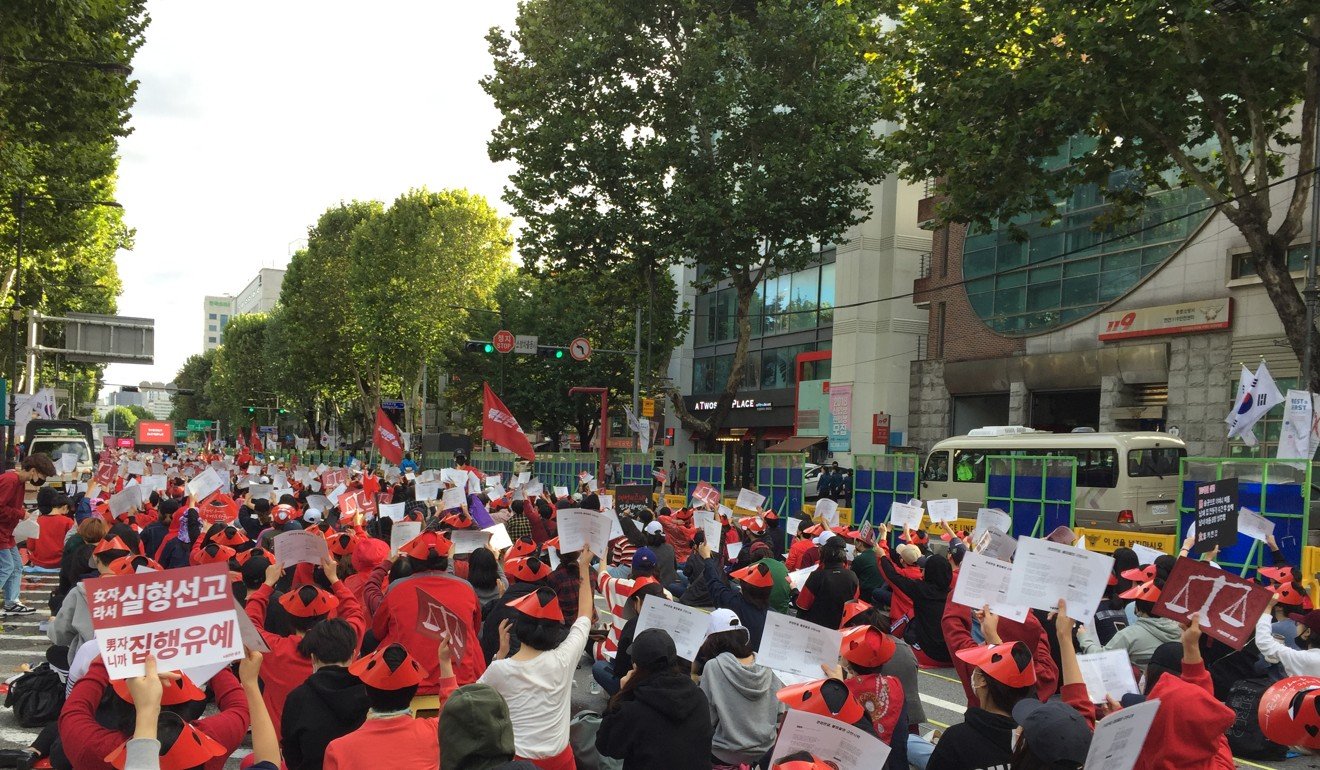 Revenge porn is a serious issue, she adds. "Let's say a sex tape is made by an ex-boyfriend who uploaded it onto these sites. They edit this video into a more 'commercial' film and put it up on bigger websites, now this tape – often made without consent of the woman in it – is the intellectual property of these websites."
This month, South Korean K-pop star Goo Hara became the latest celebrity to be embroiled in a revenge-porn scandal when footage surfaced of her kneeling in front of an ex-boyfriend, allegedly begging him not to release their sex tape. Goo is currently being investigated for assault charges filed against her by the same former boyfriend.
While Goo's case has been spotlighted due to her high profile, regular women undergoing their own hidden-camera or revenge-porn scandals have to grapple with being the recipients of much unwanted attention.
After the videos are released, the identities of many of the women are also shared – private information such as their names, ages, where they work and what they do. They are then slut-shamed and ambushed via social media. "There have been a lot of women who committed suicide over this, although local news [media] have not reported much on it," the Harvard academic said.
In a sordid development, such details often become part of marketing ploys for the content. "Some of these websites jokingly advertise: this woman committed suicide after the release of this video, watch her posthumous masterpiece," she said.
Those attending women-only anti-molka protests are often friends and families of those affected, the academic adds. "At the last protest, one of the women held a sign that said 'My friend committed suicide five years ago, why is she still alive in your hard drive?'"
AFRAID NO MORE
While the anti-molka protests were not directly organised in conjunction with #MeToo, they are nonetheless related through a series of movements dating back to South Korea's first major anti-misogyny backlash in 2016.
At the time, thousands of women staged a protest soon after the murder of a young woman at Gangnam Station who was killed by a male stranger because of his self-confessed hatred of women.
Each anti-molka protest has been larger than the last. At the fifth event held in early October, organisers claim 60,000 women attended. Called "Courage To Be Uncomfortable", the event focused on creating dialogue around issues of sexual violence, sexism and misogyny – in spite of the "discomfort" it might cause within conservative and traditional Korean society.
Women's groups hope subsequent protests will pressure the government to reform sex-crime legislation and regulate the sales of hidden cameras.
The anger has been building, said mylifeisnotyourporn creator Kim. "Since the 2016 Gangnam murder, feminism gained momentum among young Korean women. [Culturally,] there was already rich soil for the movement to grow.
"What feminism does is explain that these crimes are not your fault. It's not your fault what you wore, or that you were there at the time," she said.
"Women are being empowered, they are not afraid or ashamed any more." ■