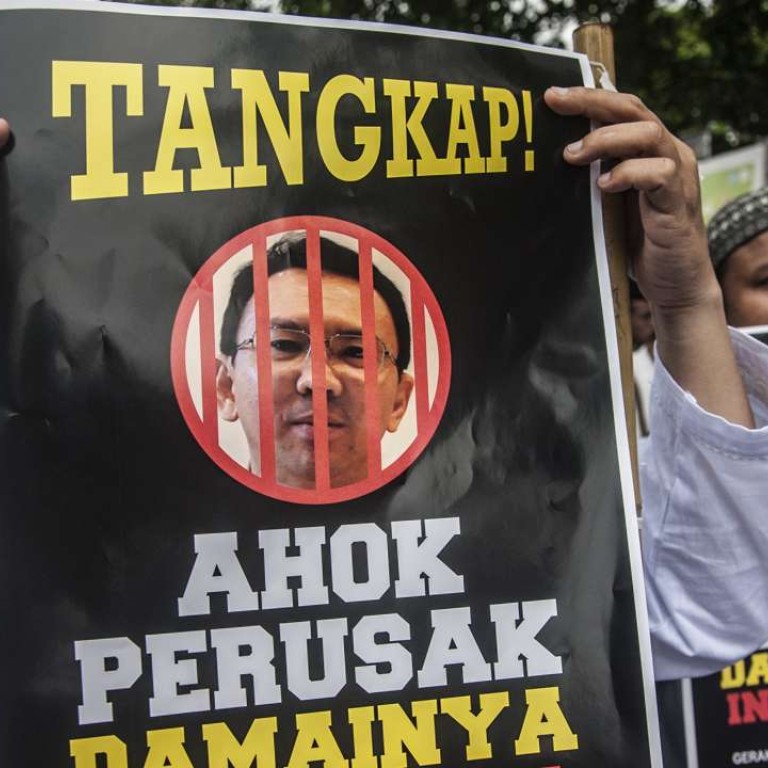 Opinion
Asian Angle
by John McBeth
Asian Angle
by John McBeth
Why ethnic Chinese leader in Indonesia is sitting on a tinder box of religion and politics
Jakarta Governor Basuki Purnama has given Islamic extremists the opportunity they were looking for
Religion and politics appear to be developing into an explosive mix as Indonesia once again finds itself grappling with an overarching issue where conservative interpretations of Islamic teachings are at variance with the country's constitutional dictates.
When Jakarta Governor Basuki Purnama told voters they shouldn't allow themselves to be fooled by the common interpretation of a Koranic verse instructing them not to vote for non-Muslim leaders, he gave Islamic extremists the opportunity they were looking for.
As an ethnically Chinese Christian who, in fact, has attended Islamic schools in his native Sumatran province of Bangka-Belitung, he is now facing a possible charge of blasphemy which could prevent him seeking a second term in next February's gubernatorial election.
He should have known better, but a careless mistake does not explain the strength of the outcry, which has pulled together not only the violent Islamic Defenders Front (FPI) and other radical groups, but also powerful political interests keen to shut the door on the man popularly known as "Ahok".
Backed by ex-president Megawati Sukarnoputri's Indonesian Democratic Party of Struggle (PDI-P), Purnama still tops the polls ahead of recently replaced education minister Anies Baswedan and Agus Yudhoyono, the elder son of former president Susilo Bambang Yudhoyono.
Both of Purnama's rivals were last-minute entrants in the field, with Baswedan the choice of the Sharia-based Prosperous Justice Party (PKS) and former presidential candidate Prabowo Subianto's Gerindra party.
Now that his younger brother, Edhie Baskoro, has failed to measure up as a politician, Agus Yudhoyono has been plucked from a promising military career to represent his father's Democratic Party in what appears to be an effort to create a political dynasty – whether he wins the governorship or not.
WATCH: Hardline Muslims protest against Jakarta governor
Ever since Purnama was elevated from the vice-governor position when incumbent Joko Widodo became Indonesian president in late 2014, hardliners have chafed over having a so-called infidel as manager of the teeming Indonesian capital, even if he has been highly effective.
It remains to be seen whether voters pay any attention to the backlash that brought thousands of white-robed protestors onto the streets on Monday. In 2012, Widodo and Purnama won by a landslide, mostly because the electorate was not impressed by primordial efforts to disqualify them.
Indonesian Muslims are not as religiously tolerant as they are perceived to be. But only 11 to 15 per cent have voted for Sharia-based parties in the four national elections held since Indonesia embarked on the road to democracy in 1998.
That does not extend, however, to the country's top positions. It will be many more years, if ever, before a non-Muslim becomes president of Indonesia.
Similarly, Christian officers can never look forward to becoming head of the armed forces or the national police, no matter how competent they are.
President Yudhoyono has been widely criticised for not standing up to extremist groups. Indeed, back in 2013, a Human Rights Watch report described religious intolerance as being "out of control" in Indonesia and said official responsibility for the state's failure to adequately confront extremist groups went "to the very top of Indonesia's government".
Now Widodo and other political leaders appear to be following the same weak policy, allowing the same extremists to seize the momentum and incite hatred against Purnama, who apologised five days after his October 5 remark.
That did little to placate the Indonesian Ulema Council, (MUI), a non-government body notorious during the Yudhoyono presidency for issuing conservative edicts against secularism, pluralism and liberalism among other controversial rulings.
In determining that Purnama had committed blasphemy, the council held that the Koranic verse Purnama quoted does explicitly forbid non-Muslims from becoming leaders in a country where Muslims constitute an 88 per cent majority.
But the difficulty here is that such a position runs counter to the 1945 constitution which guarantees freedom of religion, something Yudhoyono himself was guilty of not defending and, more importantly, underlines Indonesia's status as secular state.
The police have been slow in following up the blasphemy allegations. Although it would be rash to say it was a factor, national police chief Tito Karnavian is the former head of the elite Detachment 88 counterterrorism unit which has been responsible for jailing thousands of militants since it was formed in the aftermath of the devastating 2002 Bali bombing.
WATCH: Bali bombing 10th anniversary
Karnavian and other counterterrorism officers have often criticised the fact that not enough has been done to prevent the sort of inflammatory rhetoric from extremist clerics that serves as the ideological underpinnings of terrorism and other violent actions.
Widodo and other political leaders have avoided any criticism of the hardliners, but as terrorism expert Sidney Jones pointed out in a recent column, it is precisely those same elements that successive governments have repeatedly failed to confront.
"This is why extremism and intolerance are growing in Indonesia," she wrote, "because no one dares draw a line and recognise religiously inspired incitement for what it is, let alone condemn it or take measures to stop it."
John McBeth is a Jakarta-based correspondent