Seven years ago, way back in May 2010, the South China Morning Post published an analysis of the Hong Kong government's claims for its planned cruise ship terminal on the site of the old airport at Kai Tak. At a budgeted cost of HK$8.156 billion, the government claimed that when up and running, the terminal would generate economic benefits for Hong Kong of between HK$1.5 billion and HK$2.6 billion a year.
The Post's analysis argued that the projected benefits were grossly over-inflated. It concluded: "The government could simply dump HK$8.156 billion of public money straight into the harbour. The economic benefits would be much the same."
This admittedly facetious conclusion drew an irate response from the Hong Kong government's Tourism Commission, which insisted the government's investment would succeed in creating "a leading regional cruise hub".
"Industries such as the retail sector, food and beverage, travel agents and hotels would benefit," wrote the assistant commissioner, "with up to 8,900 jobs created per year."
Undeterred, the Post revisited the subject in 2013, a few months before the terminal's opening, and again concluded that the government's figures had overestimated the economic benefit. Instead of contributing HK$1 billion in its first year of operation, the terminal's actual benefits were more likely to be closer to HK$40 million.
So it was interesting to see this month a report from the Audit Commission on the performance of the Kai Tak terminal in its first three and a half years of operation.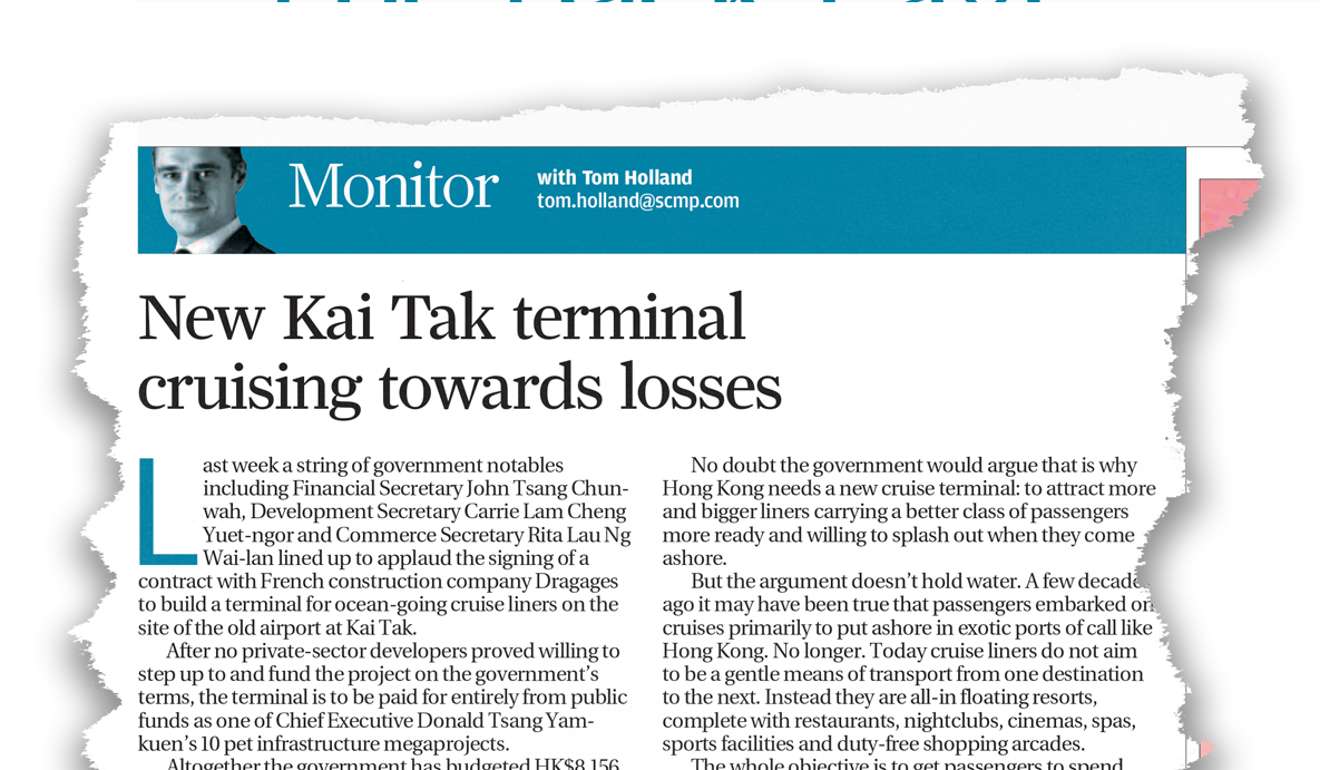 The first thing to note is that ships berthed at the new terminal just 95 times last year. That's even fewer calls than at the old terminal in Tsim Sha Tsui, which boasted 96 visits. As a result, there were just 105 days last year when there was a ship alongside either one of Kai Tak's two berths. In other words, in effect, the new terminal sat idle for nine months last year.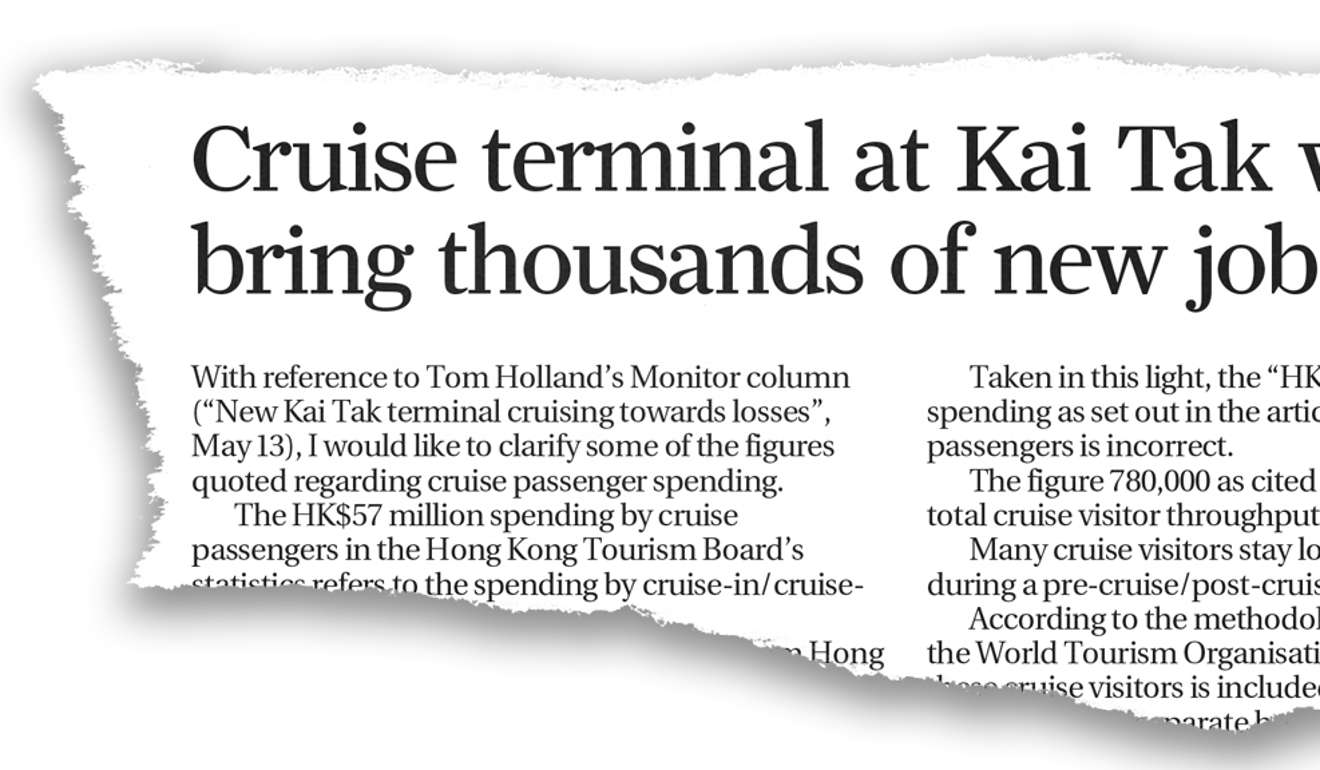 As a result, it seems probable that with adept management, the old terminal in Tsim Sha Tsui could have accommodated all Hong Kong's cruise ship traffic last year. The new terminal was redundant.
But surely Hong Kong needs the new berths to seize what our assistant tourism commissioner called its "premier position" in the Asian cruise ship market? Alas, it seems that Hong Kong's charms as a cruise destination are rather less compelling than the government believes. The 191 port visits that Hong Kong attracted last year compare weakly to the 391 calls made at Singapore, and the 437 made at Shanghai.
Those 191 calls are fewer than projected by the government even in its lowest growth scenario, and a third fewer than under its high growth scenario. That's bad enough, but it is in their projections of the economic benefits delivered by cruise ship traffic that the government forecasters really fall down.­­
In 2015, the average spending by passengers enjoying a run ashore before their ships sailed on again was put at just short of HK$1,600, compared with the government's forecast of more than HK$1,700. Worse, the average spending by passengers either starting or finishing their voyages here was less than HK$3,000, compared with anywhere between HK$7,000 and HK$12,300 in the government's forecasts.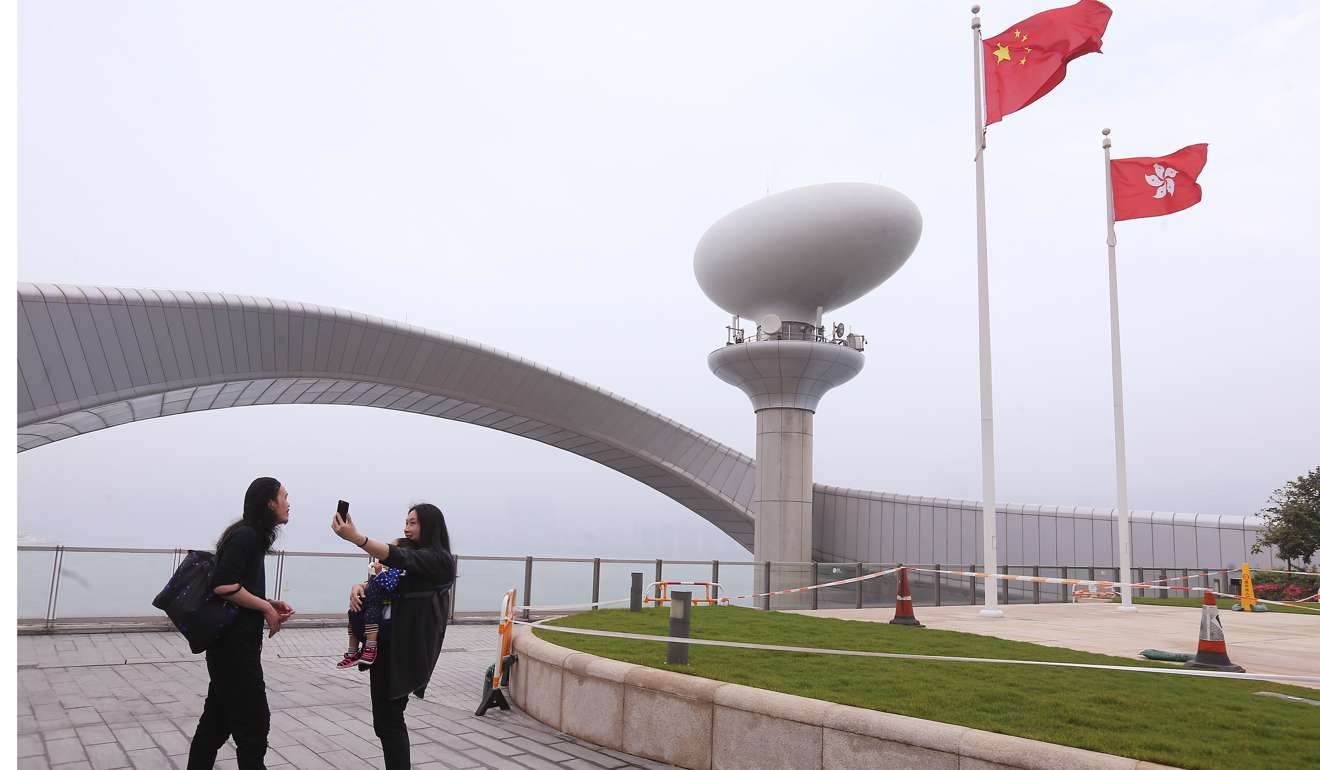 As a result, applying the government's own breakdown of passenger types and numbers, the typical cruise ship passenger visiting Hong Kong spends about HK$2,650 in the city, less than half the HK$7,000 forecast in the government's projections.
At first glance, that doesn't look too bad. Given total passenger numbers of 677,000, that equates to spending of HK$1.8 billion, well above the government's lower estimate for the economic benefits to the city of cruise traffic.
Except things don't work like that. While cruise ship passengers might like to flash their cash a little when ashore, much of their spending goes on goods that have been imported into Hong Kong. Typically only around 20 per cent of the value of that spending benefits the local economy.
Of course, they also go for dim sum, and possibly for a coach tour. But cruise operators typically charge local restaurants and tour guides a 30 per cent commission for steering business their way.
As a result, for every HK$1 spent by visiting cruise ship passengers, only around 45 HK cents actually goes to the local economy. Moreover the multiplier effect of the indirect benefits of cruise ship passenger spending is modest. Hawaii reckons it is only around 1.3 times.
That means the HK$1.8 billion of cruise passenger spending in Hong Kong added only around HK$1 billion to the city's economy. And of course, the passengers responsible for half of that value added disembarked at Tsim Sha Tsui rather than Kai Tak, so the economic benefits of the new terminal amounted to just HK$500 million last year – just a third of the government's lower estimate.
None of this should come as a surprise to anyone. The government was warned before it ever broke ground on the Kai Tak terminal that its forecasts of the likely benefits were overblown. Nevertheless, the government insists Kai Tak is a worthwhile investment and that it is "continuing to strengthen Hong Kong's competitive edge through regular reviews of its strategic directions and introducing new initiatives".
In other words, its response to the woeful – though entirely predictable – underperformance of Kai Tak is to throw yet more public money at the problem. Now who was it that said that the definition of insanity was doing the same thing over and over again and expecting different results? ■