In China, the meteoric rise and fall of Donald Trump's former confidant and chief strategist Steve Bannon in a span of just 17 months is more than just a high-profile reality show or a study of the revolving door that the US president's inner circle has become.
Trump said in a recent interview that he felt "betrayed" by Bannon, accusing him of being a self-promoter who inflated his importance in the US election – bitter words that have found an echo in the corridors of power in Beijing and among some Chinese analysts.
Soon after Bannon was ousted from the White House in August, he was paid a handsome fee to speak at an investor conference in Hong Kong, hosted by CLSA, a brokerage owned by the Citic Group, a leading Chinese investment company, and later invited to Beijing where he reportedly talked with Wang Qishan, one of China's most powerful leaders, in a secret meeting for 90 minutes.
So for a brief period, there had been speculation that Bannon was trying to manoeuvre himself to become a point man to help steer the complex Sino-US relations given his closeness to Trump and his professed interest in China.
When Bannon was back in the States, however, he met the fugitive Chinese tycoon Guo Wengui, who had lobbed wild accusations of corruption and impropriety against senior Chinese officials including Wang himself.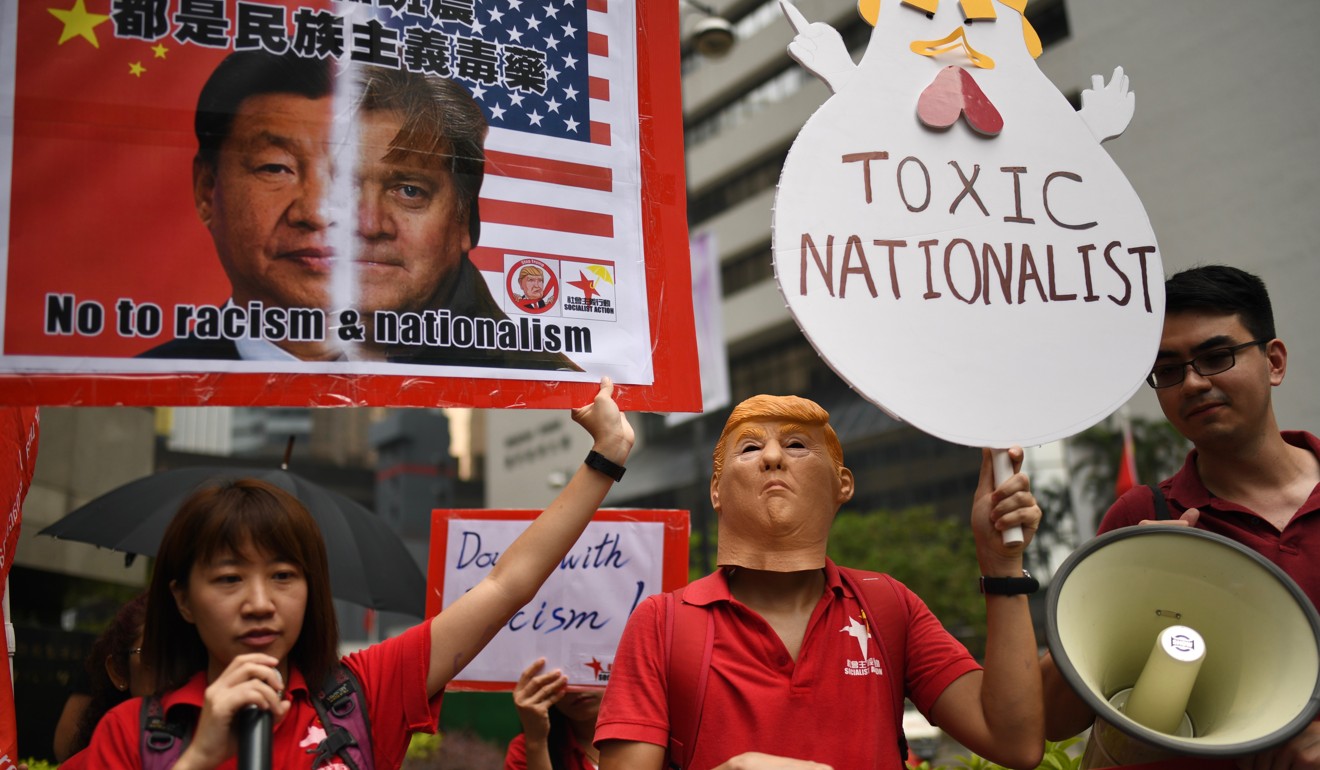 It has since transpired that Bannon was retained by Guo, who is on China's most wanted list and the subject of an Interpol red notice that Beijing requested in April.
Bannon's brazen attempts to play both sides have left more than a bad taste with Chinese officials who, like their counterparts in other parts of the world, have gone to great lengths to gain a better understanding of Trump's unconventional presidency.
Initially, Bannon looked like the right man to gain an insider's perspective. Once described as "the best man in politics" by Trump himself, he was the White House chief strategist and had the ear of the president, and was even called the second most powerful man in Washington.
Even his ejection from the White House in August was billed as a strategic move. His return to the far-right Breitbart News website was described as a chance for Bannon to better advance Trump's agenda. Trump publicly thanked Bannon and called him a great man.
The Chinese embassy in Washington learned from Trump administration officials that Bannon still had the confidence of the president and then made relevant recommendations to Beijing. So when CLSA invited Bannon to be a keynote speaker at its conference in Hong Kong in September, it seemed like a good opportunity to fly him to Beijing. Bannon was paid US$300,000 for his speech in Hong Kong, believed to be on the top-end of speaking fees for political figures of Bannon's standing.
Indeed, in Hong Kong, Bannon sounded less combative and subdued about the perceived threat from China, telling the Post in an interview that Beijing and Washington could avoid a trade war and heaping praise on President Xi Jinping. His tone in Hong Kong made a sharp departure from his long-held views on being tough on China. Just before arriving in Hong Kong, he told the US news programme 60 Minutes that Beijing was already at "economic war" with Washington and it was time for the US to respond in kind.
Bannon's trip to Beijing was not announced. Besides Wang, he also met several other Chinese officials and leading scholars on Sino-US relations during his brief stay. Later in the month the Financial Times broke the news of Bannon's secret meeting with Wang in which both reportedly talked about economic nationalism and populist movements, the subject of his speech in Hong Kong. The meeting was arranged through an intermediary, a former senior banker with Goldman Sachs where Bannon also worked.
That banker has developed a close relationship with Wang and other senior Chinese leaders.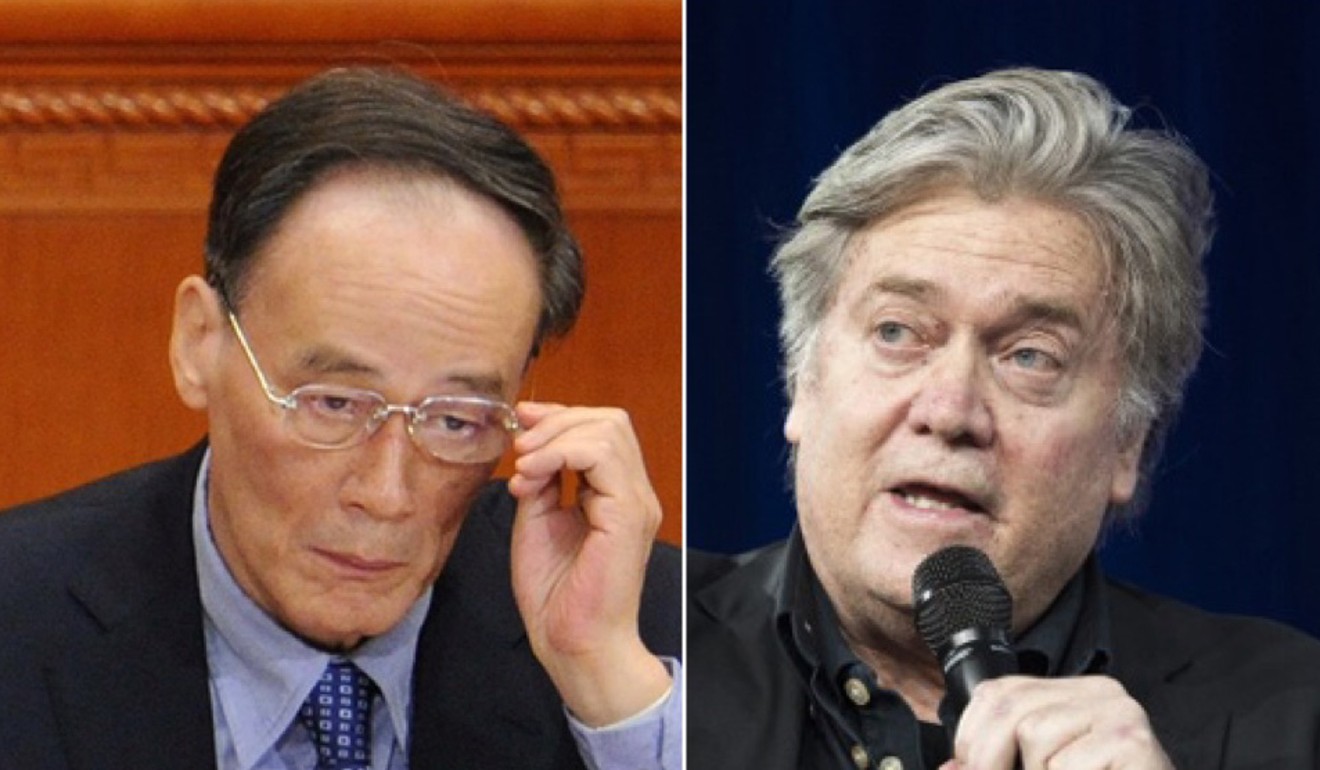 Wang's meeting with Bannon was significant at the time because it coincided with intense speculation on whether Wang would continue to stay on the Communist Party's Politburo Standing Committee after the five-yearly congress in October to discuss and approve key leadership reshuffles for Xi's second term. Then, Wang, as the head of China's anti-corruption watchdog, the Central Commission of Discipline Inspection, reached the informal retirement age of 67. He was 69.
As it emerged later, Wang stepped down from the Politburo Standing Committee after the 19th congress in October, contrary to widespread speculation.
As the Post exclusively reported, Wang, one of Xi's closest allies, looks set to become vice-president in March and has been given the rare privilege of continuing to attend the Politburo Standing Committee meetings as a non-voting member.
In fact, Wang's secret meeting with Bannon, along with his public meeting with the visiting Singaporean Prime Minister Lee Hsien Loong also in September, was the earliest subtle sign that Xi would want Wang to play a leadership role in shaping China's foreign policy in his second term.
In meetings with Chinese analysts in Beijing, Bannon gave the distinct impression he still had access to Trump's inner circle and said he would help Trump win a second term.
Just three weeks after Bannon's trip to Beijing, Guo, the fugitive billionaire, posted photos on Twitter of himself meeting Bannon twice in less than a week. Guo did not say what they talked about but said Bannon agreed to have the images posted.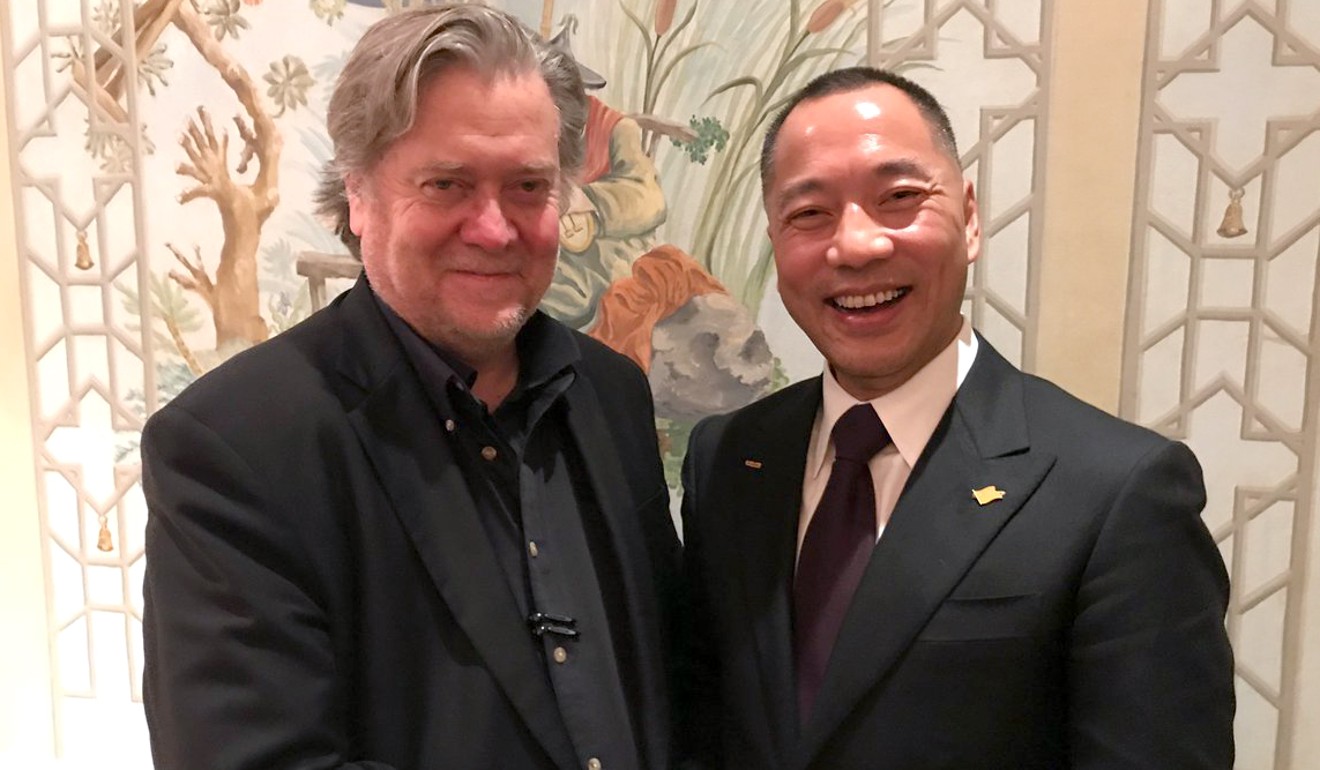 The posting was an affront to Chinese officials and a sort of coup for Guo, who is wanted in China on suspicion of crimes including bribery, fraud and rape.
At that time, Guo had made unsubstantiated allegations of corruption against Wang and other senior Chinese leaders in the run up to the party's 19th congress. Since then, it has emerged that Guo and Bannon met frequently, more than the two meetings publicly acknowledged by Guo. He told The New York Times this month that he had cultivated a special relationship with Bannon but the two had no financial relationship. But the fact that Bannon was willing to offend the Chinese government, Wang in particular, by openly associating himself with one of China's most wanted fugitives, could signal that their relationship is much deeper than publicly acknowledged.
According to a Washington Times report, US Attorney General Jeff Sessions threatened to resign in the spring last year if the Trump administration deported Guo to China at the request of the Chinese government. Bannon was also understood to have helped block the request. Beijing was believed to have offered generous terms to Washington in exchange for releasing Guo into Chinese custody.
While Trump has not ruled out a reconciliation with Bannon, Bannon's break with China looks permanent. ■
Wang Xiangwei is the former editor-in-chief of the South China Morning Post. He is now based in Beijing as an editorial adviser to the paper