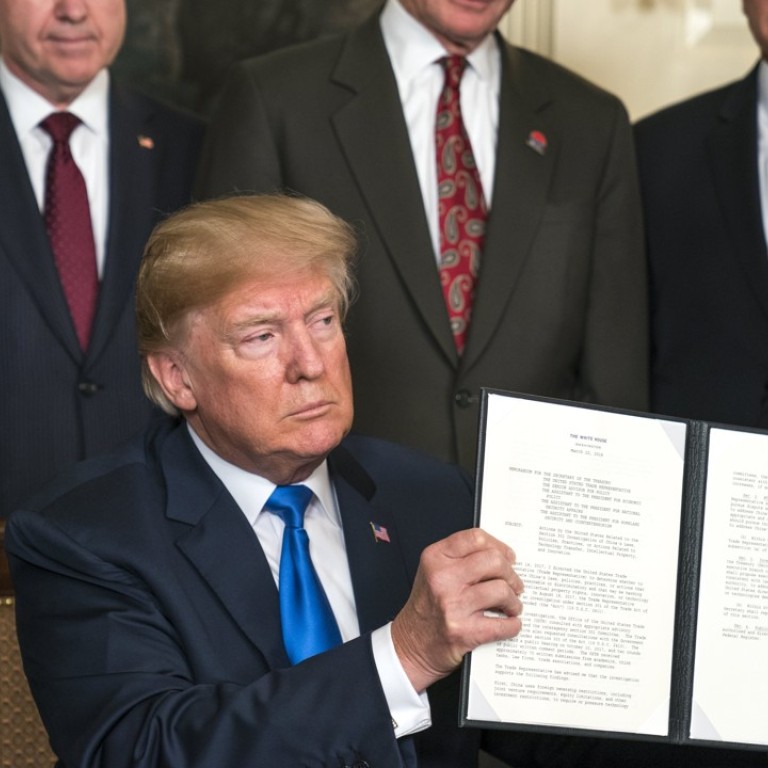 Opinion
Asian Angle
by Alex Capri
Asian Angle
by Alex Capri
Beijing must change its ways or US trade war looks inevitable
If China refuses to alter some of its practices, such as its pursuit of foreign intellectual property, the scenario is likely to play out in the worst way possible and cripple global markets
As China and the United States appear to be on a collision course towards a trade war, Beijing's dogged pursuit of intellectual property may come back to bite it.
Under section 301 of the US Trade Act of 1974, US President
Donald Trump
has the authority to take "all appropriate action" if a foreign country's trading practices are deemed to be unfair or restrictive to US Commerce.
Last week, the Office of the US Trade Representative (USTR) announced US$60 billion of new tariffs on Chinese imports. By targeting China's technology sector and areas such as AI, telecoms and autonomous vehicles – priority sectors in China's "Made in China 2025" master plan – Washington is hitting Beijing where it hurts.
The White House has labelled Beijing an "economic aggressor," a non-market economy, and a duplicitous actor that uses coercion to obtain Western technology and IP. Beijing's long-running subsidies to state-owned enterprises and its systematic protection of Chinese firms were also cited.
But, beyond Washington, a much broader backlash against China Inc's practices has been brewing among the G20 countries. This time, it's less likely that Beijing will be able to drive a wedge between the US and its European allies – despite the fact that Trump is a hugely unpopular US president on the world stage.
Two key questions have emerged. First, is the Communist Party finally ready to negotiate with Washington and change its fundamental trade practices? Second, can a marginalised WTO play a positive role in sorting out China's trade behaviour or does this ultimately come down to bilateral deal-making?
The pursuit of foreign IP has been at the core of China's strategy to become a global superpower.
For decades, Chinese law has required foreign companies to form joint ventures with local Chinese firms, and, in the process, to transfer vital technology and know-how to their Chinese business partners.
Estimating the monetary value of this is difficult, but, a recent report by The New York Times put US IP losses at about US$600 billion, per year, with China accounting for the majority of cases.
Over the course of China's meteoric economic rise, this adds up to trillions of dollars – by far the largest transfer of wealth in history. The uncomfortable truth for international firms, therefore, is that their long-term business prospects in China are tenuous. At any time, a joint-venture partner could walk away with their most prized IP or simply turn it over to government operatives.
China's massive domestic market continues to have a powerful allure. Despite the dangers of IP loss, foreign firms are drawn into this Faustian bargain – but for how much longer?
Popular opinion says that punitive trade measures taken against China will result in retaliation and even a full-blown trade war. China has already announced retaliatory tariffs against US$3 billion worth of US products.
But Section 301 has a clause that allows the US to "consult" with a country that is subject to a complaint before punitive measures are taken. In the coming weeks, the USTR is scheduled to publish some 1,300 lines of new tariffs against Chinese products.
Trump's trade team will try to leverage Section 301 to gain whatever bargaining power it can from Beijing. The recent exemptions on US steel and aluminium tariffs may provide a preview of things to come. Since the roll-out of these other tariffs, Washington has exempted almost all its major trading partners, including Canada, the EU, South Korea and Mexico.
Backroom negotiations are already underway. Now may be Beijing's best opportunity to avoid a nasty trade war.
In a press conference to end the
National People's Congress
, Chinese Premier Li Keqiang said last week that Beijing was amenable to discussing ending its long-running technology transfer requirements, as well as further opening up of markets in the financial and tech sectors.
Weeks before Li Keqiang's remarks, Liu He, the Chief Economic Adviser to Chinese President Xi Jinping, spent four days in Washington behind closed doors discussing the Section 301 investigation.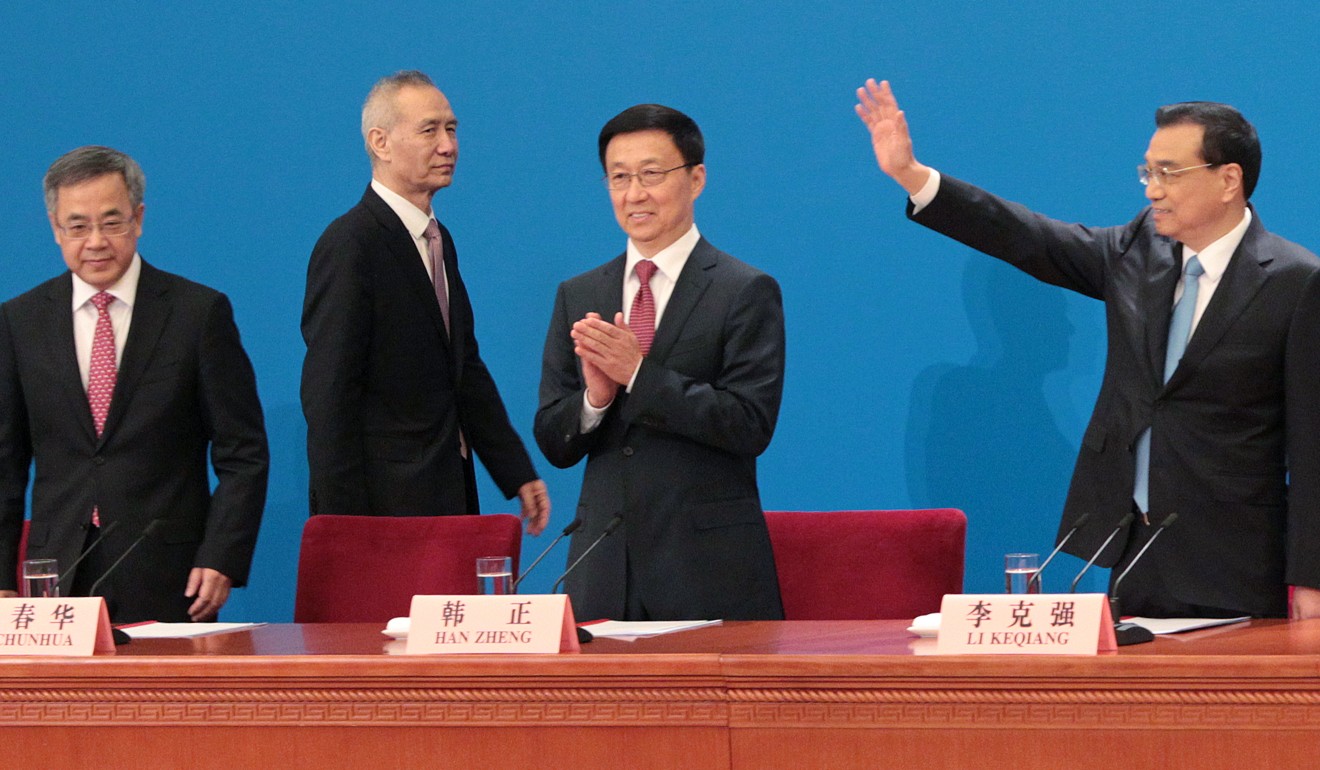 But if Washington and Beijing end up working out any substantive "deals" on fair trade practices, Beijing's concessions will have to go beyond cosmetic or symbolic gestures.
Take, for example, Beijing's recent "opening up" of the credit rating and payments processing sectors of the Chinese market to American firms. These niches are already dominated by Chinese companies or have been rendered virtually obsolete by disruptions in the digital economy. Payments processing in China is now done overwhelmingly through the digital platforms of Alipay, WePay, Tenpay, which are part of the state-backed oligopoly of e-commerce giants Alibaba, WeChat and Tencent.
THE ROLE OF THE WTO
Beijing has said any complaint should be taken to and resolved through the channels of the World Trade Organisation. But the Trump administration is scornful of this approach, accusing the WTO of being soft on China and ineffective as an institution.
This does not bode well for the WTO as Section 301 and Trump's "America First" agenda threaten to further marginalise its relevance.
What's clear is that Washington and Beijing are going to have to work the biggest problems out bi-laterally, and, whenever possible, through WTO dispute mechanisms and other multilateral organisations.
If Beijing refuses to make meaningful changes to its long-running business model, then a trade war will likely follow. This scenario would play out in the worst way, with tit-for-tat retaliations involving tariff hikes, blocked business ventures and even sanctions.
Ultimately, markets, global value chains and key trading relationships could break down. ■
Alex Capri is Visiting Senior Fellow, Department of Analytics & Operations, at the National University of Singapore Business School