Philippine President Rodrigo Duterte. Photo: EPA-EFE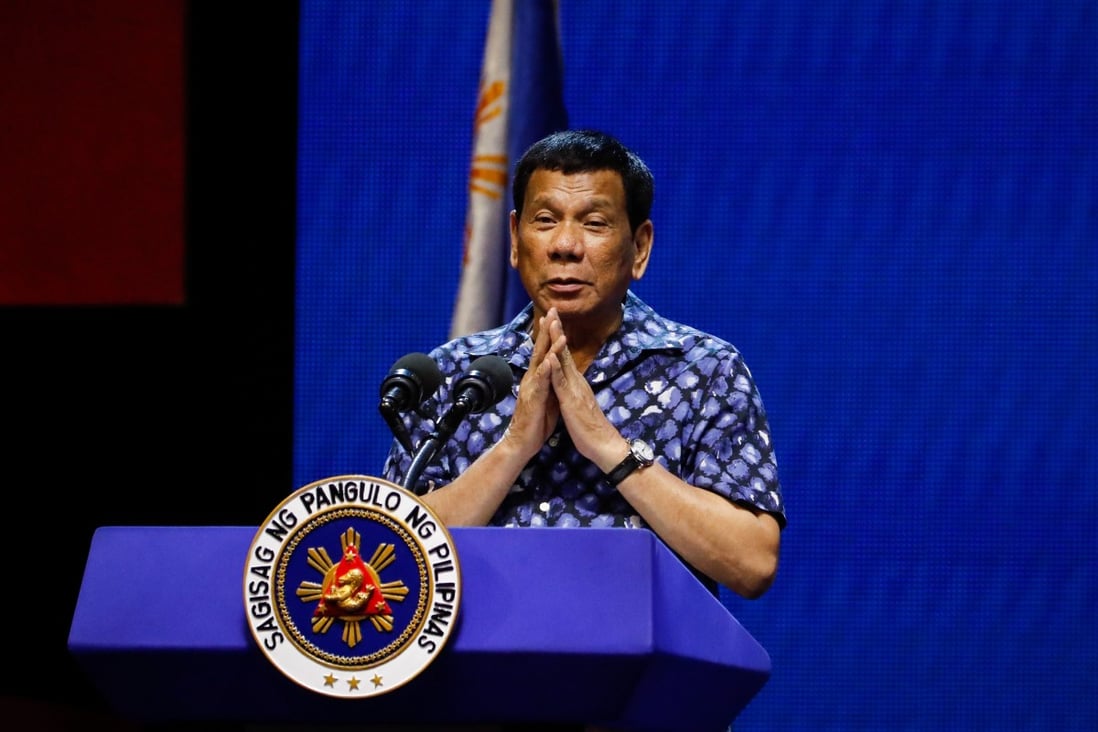 Philippine President Rodrigo Duterte. Photo: EPA-EFE
First, the polls reinforce the notion that President Rodrigo Duterte is the most popular Philippine politician today – if not in recent memory.
With at least eight out of the 12 Senate seats up for grabs set to be won by candidates backed by Duterte and the Hugpong ng Pagbabago (HNP) party of his daughter, Sara, the elections were a triumph for the president and his allies.
While some had billed the midterms as a referendum on the Philippine leader, the outcome isn't that surprising when you consider that Duterte's approval ratings stood at 79 per cent as recently as March.
No contemporary politician matches the level of support he enjoys right now.
Duterte was always going to win any election that is – or is made – about him.
Second, not only is Duterte popular – so is his war on drugs and criminality.
The key opposition bloc, Otso Diretso ("Straight Eight"), criticised and raised concerns about the bloody purge on the campaign trail. But they failed to take into account the fact that many Filipinos, both in the cities and provinces, credit the president – some, begrudgingly – for making the streets safer thanks to his hard stance on drugs and crime.
In Bacoor, two farmhands in their early twenties that my colleagues and I met were quick to point to the purge as their reason for backing Duterte.
Later, they ironically revealed that they themselves had once been on the now-infamous "narco list", which features suspects linked to the illegal drug trade who are targeted by the authorities. They say it forced them to turn their lives around.
Third, the economy matters – and in a way, it does not.
Many Filipinos we spoke to in the lead-up to the polls shared concerns about the rising cost of living and low wages. The latest official data showed that 65 per cent of households live on less than US$460 per month. But when the Liberal Party-backed Otso Diretso candidates campaigned against the administration's tax reforms, which introduced various excise taxes – arguing that it was anti-poor – it fell on mostly deaf ears.
Maybe it's because generations of Filipinos have heard the same pro-poor campaign promises but have little to show for it. At least now, the streets are safer.
The president has always distanced himself from the economy, letting his cabinet lead on that front. As such, Philippine voters likely did not lay blame for the economic challenges they face at his door.
Fourth, the anti-Duterte camp lacked a clear leader and a winnable message.
The Liberal Party's dismal showing will be particularly painful for its star candidates, Bam Aquino, cousin of former president Benigno Aquino III and fellow dynast Mar Roxas, who came second against Duterte in the 2016 elections. Nielsen Media estimates that both candidates spent close to US$12 million on political advertisements for their – baring a miracle turnaround – unsuccessful Senate charge. But, believe it or not, you cannot buy your way into office and if you do not stoop, you will not conquer.
It was hard to see what the Otso Diretso had to offer beyond not being Duterte.
Which leads me to my final point: it was a good night for Duterte – but it does not mean that he has won himself a steamroller.
There will be inevitable questions of whether the new Senate will be able to maintain its independence as a check on the president's administration.
While the administration may find it easier to pass less controversial bills, more radical plans like Duterte's long-held desire to shift the Philippines to federalism may not slide through as easily.
The new Senators will likely back the administration and remain loyal for as long as it serves their personal political interests.
After all, they will have to balance the interests of a president, whose term will end in three years, with the pulse of the public, whose votes they will need again for re-election – or higher office.
Duterte is by no means a lame duck and you can bet he will do everything in his power to create a legacy.
But the next three years are likely going to be more, not less interesting in the Philippines – where things are always more fun.
Gerald Tan is Director of Philippines for the KRA Group, a Southeast Asia-wide public affairs and political risk consultancy.