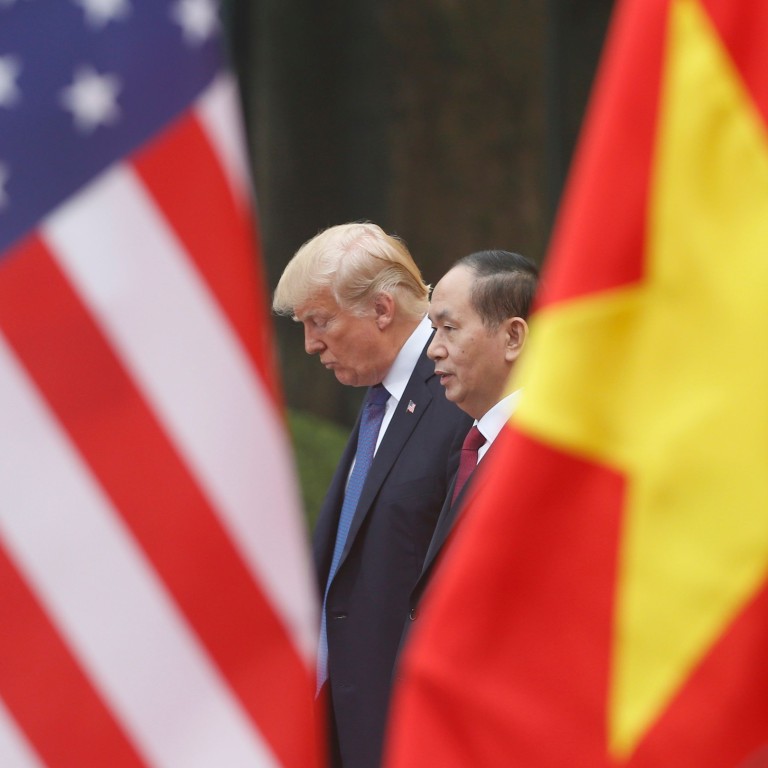 Beijing's South China Sea stance is driving Vietnam into America's arms
China and Vietnam should be natural partners, not least because of a shared ideology among the countries' ruling parties
But by ignoring Hanoi's concerns, Beijing is creating a new US ally out of a former enemy, says Le Hong Hiep
On July 19, Vietnam's Foreign Ministry
issued a strong statement condemning China's actions
and, more interestingly, called on "all relevant parties and the international community" to contribute to the maintenance of order, peace and security in the South China Sea.
The following day, the
United States
appeared to respond to Vietnam's call when the State Department put out a statement expressing concerns about "Chinese coercion on oil and gas activity in the South China Sea" in general and China's interference with Vietnam's "long-standing exploration and production activities" in particular.
The statement also called upon China to "
cease its bullying behaviour
and refrain from engaging in this type of provocative and destabilising activity".
The US statement suggests that there is a strong alignment of interests between Hanoi and Washington in challenging China's maritime claims, which both see as excessive. While Vietnam is keen to protect its lawful maritime interests in the South China Sea, the US is seeking to curb China's maritime ambitions and the challenge that they pose to Washington's regional supremacy.
Given the intensifying stand-off
between the US and China
, Beijing's actions in the South China Sea call into question the rationality of its foreign policy: at a time when the rising power needs more friends and allies to deal with American hostility, it is instead alienating Vietnam and pushing Hanoi further into Washington's arms.
Vietnam has long pursued a strategic balance in its relations with China and the US. Hanoi appreciates its ties with Beijing, despite the South China Sea dispute, because of how important its massive northern neighbour is to the country's security and economic well-being, as well as the ideological affinity that exists between both ruling communist parties.
As a result, although Vietnam is keen to expand ties with the US, it has been careful not to do so at the expense of its relationship with China. In 2013, for example, when the US pushed Vietnam to establish a bilateral strategic partnership, Hanoi opted instead for a "comprehensive partnership" out of concern that the former would antagonise Beijing.
However, China seems to be paying no heed to Vietnam's strategic sensitivities. By aggressively asserting its claims in the South China Sea, it is pushing Vietnam to alter its long-standing strategic calculations by contemplating a gradual pivot away from Beijing towards Washington – a process that has been accelerating since the previously mentioned incident in 2014.
In the wake of that dispute, a greater level of consensus has emerged in Hanoi that strategic ties with the US – especially in the security and defence domain – should be strengthened to counter China's coercive behaviour in the South China Sea.
A year later, Vietnam signed a Joint Vision Statement on Defence Relations with the US, and Nguyen Phu Trong became the first Communist Party chief to visit the White House.
During then-president Barack Obama's visit to Hanoi in 2016, the US lifted its long-standing lethal weapon sales ban on Vietnam. In the same year, the US included Vietnam in its Southeast Asia Maritime Security Initiative – providing Hanoi with significant maritime capacity-building assistance.
In 2017, Vietnamese Prime Minister Nguyen Xuan Phuc was among the first Southeast Asian leaders to visit the US under President Donald Trump, who in turn chose Vietnam as the destination for his first visit to Southeast Asia.
And in June, the US Department of Defence's Indo-Pacific Strategy Report listed Vietnam as an emerging security partner with which Washington wants to expand strategic ties.
All these developments reflect an accelerating rapprochement between Vietnam and the US. Yet when it comes to making bilateral strategic ties more substantive and high-profile, Vietnam still seems to have some reservations. Last October, for example, Vietnam reportedly cancelled 15 defence engagement activities it had scheduled with the US for 2019, possibly so as not to unnerve China against the backdrop of intensifying strategic confrontation between the world's two largest economies.
More recently, in anticipation of the Vietnamese party chief's second visit to the US, there has been some internal debate in Hanoi as to whether it should agree to upgrade its relationship with Washington to the "strategic partnership" level, something that the US has long pushed for. Again, Hanoi's desire not to disquiet China remains a major obstacle to the US bid.
However, Beijing's renewed assertiveness in the South China Sea is strengthening the hand of Vietnam's China hawks, while reinforcing the image of the US as a more favourable partner for the country.
After all, why should Vietnam care about China's security sensitivities if Beijing pays no attention to Hanoi's legitimate security concerns?
Washington's overtures, meanwhile, are looking increasingly appealing – especially its wish to embed Vietnam into a "networked region" security architecture, which would not only enhance the country's bargaining power vis-à-vis China but also enable it to benefit more from American efforts to strengthen regional partners both economically and militarily in a bid to contain China's rise.
One should not be surprised, therefore, if Vietnam and the US establish a bilateral strategic partnership and further strengthen defence ties soon, as China's actions in the South China Sea are diminishing its strategic appeal to Vietnam and making the US look like the security partner of choice.
If China really wants Vietnam to care about its security concerns, it should also heed Vietnam's. After all, it was none other than the great Chinese scholar Confucius who once wisely said: "Don't do unto others what you don't want others to do unto you".
Le Hong Hiep is Fellow at the ISEAS – Yusof Ishak Institute, Singapore.