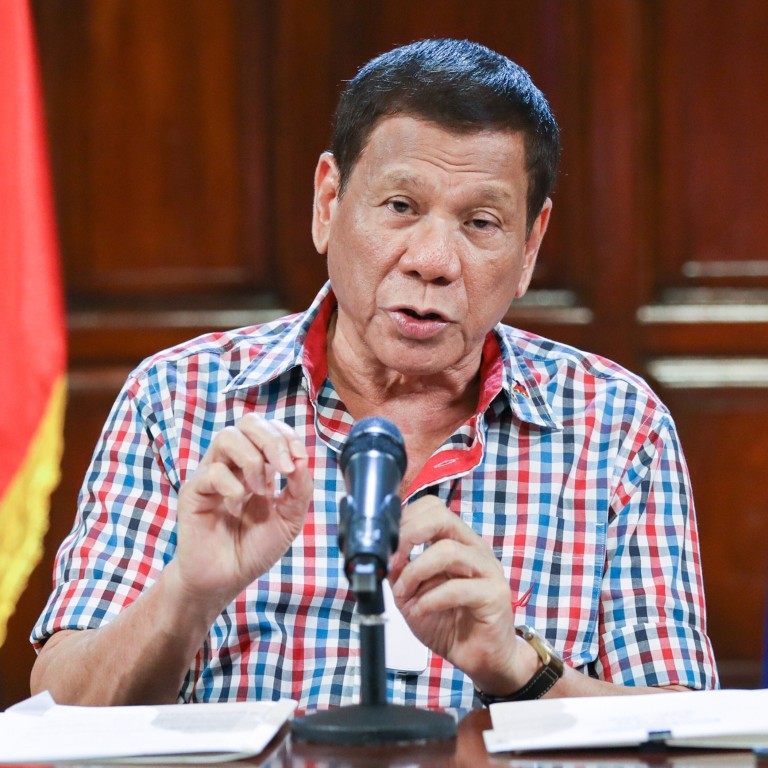 Duterte's 'shoot-them-all' approach to Covid-19 threatens his legacy as poor suffer in the Philippines
Under the lockdown, the social conditions of the poor have worsened dramatically, which culminated in Duterte threatening to shoot demonstrators demanding food
While he remains a popular leader, vows of upholding 'discipline' ring hollow when the poor go hungry, leaving Duterte at a turning point in his presidency
Philippine President
Rodrigo Duterte
's response to the coronavirus crisis has been in line with his "macho populism" similar to that of Donald Trump's in the US and Brazil's Jair Bolsonaro.
Like these illiberal leaders, a lockdown of Metro Manila since mid-March, and soon thereafter the entire
Luzon area
and beyond, came only after Duterte's initial denial of the growing threat from the rapidly spreading pandemic.
Once Duterte did finally act, it was in a haphazard and highly militarised fashion due to the lack of planning and heavy reliance on the military and police.
After the shutdown, many health workers had no way to get to work. When one enterprising mayor, Vico Sotto of Pasig, organised transport for them to get to hospitals, he received a summons from the Philippine National Bureau of Investigation for violating the lockdown.
Often lacking adequate protective gear and sufficient test kits, 27 health care workers have died and over a thousand have been sickened during the crisis.
Philippine hospitals' efforts to deal with the virus outbreak under such difficult circumstances having been nothing short of heroic, such as the new blood plasma treatment strategy being developed by the University of the Philippines' Philippine General Hospital, and a new test kit being developed by researchers at the same university and the Philippine Genome Centre.
Erratic delivery of crucial government food support and subsidies to the poor have led to hunger and growing desperation. Barangay captains, or local leaders, had to be warned not to play politics with food distribution. Many of the country's richest tycoons, several of whom had been subject to the president's wrath, have stepped in to provide assistance, leading Duterte to apologise for his earlier attacks.
Duterte's congressional allies passed the "Heal as One" act, enhancing the Philippine president's already extensive powers which an opposition senator called "a virtual blank check with no clear plan or strategy to defeat Covid-19".
Since coming to power in 2016, Duterte has used what Columbia University's Sheila Coronel characterises as a narrow "repertoire" of the "iron fist" to demonstrate decisiveness, from his bloody war on drugs that activists estimate have left more than 20,000 dead, and now the lockdown of Luzon. It has been a distraction from the larger picture of his failure to help significantly the poor majority in the country.
According to Philippines pollster Social Weather Stations (SWS), 54 per cent of Filipino families surveyed in the fourth quarter of last year consider themselves poor, the highest since 2014.
Duterte's response to the pandemic, particularly the "shoot-them-all" comment, has triggered considerable outrage on social media. His strategy of browbeating his enemies in public and then having paid trolls overwhelm them on social media is no longer working as stay-at-home netizens now have more time to fight back electronically. Also, the pandemic is a crisis that affects all Filipinos, unlike the drug war which has largely targeted young poor males in urban slum areas.
On May 5, the ABS-CBN TV network was forced to shut down by the country's telecommunications commission widely believed to be due to pressure from Duterte's Solicitor General given the network's criticism of the Duterte administration and despite its popular programming, acclaimed coverage of the pandemic, and campaign to provide food and other assistance to the poor.
De La Salle University's Julio C. Teehankee points out that Philippine presidents have faced a "narrative trap" when their "story line" diverges too obviously from political reality.
Like Benigno "Noynoy" Aquino, III, his immediate predecessor, Duterte scored a major victory in the midterm elections last year. Also, like Aquino – whose second half of his presidency was marred by scandal, a botched rehabilitation effort after the devastating typhoon, and the killing of 44 Special Action Force soldiers in an ambush by Muslim rebels – Duterte is at a turning point in his six-year presidential term that threatens his legacy. 
Mark R. Thompson is professor and head of the Department of Asian and International Studies at City University of Hong Kong, where he is also director of the Southeast Asia Research Centre.