Opinion
Muhammad Zulfikar Rakhmat and Dikanaya Tarahita
Muhammad Zulfikar Rakhmat and Dikanaya Tarahita
Is Indonesia moving towards Japan and away from China? Just follow the railway tracks
Jakarta is looking to connect projects being separately built by the two East Asian nations into one longer line
The cost of China's section of the venture and negative local sentiment towards Beijing all play a part, as do confrontations in the Natuna Sea
Japan
, after being outbid by China for the Jakarta-Bandung high-speed railway project, has been working with the Indonesian government to develop a separate medium-speed line connecting Jakarta and Surabaya, East Java.
Now these two lines are to be brought together, forming a Jakarta-Bandung-Surabaya line, in a rare Belt and Road Initiative project that will see some collaboration between Chinese and Japanese engineers.
Indonesia
's foreign affairs minister Retno Marsudi last month said Jakarta and Tokyo had been discussing the plan since May. While it came as a surprise for Japan, which has been conducting a feasibility study for the initial Jakarta-Surabaya railway to be completed at the end of this year,
President Joko Widodo
's administration said the new plan was "more economically viable".
Japan is still unsure whether it will accept Widodo's proposed change. However, there are questions over what factors led Jakarta to change the plan, including what the Indonesian president meant in his statement.
Tokyo's surprise is probably reasonable. While the new proposal is still currently being studied, the change is reportedly very difficult to realise.
For instance, the train configurations and the width of the track are different. While trains can travel at 300km/h on the high-speed Jakarta-Bandung railway built by China, Indonesia and Japan have agreed upon a medium-speed, 160km/h configuration for the Jakarta-Surabaya line. Other specifications reportedly differ as well, including the width of the tracks.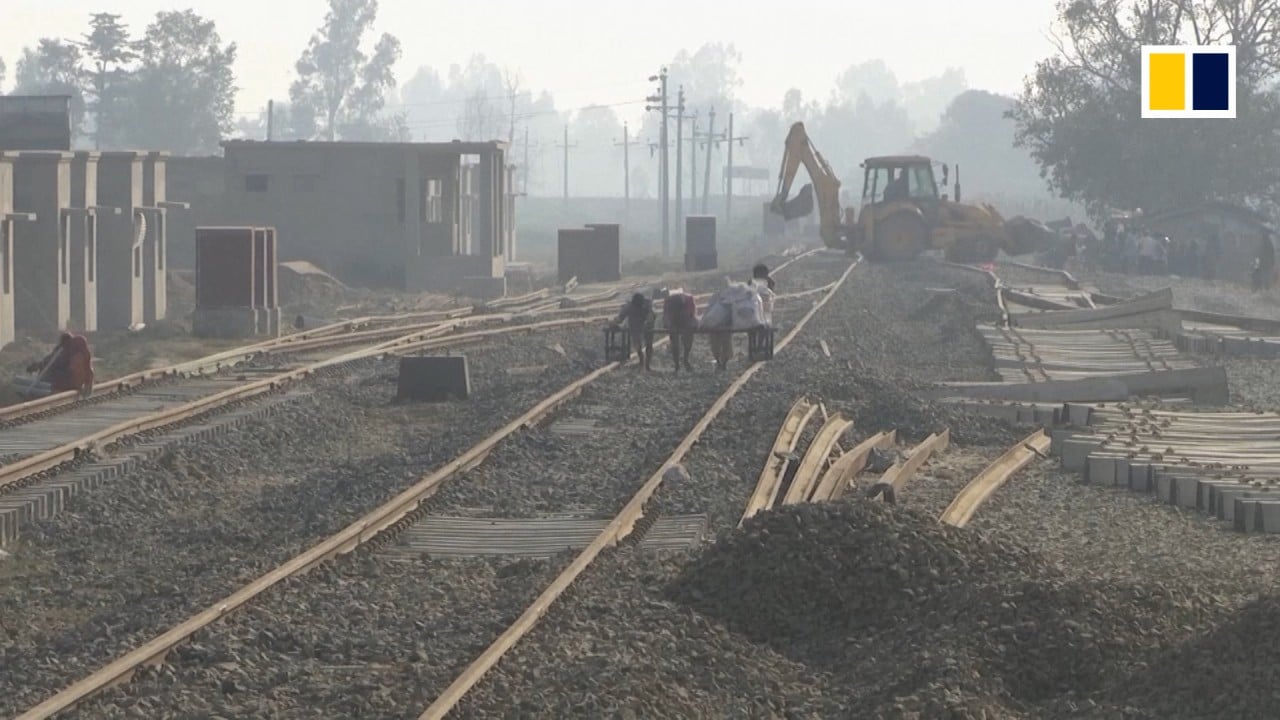 01:31
Asian giants' power struggle gives Nepal a new railway
Asian giants' power struggle gives Nepal a new railway
A number of reasons could have driven Indonesia's policy shift, including the delays and issues in
Chinese projects
. The Jakarta-Bandung project, which began in 2016 and was originally scheduled to be completed last year, was postponed until 2021 due to several problems including the complexity of land acquisition, budget overruns, and the Covid-19 pandemic.
While China's Jakarta-Bandung project will cost some US$6 billion, Japan's initial plan to construct the 750km Jakarta-Surabaya line is expected to cost between US$4 billion and US$5 billion.
Besides the lower cost, Wu Shang-su, a research fellow at Singapore's S. Rajaratnam School of International Studies, wrote in The Diplomat that Japanese rail projects usually require less land acquisition.
In Jakarta's view, Japan's involvement would accelerate the completion of the project as it would not have to face the challenges usually encountered in China-led ventures.
Bhima Yudhistira, an economist at the Jakarta-based Institute for Development of Economics and Finance, said the lower cost was particularly important for Indonesia after it was this month categorised as an upper-middle-income country.
Loans are priced based on the World Bank's classification, so the new status could mean higher costs for infrastructure construction as Indonesia would be expected to pay more in interest. This could then see creditors move to other countries.
In addition, Indonesia's plan to connect the two projects can be seen as its effort to find an exit strategy for the Jakarta-Bandung railway project. Since the beginning, the value of the project was questionable. It was not seen as an effort to resolve Indonesia's transport infrastructure needs, but as a by-product of the political relationship between China and Indonesia.
Instead of having two separate lines, one of which has little value to the wider community, extending the Jakarta-Bandung line to Surabaya is a more efficient and economically impactful solution for society.
In addition, despite Widodo's close friendship with Beijing, there is some negative sentiment towards Chinese projects, mainly the arrival of workers from China and the potential debt trap and environmental issues involved.
It is possible that these sentiments among Indonesian society towards Beijing's growing economic activities in the country made Jakarta tilt towards other partners, including Tokyo.
Integrating Japan into this project can also be seen as an Indonesian effort to change the perspective that it favours China too much amid the continuing political and economic tension between Beijing and Washington.
Some other countries have decided to create a balance between China and Japan. The Philippines, for example, gave Japan and China parts of its Mindanao Railway Project.
While the rail line plan needs further feasibility studies to proceed, it is just the latest example of how Indonesia has been drawing closer to Japan at the cost of its ties with China in recent years. As a matter of fact, as Jakarta faces off against Beijing in the Natuna Sea, it has sought to strengthen cooperation with Tokyo.
Muhammad Zulfikar Rakhmat is an academic at Universitas Islam Indonesia. Dikanaya Tarahita is a writer who focuses on socio-economic issues in Indonesia.